John Orquiola
Scrapple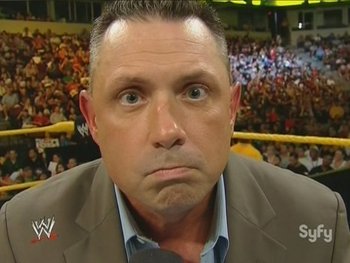 Since: 28.2.02
From: Boston

Since last post: 55 days
Last activity: 55 days

#1 Posted on | Instant Rating: 5.51
Or so says the legal firm representing TNA. This is pretty awesome, both in TNA's response, and from the Vince Russo-hating point of view from Jim Cornette's email that provoked TNA's response.

http://jimcornette.com/Commentary.html


---

@BackoftheHead
www.backofthehead.com
Promote this thread!
redsoxnation
Scrapple



Since: 24.7.02

Since last post: 417 days
Last activity: 417 days

#2 Posted on | Instant Rating: 4.87
Hate saying this, but Cornette is completely in the wrong. Putting a death threat in writing, even if it is sarcastic, opens you up to criminal prosecution. If it was Terry Taylor's company email address, then it very well could have been scanned by the company to see what information a former employee was sending. Even if not, Taylor in his role as management has to report death threats sent to him about a current employee, or else he would open himself up to lawsuits or worse if something had happened to Russo.
Big G
Potato korv



Since: 21.8.03
From: the people who brought you Steel Magnolias....

Since last post: 5 days
Last activity: 1 hour

#3 Posted on | Instant Rating: 6.79
I like JC as well, but I gotta admit he's been a bit of a goose on this. Isn't there some precedent that emails sent to a company email are the property of the company and not the individual. There's probably enough key words in that diatribe to send a flag up on someones desk - die, death, murder and prison all in quick succession.

Anyway I hope JC learns something from this. The way he wrote "friend" in punctuation marks I wonder if he thinks TT narked on him?

Anyways, that conversation shouldn't have been via email anyway. It's pretty much impossible to have one of those cleansing rants via email without coming across somewhere between a dick and a nutjob. That conversation would have better leant itself to a rant over a beer. But everyones a genius in hindsight...
Leroy
Andouille



Since: 7.2.02
From: Huntington, NY

Since last post: 9 days
Last activity: 55 min.

#4 Posted on | Instant Rating: 6.09

Here's Jim Cornette being interviewed on Who's Slammin' Who (whosslammingwho.podomatic.com) regarding the issue.

Basically, from Cornette's perspective, he was sending an email saying things about Russo that Cornette thought would stay between friends. Of course, it didn't, so it all reads a lot worse than was probably intended.

Cornette committed the first cardinal sin of email communication - never send ANYTHING to ANYONE that you aren't willing to have published in a newspaper. Once, you write it down it can live forever and anyone can take any perspective they would like about what you really intended.


---
Who likes the little little duckies in the pond? I do, I do, I do, a chicka-quack quack.
ekedolphin
Scrapple



Since: 12.1.02
From: Indianapolis, IN; now residing in Suffolk, VA

Since last post: 65 days
Last activity: 10 days

#5 Posted on | Instant Rating: 2.41
Those are absolutely terroristic threats. And Terry Taylor was right taking it to the authorities. Cornette, to me, comes off as the kinda guy who could come unglued at any moment. Best to be safe than sorry about this sort of thing. And Cornette should have
known
better.
---
"Say, the next time you want to win your daughter back, you could just try giving her a pony, the apocalypse doesn't really cut it!"
--The Prince, Prince of Persia (2008)
Fan of the Indianapolis Colts (Super Bowl XLI Champions), Indiana Pacers and Washington Nationals
Certified RFMC Member-- Ask To See My Credentials!
Co-Winner of Time's Person of the Year Award, 2006


Kevintripod
Andouille



Since: 11.5.03
From: Mount Pleasant, Pa.

Since last post: 4 days
Last activity: 7 hours


AIM:
#6 Posted on | Instant Rating: 4.79
If I'm Russo, I get a restraining order against Cornette yesterday.


---
graves9
Landjager



Since: 19.2.10
From: Brooklyn NY

Since last post: 1 day
Last activity: 8 hours

#7 Posted on | Instant Rating: 3.87
Cornette is a total nutbag. He really has taken his hate of Russo to a rather unhealthy level.

(edited by graves9 on 15.4.10 0846)
lotjx
Scrapple



Since: 5.9.08

Since last post: 1 day
Last activity: 2 hours

#8 Posted on | Instant Rating: 1.44
The sad part is what Jim is saying is the feeling of a number of wrestling fans. Its well within TNA's to go after him, but the more they do the more Jim seems to be letting out about the working structure of the company and how ass backwards it is. So far, he is the main source for Dixie not knowing shit about wrestling and spending Daddy's money. Prior to that most of the blame went to Russo. I am curious about his confidentiality agreement regarding how much he can say and how binding it is. I think that is their best case against him. Yet, if this is his opinions of the company, I don't see how they can get him since many former execs with confidentiality agreements went on to bash their bosses as soon as they were fired. Jim should have spoken to Terry in person if he was going to say this shit about Russo. It is a two face thing to do, but Terry does have responsibility to tell his bosses about the threats. I just think TNA is blowing this way out of proportion.

I have zero respect for Russo anyway since everything with him is how everyone else fails around him and how miserable he is booking. Cry me a river, if you don't like it quit. I am sure the WCW money will keep you going for awhile. I think Russo is secretly banging Dixie anyway or somebody since there is way with his past with Hogan, he would continued to be employed to this day with TNA.
kentish
Andouille



Since: 19.8.05
From: My Old Kentucky Home

Since last post: 8 days
Last activity: 6 hours

#9 Posted on | Instant Rating: 4.76
Wow. I thought Cornette was smarter than that. Hyperbole or not, you don't put that kind of hatred in writing. The thing is, I doubt Russo gave two shits about Cornette prior to this, while the bitterness is apparently eating JC alive.


---


"I like your Christ, I do not like your Christians. Your Christians are so unlike your Christ."

-- Mahatma Gandhi

odessasteps
Scrapple



Since: 2.1.02
From: MD, USA

Since last post: 66 days
Last activity: 33 days

#10 Posted on | Instant Rating: 6.22

I love cornette, but stupid thing to do.

It's also important to remember that Cornette has a horrible temper and who knows what kind of stupid thing he could do in a fit of rage?

It's not murder, but he did once take a bat to KC O'Connor's car and he was a former SMW employee.


---

Mark Coale
Odessa Steps Magazine
ISSUE FOUR - OCTOBER 2009
CajunMan
Boudin blanc
No longer registered



Since: 2.1.02
From: Give me a Title shot!

Since last post: 1037 days
Last activity: 175 days

#11 Posted on | Instant Rating: 0.86
What an A$$hole. Glad the WWE canned him long ago.
jwrestle
Lap cheong



Since: 4.4.03
From: Nitro WV

Since last post: 106 days
Last activity: 3 days

#12 Posted on | Instant Rating: 2.16
I agree with him being outspoken

I disagree with any kinds of threats.

Whether you agree or disagree with JC he is a bit of a loose cannon and is at least honest. Legally speaking, honesty is a good and bad thing when your being a accused of terroristic acts, threating someone's life in such a manner is low even for Jim.

Yet on a daily basis how much to you actually hear or see the phrase somewhere, "I'll kill you." everyday? Think about it?


---
Visit SpiritFanatics


Goto http://www.indywrestlers.net ***New Items added daily and weekly***




09.30.08 1st time W of the day.
24.05.09 2nd time W of the day.