Llakor
Landjager



Since: 2.1.02
From: Montreal, Quebec, CANADA

Since last post: 1899 days
Last activity: 1891 days

#1 Posted on
Llakor Broadcast System

Sunday, March 23rd, 2003

LBS#16: Violent Valentines

Just to clarify this. The following was started Saturday, March 15th and finished, Sunday, March 23rd.

****************************************************************************

Dear CRZ:

Stop me if you've heard this one before.

I came home from work on Tuesday to find my boot mats outside the door of my apartment rather than on the inside of my door. In addition, they were soaking wet.

EXACTLY! OH SHIT INDEED.

As it turned out, the flood from the burst pipe in the apartment above me wasn't that serious. The bucket left by my building's janitor had less than an inch of water in it. One of my towels was soaking wet from sweeping up the mess, and the paint in my washroom is fucked up AGAIN, but I didn't lose any of my books.

The only real issue is that during the day, the power had gone off. By the time I arrived at my apartment the power had been back on for about two hours. I arrive at that conclusion based on the fact that all the clocks in my apartment were flashing 2:04 when I walked in. So the power wasn't really a problem compared to say, my phone lines that were dead as a doornail.

I think you can fill in the equation here.
No phone lines = No internet.
No internet = Llakor a very unhappy guy.

It's now Saturday, and I still have no phone lines, and no internet. I have been playing phone tag with my landlord since Wednesday, and believe me it's a little hard to play phone tag WHEN YOU HAVE NO FUCKING PHONE!!! The worst of it is that as I work up the ladder of my landlord's company no one seems prepared to take what I say at face value. As an example, one of my landlord's construction guys finally came by Friday morning at 7:30 am.
"So, I hear you have no power."
"I have power. I don't have a phone line."
"What do you mean you have no phone line?"
"See? No dial tone."
"That's odd... Did you..."
"Yes. I took this phone to work. It works there. I brought a working phone from work. It doesn't work here. I changed the wires connecting the phone to the jack. That didn't work. The apartment has three jacks, and all three are dead."
"I guess your phone line's dead."
"No shit Sherlock."

On the plus side, no access to the internet means that I have nothing to distract me from my recap for Violent Valentines. I haven't really had the time to devote to finishing it because my parents went to Provence for six weeks to visit my sister Caitlin, who is vacationing there for three months with her boyfriend Jake and my niece, Princess Meaghan, my nephew, Ryan Ryan who is Three Three Three, and my niece Devon who is trying to perfect walking before her first birthday. While my parents have been away, I have been house-sitting, cat-sitting and Nan-sitting. My Nan, who is 92, still lives on her own and is fiercely independent, but someone still needs to check in on her on a regular basis to see if she needs anything.

All of which means that the first day that I can really devote to doing this recap is the very same day as the NEXT IWS show: Know Your Enemies. And with that show less than nine hours away, I really have to get this recap finished in a hurry, so this will be a hurry-up recap. In other words, let's get right down to it. Violent Valentines...

( BRRRING! )
Hey! My phones are back on! No. I still have no dial-tone. That's odd.
( BRRRING!! )
Why is that tin can with a string attached to it ringing?
( BRRRING!!! Pick up the can DAMN IT! )
Hello?
( Is it safe? )
Is what safe?
( Is IT safe? )
Who is this?
( Is IT SAFE? )
What in the BLUE HELL are you jabbering about?
( DO YOU NOT UNDERSTAND THE WORDS THAT ARE COMING OUT OF MY MOUTH? IS IT SAFE MOTHER-FUCKER? )
OZ? Is that you?
( How many times do I have to ask this? Is it safe? Has the Grizzly left? )
BREW? He went back to Toronto weeks ago.
( BASTARD! Why didn't you tell me that? I'll be right there. )
I was wondering why it was so peaceful around here.

Did I neglect to mention that BREW came to Montreal to see No Way Out and stayed at my place? He is supposed to do a BREW-CAP of the weekend, which included us seeing Sylvain Grenier perform on Saturday night in a church basement in front of under a hundred fans, and then seeing him the following night perform in the main event at No Way Out in front of more than 16, 000 fans. Mind you, when I saw "SLY" Grenier at No Way Out, I thought he was Rene Dupre. Because how many tall, young, good-looking, French speaking prospects can there be in the (W)WWF development system?

Yeah, you're right, I was forgetting about Pat Patterson. Never mind. Dumb Question.

The two things that BREW is unlikely to mention about his visit to Montreal is that despite being foraging outdoor animals, Grizzlies have surprisingly tender paws. Apparently, in the wild, they take taxis everywhere, as they HATE WALKING. Also, they are baffled by any form of cuisine more complicated than opening a can and turning on a microwave. My ability to make a hot chicken sandwich on demand left him stunned. And my ability to make an egg in a hat was more than his fragile Grizzly mind could comprehend. I may do a full report on the weekend at some point.

But I have let myself get distracted from the subject at hand: The hurry-up recap of Violent Valentines. So let's get right to that shall we? Violent Valentines was held on February 15th...

( There's a voice that keeps on calling me
Down the road, that's where I'll always be
Every stop I make, I make a new friend
Can't stay for long, just turn around, and I'm gone again
Maybe tomorrow, I'll want to settle down
Until tomorrow, I'll just keep movin' on
Down this road, it never seems to end
Where new adventure, lives just around the bend
So if you want to join me for awhile
Just grab your hat, come travel light
That's hobo style
Maybe tomorrow, I'll want to settle down
Until tomorrow, the whole world is my home
So if you want join me for awhile
Just grab your hat come travel light
That's hobo style )

Hi OZ. You did get the memo, right? You do know that we are doing Violent Valentines and not Payback's a Bitch?
( I did in fact read the memo this month. The plan is for us to do a "hurry-up" recap of Violent Valentines. )
OK. Let me ask you this then. Why, in the BLUE HELL, are you wearing that animatronic female German Shepherd costume? I thought that was your Payback's a Bitch costume?
( Two reasons. First, I was not dressing up as Cupid. I don't do diapers. Second of all, it has occurred to me that we don't have any kind of ranking systems for the IWS matches that we see. Other recappers have a snowflake system. We don't. )
I have always thought that star rankings systems are fundamentally flawed because they tend to be influenced unfairly by the prejudices and biases of the person watching the match.
( Which is why I am the PERFECT person to do a ranking system. I am totally unbiased. )
RRRIIIIIIIIIGHHHTTTT!! So, Mr. East German judge, exactly what kind of ranking system are you going to use? Five stars?
( No stars. I am going to take advantage of a new feature that I discovered in this costume. Since I have ten nipples on this puppy, I am going to use the ERECT NIPPLE scale. How many erect nipples out of ten that the match left me with. )
Lord give me Strength. Since when did you become Ole Anderson? I suppose it's better than the Hot Poker up the Ass system.

Moving on... We are supposed to be doing a hurry-up recap here. Violent Valentines was held on February 15th at Le Skratch in Chomedey, Laval...

(Whoa. Whoa! WHOA! Like LE WHOA! )
What now?
( We really need to talk about the feedback that we got after our recap of Season's Beatings 2003. )
What feedback?
( That private message you got from Double R, Righteous Rick Sterling. )
How do you know about that?
( You really shouldn't keep your passwords in your wallet. )
SIGH. OK. FINE.

I did in fact get the following private message from Righteous Rick Sterling:

( Llakor... I'm, sad to hear that you think the only cool thing I did in the ring was wiping blood on pat. I guess the hiptoss threw the chairs, leg drop to the floor and the suplex on the floor don't count to you. But fuck it, opinions are like assholes, everyone has one.

Anyway, this is not a NEGATIVE PM, this is just to touch base with the guy who bashed the shit out of my match and (me).

BTW, I emailed manny twice and then stopped emailing him. I was emailed to be in the show. I had given up emailing him. So did I BEG, hmmm not the word I'd use but did I ask a few times, sure, why not... But anyway, i don't have to explain myslef."

( Allow me just to say that Sterling is a whiny, arrogant, little BITCH. And believe me, I know from Bitches. )

While I savour the irony that the guy in the match who I was NOT calling a "SHORT, BALD, SHEEP-FUCKER" is the one complaining about how I treated him in the recap, let me just admit that it's possible that I may have been a touch harsh when I said, "Righteous Rick Sterling wipes the blood off his face and spreads it on Pat's chest like he was marking his territory, which is by far the coolest thing that the man has done since hitting the ring, if not the ONLY cool thing that he has done since hitting the ring." On the other hand, I am not the only person who has issues with that match. Someone else, whose opinion on wrestling I respect a great deal, said to me, "That match was like every Rob Van Dam and Jerry Lynn match ever, all smushed together."

( And you have been wanting to steal that line ever since. )

Yep. He didn't mean it as a compliment either. He meant it in the sense that during the feud between Rob Van Dam and Jerry Lynn, the matches started out simple and as the feud progressed the matches became increasingly more complex as the two men learned each other's styles and adapted. Moves that Jerry Lynn used to get the better of Rob Van Dam in their first match, became moves that Rob would counter in later matches, became moves that Jerry used to sucker Rob in so that he could counter Rob's counter in even later matches. The point being that the complex sequences used late in the feud only make sense because of the simple sequences used early in the feud. You need to lay a foundation first. Sterling and Hamilton tried to have their match in the penthouse, before they laid the foundation for it.

All of that said, it's certainly not meant as a personal attack on either Pat Hamilton or Righteous Rick Sterling. It's a criticism of the way that the match was laid out. I don't even know Rick personally, so I wouldn't even know where to begin to insult him.

( Let me, then. "Egotistical, Narsasitic, Self Absorbed, Self Righteous" )

Wouldn't be an IWS recap if OZ wasn't trying to get me killed. We can at least agree that Rick has great pants, right?

( Those gold lame things with the zebra patterns? Those are... they are... oh, all right, yeah, they are good. )

The other thing that Righteous Rick Sterling said to me in a later Private Message was that he was irritated that I had accused him of "ass-kissing" to get into the IWS. Honestly, I don't remember accusing him of ass-kissing.

(That sounds more like ME. HEY! It was me: "Righteous Rick Sterling has been begging for a spot in the IWS for months." and me again: "Sterling... spend(s) all his time going, "I'm a wrestler, and I would so love to wrestle in the IWS, please call me Manny, PUH-LEEEZE!!" )

Now, not to turn this into a literary discussion, but two guys who posted a lot on the IWS message boards had their debut at Season's Beatings: Righteous Rick Sterling and Wailing Jimmy Handjob. Everyone knew that Sterling was a wrestler, so no one was really surprised when he showed up. On the other hand, no one knew that Jimmy was a wrestler, so when he was announced everyone WAS surprised, and pleased. That was a situation that was just begging for someone to point out the contrast.

( Three things. First, I am running out of synonyms for whiny to apply to Sterling. Second, Violent Valentines was not really Sterling's debut. He made an appearance in the Tag Team Rumble at last year's Know Your Enemies. It was a blink and you'll miss it appearance though. Third, Sterling was the one who cut a promo bitching about the fact that the Commissioner never returned his phone calls, e-mails, letters, telegrams, smoke signals, etc. )

EXACTLY. The fact that the crowd reacted negatively to Righteous Rick Sterling's appearance and positively to Wailing Jimmy Handjob's appearance is not a bad thing. In fact, it's a very good thing. The crowd knew who both of these new guys were, and they disliked the Heel for trumpetting his arrival for months in advance and they admired the Face for being modest. Both guys got the benefit of a crowd that knew who they were in advance, and both guys got the reaction that they wanted. How can that bad?

OR to put it another way, if the purpose of Double R, Righteous Rick Sterling is to get himself over as a desperate, narcissistic, egoistical, whiny wanna-be, well he's doing a great job. Two thumbs up.

( It occurs to me that we have been used. )
What do you mean?
( We just spent a thousand words putting Double R, Righteous Rick Sterling over. I feel dirty. )

Not to mention that I have been distracted from the task at hand: The hurry-up recap. Violent Valentines was held on February 15th at Le Skratch in Chomedey, Laval. I arrived early, because I was in the Laurentians that day house-sitting, so I took a bus from Piedmont to Carrefour Laval, and then transferred to a bus that dropped me off in front of Le Skratch at around 7pm. I arrived just as Pat, the Highlander, Hamilton and Double R, Righteous Rick Sterling pulled up in separate cars and began an argument in front of Le Skratch. The two men had to be pulled apart before they started a donnybrook in the snow banks in front of Le Skratch. I would have thought that the minus forty Celsius temperatures would have been enough to cool down even a hot head like the drunken Scot Hamilton, but no. I set myself up at the timekeeper's table to take notes, and while I waited for the action to start, I wrote a new When We Were Marks column called, "For Want of a Fork?"

( Stop. Stop! STOP! Fait l'ARRETE S.V.P. )
What now?
( It just occurred to me why Sterling was so upset at you. )
OK. I'll bite. Why was Sterling upset with me?
( Obviously, he was taking you seriously. People keep forgetting that at the end of the day, you're full of shit. )
HEY! I'll admit that I use that line a lot, but it's one thing for me to say it about ME. It's quite another for YOU to say it about ME.
( Whatever. Look, we used to run a warning in these recaps so that people would understand that these recaps were just your uninformed ravings, and that they were not to be taken seriously. )
Astonishingly, that's actually a good point, even if I am starting to get insulted with your way of making your point.
( Stand back. Let me do this. *Ahem*

"We here at IWS recap central will not be held responsible for any injuries sustained by our readers while reading about this event. Taking Llakor seriously may result in serious injuries. These such injuries include: cuts and minor lacerations, bruising, broken bones, trophy shots to the gonards, burns due to fire, burns due to electricity, and last but not least, heart attacks. Also, if you try to read this all in one sitting, you may find that you've crapped your pants several times, your muscles have atrophied and quite possibly you've died. If you and/or any persons you are thereby responsible for are afraid of any of these potential injuries, please hit "BACK" now. Then again, if you're scared of a little pain and blood then you're definitely not hardcore enough to read about this violent presentation. Because this is the Internet Wrestling Syndicate, and the IWS is HARDCORE! This recap may contain nuts, or may have been written on the same assembly line that once had nuts on it, or may have once been in the same room when a tin of nuts were opened. Person with food allergies are hereby warned." )

Are you quite finished?
( Just one last thing.

"P.S. You may take anything that The Great and Mighty OZ says as gospel." )

God give me strength.
( While you are waiting for divine inspiration, can I ask a question? )
What the heck. Sure. Go ahead.
( Aren't we supposed to be doing a hurry-up recap here? Let's get cracking you slacker. )
SIGH.

Violent Valentines was held on February 15th at Le Skratch in Chomedey, Laval. I arrived early, because I was in the Laurentians that day house-sitting, so I took a bus from Piedmont to Carrefour Laval, and then transferred to a bus that dropped me off in front of Le Skratch at around 7pm. I arrived just as Pat, the Highlander, Hamilton and Double R, Righteous Rick Sterling pulled up in separate cars and began an argument in front of Le Skratch. The two men had to be pulled apart before they started a donnybrook in the snow banks in front of Le Skratch. I would have thought that the minus forty Celsius temperatures would have been enough to cool down even a hot head like the drunken Scot Hamilton, but no. I set myself up at the timekeeper's table to take notes, and while I waited for the action to start, I wrote the draft of a new When We Were Marks column called, "For Want of a Fork?"

At 9:15 the lights came down and Elvis began playing. I hadn't noticed it right away, because I was at an oblique angle to it, but the screen had just come down.

"Violent Valentines
(Down with the sickness)
Tonight
Pat, the Highlander, Hamilton vs. WonderFred
Hi-5 vs. Latino Connection
The Arsenal vs. Hardcore NINJA~#1
Onyx & El Generico vs. Big Steve Royds and the Green Phantom
Violent Valentines
(Elvis is back)
Also
Mathy69
Iceberg & FOD
Viking and Damian
IWS"

The screen is up at 9:21. Smoke pours out. From the back, a very familiar voice announces, "Are you Mother-Fuckers READY? Scream. Scream. It's time for the I Fucking W S. Your host, from Team 990 "Between the Ropes". Here's your host, Brian the Guppie."

Brian the Shill with the mike, "How you doing? Are you ready for some Hardcore Rassling?" He pauses for "Hardcore" chants from the audience before continuing, "Nothing says I [heart] you like a little violence. SHILL. SHILL. SHILL. I'm one of the hosts of IWS-TV, every Wednesday night at 7pm. Where do I see Mr. Peter LaSalle? You're going to make me come to you?" The crowd chants, "LaSalle" He is in the crowd in the Two Mountains Mob, and he is eventually persuaded to get up on the ring and grab the mike, "What are you doing? This isn't Wednesday. This is Saturday. You're the one getting crucified. The fans hate you."

( Maybe the reason that Brian the Guppie is hated is because of all the SHILLING he does. Just a thought. )

Brian the Shill adds to the mike, "The fans love you Peter LaSalle." Peter LaSalle replies, "Yeah, but they hate you. Will you look at your suit and shoes. You look like you're going to a funeral." Brian the Shill gets the mike back from Peter LaSalle as LaSalle returns to his seat in the Two Mountains Mob, "Please. Please. Please. All kidding aside, are you guys ready for some hardcore wrestling. Let me just shill the crap out of Colonel Meez's tape table from Emax Tapes, in the process making Llakor want to drive his glow in the dark pen through his left eye into the back of his skull. As well, tonight an amazing main event, so anticipated I can hardly wait. The IWS heavyweight champion, the Green Phantom and Steve Royds will battle El Generico and Chomedey's very own Dru Onyx. I have to be honest with you. I hurt my back on the radio. Radio broadcasting is a very hard job. Are you ready for your first match? First from Wonderland, weighing 170 pounds, WonderFred."

WonderFred is out wearing a suit and tie. He struts to the ring, grabs the mike and within about a micro second has every person in the crowd out for his blood, "Mesdames et Messieurs, bon soir, j'aimerai avoir un moment de silence. (pauses for boos.) Please, a moment of quiet. Vous etes mechant. Un grand announce pour tout le monde ici. Le IWS a un gros probleme. FERME TA GUELE! Ici j'ai un depliant de la IWS, puis je veut vous lire un extrait. Violent Valentine. Nothing says I love you like a little violence. Notre probleme est ici. Aucun inscription en francais. Le IWS est legallement obliger de faire leur depliant en francais. A partir d'aujourd'hui, je represente le loi 101 et on va faire changer des choses a partir de ce soir. On va commencer avec l'annonceur en maison. Mon introduction sont inscrit sur les cartables. Je sais que les anglophones sont tous incompetents. Mais meme vous peut lire ces cartables."

Brian the Shill is incredulous, "You are serious? OK. Quatre-Vingt Quatorze kilogrammes. Veuiller chaleureusement accueiller le seul, incroyable, Fred le Merveilleux. And his opponent from Glasgow, Scotland, weighing in at 210 pounds, Pat, the Highlander, Hamilton."

As Pat dances around the ring, Fred le Merveilleux, gives his jacket to the TimeKeeper's table, commanding us to, "Fait Attention." After doing that, he mocks Pat's Highland dancing. WonderFred rolls out as Pat, the Highlander, Hamilton rolls in to dance in the ring. The crowd chants, "WonderBra!"

( I love the fact that all WonderFred had to do was open his mouth and speak French and *boom* instant heel. )

The bell rings at 9:40. Peanut is the ref. The two men hook up. Fred le Merveilleux takes down Pat, the Highlander, Hamilton with an arm drag. Pat bounces back up, they lock up, and Fred drags Pat's arm again taking him down to the mat. Pat bounces back up only to be met by a leaping Fred who twists Pat around again with an arm drag take down. While Pat sits frustrated on the mat, Fred does jumping jacks in celebration.

( What do you think the over under is on how many minutes before Pat grabs Fred by the tie and starts playing "Spin the Frenchie"? )

I'm guessing sometime in the next minute. Pat takes advantage of Fred's smugness for his own leaping arm drag take down, and another, and THREE TIMES A LADY! Pat drops the elbow on a prone Fred le Merveilleux, and he follows up with a Roaring Elbow Drop. Fred le Merveilleux staggers to his feet and Pat PULLS FRED'S TIE! for the Graeco-Roman eye-poke.

( Fifty-Eight seconds. Damn, You're good. )

Now, if I could only predict the numbers in the Super 7. Pat scoops Fred le Merveilleux up and slams him down, and again, and THREE TIMES A LADY! Pat roars, "You want old school?" and does the GARVIN FOOT STOMP!!! all over Fred le Merveilleux's prone body. Fred scrambles away... and calls for a time-out! HA! Pat is having none of that, and he muscles Fred into the ropes and then uses the ropes to leverage Fred around so he can punch him down and the ropes bounce Fred back up for another punch. After playing human rhythm bag, Fred le Merveilleux escapes the ropes and runs for it pursued by Pat. They do one complete tour of the ring before Pat, presumably having run out of breath and patience, says, "Fuck It!" and rolls into the ring to wait for Fred le Merveilleux to stop running. Fred, still running as though the hounds of hell were after him, does another complete circuit of the ring before he runs into Disgruntled F'N Fan at ringside and turns and does a Flair Flop onto the concrete floor.

Fred le Merveilleux drags himself back up into the ring bleeding from the nose. He calls for the Test of Strength and when Pat, the Highlander, Hamilton obliges him, he promptly kicks Pat in the balls. But Pat, who must be wearing a cup under his kilt, is unfazed, and he recovers quickly to flatten Fred le Merveilleux with a drop kick. Fred gets back up and gets taken down by a BRAIN BUSTAH!! Pat, the Highlander, Hamilton covers for one and two and no. Fred gets thrown into the corner and Pat clotheslines him there. When Fred collapses, Pat catapults him from the ropes. He follows that up with some vicious NECK DEATH which leaves Fred le Merveilleux prone in the middle of the ring. Pat climbs to the top, slips, recovers and launches himself for a splash that gets... NOTHING... BUT... MAT!

( Are we at an IWS show? Or did we use one of the time machines that you have cluttering up our apartment to go to a 1980's WWF house show? )

Fred le Merveilleux takes advantage of Pat's slip to nail him with a suplex and the cover for one and two and no. Fred grabs Pat for a German suplex, rolls through it for another, and THR-NO! Pat counters, reverses, and he throws Fred for a VICIOUS German suplex, and he rolls through it for another, and THREE TIMES A LADY! And that last one damn near killed Fred. Pat readies for Fred le Merveilleux to get up and knocks him back down with a whip lash clothes line. Pat waits again for Fred to get to his feet, but this time Fred le Merveilleux is ready for Pat's clothes line and he counters it into a suplex and the cover for One and Two and Pat slaps Fred to break the pin.

( Oooooh! I love it when guys use slaps to break pins. It makes more sense when a heel does it, but in the context of the IWS and of this match it makes perfect sense. It is very much a veteran maneuver by a veteran performer. )

Fred rolls Pat up from the ropes for ONE! and Pat rolls out of it. Fred tries to roll Pat up again, but he succeeds only in rolling Pat to the outside, where someone gives Pat some BEER!

( OH, he's strong to the finish
Cause he drinks his Guiness!)

Fred has gone to the outside as well. Fred le Merveilleux hits Pat, the Highlander, Hamilton with an ax handle - No Sell. Fred tries for a double ax handle - NO SELL! Both men roll in. Fred steals Pat's beer and drinks some. Fred sputters and gags.

( Are we sure that Fred le Merveilleux is from Quebec? Because he's acting like some pansy Parisien right now. )

In desperation, Fred runs and grabs a chair. He charges Pat with it, who ducks it easily and Fred le Merveilleux hits the ropes with the chair, bouncing the chair off the ropes and taking the chair right in the kisser. While Pat knocks Fred le Merveilleux on his ass, Double R, Righteous Rick Sterling has snuck out and he climbs to the top rope to ambush Pat, the Highlander, Hamilton with a reverse bulldog neck snap thing. and that looks just painful. Fred takes advantage for the cover and ONE! and TWO! and THREE! and the pin.

Fred le Merveilleux pins Pat, the Highlander, Hamilton with help from Double R, Righteous Rick Sterling, Time of match 10:10.

After the bell, Double R, Righteous Rick Sterling, rolls Pat's shirt over his head so that he can decorate Pat's chest with some knife-edge chopped tattooing. After bringing up some nice red welting on Pat's gefilte white skin, Sterling muscles Pat over in a suplex. Fred le Merveilleux adds his Jerry Lawler Memphis Memorial Wonder Punch fist drop, and encourages Sterling to add one of his own. Over Peanut's protests, Sterling scoops Pat, the Highlander, Hamilton up and slams him down, setting him so that Sterling can climb to the top rope and drop the leg from the top. Double R, Righteous Rick Sterling shakes hands with Fred le Merveilleux, and they leave together at 9:50.

( Double R, Righteous Rick Sterling, an anglophone from Ontario teaming up with Fred le Merveilleux a francophone from Quebec? That's a marriage made in HELL! Still, that was a tremendous after-match beat down, and while the match was very 1980's WWF Superstars, it was a good high-end WWF Superstars match. I give it SEVEN erect nipples. )

Brian the Shill is out with the mike, "Pat? You OK? Peter LaSalle give me a beer. Give me a beer. That's OK. Give me some more beer. Pat, the Highlander, Hamilton everybody." Pat dances, well staggers as much as dances, to the back, shouting, "After the show, we're going drinking." Brian the Shill watches him leave as the crowd chants, "More Wrestling, Less Guppie!" Guppie is unimpressed by the chanting, "My back is HURT people, I want a raise. And now for something that will make each and everybody... Yes, 'HLA' will make you very happy. After the main event, we're doing a wet breast contest, not wet t-shirt, wet breasts. You do have a chance to win $200.00 for participating. We will need volunteers. Don't make me go into the crowd and get you ladies."

( I am as excited about Wet Breasts as the next guy, assuming that the next guy isn't Colonel Meez, but it is just a little creepy when Brian threatens forced participation. I don't know about anyone else, but I prefer my porn with women who are enthusiastic and excited to be there. Rape fantasies are not my bag. )



---

"Don't Blame CANADA, Blame Yourselves!"
Promote this thread!
The Great and Mighty OZ
Weisswurst



Since: 20.11.02
From: Montreal, Quebec, Canada

Since last post: 3993 days
Last activity: 3993 days

#2 Posted on
Llakor Broadcast System

Sunday, March 23rd, 2003

LBS#16: Violent Valentines

Part Two of Four

*****************************************************************

Brian the Shill continues, "But first, this past week, something peculiar happened to our tag team champions. This is from IWS-TV."

The screen comes down to play a skit from IWS-TV. Beef Wellington and Kamikaze Kid pull up in Beef's car, in front of Wild Rose Productions studios, home of the IWS. The week before this skit aired, Beef had said something about his partner, Kamikaze Kid, being on safari, and indeed when Kamikaze Kid gets out of the car, he is wearing a SWANKY safari hat.

As they leave the car, Kamikaze Kid is in the midst of telling Beef a story about his safari adventure, "So there we were surrounded by Geese."
"Geese are vicious animals."
"I KNOW! Our local guide was completely useless, of course, he had no idea what to do. So, I grabbed my Dad's rifle..."
"That's a SWEET rifle."
"I KNOW! So, I grabbed the rifle and I started Regulating..."
"REGULATING! That's a sweet hat by the way."
"Thank you."

Beef Wellington and Kamikaze Kid enter the WRP offices. Behind them, Latino Kid and Latino Mysterio pop up beside Beef's car. Mysterio is wearing his mask. Latino Kid seems very excited by the fact that Beef has left his keys in the car, and as Los Latinos scramble into the car, we cut to the inside of Wild Rose, where Hi-5 have stopped in their tracks. Kamikaze Kid appears puzzled, "Beef, Do you feel ten pounds lighter?"
"Like we were missing ten pounds of gold around our waists?"
"Yeah."
"We forgot our belts in the car."

They go back out to the parking lot, to find Beef Wellington's parking spot... EMPTY! Beef is distraught, "DUDE! Where's my car?"
"Where's your car, Dude?"
"My Dad is going to kill me!"

At this point, Los Latinos pull up on the far side of the parking lot in Beef's car and wave the belts. Hi-5 takes off in pursuit, but Los Latinos peel off in Beef's car well before Hi-5 gets to the far side of the parking lot. In despair, Beef grabs his head as Kamikaze Kid does a great vertical leap of frustration.

Hi-5 are out to the ring at 9:57. Kamikaze Kid grabs the mike, "You think that's funny Tony Schiavone? Those little wetbacks! We had to take the BUS here! We're high class, we take the limo! There are fat people on the bus! They smell!"

As the Two Mountains Mob chants, "We took the bus!" Beef Wellington takes over on the mike, "The least that the IWS could have done is get us a limo. We have nothing to keep our robes closed. Just get them out here." Hi-5 has a new disrobe ceremony which prompts Brian the Shill to refer to them as "Westmount Playboys" and the crowd to chant, "Westmount Faggots!" Los Latinos come out with belts.

( Sadly, they don't come out with Beef's steering wheel or his hubcaps. )

The bell rings at 10:05. Ruffneck is the ref. Kamikaze Kid and Latino Mysterio start. They begin with a sequence of arm-wring counters. Latino Mysterio gets the upper hand with a fancy SWANKY arm drag take down, but Kamikaze Kid is back to his feet quickly to put Latino Mysterio in a side head-lock. Latino Mysterio shoves Kamikaze Kid off and he bounces off the ropes to hit Latino Mysterio with a shoulder block, but Latino Mysterio totally no-sells the shoulder block. While Kamikaze Kid is trying to figure this out, Latino Mysterio nails Kamikaze Kid with a shoulder block of his own, knocking Kamikaze Kid on his ass. Beef Wellington charges in and he, in turn, gets knocked to his ass by a Latino Mysterio shoulder block. Kamikaze Kid and Beef Wellington help each other to their feet, but before they can get solid footing, Latino Mysterio knocks both men down with a shoulder block. I guess Latino Mysterio took his Wheaties this morning.

( Did this Peruvian pip-squeak steal Ray Palmer's weight belt or something? Because this is UNPOSSIBLE! )

Beef shares your consternation, "What the HELL?" Latino Mysterio charges again, but Hi-5 uses his momentum against him and they carry him over in a double team NECK DEATH maneuver. Holding his head, Latino Mysterio tags in his brother who comes off the ropes with a flying elbow to take out Beef Wellington. Kamikaze Kid throws a kick at Latino Kid that misses by a country mile, but he makes up for it with a NASTY side kick to a kneeling Latino Kid. Beef goes to the top rope to nail a prone Latino Kid, and his arrogant cover gets one and two and no. Beef is unhappy with Ruffneck's call, "Unos, Dos, after that Tres!" He slaps Latino Mysterio in the corner, and then tries some flippy nonsense on Latino Kid and misses, hurting his back in the process.

( BEEF!? What are you doing? Stay away from the Lucha Libre nonsense! Stick to what you know. )
I guess Beef is so upset about the theft of his car and belt that he isn't thinking straight. So Los Latinos' plan is working. Good for them.
( What kind of a SICK society are we living in, when two fine upstanding young men from good Westmount families, the very pillars of society are booed, while two scruffy, pint-sized, illegal immigrant car thieves are cheered? What we have here is a breakdown in the moral fibre of society. )

Latino Kid takes advantage of Beef's miss to hit him with some wacky Lucha Libre NECK DEATH and the cover for one and two and broken up by Kamikaze Kid. Hi-5 teams up for a double team NECK DEATH of their own and the cover for One and Two and broken up by Latino Mysterio.

( Hey Ruffneck! Try to exert some control in this match! If you're not careful, these Los Latinos punks are going to Cheat to Win! )

Latino Kid is trying to escape to his corner. He is blocked by Kamikaze Kid. Latino Kid kicks, Kamikaze Kid catches the leg, and Latino Kid LATINOZEGURIS Kamikaze Kid down, tagging in Latino Mysterio in the process. And Latino Mysterio is a pint-sized Peruvian pyrotechnic puroresu! While he is taking out Hi-5 on his lonesome, Latino Kid is busy setting up a table.

( I am not one to make hasty unsupported accusations, but Latino Mysterio... There's no way that little runt should be able to mop the floor with Hi-5 the way that he is doing. I declare SHENANIGANS! )
Haven't you ever heard the expression, "It's not the size of the dog in the fight, it's the size of the fight in the dog?"
( So you're saying that Latino Mysterio is using some kind of doggie steroids? That would explain a LOT. )

Kamikaze Kid is finally able to subdue Latino Mysterio with some twisty painful looking thing and the cover for One! and Two! and broken up by Latino Kid. Beef, intrudes to complain about all this...

( Flagrant cheating? )

Right. But Beef gets flattened by some fancy Lucha Libre stuff from Latino Mysterio. Before Latino Mysterio can take advantage though, Kamikaze Kid damn near takes his head off with a NASTY kick, and Kamikaze Kid covers for ONE and TWO and NO! Both men are up and as Kamikaze Kid readies himself for some classic mat wrestling, Latino Mysterio grabs Kamikaze Kid's shirt and rolls it over his head. Latino Kid follows that up by pulling Kamikaze Kid's pants down.

( I ask you. Is this anyway to treat a champion? I think NOT. )

Kamikaze Kid blunders around the ring, knocking over the table that Latino Kid had set up in the process. Kamikaze Kid, eventually, rolls out of the ring in a vain search for his dignity. Latino Kid ambushes him with a leaping elbow from the apron while his brother cheers him on. Meanwhile, Beef Wellington has climbed to the top rope where he sizes up Latino Mysterio and leaps to hit his famed top rope ass punch with a CRUNCH! Latino Mysterio kicks Beef in the head, runs, leaps to the top rope, and dives on Latino Kid and Kamikaze Kid. Beef shakes the cobwebs out of his head, charges the corner, leaps to the top and then says, "AWWW! FUCK IT!" and jumps back down. That was AWESOME! I love it when heels refuse to take risks.

( Whoa. Whoa! WHOA! Like LE WHOA! First off, Beef Wellington is a baby-face. I mean look at him! Is that not a face that only a group of blood thirsty, uneducated, back woods, red neck violence junkies could hate?)
Do you even know where we are anymore?
( OH. RIGHT. I forgot I was smack down in Deliverance country. FINE. Break out the Dueling Banjos and the moonshine whiskey and forget I said anything about Beef being a baby face. Still, what you said about Beef not taking risks is pure, total, unadulterated bat GUANO. )
OH. PLEASE. He just begged off a top rope swan dive to the outside.
( I call for an instant replay on Beef's top rope ass punch. )
I will give you that Beef is famous for his top rope ass punch, but not because it's a RISKY MOVE.
( I beg to differ. And I notice that you are not replaying the tape. )
All right. Fine. Just a second. WHIRR! "!EMOSEW... o sbewboc e... w hcnup ss..." WHIRR! Here, we go. "Beef Wellington... leaps to hit his famed top rope ass punch with a CRUNCH!"
( Let's replay that CRUNCH shall we? )
Why on Earth? Never Mind. "...h a CRUNCH!"
( Now slow it down and magnify it. )
I really don't know what you're trying to prove. But, fine, here we go. "C... R... snap U... N... crackle C... H... pop !" Ummm... why is there an ad for Kellogg's Rice Krispies in the middle of Beef Wellington's ass punch?
( BUFFOON. That was the sound of Beef Wellington suffering a transverse metacarpal fracture as his hand collided with Latino Mysterio's scrawny ass of steel. )
Wait a minute. Are you saying that Beef just broke his hand on Latino Mysterio's ass?
( By Jove, I think he's got it. )
BWAHAHAHAHAHAHAHAHAHA!
( I fail to see the humour in the situation. )
HAHAHAHAHAHAHAHA!! I can't breathe. I can't breathe. Oh Mercy!
( Can we get back to the match please? Hurry-Up recap remember? How are we going to get this finished if you keep stopping the recap for your own amusement? )
WHAT? BUT... BUT...
( No more mentions of Latino Mysterio's ass please. It's a painful subject. Just get on with the recap. )
SIGH. FINE.

Los Latinos double team Beef and they set him up for a Latino Mysterio hurricanerana from the top rope, but Beef blocks it and power bombs Latino Mysterio from the top. Beef sets back up the table that his partner knocked over, but when he goes to grab Latino Kid, the Peruvian purureso powders Beef right in the face.

( BABY POWDER!? Will the CHEATING never end? Ring the DAMN Bell! This match should be OVER! )

Los Latinos feed Kamikaze Kid to a blind flailing Beef, who drags his partner onto the table and sets him up for his straight jacket pile driver. Fortunately for Kamikaze Kid's vertebrae, the table collapses underneath Hi-5 before Beef can finish murdering his partner. Blinking the remnants of the baby powder out of his eyes, Beef jumps out of the table wreckage celebrating. As he regains his eye sight, he spots Los Latinos and counts, "One. Two. Oh. SHIT!" Los Latinos charge Beef, but he uses their momentum against them, throwing Latino Kid to the outside and bouncing Latino Mysterio off the ropes to roll him up. With the help of the ropes and his partner Kamikaze Kid, Beef covers Latino Mysterio for ONE! and TWO and THREE! and the pin.

Beef Wellington pins Latino Mysterio to retain the IWS tag team championship belts. Time of match 9:47.

At 10: 11, Kurt Lauderdale charges in to murder what's left of Los Latinos. He takes out Latino Mysterio with a face hold suplex, and then scoops Latino Kid up and slams him down. Kurt Lauderdale picks up the prone Latino Mysterio and gives him the Green Phantom Slam.

( Do you think that the Green Phantom gets a nickel every time someone does that move? He ought to. Solid title defence, and a fine comedy match with another good post-match beat down. I give it EIGHT erect nipples. )

Latino Kid has struggled back to his feet, so Kurt picks him up for the Fireman's Carry Power Bomb, but Beef stops him. So Kurt puts Latino Kid down... and then picks up Beef and does it to Beef instead. The crowd chants, "You killed Beef!" as Brian the Shill comes to the ring shaking his head in disbelief, "They let Kurt Lauderdale in the building after what happened last show? Unbelieveable. I am told that there is an important message from the benefactor of the IWS. Ladies and Gentlemen, the owner of the IWS, Carol Cox!"

( Shouldn't it be benefactress? And I thought that Carol spelled her last name "Coxxx"? )
Nope. I have here a note from her lawyer that her name is spelled with one "X". There is apparently another completely different porn star who spells her last name with three "XXX"'s. It says here that it's very important that we don't confuse our readers. There are huge trademark issues at stake.
( Oh. Well. God Forbid that we should piss off the porn stars by misspelling their names. )
FUCK the porn stars. They don't scare me half as much as their lawyers do. Porn stars lawyers, man... BRRRRR! They are like piranha with admantium teeth swimming in a bucket of Jolt Cola.
( OK. Let's see if I have got this straight. Carol employs the Triple XXX SeXXX EXXXpress, SeXXXy Eddy, but she, herself is Carol One-X Cox. )
EXXXACTLY.
( Odd. )

Carol reads off a batch of legalese which, translated to English, can be paraphrased as follows, "Recently, Commissioner Joseph FitzMorris has been pissing me off. He has been screwing with Onyx's title shot and he arranged for PCP Crazy Fucking Manny to lose a retirement match. I have tried to talk to the Commissioner about this, but he has ducked my phone calls, my e-mails, my visits. I have asked my lawyer to look over Joey's contract, and I can't fire him... yet. But I can give him a boss. So, as of now, Commissioner Joseph FitzMorris' supervisor, and the new president of the IWS, is Miss Seska."

Brian the Shill is ecstatic, "Finally, I have a friend in the office. Commissioner Joseph FitzMorris finally has to answer to somebody. Let's take a short break while the audience rips their ears off their head in a futile attempt to prevent the shrill noise of my shilling from penetrating their fragile skulls. WHAT THE HELL?!"

The "WHAT THE HELL?!" was prompted by the sudden playing of music... the very familiar music... of the Angry Aryans.

( Oh MAN! Not these guys. I hate these guys. )

That would make two of us. And Brian the Shill makes three apparently, because he is finding it hard to disguise his disgust as he introduces Damian and Viking, "Ladies and Gentlemen, the Angry Aryans." Damian grabs the mike from Brian, normally a move that makes me chortle with glee, but in this case it fills me with dread, "You know I don't understand why you fans hate us. Let me tell you, I have never done anything else than my duty. Of all the teams in the IWS, the team that I hate the most is the Fucking Red Army. FOD is a black guy who is married to a white woman; Iceberg, that Hogan wanna-be, sleeps with a black girl. Iceberg, FOD, Red Army we want you to come out here right now. Come to the ring!"

( I don't believe that they went THERE. )

Neither do I, and neither, to his credit, does Brian the Shill, "You actually want Iceberg and FOD to come to the ring after that? Are you nuts?" The answer is YES, and not only are they crazy, they are STUPID to boot, as Iceberg and FOD come charging in from the crowd to attack Damian and Viking from behind. There is some clubbering and then Iceberg and FOD start a who's sicker contest using Damian and Viking as tackle dummies. In quick bewildering succession, there is a NASTY~ Choke Slam, an even NASTIER~ Power Bomb and a NASTY~ Face Plant. As Peanut and Ruffneck try and fail to reason with Iceberg and FOD, they start in with the double team moves with a weird Face Plant move on Viking and a Spike Pile Driver on Damian. The Red Army sets up a table in the ring. FOD screams, "You want fire?" as he douses the table with lighter fluid. Since the underside of the table is covered with caps, there is a neat audio-visual moment as the table lights on fire and the caps go off just before Iceberg Power Bombs Viking through the burning table.

At 10:21, Commissioner Joseph FitzMorris is out to stop the Red Army from doing any more damage to the Angry Aryans, "This is a match made for Pay per View. Multi-Cutural vs. Racist. I think I can sell tickets to this. March 15th, Know Your Enemies. Don't hit them now. If you hit them any more, you will lose your jobs. Let that anger BREW! I can't believe I'm protecting these guys. Not a finger on them until March 15th."

FOD is unimpressed, but he relents on his pursuit of Damian to grab the mike, "They said that we were too extreme for you. We don't want arm locks! We don't want head locks! We want FIRE!"

Damian, not content to live and walk away, wants to stir the pot a little, "Next month we will have a huge surprise for you Big Lips and for you, you Hogan wanna-be." Iceberg and FOD hop out of the ring and the Angry Aryans take off.

That leaves Commissioner Joseph FitzMorris in the ring to declare, "Next month... an explosion of anger!"

( You want to say something at this point. )
No, I'm fine.
( Who are you trying to kid? You have the exact same look on your face as you did during the Kurrgan main event at the Rougeau show, when you were the only person cheering for Kurrgan because he was an Acadian. )
No, No, NO, I need to stay focused. MUST... COMPLETE... HURRY-UP... RECAP...
( Have it your way, it's not like Quebec was a racist society or anything. )
AAAAAARRRRGGGGGHHHH!!!

Maybe I haven't mentioned that I hate... Hate... HATE... the Angry Aryans gimmick. But I do. And I do because, for me, it cuts straight to the bone of everything that I both [heart] and hate about Quebec.

When I was a kid growing up in the Laurentians, my parents made the decision that I should go to school in French, which is how I found myself an anglophone, not speaking a word of French, being taught by nuns at Marie Rose in St-Sauveur. Now, you might think that as a short, smart kid who was completely different than everyone else in the class that I would be easy prey for bullies. I wasn't. In fact, the entire class took it as a project to teach me French.

It helped that I was good at dodge ball, and in that school, at that time, dodge ball was fiercely competitive, and by that I don't mean that it was a tool for bullies to injure smaller class mates during gym. At Marie-Rose and later at St-Edouard, dodge ball was a serious sport, with strict rules. In those school yards, it was almost an Olympic level sport.

So, when I moved to Halifax, it was a bit of a shock to my system how badly I was hated for the crime of speaking French. Why was it that French Quebecois could accept an anglophone Quebecker and teach him French, but anglo Nova Scotians wanted to beat the crap out of him for the crime of being from Quebec and speaking better French than their teachers?

Admittedly, I didn't help matters. I moved in the middle of Rene Levesque's rise to power and the first Referendum. At the time, I admired Rene Levesque for his principles, even if I disagreed with his desire to separate Quebec from the rest of Canada. I ended up in a lot of fights for refusing to denounce the Referendum. I was on the side of those who would vote "Non" to seperation, but I felt that Quebec had at the very least the right to ask the question. This was probably too subtle a distinction to be making with my grade seven classmates in the schoolyard of Oxford Junior High School in Halifax, and I paid the price for my sophistry.

At the time, the two smallest kids in my class, and by extension the two kids who got beat up the most, were myself and Donny Wall. Like me, Donny was smart and a bit of a wise ass. He was a lot better at fighting than I was though. Donny was also black. I have a crystal clear memory of us both waiting in the office of the vice principal, both of us fuming over the injustice that saw us being reprimanded for fighting, while our attackers got away scot-free protected by the omerta of the schoolyard. Donny glanced up at me and said, "You could just keep your mouth shut you know."

I was crushed. On one hand, Donny was absolutely right. Unlike him, I had the option of becoming invisible, of fading into the background. But, he was also wrong. To become invisible, to become someone else, would be an act of self-destruction, of self-annihilation no less complete than if I committed suicide... or at least so it seemed to me at the time.

I was also crushed by the implied criticism in Donny's remark, that his experiences and mine were not similar, that, in the end, we didn't even share our victimization. I won't pretend to know what it's like to be the victim of racism. But I think that I have had experiences that at least allow me to empathize with the victims of racism.

The distinction between my experiences in the school yards of Quebec and Nova Scotia, led me to believe, some what foolishly, that Quebec was less racist than the rest of Canada. This was an illusion that was completely shattered for me when I moved back to Quebec in the summer of 1995. Those with an understanding of history will appreciate the irony that I moved away from Quebec during the first Referendum and moved back during the second Referendum.

The Premier of Quebec at the time was Jacques Parizeau. At the time, he had managed to maneuver himself into an awkward political position. He had seized power of the Parti Quebecois from the more moderate Pierre Marc Johnson, but in the process became indebted to the more radical seperatist wing of the party. When he led the Parti Quebecois back to power in 1994, he found himself in a position where he had no choice but to call another Referendum. This might have been his inclination, in any case, but there was a certain irony that Parizeau, who has always been a thorn in the side of other Parti Quebecois leaders, was now being rushed into doing what he had always called on others to do. The political risk to Parizeau was considerable. Lucien Bouchard, easily the most popular politician in the province was in Ottawa as the head of the Bloc Quebecois, and already some were agitating for him to take over the Parti Quebecois.

So Parizeau ventured on a desperate gamble. He brought Lucien Bouchard in to help lead the Referendum campaign and brought in the young Mario Dumont, head of the Action Democratique, a moderate seperatist third party, as political camouflage. If Parizeau's triumvirate could win the Referendum, then Parizeau might be able to make himself the first President of a Quebec Republic. If the Referendum failed, with or without Bouchard. Parizeau's political goose was cooked in any case.

As any observer of Quebec politics knows, he came very close to winning his desperate gamble. Depending on your side of the argument, it was either a nail-biting finish or a heart-breaking finish. The "Non" side won by a mere 53,498 votes, 50.6% to 49.4%, although it should be pointed that over-zealous Parti Quebecois election workers rejected tens of thousands of "Non" votes in English neighbourhoods because the voters had used check marks instead of an "X" or because the voter hadn't kept the "X" within the circle provided.

A bitterly disappointed Jacques Parizeau, who may have been drinking, staggered out to give his concession speech and angrily lashed out at the "ethnics" who cost him his victory. Watching at my parents in the Laurentians, my child-hood illusions of Quebec tolerance were shattered. Mind you my disappointment at Parizeau's remarks was nowhere near that of the French Haitians and Chileans in the audience of the pro-Oui rally who had been under the delusion that they were important members of the sovereignty cause, accepted as equal partners by "pure-laine" Quebecois like Parizeau.

Compare the results of Parizeau's speech to that of Trent Lott's. Parizeau knew going up to the podium that his days as Quebec Premier were numbered. His remarks hastened his resignation, they did not cause it. He returned to being what he had always been: a gadfly irritant undermining the authority of the leaders of the Parti Quebecois by accusing them of not pushing hard enough for seperatism. In other words, Parizeau's comments changed his status not one whit or iota. He was always hated by the "Maudit Anglais" and lauded by hard-line "pur-laine" seperatists; after the speech that was only intensified. By comparison, Trent Lott's comments, by comparison much more innocent, made him a pariah even to his supporters.

So a wrestling racism angle only reminds of how sadly and unnecessarily racist Quebec is. Which is why I hate gimmicks like the Angry Aryans, and angles like the feud between them and the Red Army.

(Are you quite finished? )
I think so. I didn't mention that one of the aftermaths of Parizeau's decision to bring Mario Dumont into his Referendum triumvirate was to elevate Dumont's stature, so much so that Dumont has an outside chance at becoming the next Premier of Quebec in the Quebec elections that are being held now. But that's not really relevant to the matter at hand.
( I certainly don't [heart] the Angry Aryans, but one good thing that can be said about them is that they can never be beaten up too much. Usually with a heel there comes a point where he gets beaten up so badly that you start to empathize with him and almost inevitably the heel starts to turn face. Not in this case. The Angry Aryans can be beaten nearly to death and the crowd will cheer for more. )
I suppose. I still hate them.
( Which brings us neatly around to the fact that you are supposed to hate heels, so the Angry Aryans must be doing a really good job if even heel marks like us are booing them. Plus, there's an argument that by pointing out how racist Quebec society is, that they are doing a public service. )
I am not a big fan of that argument either. I am not saying that we should shrink from the subject of racism, but exploiting it like this leaves a taste of ashes in my mouth.
( So are we going to be finishing this recap any time soon? I thought that this was supposed to be a HURRY-UP RECAP!?! )
WHAT?!? But this was your idea?
( You should really learn to take responsibility for your actions. Blaming me for your lack of focus is juvenile and immature. )
FINE! Back to the recap.

Brian the Shill tries to interview the Commish, "A couple of things that I want to know. How do you feel about your new boss, Miss Seska?" Commissioner Joseph FitzMorris is unimpressed, "Seska? The only thing that she knows about wrestling is how to wrestle cocks. I have a guaranteed contract. This is a wrestling federation. This ain't a place for women, this is a place for men. Onyx, who the hell brings a gun to the ring? You criminal, you will get your hardcore justice." Commissioner Joseph FitzMorris stalks off to the back, leaving Brian the Shill with the mike, "Iron Mike Patterson made his return to the IWS at Season's Beatings as the manager of Evil Ninja Number Two. Like the ball-less bastard that he is, he gives his man the night off. "

The screen comes down to play a clip from IWS-TV. Iron Mike Patterson is sitting on a beach chair beside Evil NINJA~#2 who is wearing his mask and a pair of shorts. Mike is wearing shorts and an incredibly loud Hawaiian shirt. As always, he is talking a mile a minute, "While you are freezing in dirty Chomedey, I am taking Evil Ninja Number Two on the greatest vacation ever. Just as I will manage him to the greatest match ever, I have managed the greatest party ever; the greatest buffet ever; the greatest cocktail wieners ever; the greatest vacation ever. YES, Evil Ninja Number Two, go play volleyball, go play the greatest game of beach volleyball ever. Spike the ball! Spike IT! Hardcore Ninja Number One, are you cold in Chomedey? I am your brother's manager. It is my job to make him the most relaxed man in Chomedey. So while you are all tense and cold in dirty Chomedey, I am going to manage the greatest Clam dinner ever. And your brother will be the most relaxed wrestler in Chomedey. So relaxed that nothing will stop him from becoming the NEXT IWS HEAVYWEIGHT CHAMPION!"



---

Llakor is a TOOL~!
Llakor
Landjager



Since: 2.1.02
From: Montreal, Quebec, CANADA

Since last post: 1899 days
Last activity: 1891 days

#3 Posted on
Llakor Broadcast System

Sunday, March 23rd, 2003

LBS#16: Violent Valentines

Part Three of Four

*****************************************************************

As the screen goes up, Brian, the Shill is unimpressed with Iron Mike Patterson's boasting, "Glad to see your working out, Mike. Nice belly, punk. From Fabertown, Japan, weighing in at 166 pounds, Hardcore Ninja Number One." Hardcore NINJA~#1 comes out with the Japanese flag and a two by four covered in barb-wire. Peanut comes out to referee. Brian, the Shill, continues with the introductions, "And his opponent, accompanied by the Motivator of Madness, from Cochrane, Ontario, weighing in at 165 pounds, the One Man War, Arsenal." Arsenal is wearing a shirt that says, "I [heart] me." The Two Mountains Mob begins to chant, "One Man Whore!"

( I guess Skeletor and Arsenal worked out their problems. )

The bell rings at 10:30. Arsenal takes it to Hardcore NINJA~#1 from the bell with stiff European Uppercuts. They begin the indy counter reversal dance culminating in a HUGE suplex for Hardcore NINJA~#1. With Arsenal down, Hardcore NINJA~#1 goes for his two by four wrapped in barb-wire, but when he brings the board up for a swing, the Motivator of Madness aka Skeletor grabs it. While Skeletor and Hardcore NINJA~#1 argue, Arsenal takes advantage to chop block the NINJA~ down. Arsenal gets the barb-wire two by four from Skeletor, positions it on the prone NINJA~ and drops the leg on it. He pulls the barb-wire out of the NINJA~'z chest, and whacks the NINJA~ with it, before using the barb-wire bat to accentuate some Neck Death. Arsenal covers for one and two and no. Hardcore NINJA~#1 staggers back to his feet, and Arsenal takes him back down with a swinging neck breaker and the cover for One and Two and No. Arsenal does a Twirly Bouncing off the Ropes thing that hits NOTHING... BUT... MAT!

Hardcore NINJA~#1 is up to take advantage. He throws Arsenal up and Neck Deaths him down. The NINJA~ grabs a chair and sets it up in the corner. He then grabs the barb-wire two by four and NAILS Arsenal in the stoumach with it, before bringing the barb-wire two by four over and placing it on the chair. Hardcore NINJA~#1 and Arsenal begin the Irish Whip Counter Counter-Counter Counter-Counter-Counter dance eventually won by Arsenal who throws Hardcore NINJA~#1 into the NINJA~ device of IRONY~! Once again Arsenal pulls the barb-wire out of the NINJA~, and he places the barb wire two by four on the ground as he prepares to power bomb the NINJA~ on the barb wire, but Hardcore NINJA~#1 counters the power bomb and crotches Arsenal with it.

Both men are in pain, but Arsenal recovers first and kicks Hardcore NINJA~#1 in the head. Arsenal starts to rub the barb-wire two by four on Hardcore NINJA~#1's face like an SOS pad on a stained pot. He backs off to let Skeletor hit Hardcore NINJA~#1 with a chair and the end result is that Hardcore NINJA~#1 is busted wide open. The blood seems to fuel the NINJA~'z anger though, as he recovers to hammer Arsenal with a jaw breaker, followed by some NINJA~kickery and punctuated by a leg drop. Hardcore NINJA~#1 throws Arsenal to the corner. He gets momentarily tangled in his own feet before recovering to make the throat-cutting gesture. Then, in what can only be described as a quintessential IWS moment, Hardcore NINJA~#1 pile drives Arsenal on to the barb-wire two by four, in the process jamming his own leg into the barb-wire.

As Hardcore NINJA~#1 extricates his leg from the barb-wire, Arsenal struggles to his feet and he gets slapped to the corner by the NINJA~. Hardcore NINJA~#1 drags Arsenal up to the top rope, but before he can follow through Skeletor grabs his leg. Arsenal takes advantage of the distraction for some NASTY top rope NECK DEATH, and while both men are down Skeletor slides a table into the ring. Both men are up, but Hardcore NINJA~#1 is up just that much quicker and he takes Arsenal down with a Death Valley Driver.

Hardcore NINJA~#1 sets up the table and muscles Arsenal up on it. Skeletor charges into the ring before Hardcore NINJA~#1 can do anything and Peanut ends up pulling them apart. Arsenal has recovered and he heads for the top rope, but Hardcore NINJA~#1 intercepts with a low blow. Hardcore NINJA~#1 drags Arsenal up on the table and NECK DEATH!s him from the table to the mat. Skeletor grabs Hardcore NINJA~#1, again and Peanut, again has to break them up.

( Is it just me or is Skeletor a lot more active in this match then he usually is? )

Arsenal is busted up a little. He takes advantage of the confusion to grab the barb-wire two by four and he hammers Hardcore NINJA~#1 in the back with it. Skeletor and Arsenal team up to NECK DEATH Hardcore NINJA~#1 down. Arsenal covers for ONE and TWO and Hardcore NINJA~#1's foot is on the ropes. Arsenal knocks the foot off and covers again for ONE! and TWO! and Hardcore NINJA~#1's foot is on the ropes again. Arsenal pulls the table outside, but he gets ambushed once the table is set-up. Hardcore NINJA~#1 throws him on the table and puts a chair on his face. Grabbing another chair, Hardcore NINJA~#1 bashes first the chair on Arsenal's face and then Skeletor. He climbs to the top of the ropes with the chair... AND YOU WILL BELIEVE THAT A NINJA~ CAN FLY! or at least DrOp a chair-assisted leg through chair, Arsenal's face and the table. Hardcore NINJA~#1 throws two chairs into the ring, and then rolls the remains of Arsenal into the ring.

Arsenal was playing possum though, and he NECK DEATHs Hardcore NINJA~#1 on the way into the ring. Arsenal climbs up top, decides that isn't high enough, and starts climbing one of the speaker platforms. BUT... Arsenal is not the only one who can play possum, as Hardcore NINJA~#1 jumps up, sprints up the ropes and pulls Arsenal off the speaker platform. Arsenal lands on his feet, but does a Flair Flop right onto the barb-wire two by four! Hardcore NINJA~#1 grabs the barb-wire two by four, throws it on Arsenal and covers the two by four and Arsenal for ONE! and TWO and NO! Skeletor is in and he decks Hardcore NINJA~#1 with a SWEET side kick. One of the fans touches the barb-wire two by four and Arsenal snarls at him, "Don't touch the props!"

( That is a classic IWS moment right there. Hardcore NINJA~#1 wanting the win so badly that he was prepared to cover a barb-wire two by four to get the pin, and Arsenal refusing to lose even if it meant driving the barb-wire deeper into his chest in order to kick out. )

Hardcore NINJA~#1 decks Skeletor and grabs a chair, but he was distracted just long enough to be in position for a flipping jumping kick to the chair through to Hardcore NINJA~#1's face. Arsenal muscles Hardcore NINJA~#1 over with his Fisherman Buster, and covers for ONE! and TWO! and THREE!

Arsenal pins Hardcore NINJA~#1 in 14:21.

After the victory, Arsenal grabs the mike, "Ninja Number One, we have a little surprise for you. That's not the Motivator of Madness. Underneath that Motivator of Madness mask, that's your brother Evil Ninja Number Two!" And sure enough, underneath the Motivator of Madness mask is Evil NINJA~#2. He and Arsenal administer a beating on Hardcore NINJA~#1. Evil NINJA~#2 stops to strip off the rest of his Skeletor costume, as Arsenal sets up a table in the ring. Evil NINJA~#2 rolls out of the ring to get another table. Arsenal drags Hardcore NINJA~#1 over to the ropes and assisted by Evil NINJA~#2 delivers a top rope power bomb through the table. As Hardcore NINJA~#1 does the twitch sell, Arsenal grabs the mike, points to his partner in crime and announces, "Hit this man's Fucking Music!" It's 10:51.

Well that was a hell of a swerve. I think we all expected Iron Mike Patterson's vacation to be a ruse, but we were looking so hard for the NINJA~ run-in that we missed the NINJA~ right in front of us.

( How many times do I have to explain this? NINJAZ~ are masters of disguise. A great match followed by an AWESOME beat down afterwards. I give that match a full TEN erect nipples! )

Once again, when did you become Ole Anderson?

Mathy69 is in to check on Hardcore NINJA~#1. Arsenal takes umbrage at this, "Who the hell do you think you are? I just received word from the back. Evil NINJA~#2 vs. Mathy69 and the match starts NOW!"

Mathy69 and Evil NINJA~#2 collide and these guys are FAST! Mathy drags Evil NINJA~#2 over with an arm drag. As the NINJA~ struggles to his feet, Mathy trips him, and then executes his SWANKY Standing Moon Sault. Evil NINJA~#2 struggles to his feet. He is met by Mathy69 and they combine for a blazing fast indy counter sequence dance culminating in Evil NINJA~#2 levelling Mathy69 with some Neck Death. Evil NINJA~#2 muscles Mathy69 over for a sit-out pile driver and the cover for one and two and no, counted by Ruffneck who only just hit the ring. Arsenal, who came back out with Ruffneck, is at ringside drinking a beer.

Evil NINJA~#2 puts a chair on Mathy69's face and goes up top, but he takes too long and Mathy69 climbs up top as well, at another corner. Both men jump, and Mathy69 intercepts Evil NINJA~#2 with a flying clothesline, but when he lands Mathy69 clutches his knee. Mathy hobbles up top and he spins off the top, hitting... NOTHING... BUT... MAT!

Evil NINJA~#2 waits for Mathy to get up and then sends him back to the mat with a leg lariat. Evil NINJA~#2 takes advantage of Mathy69, locking in a NINJA~ variation of an abdominal stretch. Mathy69 struggles out of the hold, only to be suplexed over, and Evil NINJA~#2 covers for One and Two and No. Mathy rolls away from Evil NINJA~#2 and stands on the apron dazed. Evil NINJA~#2 charges, jumps over him and hauls him down in a SUNSET FLIP! from the apron to the floor.

( HOLY FUCKING SHIT! )

HOLY SHIT INDEED! Evil NINJA~#2 follows up on that with a suplex on the outside. Arsenal comes over with a chair. Evil NINJA~#2 is directing traffic but Mathy69 decks him with a kick and then does the same to Arsenal. With both of his opponent down, Mathy69 does this twirly praying mantis thingy to the two of them and then jumps up to climb the nearest speaker platform. Arsenal and Evil NINJA~#2 help each other up, but Mathy69 kicks them both from the platform and then climbs still higher before flipping from the top flattening Arsenal and Evil NINJA~#2.

( That boy's not right. )

Mathy69 jumps to the apron, from the apron he jumps to the ropes and flips off taking out Arsenal and Evil NINJA~#2 again. Mathy69 then drags Evil NINJA~#2 on to the apron and uses the ropes to choke him. Evil NINJA~#2 struggles out of that, so Mathy drags him up top for a truly UGLY Mathyrana. Evil NINJA~#2 is up and limping while Mathy69 thumps the mat in frustration. Evil NINJA~#2 heads up top, but he gets cut off by Mathy69 who muscles him up and over in a SWEET superplex. Evil NINJA~#2 is twitching on the mat as Mathy69 covers him for one and two and no.

( One of the most admireable things about Mathy is that when he screws up a spot, which is not that often, or even when he does a spot which isn't as smooth as it could be, the very next spot after that is smooth as MOTHER-FUCKING SILK. )

Mathy69 grabs Evil NINJA~#2 for a PERFECTPLEX. OH! MY! GOD! He rolls through the PERFECTPLEX for another PERFECTPLEX and he rolls through again for a THIRD PERFECTPLEX! Ruffneck counts One and Two and No! Mathy69 scoops Evil NINJA~#2 up and slams him down. He pulls himself up top and flips off the top hitting KNEES! Evil NINJA~#2 grabs Mathy69 for some quick Neck Death and some NINJA~kickery, but Mathy recovers to slug Evil NINJA~#2, who staggers and then Flair Flops to the mat. Mathy69 drop kicks Evil NINJA~#2 to the face and covers for ONE and TWO and NO. With Evil NINJA~#2 still prone on the canvas, Mathy69 hits a Standing Fall Away Moon Sault SWEET enough to put a diabetic into a coma, and he covers for ONE! and TWO! and NO!

( GAH! Need Insulin! STAT! )

Mathy69 is frustrated and he allows himself to be distracted long enough for Evil NINJA~#2 to go up top, but not so long that he isn't able to cut Evil NINJA~#2 off and drag him off the top in a top rope Bubba bomb. By this point, Arsenal has finished his beer and he's seen enough. He charges into the ring kicking Mathy69 and then giving him the Fisherman Buster. Mathy69 refuses to stay down, so Arsenal gives him a back breaker across the knee and follows up by dropping the leg on Mathy69. Arsenal yells, "Give me a chair!" and places two chairs across Mathy69's prone body. Both Arsenal and Evil NINJA~#2 head up top with a chair each and they hit the Hardcore NINJAZ~ tag team signature move: a double team chair-assisted leg drop from the top rope. Evil NINJA~#2 covers for ONE! and TWO! and THREE!

Evil NINJA~#2 pins Mathy69 in 12:56.

Hardcore NINJA~#1 charges the ring with chairs just in the nick of too late, and wipes out Arsenal and Evil NINJA~#2 with multiple chair shots. They flee the ring and Hardcore NINJA~#1 throws a chair at his brother's head. Arsenal has grabbed a mike, "Those are cheap tactics. You want us? You want us right now? You pieces of shit! You don't deserve to see a match that good. Next show: Me and Evil NINJA~#2 vs. Mathy69 and Hardcore NINJA~#1."

Brian the Shill gets the mike from Arsenal and comes to the ring as Arsenal and Evil NINJA~#2 go to the back, "Ladies and Gentlemen, one more time, Mathy69 and Hardcore Ninja Number One. Unbelieveable, Mathy69, what an addition to the IWS roster. I can confirm that at Know Your Enemies we will have a Dream Tag Partners match with Arsenal and Evil Ninja Number Two facing Mathy69 and Hardcore Ninja Number One."

While Mathy69's music plays, a hardcore version of "You Spin Me Round," he and Hardcore NINJA~#1 make a tour of the crowd. I slap hands with Hardcore NINJA~#1, but Mathy69 ignores me, staring through me as though I didn't exist.

( HA! HA! LOSER! HEY! Is the theme for tonight beat downs after the match or something? Because that's another great match and another great post match beat down. I give that match NINE erect nipples! )
Not that I want to get into an argument about classification, but how is it that that match was worse than the preceding match?
( Admittedly this match was more SPOTacular, but the previous match told just a slightly better story. Skeletor unmasking as Evil NINJA~#2 made the last match, but even without that the whole story of Hardcore NINJA~#1 being willing to kill himself with barb wire to get the pin and Arsenal being willing to kill himself with barb wire not to get pinned, puts the moves in a better context. )
Astonishingly, I think you have a point.




(edited by Llakor on 23.3.03 1343)
---

"Don't Blame CANADA, Blame Yourselves!"
The Great and Mighty OZ
Weisswurst



Since: 20.11.02
From: Montreal, Quebec, Canada

Since last post: 3993 days
Last activity: 3993 days

#4 Posted on
Llakor Broadcast System

Sunday, March 23rd, 2003

LBS#16: Violent Valentines

Part Four of Four

*****************************************************************

Brian the Shill still has the mike. He does the inane, "Are you guys ready for your main event?" and shills the wet breast contest some more. The screen comes down to play a backstage moment featuring President Seska, Commissioner Joseph FitzMorris and Peanut. In brief, Joey insults Seska, she tells him that if Onyx and El Generico get the win tonight than Onyx automatically gets his title shot at Know Your Enemies. Joey is pissed at this news and when senior official Peanut walks by, he latches on to him to have a private conversation.

( What? No quotes? What happened to completeness? )
Joey talks too fast to transcribe accurately, Seska talks too softly to transcribe accurately, and we are doing a hurry-up recap damn it and the main event is NEXT! The end is in sight!
( No commitment to the craft. We are living in the empire of SHODDY. )

OLE! Generico is out first to his OLE! OLE! OLE! music. He has "RIP OLE 5-0" written on his chest, which is brilliant. He comes to the ring to pray. Onyx is out at 11:14. As Steve Royds music hits, OLE! Generico, petrified, bolts for the crowd. Steve Royds is wearing his sequined cape and sequined do-rag, as well as black and red ring gear. The Green Phantom comes out to chants from the Two Mountains Mob, "Phantom, the Wood is Back!" Once all four men have hit the ring, Brian the Guppie does the introductions, "From Pompino Beach, California (Pompano, you big dummy, POMPANO) sorry, Steve, From POMPANO beach, California, weighing in at 245 pounds, the Natural Steve Royds. His partner and reigning IWS heavyweight champion, from the Ancient Green Hills of Two Mountains, weighing in at 255 pounds, The Green Phantom. Their opponents, first from Tijuana, Mexico, weighing 153 pounds, El Generico. And his partner, weighing a beefy 325 pounds, Chomedey, Laval's own Dru Onyx. A new stipulation has been added to this match by President Seska. If Dru Onyx and El Generico win, Onyx gets his title shot at Know Your Enemies." Steve Royds grabs the mike to demand from the crowd, "Why don't you show some respect to your Champion? You big dummies!"

( Let's see Onyx is 325 pounds, Green Phantom is 255 pounds, Steve Royds is 245 pounds, El Generico is 153 pounds. Can you say, one of these things is not like the other, one of these things is not the same? )

Green Phantom starts, circles the ring, gets blind tagged by Steve Royds and he gets away from Onyx as Steve Royds attacks from behind. Onyx recovers quickly and throws Steve Royds into the corner for a Stinger Splash, followed by a SPEAR! and a leg drop. With Steve Royds down and out, OLE! Generico blind tags himself in. Onyx doesn't think that that is a good idea, but he acquiesces. Steve Royds has, of course, been playing possum and he backs OLE! Generico into the corner for some stiff knife edged chops. OLE! Generico fights his way out of the corner and drags Steve Royds down with a an arm drag take down. He follows up with a jumping arm drag take down and finishes off with a flourish with this flippy complicated Rube Goldberg arm drag take down. Flushed with success, OLE! Generico tries a clothes line and hurts his arm. He tries a running clothes line with the other arm, and hurts that arm as well.

Steve Royds grabs OLE! Generico for a suplex, but OLE! Generico holds on to the ropes to block, so the Green Phantom kicks the ropes to knock OLE! Generico off the ropes, letting Steve Royds suplex him over. Steve Royds picks OLE! Generico up and Irish Whips him into the Green Phantom's leg. OLE! Generico is isolated and in the wrong corner as Steve Royds lays in the knife edged chops. Steve Royds starts playing a game of keep away with OLE! Generico as OLE! Generico tries desperately to tag and keeps falling just short. As Onyx tries to add a couple of inches to his arm length, the Green Phantom takes advantage to sneak around the ring, in the process going right through me.

( Man, it's like you're invisible or something. )

Steve Royds finally covers OLE! Generico for one and two and no. The Green Phantom and Onyx are pounding away on each other on the outside, so Steve Royds picks up OLE! Generico and flips him out at them like a big masked Mexican lawn dart. Steve Royds and Green Phantom drag OLE! Generico into the crowd out of my sight. Onyx roars, "Leave him alone" as the crowd goes, "Oooooh! Holy Shit!" but I have no idea what just happened. Steve Royds and the Green Phantom force Onyx back to the apron and pummel him with chairs. The Green Phantom handcuffs Onyx to the ropes, but in the process, he doesn't handcuff him to the corner as is traditional. Instead, the Green Phantom handcuffs him to the ropes on the side of the Two Mountains Mob inadvertently allowing Onyx to roam up and down that side.

( I'm thinking this is one of those IWS mistakes that works better than the original idea. )

Steve Royds has a chair, but because Onyx has some mobility, he is able to avoid the chair shot and kick Steve Royds from the apron. The Green Phantom chair shots OLE! Generico and then Onyx. The Green Phantom wants to get another chair shot on Onyx, but Onyx is able to foil that with his lateral mobility until Steve Royds distracts him from the outside letting the Green Phantom get his shot in. Onyx, dazed from the successive chair shots, still has enough of his wits about him to spit at Steve Royds.

( I think that El Generico is about to enter a world of hurt. )

The Green Phantom drags OLE! Generico into the ring and starts kicking hisself a mud hole and walking it dry. Steve Royds climbs into the ring giving Onyx a European Uppercut on the way by for shits and giggles. Steve Royds clothes lines OLE! Generico inside out and backwards. OLE! Generico ends up in the corner and Steve picks him up to drop him neck first on the ropes. That doesn't quite kill OLE! Generico dead so Steve Royds grabs him for a Standing Monkey Flip that sends OLE! Generico flying. The Green Phantom is in with a chair and he starts directing traffic. Steve Royds picks up OLE! Generico and puts him on his shoulders. The Green Phantom chair shots OLE! Generico and he goes limp, falling back down Steve Royds' back to eat another chair shot from the Green Phantom. The Green Phantom grabs OLE! Generico and neck deaths him off of Steve Royds' back. The Green Phantom follows that up with a Phantom-plex onto a chair.

( NASTY Phantom-plex too. The chair ends up getting broken in the process. )

The Green Phantom brutalizes OLE! Generico with an under hook pile driver onto the broken chair. The Two Mountains Mob, sick bastards to the core, start chanting, "Use the Wood!" The Green Phantom holds OLE! Generico over his knee for a Steve Royds elbow drop, and then leaves OLE! Generico to Steve Royds tender mercies. OLE! Generico takes advantage of the switch to make a miracle recovery, and he drop kicks Steve Royds in the head and rolls Steve Royds up for one and no. Steve Royds scrambles back to his feet and rocks OLE! Generico with a European Uppercut. OLE! Generico is able to get some seperation from Steve Royds and he sprints to the top for a flip and the cover... Peanut is busy explaining to Onyx that in an IWS main event handcuffs are in fact legal because there are no rules. He finally turns around and drops to count One and No.

( One counts are so cool. )

The Green Phantom has had enough, and he comes in to kill OLE! Generico dead as he taunts Onyx. He stomps hisself a mud hole and he walks it dry. OLE! Generico is out on his feet and he tries to counter the Green Phantom sloppily, but fails. The Green Phantom yells, "OLE!" as he kills OLE! Generico dead Dead DEAD! But when he goes to cover, there is no ref, because Onyx, in turn, has killed Peanut deader, Deader, DEADER! Ruffneck comes in to the ring as Steve Royds attacks Onyx. Steve Royds gets nailed by an Onyx elbow. The Green Phantom charges Onyx, but he is able to use lateral mobility to avoid the charge, and he pushes the Green Phantom into a surprise roll-up by OLE! Generico for One and Two and No. The Green Phantom grabs OLE! Generico for a Phantom Bomb and the cover gets... UMM NADA!

(What happened to Ruffneck? Man! You take your eyes off that guy for one minute and BANG! he's unconscious. )

Onyx in a RAGE... BREAKS THE CUFFS! He charges the Green Phantom, but gets taken down by a chair shot. The Green Phantom has the Two Mountains Wooden Sign of Death and he sets it up between two chairs. PCP Crazy Fucking Manny is in the ring with a chair, followed closely by President Seska with a mike. While Steve Royds lies on the mat to stare up her skirt, Seska announces, "How convenient that both refs are out! Well, there will be a winner in this match. Here's your hardcore ref, PCP Crazy F'N Manny!" Manny takes his shirt off and he has a referee shirt on.

( Well at least Manny doesn't suffer from narcolepsy like, say Ruffneck, but he's hardly what you would call unbiased, is he? )

Steve Royds has a chair, but Onyx punches the chair back into his face and SPEAR!s the Green Phantom. Onyx slams Steve Royds. Onyx slams the Green Phantom onto the Two Mountains Wooden Sign of Death and the Wood sells! OLE! Generico staggers past me. Onyx holds both Steve Royds and the Green Phantom for a flipping clothes line by OLE! Generico from the top rope. Onyx send the Green Phantom flying out of the ring. He and Steve Royds end up outside comforting each other in a touching moment before OLE! Generico runs, flips off the top rope and takes both men out. OLE! Generico sets up a table on the outside, stopping only to nail Green Phantom a vicious shot with something that I can't see. OLE! Generico rolls the Green Phantom onto the table and then climbs to the top rope, but the top rope is not high enough, so he climbs onto Onyx's shoulders flipping off onto Steve Royds who is trying to revive the Green Phantom. Now you would think that the combined weight of OLE! Generico, Steve Royds and the Green Phantom would be enough to break a table, but NO! Onyx reacts quickly though and in a totally INSANE moment he charges and leaps through the ropes. Steve Royds sees him coming and bails at the last moment. So there is a glorious moment as Onyx is sailing through the air, Steve Royds is bailing, and the Green Phantom suddenly sees 325 pounds of Onyx flying through the air towards him and he gets this look on his face like, "I am so DEAD!" This time the table breaks.

( Again, for someone who wears a mask, the Green Phantom is amazingly expressive. )
Yep. I think that he went to acting school with Sergei Eisenstein or something.

OLE! Generico runs into the ring with Steve Royds in hot pursuit, but OLE! Generico is just that much faster than Steve Royds, and he is able to nail Steve Royds on the way in with a low blow. OLE! Generico follows up with a kick to the back of Steve Royds' head, and Steve Royds does a Flair Flop. Meanwhile on the outside, the Green Phantom hits Onyx with a white board, until OLE! Generico makes him back off by throwing a chair at him. Steve Royds takes advantage of that to roll up OLE! Generico and Manny is way out of position and it takes him forever to get in position for One and No.

( I see that Manny is from the old school of guest referees. Now he just needs to start signing autographs to truly rise to Sid Vicious levels of guest referee greatness. )
Right. Working on the scale that a guest referee must be truly, truly horrible at the actual refereeing.
( Of course. )

The Green Phantom chair shots OLE! Generico, but he responds with a truly VICIOUS chair shot of his own on the Green Phantom. And a slight distraction occurs as a fight breaks out on the far side. Green Phantom chair shots Onyx and follows up with a chair shot on OLE! Generico that knocks the Tijuana native out cold. The Green Phantom heads up top and Onyx crotches him on the ropes. Steve Royds knocks Onyx off the apron to the outside and there is a crunching noise on the outside, but I can't see what Onyx hit.

( Sounded painful though. )

Steve Royds yells, "Phantom, the table is right there!" While the Green Phantom hammers away at Onyx, Steve Royds sets up a table and hands it to his partner. The Green Phantom muscles Onyx on to the table. OLE! Generico is on the apron, a little out of it. The Green Phantom grabs OLE! Generico and Phantom Bombs off the apron through Onyx and the table. Steve Royds grabs the remains of OLE! Generico and roll him in. He picks up the Tijuana native for an under-hook face plant and the cover... but PCP Crazy Fucking Manny is... SMOKING?!

( BRAVO! Manny has just discovered a new level of guest referee greatness, surpassing even the king Sid Vicious. )

Steve Royds is less impressed and he gets into Manny's face about it. Manny pushes Steve Royds off of him into an OLE! Generico roll-up for ONE! and TWO! and NO! The Green Phantom is in the ring and he murders OLE! Generico with the Phantasm and the cover... which PCP Crazy Fucking Manny refuses to count. While the Green Phantom argues that call, Steve Royds picks up OLE! Generico for the Anabolic Drop. PCP Crazy Fucking Manny kicks the Green Phantom down and then kicks Steve Royds leg out of his leg, knocking Steve Royds to the mat with OLE! Generico on top of him. PCP Crazy Fucking Manny then JUMPS ON TOP OF OLE! GENERICO TO COUNT!ONE!TWO!THREE!

OLE! Generico pins the Natural Steve Royds, with a little help, in 26:00 to win the match and give Onyx an automatic title match against the Green Phantom at Know Your Enemies.

( WOW! That's a whole new level of guest referee greatness. I don't think that I have ever seen that finish before. I mean I have seen plenty of tag teams both cover one wrestler to try and get the pin. I have even seen four wrestlers, the Hardcore NINJAZ~ and Hi-5 pin two, the Red Army, but I have never seen a guest referee jump on two wrestlers to count the pin fall. )

I am equally impressed, but the Green Phantom is NOT! and he has a chair. He chair shots Onyx, OLE! Generico, PCP Crazy Fucking Manny, Onyx again, and again Onyx, and back to Manny. Steve Royds has a pair of candy boxes, and he breaks them on Onyx's head and shoves a box full of chocolate into Onyx's face. He then grabs a chair of his own and hits PCP Crazy Fucking Manny with it. Manny is busted open, but not enough for Steve Royds, so he chair shots him again. Onyx is using the ropes to pull himself up, and the Green Phantom in an INSANE moment, grabs a skate board with light tubes instead of wheels, goes to the to the top rope and does a Tony Hawk nose grab wall ride off of Onyx's back.

( Not only is that something that you would only see at an IWS show, that is something that only someone in the IWS would be INSANE enough to even think about doing. )

Onyx is knocked out of the ring and he is in very bad shape. He ends up limping to the back leaving his running buddy, PCP Crazy Fucking Manny in the hands of the Green Phantom and Steve Royds. Green Phantom for the moment seems content to merely jaw at Manny, "You dirty junkie; you have interfered in my business for the last time." Steve Royds grabs the mike in turn, "I have to win. Stupid ref. Hey stupid, I'm supposed to win!" The Green Phantom and Steve Royds have finished talking and... OH! SWEET! MERCIFUL! GOD! WHAT IS THAT?

( You know when the crowd starts chanting HOLY SHIT! when something makes its appearance before it is even used, it is not a good sign. )

The Green Phantom and Steve Royds have this monstrous contraption that I can only describe as a giant mattress made out of at least fifty light tubes. They place the infernal device with one end on the mat and one end propped on two chairs. PCP Crazy Fucking Manny's referee shirt gets ripped off, and both men haul him up in the air. They aren't seriously... They couldn't possibly... They wouldn't...
OH!
MY!
GOD!
Hail Mary, full of grace, the Lord is with you.
Blessed are you among women and blessed is the fruit of your womb, Jesus.
Holy Mary, Mother of God, pray for us sinners.
Now and at the hour of our death.
Amen.

( AMEN, brother, A-FUCKING-MEN )

The Green Phantom and Steve Royds double-team power bomb through the light-tube mattress, and there is shattered glass and blood everywhere. And there is SO MUCH BLOOD! Who would have thought the old man to have had so much blood in him? With PCP Crazy Fucking Manny writhing in pain on the floor, the Green Phantom grabs a mike and starts taunting him, "Happy Fucking Valentine you BITCH! I swear to GOD, you dare to challenge me, I will kill you. You have stuck your nose in my business for the last time. This has been another IWS presentation. Give me my belt!"

Manny eventually stands to limp to the back and his back looks like a map of the London Underground, only a freshly printed map where the wet ink has run down and coalesced at the bottom of the map. Guppie, the Shill, is just as shell-shocked as the rest of us, "Put your hands together! They just put their bodies on the line for you. On behalf of the IWS crew, I hope you had a great time." It's 11:52.

(WOW! That may have been the most hellacious post match beat down that I have ever seen. And after an amazing match as well. OLE! Generico died for our pleasure, Steve Royds and the Green Phantom did everything that they could to win, Onyx was good, and Manny did a superlative job of being the worst most biased guest referee that I have ever seen. Please understand that I am not criticizing his performance. Guest referees are supposed to be incompetent and biased, but Manny just brought the art of being incompetent and biased to a whole new level. Plus all the violence and the blood, Good Lord the blood, it was all there not just for the purpose of being there. It wasn't violence for violence's sake; blood for blood's sake; it was there for a purpose, in order to tell a story. BRAVO! I say! BRAVO! I give that match TWO thumbs up and TEN erect nipples. )

I would agree. The topper to quite possibly the greatest IWS event that I have had the pleasure of attending live.

And it's not done says Brian, the Shill, "Still More! Now it's time for the wet breasts. I need you to point out some women. Once one girl comes they are all coming. You want to see wet breasts, you couldn't handle it. Oh yeah all of a sudden Guppie rules."

The broom boys are in with vacuums to pick up all the glass. So they are electric broom boys, now? There is so much glass that they are using chairs to sweep it all up.

We have our first volunteer, pony-tailed Zoe, 20, wearing a grey shirt and grey pants who has a whole virgin next door look going on, and has what are obviously great breasts, even if she tortures us by not showing them in all of their glory.

( TEASE! )

Got that right. Brian, the Shill still has the mike. He points out Colonel Meez aka Emo of Emax Tapes in the crowd, "EMO! I've been plugging the ever loving shit out of your table. Find me some breasts."

( Not to make a totally unwarranted, unsupported scurrilous attack, but if you send Meez out for breasts, he is likely to come back with Mathy69 topless and covered in baby oil. )

Not that there's anything wrong with that.

( Maybe you would like to see Mathy69 and Emo topless and covered in baby oil, personally I can live without. Just the mental image is a scarring experience enough. )

Beef is in to pat down Brian, the shill. He teases taking his shirt off, and grabbing the mike from Brian, the Shill declares, "I want to see some tits. It's a little out of character, but I want to see some fucking tits." This gets us Emily, 21, who has much larger tits than Zoe and also teases us all night long.

Los Latinos are in fanning Brian the Shill down who declares, "We don't understand you, but we love you anyway. LaSalle, you didn't do a damn thing all night. Find me some women. Women, LaSalle; LaSalle, Women. You won't get naked, I promise. I'm a radio broadcaster, my word is my bond. FUCK THAT! Get in the ring, please, please. LaSalle, flex your biceps and find me somebody. Now, you're making me take my jacket off. I'm not getting naked, don't worry. I'm just sweaty; beautiful women make me sweat. I have a face for radio. I give my word, no HLA... unless you WANT to."

While Zoe and Emily go to the back to change into white t-shirts, Beef entertains us with his tanning story which sadly made me laugh so hard that I was unable to take notes. The punch line, for what it's worth was, "Yes, Beef Wellington, the OTHER white meat!"

Eventually, much later, Zoe and Emily come back from the back with a late entrant Karine, 24, who has gorgeous long black hair. Karine, while not having anywhere near as nice breast as say, Zoe, is much prouder of hers and willing to show them at the drop of a hat, quickly endearing herself to the crowd.

We have one round of water poured on Karine, Emily and Zoe by lucky volunteers in, I think, that order. Beef and Latino Mysterio also engage in a topless pose down for the ladies. We then have a challenge round. Karine does an amazing, and I mean AMAZING dance in the ring, humping the ring, the pool of water, the ring posts, everything is sight. In the process, her suede pants get really wet and clingy and she ends up looking like a model for Skoll's washable suede pants. Emily and Zoe then engage in some dry HLA.

During the crowd response section, Brian the Shill decides that it is a tie for Zoe and Karine. Personally, I think that Karine was robbed. She clearly deserved to be the sole winner, not just for her dance, but for her willingness to get naked.

( I would agree, although Zoe was HOTT. )

This points to an oddity with IWS crowds, when it comes to cheering for Wet Breasts contests. We tend to cheer for size last. Our criteria tends to be: nudity, followed by willingness to get crazy, followed by shape and symmetry of the breasts, followed by general over-all appearance, followed finally by size.

( IWS crowds, connoisseurs of the finer things in life, )

Indeed, and with that my quote hurry-up unquote recap is done, a week after I started it. I may have said in this recap that Violent Valentines was the greatest IWS event ever. Little did I know when I wrote those words that Know Your Enemies promised to be EVEN BETTER, and that is up NEXT!

( I think you mean, NEXT WEEK, don't you? )

Probably.

Until then,
I remain,
Yours Truly,

Llakor, That Lousy Canuck
Former [slash] Contributour


---

Llakor is a TOOL~!
BrewGuy
Kolbasz




Since: 2.1.02
From: Pickering, Ontario

Since last post: 1884 days
Last activity: 422 days


ICQ:
#5 Posted on
Did I neglect to mention that BREW came to Montreal to see No Way Out and stayed at my place? He is supposed to do a BREW-CAP of the weekend, which included us seeing Sylvain Grenier perform on Saturday night in a church basement in front of under a hundred fans, and then seeing him the following night perform in the main event at No Way Out in front of more than 16, 000 fans. Mind you, when I saw "SLY" Grenier at No Way Out, I thought he was Rene Dupre. Because how many tall, young, good-looking, French speaking prospects can there be in the (W)WWF development system?

Yes, this is still in the works - It seems to be turning into a piece more about seeing Sly work an indy show, then work the main event of a WWE PPV the next night, with many fun bits of the weekend goodness thrown into it. I may even sit down and crank that sucker out today, if I can get my large buttocks moving.

The two things that BREW is unlikely to mention about his visit to Montreal is that despite being foraging outdoor animals, Grizzlies have surprisingly tender paws. Apparently, in the wild, they take taxis everywhere, as they HATE WALKING. Also, they are baffled by any form of cuisine more complicated than opening a can and turning on a microwave. My ability to make a hot chicken sandwich on demand left him stunned. And my ability to make an egg in a hat was more than his fragile Grizzly mind could comprehend. I may do a full report on the weekend at some point.

While I don't hate WALKING so to speak, I hate LOTS AND LOTS AND LOTS AND LOTS AND LOTS AND LOTS AND BIG LOTS OF WALKING. However, I got some hella-cheap DVD's out of it, and the Cactus Jack DVD, while expensive, is worth twice that amount. I'll keep the rest for the column.


---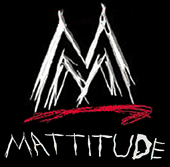 It's official - The WWE logo turned upside down becomes the Mattitude symbol.