The Vile1
Lap cheong



Since: 4.9.02
From: California

Since last post: 3353 days
Last activity: 3085 days

#1 Posted on
According to Entertainment Weekly, the post superbowl sort of "restart" ALIAS scored the lowest post-game ratings for any show in the last 16 years. Also according to the article ratings for the show have dipped significantly this season, while Fox's rival show 24's ratings have gone up.

Anyway, judging from the article JJ Abrams seemed pretty hopeful but I get the kind of idea that the suits are growing a little bit impatient with the series. Will it suffer the same fate as Dark Angel? Or is there something else they can do even though they've been heavily marketing the show's TNA factor with Jennifer Garner in lingerie and stripping out of wet bikinis.

Is anyone here a fan of ALIAS? If so and the show doesn't last as long as you are hoping, does it upset you that supposedly quality shows like that are cast aside and put talented actors out of work while reality trash thrives like never before?


---

"I am many things Kal-El, but here I am god."
-Darkseid
Promote this thread!
Excalibur05
Knackwurst



Since: 19.1.02
From: Minnesota

Since last post: 812 days
Last activity: 680 days

#2 Posted on
Mind you this comes from a person who isn't a fan of Alias.

Shows like this usually have a short run ("action shows", female character notwithstanding, though Dark Angel is a good case of something more recent). They get very popular very quickly and fizzle fast. I doubt this will be any different.

ABC got their hype machine behind the show making it and it's star VERY popular. For whatever reason, the general public didn't see an substance behind the hype and stopped waiting for it.

It's great that they have a star that they can hype for T'n'A, but so do alot of shows. You have to promise more, and I haven't seen ABC be very willing to do that with Alias making it a prime target for a short explosion followe by cancellization.


---

RAW Satire 2/3
Buffy 7.12 gets a 7.0 There was a lot of good stuff mixed in with some of that mediocre dialog.
Smackfiend
Mettwurst



Since: 11.11.02

Since last post: 5003 days
Last activity: 4804 days

#3 Posted on
I decided to not bother watching Alias as soon as I learned it wasn't based on the Marvel comic book. (or an even older that I don't remember the publisher of... First? Comico?)
ManiacalClown
Landjager



Since: 2.1.02
From: Houston, TX

Since last post: 1886 days
Last activity: 1885 days

#4 Posted on | Instant Rating: 10.00
With the exception of the post-Superbowl episode which was very good, Alias has been...lacking recently. In fact, it's only been really good when Marshall's on.


---
Pearl Jam - Live in Little Rock: 95 Days & Counting


David Adams
Kishke




Since: 2.1.02
From: NJ

Since last post: 431 days
Last activity: 16 days

#5 Posted on
Would anyone want to stay tuned to ABC after that god awful postgame show?

Anyway I like the show and I didn't watch it until the next day as it aired at 11 PM on the east coast.
TheCow
Landjager



Since: 3.1.02
From: Knoxville, TN

Since last post: 3790 days
Last activity: 3789 days

#6 Posted on
I'm not sure if I'm the biggest Alias fan around here, but I'll sure lay a claim to it.


The problem with it now, though, is that it's transitioning between major storylines (having basically run its equivalent of Wrestlemania with the destruction of SD-6, the major organization that Sidney's been working against the length of the show); when that happens, you're either going to pull in a lot of viewers or lose a lot of them. I'll admit that I haven't been as good about watching the show this year as I was last year (mainly because I've been busy), but I still keep up on it.

The amazing thing about Jennifer Garner is that she does a lot of her own stunts in the fighting scenes (and rumor has it that Victor Garber (who plays her dad, for those who don't know) does as well). Anytime that you have actors doing that level of action during basically every episode is amazing, at least to me.

That being said, I wish they'd put Marshall back on. I don't think he'll be gone for too long, though; he's hands down the funniest character on the show (although Agent Sean isn't bad in his own right).

Obviously, I love the show, and I'll be greatly saddened if they decide to pull it. (Although I'm not sure why you call 24 a rival, since they have an entirely different time slot, so most people can watch both in the course of a week.) I do believe, however, that they used the lingerie and bikini spots to pull in the drunken male demographic that would hopefully be too plastered to realize they were actualy watching the post-game show before Alias.


Guess that didn't work too well...


---


Which Neglected Mario Character Are You?
Quezzy
Scrapple



Since: 6.1.02
From: Pittsburgh, PA

Since last post: 3 days
Last activity: 1 hour

#7 Posted on
Originally posted by Smackfiend

---

I decided to not bother watching Alias as soon as I learned it wasn't based on the Marvel comic book. (or an even older that I don't remember the publisher of... First? Comico?)

---
'

Because you can't watch anything not based on a comic book? This makes no sense to me, just because it's not based on something else called Alias does not mean it's bad.

I'm a big fan of Alias myself, and think you can't compare it to Dark Angel at all. Dark Angel just a fine girl Jessica Alba, who couldn't act. Not only is Jennifer Garner a great actress but just about every character in the show plays their part perfectly. Now i didn't see the post Super Bowl Alias (mainly because I haven't seen all of this season and want to catch up first) so I haven't seen whether this particular episode was good or not, but I have to concur that the awful post Super Bowl show, and perhaps the Super Bowl itself might have made some people change the channel.


---

Lance's Response:

THAT IS AWESOME!
Enojado Viento
Potato korv



Since: 12.3.02
From: Your Grocer's Freezer, NC

Since last post: 2062 days
Last activity: 1334 days

#8 Posted on
As to it not being based on the Marvel comic of the same name, I have to say in ABC's defence that even though network TV has become more permissive, ain't no way there's gonna be an hour of Luke Cage nailing the main character in the pooper.

Sure as hell not on Disney's network, that's Mickey's job.



(edited by Enojado Viento on 4.2.03 2057)

---

-LS

"Yeah, well, the movie lied."
The Vile1
Lap cheong



Since: 4.9.02
From: California

Since last post: 3353 days
Last activity: 3085 days

#9 Posted on
Quezzy, I don't know how much of a difference that makes. I mean ABC was practically shoving the ads and Jennifer Garner showing as much skin as possible down our throats. We knew it would be on soon, and I'm sure post superbowl shows have been bad before for the last 16 years.

Anyway, I compared it to Dark Angel b/c it seems that Dark Angel started out similar and had a good and loyal fanbase but it wasn't enough to keep the show from getting kicked. ALIAS got the big makeover/restart and ABC put a lot of money into it, however that didn't work. One quote in the EW article says commenting on the show's sagging ratings says, "If we haven't seen it yet, we won't see it in the future."

(edited by The Vile1 on 4.2.03 2306)

---

"I am many things Kal-El, but here I am god."
-Darkseid
odessasteps
Scrapple



Since: 2.1.02
From: MD, USA

Since last post: 1468 days
Last activity: 1435 days

#10 Posted on | Instant Rating: 6.41

I think part of Alias' problem, if you want to call it that, is that it's trying to serve too many masters. Spy show? Soap opera? T&A fest?

I really didn't like the Reboot episode, mainly because it seem to come out of nowhere. Continuing the comic book analogy, it was almost like someone knew took over the show because in one episode, they:

1) eliminated SD-6 (although keeping Sloane a threat)
2) killing off a supporting character
3) pulling the trigger on a romance between two leads

I've not liked this season as much, mainly because I think the introduction of the mother is a bit forced. Also, not enough of the wacky Rimbaldi stuff, which I dig more than anything else on the show.


---

"No one's ever done a movie about flowers before. So there are no guidelines."
"What about "Flowers for Algernon"?"
"Well, that's not about flowers. And it's not a movie."
"Ok, I'm sorry, I never saw it." -- Adaptation

Bizzle Izzle
Bockwurst



Since: 26.6.02
From: New Jersey, USA

Since last post: 824 days
Last activity: 824 days

#11 Posted on
Alias is one of my favorite shows. I never considered it a TnA show, but rather any of that was just gravy to the rest of the cool stuff. But I'm a real sucker for the spy type stuff. i hope Marshall comes back soon and Dixon too.

The destruction of SD-6 did seem to happen somewhat quickly, but you can see how Sloane has been setting it up going back several episodes. I know he's evil, but I dig that guy. He showed real balls when Quentin Tarantino was interogatting him and he told Jack "take my fingerprint". I just hope it doesn't get all sappy with the romance now that Sydney and Vaugn can go out in public without worrying about getting shot.


---

"My own personal feeling is that the Confederate flag no longer has a place flying any time, anywhere in our great nation." - Dick Gephardt, a man who apparently hates history AND the 1st Amendment

Maiden RULES!!!

dunkndollaz
Banger
Back to Back Survivor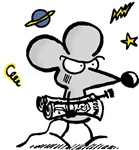 Since: 3.1.02
From: Northern NJ

Since last post: 31 days
Last activity: 4 days

#12 Posted on
Big ALIAS fan here - ABC promoted the hell out of it for the SuperDuper Bowl and then blew it by forcing people to listen to two songs by Bon Jovi and not starting the show on the East Coast until almost 11pm - Dixon & Marshall need to be brought back and where the hell has Mom been these last two episodes ?????? I can only hope that the pairing of Sydney & Vaughn doesn't lead the show down the path of destruction much like what happened with Moonlighting when maddie & David finally hooked up.

As for diminished ratings this year, it sure didn't help the show that HBO's 9pm competition this fall was The Sopranos


---

5 Time 5 Time 5 Time 5 Time 5 Time Wiener of the Day Runner-up
krakken2000
Kishke



Since: 31.10.02
From: seattle

Since last post: 3341 days
Last activity: 3068 days

#13 Posted on | Instant Rating: 4.36
I too am a big Alias fan, I think this season has been more uneven than the first, but I think they addressed a lot of those issues with the reboot episode.

Yes, only 17 million people watched the post-superbowl episode, but I don't think it can be stressed enough that its not "Alias" fault but rather inept programming choices by ABC and demands of the NFL.

My biggest wish? More Marshall. His brief story arc where he was sent out into the field rocked.


---

Flaming Box of Stuff, blah, blah, blah...
komarkaze
Mettwurst



Since: 9.1.03
From: VA

Since last post: 3537 days
Last activity: 3534 days

#14 Posted on
Part of the problem with the post-Superbowl episode was the post-game blab-fest plus pointless Bon Jovi concert. The other part of the problem was Alias did not air until 11:02 pm EST. The cutoff point for tracking ratings is 11:00 pm, so esentially, the 17 million viewers of Alias that evening did not count towards ABC's ratings.

I just started watching Alias two months ago, and to me, it's like Buffy the Vampire Slayer but in a spy context. Lots of ass kickings interwoven with personal relationships, intricate plots and characters. Dark Angel this is not because the acting is better and the characters aren't annoying (to me).

ABC is banking on Alias to be one of their premiere shows, and if you notice all of the celebrity guest stars showing up, you know they won't be giving up on it. I believed they asked the creator to make the stories simpler to follow, which has already started with this week's episode. As a newcomer myself, I appreciate this decision because it would be impossible to find out what all the characters were about without looking at the net for an overall plot synopsis. When it's easier to jump into, the more viewers there are and the higher the ratings go.
Jaguar
Knackwurst



Since: 23.1.02
From: In a Blue State finally

Since last post: 508 days
Last activity: 310 days

#15 Posted on
I'm a huge Alias fan, and I go over to a friends house every Sunday night to watch it. There are only two things wrong with this show:

1) The TnA overhype. This has got to stop. Yes, Garner is hot, but that's just a bonus to the show. The storylines and the characters are the show's strengths. Stick to 'em.

2) This past season had lots of different plot twists and such going on. You couldn't just jump into Alias like the year before. The show's still good, but you'll lose the casual viewer if it's too confusing. That said, I still enjoyed most of the season, it was just very frustrating if you missed an episode.

-Jag

And what the hell is up with the Mom. I'm waiting for her to start doing something already. Also, I second the motion on the rimbaldi stuff. We need some answers on that (even if it is a little too Tomb Raiderish).


---

Year after year, the United States has gone to elaborate lengths, spent enormous sums, taken great risks to build and keep weapons of mass destruction. But why? The only possible explanation, the only possible use they could have for those weapons, is to dominate, intimidate, or attack.

-The hypocrite at work.


TheCow
Landjager



Since: 3.1.02
From: Knoxville, TN

Since last post: 3790 days
Last activity: 3789 days

#16 Posted on
I think what they're doing with the mom is just building her up - a slow burn of sorts. We all still remember everyone saying that she couldn't be trusted and all of that, so right now, the writers are trying to "get her over" as trusted. This way, when the characters (and most of the audience, for that matter) trust her, boom! Betrayal. I'm just wondering if Mom and Sloane are involved in any way. Wouldn't that be fun.
---


Which Neglected Mario Character Are You?
ManiacalClown
Landjager



Since: 2.1.02
From: Houston, TX

Since last post: 1886 days
Last activity: 1885 days

#17 Posted on | Instant Rating: 10.00
That would make sense since it's become obvious Sloane knew about the Bristows' status as double agents for some time.


---
Pearl Jam - Live in Little Rock: 92 Days & Counting