AJ_Levy
Mettwurst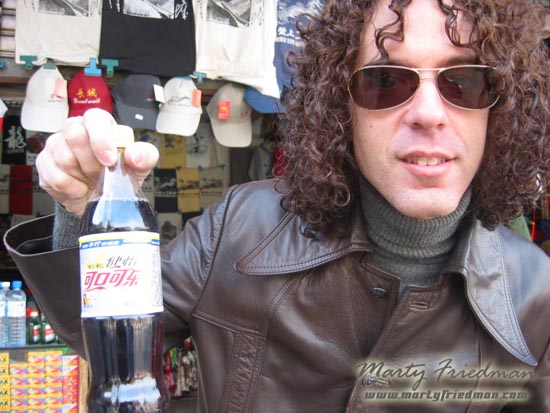 Since: 31.3.02

Since last post: 5209 days
Last activity: 5206 days

#1 Posted on | Instant Rating: 7.43
Well, you knew it'd happen eventually. And it has: the Invasion angle is now, officially, Wrestlecrap. Rather than his post it in his usual format - where he posts a few pictures with a few jokes and comments - RD has chosen to write an essay about the In[V]asion, the downfall of WCW, and where it all went wrong. If you have a chance, head on over to http://www.wrestlecrap.com/invasion.html ; it's worth the read. Here's an excerpt:

"When Bryan Alvarez and I decided to write our forthcoming Death of WCW book, he said something that I will never forget. After laughing about all the horrible stuff the company did to cause its own demise, we started to get down to business and really think about the company and its rich history. "You realize," Bryan told me, "that as we write this, we're both going to get very depressed."

I was stunned. What the hell was he talking about? Had I agreed to do the book with a guy that was off his rocker? How on earth could I be depressed about a company causing its own death with a plethora of horrible decisions, stupid booking, and egomaniacs running it right into the ground?

As I've been working on the book, I have become all too familiar with what Bryan said. I AM getting depressed. It is so hard to watch these classic bouts with Ric Flair, Vader, Sting, the luchadores...and realize that style of wrestling is gone. That there is no longer any real, major league alternative to WWE. And while I have always been a WWE/WWF fan, I have learned just how much we are really missing out on over the past few months.

My depression was becoming severe. But it was about to be overcome with a much stronger emotion: raw, unbridled anger. Unfathomable frustration. And flat out hatred. For I was about to write the epilogue chapter of the book, in which we take a look at the aftermath of WCW going out of business. When Nitro was cancelled. And when the WWF bought the company and prepared the long awaited cross-promotion matches fans had been dreaming about for years.

And let's make no mistake about it. The thought of WWF vs. WCW was something that fans had wanted since the two companies became the standard bearers for the wrestling industry in North America. Fans would debate who would win a world title showdown between Goldberg and The Rock. Hell, look at the Apter mags; a month didn't go by when a fantasy showdown between the two leagues didn't get ink.

It was the last thing wrestling fans believed was real, that innate hatred the two companies had for each other. And it was the one thing that every wrestling fan would be willing to plunk down their hard earned money to see: a once in a lifetime showdown between the WWF and WCW.

And as I write this, I cannot help but get even angrier than I was when I wrote the chapter. See, I've had time to think about it. And the more I think about it, the more pissed off and angry I get. My fingers fly over the keyboard in a fury, slamming the keys down harder and harder, as if seeking some type of release from what I am about to write. And there is no way around it other than to say that the WCW-WWF InVasion was the biggest disaster in the history of not only the WWF, but quite possibly the pro wrestling business as a whole.

http://www.wrestlecrap.com/invasion.html

Note it's fairly long; that's less than a third of it. Personally, I agree with most of what he wrote, in that it was perhaps the most mishandled angle in the history of pro wrestling.

Throughout the late '90s, even Goldberg Vs. Austin alone was considered a dream match, and keep in mind Austin was still wrestling at this point. Goldberg just walking in unexpectedly, and locking up with Austin, was perhaps the greatest markout moment that never happend.

And it's a huge shame that Vince didn't cough up earlier, to bring in Nash, Hall, Hogan, Flair, and Goldberg right from the start of the angle. Add Sting to the mix instead of the McMahon kids, and you had perhaps the greatest few months of mark-out moments and classic matches in history. Unfortunately, didn't transpire that way.

Anyway, read the collumn, I'm interested in your thoughts on it...
Promote this thread!
Ringmistress
Lap cheong



Since: 15.1.02
From: Philly

Since last post: 4014 days
Last activity: 4013 days

#2 Posted on | Instant Rating: 2.00
I'll be honest, I agree wholeheartedly. I didn't want to, but the truth is, it was a huge waste. I grew up reading all these articles about NWA/WCW vs WWF. I salivated when the Invasion PPV was happening. Now, looking back at everything, I see it for what it was. A Supersized version of Steph vs. Jericho. And when Austin joined the Alliance without any mention of his time in WCW, well, that was it for me.

::sigh::

I never really trusted the WWE dealing with big storylines since then. Fortunately, I was given plenty of reasons why not in the year that followed the Invasion.


---

After a quarter of a century on this planet, there's three things I know for sure...
1)Ain't nothing like a Dirty Pair marathon on New Year's Eve.
2)I'd make a fine Mrs. HHH II.
3) I'd make an acceptable Mrs. Orton.
1400 reasons to luv me!
KathyNumbers
Chipolata



Since: 15.6.02
From: Philadelphia, PA

Since last post: 1974 days
Last activity: 1494 days

#3 Posted on | Instant Rating: 6.93
Yup - that's when my kid lost it, too.
When you're little, it doesn't matter what fed you're in - wrestling heroes are wrestling heroes, and watching his heroes from WCW and ECW - RVD, Booker T, Rhyno, Awesome, etc. - being led by Stephanie McMahon??? (Shane he didn't mind so much...) And then watching them being punked out and made impotent by the WWF guys? C'mon!

That WAS Wrestlecrap, and it's when the WWE lost a lot of their fans and potential fans from the other feds. What a waste...

Kathy


LanceJr
Head cheese
Banned



Since: 21.1.03
From: Boston, Ma

Since last post: 4382 days
Last activity: 4263 days

#4 Posted on | Instant Rating: 1.25
We can't put all the blame on Vince for once. Rumor has it Time-Warner only allowed Vince to buy out certain contracts, and also many of the wrestlers under contract like Goldburg, Flair had guarenteed money for doing nothing. If they went to work for Vince they forfit their contract money. I don't blame them.

Vince has to buy out contracts meaning...pay Time-Warner to let the person out of the contract, and also pay that person the remaining amount of the contract, and also paying that person whatever Vince hired them at.

Its a lot of cheese, seems an easy thing but not financialy possible





---

I am Lance Jr hear me, I mean see me post
HarleM HeAt
Pickled pork



Since: 23.3.02
From: Nova Scotia,Canada

Since last post: 5103 days
Last activity: 4910 days


ICQ:
#5 Posted on | Instant Rating: 1.20
i alwasy thought vince should have waited to put off the invasion until they were all availble if that was possible. They couild have started the invasion more-so when nwo cam in about a year after the wcw purchase. If they waited ppl might have just been waiting on eggshells for wcw to do something.


---

Fuckin' rights, I already got half a fuckin' buzz on
The Vile1
Lap cheong



Since: 4.9.02
From: California

Since last post: 3352 days
Last activity: 3083 days

#6 Posted on | Instant Rating: 4.05
Originally posted by HarleM HeAt

---

i alwasy thought vince should have waited to put off the invasion until they were all availble if that was possible. They couild have started the invasion more-so when nwo cam in about a year after the wcw purchase. If they waited ppl might have just been waiting on eggshells for wcw to do something.

---


It was definitely rushed. I remember at first they said it would be what? at least a year before anything would happen. I'm assuming they tried to blow their load prematurely after the disaster that was the XFL, but it was a bad gamble that did NOT payoff. The main reason I'd attribute the so called "Invasion" angle to be a disaster is because it was hardly an invasion at all. It was not a true cross-promotional event, WWF bought WCW, so what's the point?

The funniest thing about this is how just about everyone and their grandmother said this was the one angle, the only single storyline that Vince McMahon and the WWF could not screw up...and they did. The last minute ECW injection was only a slight delay to convince people otherwise.


---

"Just a humble bounty hunter, ma'am."
-Spike Spiegel
SKLOKAZOID
Bierwurst



Since: 20.3.02
From: California

Since last post: 8 days
Last activity: 1 hour

#7 Posted on | Instant Rating: 6.73
Rushed, for sure.

The only goal of the Invasion was to make it so wcw.com forwarded to wwf.com. The fact is, Vince never really wanted the WCW brand. It is evident in the fact that he uses WCW material only as a means of promoting WWE material. He owns the brand. It's his, so there is no shame in promoting the WCW brand that he owns, since he makes money either way, but he doesn't care to.

The Invasion definitely should have been held off until WCW was rebuilt as a brand and stabilized as its own entity again, and by that time, Nash/Hall/Goldberg/Hogan would have been free anyway. Hiring Jarrett would have helped, too.

The most rediculous part about this whole thing was that we ended up with two WWF/WWE brands. So, why not make one WCW and the other WWE? Hell, RAW even uses the same belt. I'm sure TV networks come into play here, but that's still no excuse not to use Velocity/Heat/whatever as a means of building the WCW brand back from scratch. It would have done a lot of good. But, Vince didn't care.
LionJeetSingh
Chourico



Since: 3.3.03

Since last post: 4644 days
Last activity: 4471 days

#8 Posted on | Instant Rating: 2.74
Actually Vince did want the WCW brand at first, but after seeing the angle not coming across the way he wanted it, he decided to screw it and go with the brand extension instead.

I remember a few WCW shows were booked in some venues intially under as "Shane McMahon presents WCW"

And if the Time Warner contracts were such a big deal, he should have just waited it out a year. Flair, Hogan, Hall, Nash, Steiner, Bischoff, and Goldberg all showed up shortly after. (Flair on the exact night after the Survivor Series PPV that ended the angle)


---

Vut Joo Talkin?
DarkRenegade
Bockwurst



Since: 19.5.02
From: YOUR MOTHER!

Since last post: 4091 days
Last activity: 1851 days

#9 Posted on | Instant Rating: 5.64
Renegade Raine says:


Yes, the Invasion angle sucked big time, but let's not forget the ONE good thing out of it. Heel Austin RULED.


---

Battle Royale...the best violent movie probably 90% of you have never seen.
Want to submit a character for my fanfic I have planned?

HarleM HeAt
Pickled pork



Since: 23.3.02
From: Nova Scotia,Canada

Since last post: 5103 days
Last activity: 4910 days


ICQ:
#10 Posted on | Instant Rating: 0.91
yes he did.....but also heel austin was still in the wwf brand when he was doing the heel. but "what" cam e along after. alos had they waitied out for flair, hogan, hall, nash, and if they got poppa pump early,plus kept booker t lookign strong that would have been enough main event wcw talent to feud with the wwf talent. goldberg probably wouldnt have been purchased any earlier then he did but even if he cam in later......they could have split the brands into one wcw one wwf (clearly) hell they feud could have gone on as long as they brand extension has, leading into inter-promtional matches at this years mania.

enough venting from me, it jsut is madi=nign as an nwa/wcw fan to see the easiest money making angle distroyed by impatience.

oh well there s hope left in wrestling, just not that angle


---

Fuckin' rights, I already got half a fuckin' buzz on
HMD
Andouille



Since: 8.6.02
From: Canada

Since last post: 436 days
Last activity: 436 days

#11 Posted on | Instant Rating: 5.41
I hate to be mister devil's advocate here, but I gotta step in and defend WWE on this one. People seem to have willed themselves under the impression that Vince got some sort of powerful brand at the height of the monday night wars. By the time McMahon-land aquired WCW it had nothing of value left in it. Everyone who made Turner a winner for all those dominant weeks was gone or opted to sit on a fat contract.

Historically, yes, they got WCW but they "got" it in name only. Its essence was gone. No Sting, no Hogan, no Hall, no Nash, no Steiner, no Flair, no Luger, no Bischoff and perhaps most importantly no Goldberg. Now, the fact that most of those people were eventually brought in anyway is valid, but it doesn't change the fact that if they'd all been brought in as a part of WCW the impact would have been ten times what it was. I'm sorry if it offends anyone's fanatic sensibilities, but I am not going to ignore the fact that the talent they aquired had no name value whatsoever, and no fair-minded person would ignore that either. Basically they got Booker T and later they got RVD. Those were the only two people brought in during the invasion angle that were established stars, and they weren't particularly big stars at that.

Now am I daring to venture the opinion that the Invasion was booked well? Of course not. I'm not crazy. But it wasn't just Vince McMahon being Vince McMahon. The locker room was thrown into an awkward situation, and it would not have done much for morale to send all these guys out there, most of whom have never drawn a dime and are green as she-hulk's pubes, and tell the entire WWF roster to sell for them and put them over. We can say all we like how Vince is the boss and they should do what they're told, and how we can't understand how wrestlers get things like creative control or input on whether they do their jobs or not. But the fact of the matter is once you draw money, you get creative control. Once you put yourself into a position where the company wants to keep you happy, you get to become a primadonna whether that's "right" or not. I'm willing to bet that no one reading this is as important to the productivity of whatever company they work for as a Stone Cold, or a Hulk Hogan, or a Rock is/was/will be to WWE. Whether you flip burgers or perform heart surgery, the burger joint and the hospital don't take a financial hit when you leave. It's different when you become a star, and it doesn't make sense to piss off your loyal roster, so I can cut Vince some slack on not wanting to feed his established guys to Gregory Helms and Buff Bagwell.

I mean, the WWF won. Why punish their own guys? "Hey fellas, we drove these people out of the business, we kicked their ass. So now, let's make them look better than us." Why should the Rock and Kurt Angle sell for Hugh Morrus and Chuck Palumbo? Where's the sense in that? If they had been able to aquire guys who were on the level of their main eventers, then there would have been more done to put them over. But again, Vince got two dozen mid-carders and Booker T. So again, not defending the quality of the storyline. Shane McMahon as owner--> stupid, Stephanie as owner --> stupid, DDP as Sara Calloway's punching bag --> stupid, Kurt Angle joined a company he never wrestled for --> stupid, Stone Cold as leader --> stupid. But even if booked immaculately, WWF V.S. WCW's farm team and Booker T wouldn't have set the numbers on fire.

So mostly, my thoughts on the Invasion, revolve around the sentiment of what did you expect? Did you really think Mike Awesome was going to be throwing Austin around? Did you really think Undertaker was going to tap out to Lance Storm's half-crab? Because if you thought that, you're stupid; and I've always felt that stupid people deserve to be disappointed.





---

I'd tell you to kiss my ass, but I don't want to get it infected.
redsoxnation
Scrapple



Since: 24.7.02

Since last post: 1818 days
Last activity: 1818 days

#12 Posted on | Instant Rating: 5.25
The moment that killed hope was caused by the people of Cleveland (ironic of course, because of the Lost in Cleveland skits of Foley which had been a previous low point for WCW) cheering the name of Buff Bagwell on the night Vince took over anything. Had they boo-ed him in the manner that they had boo-ed the name Lex Luger, all probably would not have been saved, but it could have prevented the abomination that was the Booker T vs. Buff Bagwell match that killed any hope of WCW being taken seriously by the WWF fans or officials. Had WCW been considered semi-viable at least, it might have prevented the quick ECW throw in, and maybe even kept it from all devolving into 'As The McMahon's Turn'.


---

This is God's country, this is America and I've got a Rolex watch and you don't. Ha Ha.
spf
Scrapple



Since: 2.1.02
From: The Las Vegas of Canada

Since last post: 965 days
Last activity: 385 days

#13 Posted on | Instant Rating: 6.88
Originally posted by Hogan's My Dad

---

I mean, the WWF won. Why punish their own guys?

---


If anything could have been done with that angle to keep the momentum going strong, and keeping house show attendance above 2,000 and sometimes below nightly, I think in retrospect that would have been the choice of almost all established WWE workers. After all, it's not who wins or loses, but how much everyone gets paid.

(Edit: sorry, quoted the wrong guy)

(edited by spf2119 on 23.1.04 1635)

---

Toil not to gain wealth, cease to be concerned about it. Proverbs 23:4

Dance Amongst The Ashes - Blogforamerica (blogforamerica.com)
King Of Crap
Goetta



Since: 17.9.03
From: Holley, New York

Since last post: 4816 days
Last activity: 4747 days

#14 Posted on | Instant Rating: 0.97
I was going to say something, but Hogan's My Dad said it all for me.

Well done.

(edited by King Of Crap on 23.1.04 1701)

---

You think WWE now is bad? Some of us had to live through 1993-1996!
fuelinjected
Banger



Since: 12.10.02
From: Canada

Since last post: 4601 days
Last activity: 4601 days

#15 Posted on | Instant Rating: 5.15
A couple points:

1) Even with the horrible storyline, the Invasion PPV was one of the most bought non-WrestleMania PPV's in company history so obviously some people were interested in the storyline.

2) They could have had Flair, Goldberg, Mysterio, and Steiner for sure but they didn't want to "upset" the pay scale. So they waited, gave those guys big deals anyways for little return.

3) EMLL has done a great Invasion angle with New Japan juniors and not even the top shelf ones. Heck, WCW got some buzz and ratings when they had those stupid BattleDome guys start invading. The people buy into it not because of the people but because of the storyline. If you present the invaders as threats, the fans will take them as such. WWE botched it from day one trying to make WCW as faces with Shane "Take Nothing Serious With Me Involved" McMahon at the helm. It's all in the presentation.


Originally posted by HMD

---

I mean, the WWF won. Why punish their own guys? "Hey fellas, we drove these people out of the business, we kicked their ass. So now, let's make them look better than us."

---


Who are you, Vince McMahon? You don't honestly believe that WWF drove WCW out of business, do you? Vince McMahon didn't book the Fingerpoke of Doom, he didn't make Kevin Nash the booker of WCW, he didn't bring in Vince Russo twice, he didn't let everyone go nuts with power, he didn't chose Kevin Sullivan over Chris Benoit and Eddie Guerrero. And most importantly, Vince McMahon is not Jamie Kellner.

The attitude should have been, these guys have talent, they're wrestlers and they can help ALL OF US make money. We own WCW and these wrestlers are our wrestlers now.
ParagonOfVirtue
Salami



Since: 20.8.03
From: New Jersey, USA

Since last post: 4663 days
Last activity: 4344 days

#16 Posted on | Instant Rating: 4.49
In retrospect, it's easy to say that McMahon should have taken the temporary financial hit and forged ahead with the signings of at least six established WCW guys or so to lead the charge. At the time, Hall was unemployed, Flair and Steiner were showing interest, and Bischoff and Mysterio could have come at reasonable costs. That's five right there. All they needed left was to take four costly contracts: Hogan, Nash, Goldberg, and Sting. Add Booker T, Van Dam, and DDP to the equation already and Vince could have taken the business to unprecedented heights.

But the reality of the situation is, the WWF at the time didn't need to do that. Many now mark Wrestlemania x-seven as the peak and farewell of the Attitude era, and so their thinking at the time was that they could throw out anything out there and it would have stuck. Why go against company policy and pay off spoiled jackasses like Nash and Hogan and potentially disrupt the locker room at such a hot time period for the WWF? It's disappointing that our dreams of WCW vs WWF had to come to what it was, but quite honestly, anything short of traveling back in time to May of '98 and then suddenly combining the two shows wouldn't have lived up to expectations. It's not like WWF had months to plan it. All that mattered at the time was a rival company's livelihood, roster, and video library was on the table for practically no cost, and Vince capitalized on it. If the WWE had waited a long period of time like some have suggested, it would have been met with a mixed response of "WC--what?"

With that said, with what they had, the WWF could have done so much better. While I do think they should have signed at least two or three well-known superstars to lead the charge with Booker and DDP, they did not use what they had to the fullest either. Let's even stop at DDP for a moment. Here we have a former WCW champ and a top babyface during their peak period in 97-99 and they give him a side angle with Taker? He wasn't even featured as a prominent member of the Alliance, when he really should have been THE leader of WCW (with what they had, anyway). The company finally had something going with the ECW/WCW merger, but the success of that one moment was *instantly* eliminated, like the article said, when Stephanie was introduced as the new owner of ECW. They killed off any chance they had. The Austin turn was acceptable as the exception, but Angle's turn officially killed off the little credibility such a dream company matchup had.

I could easily write a book on the Invasion era, but I'll stop there. I must say, though, that when I look back at the one tape I have of the entire Invasion era, the condensed look at the time period was pretty entertaining. If you look at it from the perspective that it wasn't WCW vs WWF but rather, a more comprehensive WWF angle, well..it still sucked. But it was such a chaotic time period that will go down in the history books as something much different from your basic Wrestler A vs Wrestler B for the title.
Nag
Landjager



Since: 10.1.03
From: Enter your city here

Since last post: 3516 days
Last activity: 1571 days

#17 Posted on | Instant Rating: 3.53
Listen, I'm no creative genius, but I could have taken the roster of SWHW(Southeastern Wyoming Hardkore Wrestling) and done a better job with the Invasion then Vince did.

So you want starpower, What was DDP, a WCW main eventer for two/three years prior to the invasion. Nash was a main eventer for half that time when he left for WCW and started the NWO. What was Booker T? And don't forget they got Rob Van Damm on a goddamn silver platter. What was Paul Heyman, but a man who can deliver one of the greatest heel promos of all time. One word from his mouth the entire crowd wants his head.

So you say that isn't enough? Why not break down and pay Ric Flair, Scott Stiener, or Sting. They sure didn't mind paying Mike Tyson 3 to 4 million for the Austin storyline, or paying Lawrence Taylor around $700,000 for a one match deal with Bam Bam Bigelow. Why not shell out a few million for what would have been the greatest storyline in the history of the business. They didn't need every big name, but yes, a few would have been nice.

Fact is, Vince didn't want it. Vince wanted to flex he ego in front of everyone. Instead of the threatening invaders, we got a cramped bunch of comedians who did the slip and slide in milk after singing "Wind Beneath my Wings" to Steve Austin. That said it all to me. R.D says almost quit, well me, a wrestling fan since 87 who sat through nearly every Raw, Superstars, and Prime Time Wrestling since that year and stood by that fed through thick and thin; did quit watching for over a year after that debacle of a Raw.
JustinShapiro
Scrapple
Moderator




Since: 12.12.01
From: Pittsburgh, PA

Since last post: 56 days
Last activity: 11 days

#18 Posted on | Instant Rating: 7.27
"Basically they got Booker T and later they got RVD. Those were the only two people brought in during the invasion angle that were established stars, and they weren't particularly big stars at that."

Diamond Dallas Page was the biggest star, actually, and it didn't stop them from burying him, and it wouldn't have stopped them from beating Hogan or Goldberg or Steiner right away either -- WWF wasn't going to "sell" for WCW in storyline terms and had to "prove" they had always been better.

"Why punish their own guys? "Hey fellas, we drove these people out of the business, we kicked their ass. So now, let's make them look better than us." Why should the Rock and Kurt Angle sell for Hugh Morrus and Chuck Palumbo? Where's the sense in that?"

Probably to make money since wrestling is a work. It obviously wouldn't be the Rock selling for Hugh Morrus either. It would be Booker T beating the Rock, or Diamond Dallas Page beating the Undertaker.

"But even if booked immaculately, WWF V.S. WCW's farm team and Booker T wouldn't have set the numbers on fire."

InVasion PPV, with the WWF vs. WCW's farm team and WWF midcarders, did the fifth highest buyrate in history, and that was with the angle having *already* been screwed up in the weeks before. TV ratings, which had been sliding since Wrestlemania, shot up rapidly in July 2001 before dissipating again in August. It already did set numbers on fire.


edit: most of this had already been posted about by good souls, though it beared repeating.

(edited by JMShapiro on 23.1.04 1848)
Oliver
Scrapple



Since: 20.6.02

Since last post: 1210 days
Last activity: 1203 days

#19 Posted on | Instant Rating: 3.36
I still think that if the WWE tried a "WCW" invasion now, it could turn some heads. I mean, people were talking when the nWo ran rampant on Nitro, right? Get Flair and all the former WCW'ers together, put WCW shirts on them, and make them the biggest heel group on BOTH shows; see how that works.

Vince probably doesn't want WCW's name to ever be mentioned on WWE programming ever again...but I'm certain that with the right booking, a revamped invasion angle could work.

With Goldberg, Flair, Steiner, Bischoff, Rey, even Palumbo, O'Haire, Jindrak, Storm. Get Flair to get outright pissed at the new direction of WWE, and complain that WCW used to be such and such; and he could give a call out to all WCW'ers to fight for the past. They could take out a few WWE icons (JR, Vince, others) and even take over one of the shows...

Eh. I don't know...but I think there is a possibility. But then again, that's fantasy booking.


---

SD2: April, Year 3; what's the point to the Career mode, anyhow?
FF7: Disc 1; 18h into game; At the old Mako Reactor outside Nimelheim (again).
FF8: Disc 2; 20h into game; Ready to fight Reijin/Fujin in Balamb.
Big Bad
Scrapple



Since: 4.1.02
From: Dorchester, Ontario

Since last post: 5 days
Last activity: 2 days

#20 Posted on | Instant Rating: 5.54
The Time-Warner contracts could've been easily written into the Invasion storyline. For example, the Shane-led WCW invasion never happens, and over the summer of 2001, guys like Booker T, RVD and Dallas Page (as well as several of the other midcarders) sign with WWE, all giving interviews about how they're excited to be starting a new chapter in their careers and are looking forward to competing with WWE wrestlers. They sort of fold into the mix over the next few months, establishing themselves with the fans and beating a few WWE guys in feuds to make a name of themselves and win a couple of belts.

In lieu of the Invasion, one of 2001's storyline could've been Vince fighting Shane for control of WWE. Shane finally wins control of the company (in a match, of course), but Vince freezes his money flow or some dumb twist, but the upshot is that Shane is having trouble with finances. A few wrestlers could even be 'let go' (like, let's say, Test or William Regal) due to budget cutbacks. In desperation, Shane announces on RAW one night that he has sold half of the WWE to.....Ric Flair.

Over the next month, Flair and Shane seem to get along pretty well until it officially becomes 2002. Flair announces that he's signed a few surprise names for the Royal Rumble: Scott Steiner and Sting. Shane is a bit surprised, and then is angered after Steiner attacks him backstage just because Shane is the boss. Shane asks Flair why he'd sign such a loose cannon, and this eventually snowballs into open hostility between Shane and Flair.

It all builds up to a PPV when Shane challenges Flair to a match for the whole company. Shane wins only due to failed interference from Steiner, since Rock shows up to help out. After the match, however, Shane and Rock are both speared down by Goldberg, appearing out of the crowd.

The next night on RAW, Flair gives a killer promo about how WCW was 'allowed to die,' and now that it's 2002, contracts are up and thus a lot of names can be brought in. The reconstituted WCW roster (all the former WCW guys plus Steiner, Goldberg and the returning Regal and Test as turncoats) all merge in the ring. Shane appears on the ramp with the WWE guys declaring to defend their company. Then the ECW guys (Dudleys, RVD, etc.) turn on their WWE comrades and the WWE force is left lying in the ring as Flair and Heyman laugh.

That is enough storyline to fuel the company for years. Throw in Vince bringing in the NWO to poison the whole thing (he's sick of Shane and Flair), and that's more fuel on the fire.


---

Wait…if it's MLK Jr. Day AND Pat Patterson's Birthday…who gets the token win here?-- Matt "Excalibur05" Hocking on a match between Mark Henry and Rico

MH: What's a clever way to say that I have a penis?
CJ: Uh…Mark, nobody's going to buy that shirt.
MH: How about if I say that I've got…a…uh…?
CJ: Coming up with T-Shirt ideas is hard Mark, why not leave it to the WWE marketing department.
MH: I know! I've got it!
CJ: Got what?
MH: Stank! That's Mah Stank! I'm gonna make a fortune!!
CJ: "That's Mah Stank"?
MH: On the front it'll say "Can You Smell It?" and on the back it'll say "That's Mah Stank". Everybody'll buy it because they'll think it's a Rock shirt.
CJ: You know…you might be on to something there, sad to say.
MH: I can't wait to show mah stank to Trish.

You know, I have a feeling that Spanky didn't quit, he was fired. Why? So they could repackage Mark Henry as "Stanky." Think about THAT!
--Matt "Excalibur05" Hocking, 1/19/04 Raw Satire



Pages: 1 2 Next