It's False
Scrapple



Since: 20.6.02
From: I am the Tag Team Champions!

Since last post: 923 days
Last activity: 170 days

#1 Posted on | Instant Rating: 4.27
It's been almost two months since the last issue of Infinite Crisis and the next issue is FINALLY here. Let me just say that it was well worth the wait.

INFINITE CRISIS #5 (Spoilers ahead, of course)

We start off with the heroes holding...a mass? Well...it's interesting, to say the least. Soon enough, though, earthquakes begin hitting all over the place. The scene pans over to the JSA-er's that are now on Earth-2 long enough to shw that they indeed don't know what the hell's going on.

Booster Gold takes new Blue Beetle, Jaime Reyes, to the Batcave, where they're scooped up by a pair of Bat-snares and hung upside-down. Batman wants to know what they're doing there, so Booster triggers the scarab and transforms Jaime into the new Blue Beetle. Booster also reveals that Brother Eye is cloaked, but can fix that since Beetle's apparently the only one who can see it. Afterwards, we see Lex Luthor, the REAL Lex Luthor, waking up Superboy...and slipping the location of the tower into his pocket.

And here's where it starts to pick up.

Earth-2 Superman and Lois share a moment...until she starts dying. Apparently, restoring Earth-2 wasn't enough and Earth-2 Lois dies. The moment Earth-2 Supes says, "Superman always saves Lois Lane," is really chilling and you can see him start his downward spiral.

Meanwhile, Boston riots and Wonder Woman tries to stop them...although she's not exactly on a moral high ground at the moment. But wait...she's not alone. She's visited by Earth-2 Wonder Woman!

Meanwhile, Superman has rushed to Earth-2 upon hearing Kal-L's scream. Earth-2 Supes, though, thinks Superman brought his Earth-1 germs to Earth-2, thus killing Lois. Then he drops a car on him, recreating the classic "Action Comics" pose! Awesome! And with that, the battle of the Supermen is on while from the tower, Alexander Luthor and Psycho Pirate look on.

Earth-2 Wonder Woman reveals that after her death in Crisis on Infinite Earths, she was also spared and sent to Mount Olympus with her husband. She was spared so she could set Diana straight. Diana's mission is over, as the gods, Amazons, and mother are all gone...and it's time to be more human...and time to help Superman.

Meanwhile, Earth-2 Superman has Superman beat when Wonder Woman stops him with her lasso. Earth-2 Supes rages about the sins of Earth-1 and how he sought to restore the perfect Earth. But Superman astutely points out that Earth-2 CAN'T be the perfect Earth, because "A Perfect Earth doesn't NEED a Superman." Point, set, and match, as Earth-2 Superman begins to concede and fly back to his Lois.

At the tower, Psycho Pirate asks why Earth-2 Superman has been kept alive, where Alexander Luthor reveals "Everything comes from Superman." And thus, Brother Eye initiates Program: Earth Spawn...splitting up the Earths and EARTH-2 SUPERMAN into multiples versions of themselves. He's literally restoring the multiverse!

In Chicago, Nightwing directs traffic as the Titans and the Outsiders desperately try to get earthquake victims as much help as possible. Superboy arrives and reveals to Nightwing the location of the tower...and Conner and Dick head out to pay Alexander Luthor a visit.

In Tokyo, Dr. Light II is trying to keep things in one piece...WHEN THE FLASH ARRIVES! Wally hysterically expresses that the Flashes have failed. When asked what he means, he ominously points to the sky at...SUPERBOY-PRIME...and boy, does he look PISSED!

A great, character-driven issue. Not nearly as much action as #4, but it leads wonderfully into One Year Later and where things go from here is anyone's guess. Good issue.

(edited by It's False on 2.3.06 1124)

---

"Tonight, we eat Chunky Soup!"

Promote this thread!
Pizza Pasta
Linguica



Since: 29.3.03
From: Douglaston, NY

Since last post: 4995 days
Last activity: 4807 days

#2 Posted on | Instant Rating: 6.07
Just got it tonight, read it on the train on the way home from work (even the conductor in my LIRR car asked if that was #5 and what happened!). More continued excellence, although it had the difficult task of following-up on the "Best Comic in 20 Years" (IC #4, as declared by me).

Here's my one monthly point of confusion though...it did not occur to me Kal-L was in fact split into many different parts to recreate the Multiverse. I just thought that scene was a representation of how every universe must have a Superman (nice glimpse of the Red Son Supes, too). W's?

We also got an interesting revelation that Kyle Raynor, Breach, and others would have come from Earth-8 if the original Crisis had never occurred. That was a pretty cool way to look at it...Breach is even the Captain Atom of his Earth!

Oh, and Superboy-Prime in body armor? BAD ASS!

Finally, also got the first issue of OYL, Detective Comics 817. No events of the new Crisis are referenced, other than in passing, and I definitely noticed that Robin (whoever he might be) seemed perhaps a tad older and was not called by name. Hmmm....


---

"Remember, it's not a lie if *you* believe it." - George Costanza

Geek Soap Box - Music, Mets, Comics, and a Heaping Dose of Right-Wing Politics! (geeksoapbox.blogspot.com)
Cerebus
Scrapple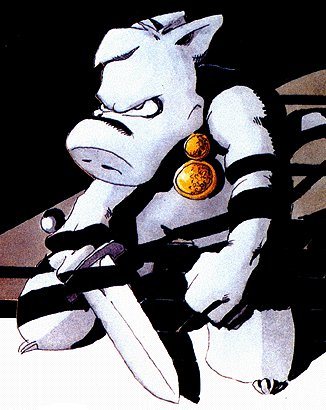 Since: 17.11.02

Since last post: 1184 days
Last activity: 906 days

#3 Posted on | Instant Rating: 0.97
Umm, yeah, memo to Alexander Luthor: It's called the 'Multiverse', not the 'MultiEarths'. Nice 'Oh shit scene over Titan Towers.

I'm kinda peeved that 'OYL' is starting up BEFORE the series that brings it on is done with. Aquaman, Outsiders, Detective, and JSA all came out this week as OYL issues and we've still got another two issues of IC to go. Damn you DC for raping my wallet!

Mr. Miracle and Frankenstein's monster popped up which, I suppose, is what Morrison meant when he said SEVEN SOLDIERS tied in to the big cross-over.

SupermanP's picking up the car in a throwback to ACTION COMICS #1 was a great 'AWESOME' moment in this issue. the same fight gives us our new 'best line spoken by a super hero' with Superman's line about a perfect not NEEDING a 'Superman' was very awesome and quite true.

"We coundn't hold him!" - The Flash. Was that Barry?

Booster Gold giving a verbal smackdown to Batman was cute and warranted in that EVERYONE owes Batman a tonge lashing for the way he's been acting of late.


DrewDewce
Bratwurst



Since: 2.1.02
From: The Derby City

Since last post: 392 days
Last activity: 19 days

#4 Posted on | Instant Rating: 5.89
Originally posted by Pizza Pasta

---

Oh, and Superboy-Prime in body armor? BAD ASS!

---


And not just any armour. I didn't put it together until I saw it in print, but then I realized that DC Direct had spoiled it with pictures of the upcoming Infinite Crisis figs. (his armour looks very much like that of the Anti-Monitor don'tcha think?)

Yes, #5 did have the unfortunate task of following up #4. Some very good moments, but nothing compared to what I'm sure we'll see in #6 & 7. Can't wait!!


---

It is a good rule in life never to apologize. The right sort of people do not want apologies, and the wrong sort take a mean advantage of them.
P. G. Wodehouse (1881 - 1975), The Man Upstairs (1914)