Karlos the Jackal
Lap cheong



Since: 2.1.02
From: The City of Subdued Excitement

Since last post: 660 days
Last activity: 11 hours

#1 Posted on | Instant Rating: 8.00
Samoa Joe starts us off by issuing a challenge to Booker T: Let's have a Six Sides of Steel match! Booker T comes out and suggests that they add tables and ladders and weapons, too -- Booker will come out with a contract for Joe to sign later on -- if Joe's not too scared! Wow, somehow Booker just plucked that whole segment right out of Joe's meaty paws.

Consequences Creed vs. Jimmy Rave vs. Eric Young vs. Johnny Devine: Four-way matchup! Creed looks good but I really hate that jab-jab-jab-dance-big punch combo he does. (I hated it when Road Dogg did it, too, and...Orlando Jordan? Who else did that?) Although everyone gets to hit their finishers (CreeDDT! Death Valley Driver! Move That Rocks the World! Divine Intervention!), Creed ends up getting the pin off a rollup (the Official Finisher of the X Division) on Devine.

Rave, Devine, and Lance Rock all gang up on Creed until Abyss comes out and saves him. Abyss picks up a chair but drops it and looks at it like it's poison.

Video package on Kaz leads into Karen's Angle, complete with awful daytime-talk-show set and music. Kaz talks about how Killer Kowalski is like a father to him, and about how he hated the politics when he went to WWE (which isn't mentioned by name). He does not mention his recent "release" -- oh! swerve!

Matt Morgan vs. Kory Chavis: Kory has shown up a couple of times before as a jobber, although he actually lasts longer than Rave did last week. Morgan finishes him off with the vertical-suplex-into-an-uranage, now called the HELLEVATOR. Take the stairs, take the stairs -- for God's sake, take the stairs!!!

Nice promo by the Motor City Machine Guns on Beer Money. "You're named after a straight-to-video Zack Morris movie." Ha ha!

The Prince Justice Club -- Super Eric, Shark Boy, and Curry Man -- have the POWER TO MAKE ME FAST FORWARD!

Motor City Machine Guns vs. Beer Money: This is a strap match. MMG dominate most of the match, and their offense consists of each of them doing the same thing at the same time, or one after the other -- it's even more choreographed than usual, and the match is too cutesy by half.

Near the end, they do that "rowing the boat" spot -- Beer Money lying foot-to-foot, and the MMG sit perpendicular to them, each one holding one leg each of Roode and Storm, and they pretend to row a boat. Jackie comes in and somehow falls into the middle and lies there on her back, arms and legs in the air like an overturned beetle. The ref actually helps her up but apparently still fails to notice that she's interfering.

Ref gets knocked out long enough for Jackie to toss Storm some handcuffs, which he uses like knucks to take out Sabin for the pin. Beer Money beat down MMG until LAX makes the save.

Taylor Wilde vs. Velvet Sky: This is for the Knockou -- oh, Taylor rolls up Sky for the pin!

Sky complains that she never heard the bell and wants a do-over. Taylor defeats her with another rollup after about 20 seconds.

Now Angelina Love is on the mic and puts up $5,000 of her own money, challenging Wilde to try that one more time. This time, Sky lasts several minutes before Wilde catches her with a Northern Lights suplex -- Love breaks it up for the DQ.

Well, Sky lasted longer each time -- she just needs time to get warmed up. She's the Knockout Greg Valentine! The Beautiful People gang up on Wilde until Gail Kim and ODB make the save. Seriously, why not Roxxi? Why has TNA lost all interest in her?

Sheik Abdul Bashir gets a promo package -- why, he was Davari just a few weeks ago! He's doing the same old "I'm an American but you hate me anyway" shtick that he's done before -- tired jingoistic bullshit.

Sonjay Dutt is in the hospital -- he's not actually injured, so did he pay off the doctors? -- and SoCal Val is very concerned. They actually explain the "what happens when Val watches the show?" question -- Val says she didn't watch it because she hates violence! Not really believable, but the effort is appreciated.

AJ Styles, Christian Cage, and Rhino vs. Kurt Angle and Team 3D: This is an elimination tables match. Devon goes out first, of course, followed by Rhino, who gores himself through a table. Devon comes back to help 3D Cage through a table, leaving AJ Styles to face Ray and Angle. Ray falls off the apron through a table, and Styles has Angle right where he wants him -- until Frank Trigg hits him on the head with a kendo stick! Angle Slam through a table finishes it. Are we going to get a Styles/Trigg match out of this, or what?

Booker T and Samoa Joe are out for the contract signing, but the LIGHTS GO OUT -- when they come back on, Joe is unconscious and Booker is holding a BLACK BASEBALL BAT. WHY STING, WHY.

--K

(edited by Karlos the Jackal on 25.7.08 0137)
---
Last 5 movies seen: Hellboy II: The Golden Army ***1/2 - Indiana Jones and the Kingdom of the Crystal Skull ***1/2 - The Bank Job *** - The Monolith Monsters ** - WALL-E ****
Promote this thread!
John Orquiola
Scrapple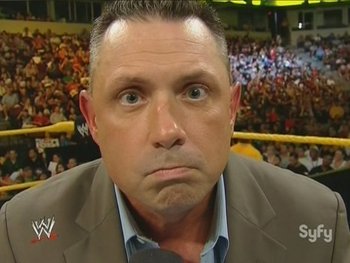 Since: 28.2.02
From: Boston

Since last post: 1209 days
Last activity: 1209 days

#2 Posted on | Instant Rating: 3.96
Originally posted by Karlos the Jackal

---

The Beautiful People gang up on Wilde until Gail Kim and ODB make the save. Seriously, why not Roxxi? Why has TNA lost all interest in her?

(edited by Karlos the Jackal on 25.7.08 0137)

---


Great, isn't it? Roxxi takes one for the team and has her head shaved. She gets rewarded with being kicked to the curb from the main Knockouts storylines. Russo's a great booker. They're a great company.


---

Back of the Head: www.backofthehead.com
Karlos the Jackal
Lap cheong



Since: 2.1.02
From: The City of Subdued Excitement

Since last post: 660 days
Last activity: 11 hours

#3 Posted on | Instant Rating: 8.00
Originally posted by John Orquiola

---

Great, isn't it? Roxxi takes one for the team and has her head shaved. She gets rewarded with being kicked to the curb from the main Knockouts storylines. Russo's a great booker. They're a great company.

---
Well, you know, by and large the Knockouts have been booked pretty well (leading me to assume that Russo has little input), which makes this all the more frustrating.

On the plus side, Black Reign's off the roster page. Whether that means he's been released or simply repackaged remains to seen.

--K


---
Last 5 movies seen: Puzzle ** - Hellboy II: The Golden Army ***1/2 - Indiana Jones and the Kingdom of the Crystal Skull ***1/2 - The Bank Job *** - The Monolith Monsters **