Karlos the Jackal
Lap cheong



Since: 2.1.02
From: The City of Subdued Excitement

Since last post: 903 days
Last activity: 20 hours

#1 Posted on | Instant Rating: 8.00
No episode title this week for the go-home-to-Slammiversary show.

Booker T & Robert Roode vs. Christian Cage & Rhino: We get right into it with this match featuring Samoa Joe's four Slammiversary opponents. Cage is face-in-peril for awhile before Rhino gets in; Rhino gores Booker and looks to have him down for the count but Team 3D runs in and that's the DQ. The ending was probably the right thing to do.

The Beautiful People cut an anti-ODB promo backstage.

Velvet Sky vs. ODB in a streetfight. Angelina Love is out here, too, of course, and she does what she can, but ODB still gets the pin, relatively easily, with a running powerslam.

Afterward, Love ambushes ODB and gets the Straight to Hell on her. Double team -- Roxxi is out to even things up, and Gail Kim is out to make it 3-on-2. OH SHIT IT'S MICKIE KNUCKLES~! Exploder suplex for Roxxi! Double underhook faceplant for Kim! Kim gets a paper bag put on her head -- Don West calls that "DISGUSTING." I've seen worse, Don.

I'm pleased that Mickie Knuckles is here -- if TNA wants to have a REAL Streetfight, or a Knockout First Blood match -- or, hell, a FLAMING FLUORESCENT LIGHT TUBE match -- on a future PPV, they could do worse than ODB vs. Knuckles.

Jay Lethal is having a bachelor party. There is a woman dancing in a cage, but we don't get a good enough look to be able to tell if it's Lollipop.

Eric Young looks for Elvis -- SKIP! Sting interview -- SKIP!

Curry Man vs. Jimmy Rave vs. Chris Sabin vs. Johnny Devine vs. Kaz: This is a King of the Mountain X Division match -- the first person to hang the giant "X" over the ring gets a WORLD TITLE SHOT on next week's Impact! This is a pretty fun spotfest, but it's too bad they didn't feel the need to hype it at all last week. I mean, it's great that Devine is willing to moonsault off the penalty box onto the floor for us, and Kaz is willing to get monkeyflipped upside down into a standing ladder, but I'd be happier if it was promoted in some small way.

Anyway, Kaz wins by SPRINTING up the ladder and grabbing the X away from Curry Man, shoving him off, and hanging up the X. Congrats to Kaz! I think he'll win the X Division title this Sunday, because I can't see him blowing two title shots in one week, and obviously he's not beating Joe.

Awesome Kong and Raisha Saeed are out for another Awesome Challenge -- can anyone beat Kong and claim the $25,000 prize? They get three women out of the crowd -- three professional wrestlers, as it happens, and all are identified as such -- Amber O'Neal, Becky Bayless, and Daffney (!), from WCW. I think it's great that wrestlers who don't work for the company are showing up to try and get the prize money -- it's realistic and it reminds me of TNA's "open door policy" from the old days. It'll be a great way of debuting someone, too, somewhere down the line.

Anyway, Kong picks Daffney (who is sporting no traces of her old gimmick -- I didn't even recognize her) as her foe for the night and just DESTROYS her. Apart from a brief, ineffective flurry of blows at the outset, Daffney get in no offense whatsoever. No $25,000 for her tonight, but as consolation prizes she receives the "Why Are You Kicking Yourself in the Head" Torture Rack, the Big Swing into the guardrail, and an Awesome Bomb to top things off.

Another Abyss video -apparently he's getting out in a few days -- hmm, just in time for Slammiversary...

Joe and Kevin Nash argue backstage! What is Kevin's motivation for wanting to be Special Enforcer at Slammiversary?

Meanwhile, at Lethal's birthday party, Sonjay Dutt reads out RSVPs -- from Koko B. Ware, George "The Animal" Steele, and Kamala! (Later, Jake Roberts RSVPs as well by sending a giant snake.)

James Storm, Kip James & Lance Hoyt vs. LAX & Matt Morgan: I have no idea what this match is about. The highlight is simultaneous dives by Homicide y Hernandez onto Storm and Hoyt -- Homicide cannonballing between the ropes and Hernandez flying over, no hands. Meanwhile, in the ring, Matt Morgan gets possibly the worst F5 I've ever seen on Kip James and pins him. Morgan continues to show me a whole lot of nothin'.

Scott Steiner and Petey Williams are in the back. Steiner calls the TerrorDome match (via which Kaz won a title shot against Petey this Sunday) a "circus act." Then Petey, while declaring how important the X Division title is, gets cut off mid-sentence by the commercial break, as a punchline. I think that there's some sort of disagreement among the writers about whether the X Division is an exciting, unique display of athleticism or just a bunch of funny little monkeys capering for our amusement. I really wish they'd figure it out and stop dicking around.

Satellite interview with Kurt and, in a different location, Karen, and I zoom right past it. I assume Kurt accuses Karen of infidelity, because AJ Styles denies any such thing to Jeremy Borash afterward. "Screw you, Kurt!" he says. AJ is ALL INTENSE.

Tomko vs. AJ Styles: Kevin Nash is out as the Special Enforcer. Tomko isn't even in the ring yet when Styles starts things off by hitting a HUGE flip dive over the top rope! First part of the match is ALL AJ until Tomko pitches him over the top rope. AJ hurts his arm and Tomko attacks it during the commercials. Robert Roode tries to interfere but Nash chases him off -- then Nash takes down Booker T as well. AJ hits Tomko with a tornado DDT -- Pele Kick (out of nowhere!) -- and then pins him with, weirdly, a Frog Splash.

(Why are they charging through this as fast as they can when stuff like Robert Roode vs. Eric Young goes on for months? Tomko vs. Styles could have been a really good match for Slammiversary and the crowd would have been into it, and Kurt Angle could have had another month to rest up.)

After the match, EVERYONE runs in -- LAX, 3D, Roode, Booker, and, finally, Joe himself. Joe and Booker go at it in the ring -- Nash has steel chair and tries to hit Booker but accidentally (...?) CRACKS Joe on the elbow! Joe is angry.

A video package for Slammiversary plays us out.

Not a bad show.

--K


---
Last 5 movies seen: Iron Man **** - Dr. Cyclops *** - Strange Wilderness * - The Incredible Shrinking Man *** - The Brave One ***
Promote this thread!
Tenken347
Knackwurst



Since: 27.2.03
From: Parts Unknown

Since last post: 1 day
Last activity: 5 hours

#2 Posted on | Instant Rating: 5.03
I miss AJ as a comedy heel.
John Orquiola
Scrapple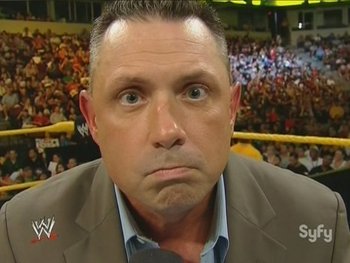 Since: 28.2.02
From: Boston

Since last post: 1452 days
Last activity: 1452 days

#3 Posted on | Instant Rating: 5.31
The Beautiful People are pretty awesome as a combination. They remind me in a way of the Fabulous Freebirds, except Angelina and Velvet are both female versions of Michael P.S. Hayes. But now with Mickie Knuckles, they have a Terry Bamm Bamm Gordy.

I hate this stupid trend of the undercard guys dressing up like other, more famous stars. Why is Shark Boy acting like Stone Cold? Why is Jay Lethal still doing (an admittedly good but pointlesss) Randy Savage impression. Petey Williams being a mini-Scott Steiner is going to draw money how?

That King of the Mountain ladder match or whatever that was -- having just seen a TLC match with Edge and Undertaker a few days ago, it occured to me the that the most important factor in watching one of these things is caring about the participants. I care about Edge and Undertaker so every bump and high spot was riveting. I didn't know or care about anyone in that match so they could all have been set on fire and it wouldn't have registered.


---

Back of the Head: www.backofthehead.com
Quezzy
Scrapple



Since: 6.1.02
From: Pittsburgh, PA

Since last post: 3 hours
Last activity: 2 hours

#4 Posted on | Instant Rating: 3.88
Well, I'm not sure I miss AJ as a comedy heel quite yet but that intense promo was not very good at all.

The LAX double dive was cool. I like that the big man goes over the top and the smaller man goes through the middle.

I've never seen Mickie Knuckles before but I'm already more impressed with her than Matt Morgan. Also regarding the women, I've thought Angelina has gotten pretty decent in the ring but Velvet Sky is pretty awful.

The X Division stuff is definitely confusing. I thought the cutting off Petey was more of a diss to him and not the X title, but calling it a circus act and then giving Kaz a World Title shot in the same show didn't make sense to me. Maybe somewhere long down the line someone stands up to Steiner but it should've happened a lot quicker like with MCMG and the Dudleys.

So the final card for Slammiversary is:
King of the Mountain Match
Samoa Joe (c) vs. Robert Roode vs. Booker T vs. Christian Cage vs. Rhino w/ special enforcer Kevin Nash

Grudge Match
AJ Styles vs. Kurt Angle

Tag Team Championship
LAX (c) vs. Team 3D

X Division Championship
Petey Williams (c) vs. Kaz

Awesome Kong's Open Challenge

Knockouts Tag Team Match
Gail Kim, ODB and Roxxi vs. Angelina Love, Velvet Sky and Mickie Knuckles

Jay Lethal and SoCal Val's wedding with Sonjay Dutt as best man and Jake the Snake Roberts, Kamala, Koko B. Ware and George the Animal Steele as groomsmen and Ace Young performing.

Eric Young finds Elvis?

The return of Abyss?


Seems like a short card but any of those matches could be good to great.


---

Lance's Response:

THAT IS AWESOME!
Big Bad
Scrapple



Since: 4.1.02
From: Dorchester, Ontario

Since last post: 1 day
Last activity: 1 hour

#5 Posted on | Instant Rating: 4.62
Calling it right now...Eric Young finds Abyss doing a Honky Tonk Man gimmick, a.k.a. El-byss. Hilarity ensues as Chris Parks flushes his career down the toilet for the next six months.

Is putting a King of the Mountain match on free TV really the best way to get people to pay to see that same match (with arguably worse wrestlers) a few days later on PPV? I mean, it would've been like having a TLC match on ECW between, hell, Morrison and Kofi Kingston the week before Edge/Taker.

(edited by Big Bad on 6.6.08 1221)

---

"How is it that I am a good actor? What I do is I... pretend to be the person I'm portraying. You're confused. Case in point: in Lord of the Rings, Peter Jackson comes to me and says 'I would like you to be Gandalf the Wizard,' and I said 'You are aware that I am not really a wizard?' and Peter Jackson said 'I would like you to use your acting skills to portray a wizard for the duration of the show.' So I said 'Okay' and then I said to myself 'Mmm.. How do I do that?' And this is what I did: I imagined that I was a wizard, and then I pretended, and acted, in that way on the stage. How did I know what to say? The words were written down for me in a script. How did I know where to stand? People told me where to stand." -- Sir Ian McKellen, Extras
BigDaddyLoco
Scrapple



Since: 2.1.02

Since last post: 2 days
Last activity: 1 day

#6 Posted on | Instant Rating: 3.49
I actually liked this show. I still think the flow of the show and commercial break timing is horrible, and Tenay is awful to listen to, but I still had fun watching the show.

I liked that we got a free King of the Mountain match. Not hyping it was strange, but it does give people an idea of what the match is about. I would hope the PPV has a little more storytelling and less spottiness.

I agree that Tomko and Styles being done as sort of a throw away match is a waste. It should have been longer and should have had more build, but I was still fine with the match itself.

LAX might be my favorite part of TNA right now. I always liked the big/little guy teams and these guys always seem to bring it.

I love Daffney. It was nice to see her again, but I never knew she could bump like a total freak.

So, does Petey Williams have a mini Scott Steiner cache now or something. That guy has way to much muscle mass.

Still an odd show to watch, goofy storytelling and no flow, but there were a handful of watchable matches so that's something.




Karlos the Jackal
Lap cheong



Since: 2.1.02
From: The City of Subdued Excitement

Since last post: 903 days
Last activity: 20 hours

#7 Posted on | Instant Rating: 8.00
Originally posted by Big Bad

---

Calling it right now...Eric Young finds Abyss doing a Honky Tonk Man gimmick, a.k.a. El-byss.

---
This is the greatest thing ever.

--K


---
Last 5 movies seen: Iron Man **** - Dr. Cyclops *** - Strange Wilderness * - The Incredible Shrinking Man *** - The Brave One ***
Alex
Lap cheong



Since: 24.2.02

Since last post: 358 days
Last activity: 6 days

#8 Posted on | Instant Rating: 4.51
That would be a thousand times more entertaining than Abyss coming back and being Abyss.

I like that TNA isn't pretending that their plants aren't plants, WWE would never acknowledge that any people in the crowd for these kinds of squashes are wrestlers because as far as they're concerned, they are the only wrestling organiziation in the world.

So strange to have a King of the Mountain match on free TV, with no build up, and likely with more crazy spots than we're likely to see on Sunday.

And this is the first time in what feels like MONTHS since we've seen Curry Man, who is one of my guiltier pleasures in wrestling today.