used2bcool
Bockwurst



Since: 5.11.08
From: Lake Forest, IL

Since last post: 1 day
Last activity: 59 min.

#1 Posted on | Instant Rating: 9.38
Watched Impact again this week. So here's the recap for TNA Impact 6.23.13 from Peoria, IL.

Last week, the Bound for Glory series started, Hulk Hogan confronted Bully Ray and sent Brooke home, and Kurt Angle joined the newly reformed Main Event Mafia.

Sting joins us to gloat about restarting the MEM. He introduces Kurt Angle, who joined last week. Tazz spazzing out over them getting separate entrances is kind of funny. Sting promises plenty more misery coming Bully Ray's way. Kurt Angle lays out the premise of the Mafia: World Champions who do what they want. Angle says real family sticks together. He blames A&E for Sting not getting another World Title shot and for Angle being screwed out of the BFG series. Angle says he and Sting are hall-of-famers, but they have new goals: destroy A&E, and cost Bully Ray the World Title. They promise to unveil a third member tonight. 1 for 1. I hear a lot of criticism about this angle, but I can't remember the last time a formerly heel group was reformed as a face group to deal with an even bigger heel group (and I'm waiting for the comments to tell me of all the instances I've forgotten). This was a fine start to the show, it sets up a little mini-story that will (hopefully) bind the show together.

Backstage, Doc kidnaps Chris Sabin so Bully Ray can have a talk with him - Bully wants to make sure that Sabin goes out and does his thing ("all the X-division stuff that you do") and wins, but doesn't make the mistake of cashing in for a World Title shot against him. "I think he got the point." Bully is FANTASTIC despite his claims of being a bad person.

Tonight marks the return of Gut Check, and we have Adam Ohriner, "The Big O" (en.wikipedia.org) and Ryan Howe (prowrestling.wikia.com). Ohriner is rather ripped and looks like a walking wellness violation. Ryan is, of course, Skidmarks from the last Tough Enough. Apparently, he's from Louisville and plays 27 musical instruments, so he gets my vote.

Match 1: X-Division Title: Chris Sabin v Kenny King v Suicide
Sabin has, in my opinion, one of worst entrance themes in all of wrestling. To the actual match, King controls for about ten seconds before he jumps into a double dropkick. Sabin and Suicide face off, but King breaks that up, dumps Suicide off double knees and gets a nearfall on Sabin. King nails Sabin with an enzuigiri but Suicide comes off the top with a dropkick and dumps King. He follows with a running senton, but Sabin dives on both of them and we head to a break. Back in, Sabin traps both Suicide and King in the corner to deliver his running dropkick. Suicide stops a Cradle Shock attempt but King crotches him in the corner, setting up a Tower of Doom. King gets two nearfalls from that, so he wants to finish with the Royal Flush, but Sabin escapes. Suicide is dumped, and Sabin nails King with the Hail Sabin before Suicide breaks it up. King chokes away on Suicide in the corner, but Suicide rolls him for a nearfall. King nearly kicks his head in, but the followup Royal Flush is reversed and Suicide hangs onto the ropes for the win in about 10 minutes! Suicide is the new X-Division Champion. That didn't really look like Suicide, and sure enough, here is Hulk Hogan with TJ Perkins. Perkins is selling some sort of injury and he says he was jumped backstage. Hogan demands to know the identity of Suicide, but he escapes through the crowd. INTRIGUE~! 2 for 2. That's more for the match, which was fine though felt like could've been much faster paced, than the angle. The angle's okay for a weekly INTRIGUE angle, but they've already got one of those going this week.

An irate Hogan declares that Suicide has until the end of the show to reveal himself or be stripped of the title.

Match 2: Gut Check: Ryan Howe v The Big O
Howe plays his own entrance music on his guitar, which is kind of cool. It all goes downhill from there. The structure is simple: Ohriner is huge and powerful, and Howe is a pinball who occasionally hits a move. Ohriner manages decent impact on a running powerslam but apart from that they have little chemistry and no timing. Howe gets him with a crossbody for 2 but Ohriner takes his head off with a clothesline and finishes with a powerslam in 3 minutes. For a guy of Ohriner's size, that powerslam looked oddly weak. 2 for 3. That was an awful match, neither guy looked deserving of a contract. Ohriner's blue-and-yellow "Pume Me Up" shorts did not help.

Backstage, Angle and Sting are recruiting!

Bully Ray confronts TJ Perkins in the locker room, wanting to make sure that Sting and Angle didn't put him up for this. Perkins, who forgets to sell his injury, assures him that he has no idea who's behind the mask. Bully reminds TJ that he's a bad person, and TJ would do well to be his friend. TJ leaves, but only after Bully gives him permission to do so. Bully is ON tonight.

Match 3: Knockouts Title: Mickie James v Velvet Sky
This HAS to be better than the trainwreck they put on the last time I recapped this show. Velvet still has the knee injury and Mickie's an awesome, full-fledged heel. She offer Velvet the chance to walk away before the match starts, because she cares for Sky's health. Velvet doesn't take up the offer and jumps her, repeatedly smacking her head against the mat. ODB, who is the referee for reasons unknown to me, keeps having to break them apart, and does so while constantly fondling her own boobs. Mickie takes advantage with a Russian Legsweep and takes a breather, and Sky gets caught going after her. Mickie works the knee, but Sky kicks her off, only to get slapped. Mickie hits boot during a blind charge, triggering a comeback. Velvet hits a pair of clotheslines and some awful-looking strikes, so Mickie bails. Velvet follows with headscissors and spear, but gets caught going back in and dropped in the Mickie-DT. That only gets 2, so Mickie wants it again, but this time Sky rolls out and catches her with a Swinging Neckbreaker for 2. Sky wants the In Yo' Face, but Mickie slips out (I think they messed up the reversal) and catches her with a deathlock-chinlock hold, and Sky submits at 7 minutes. 2 for 4. Well, it was better than last time, mainly because it was shorter. Velvet still forgets to sell sometimes, and even though EVIL Mickie is fun, this lacked any sense of flow or timing.

Backstage, Bobby Roode smirks past Angle and Sting!

Hogan, still irate, wants to know if the referee for the X-Division match noticed anything that would point toward's Suicide's identity, but he comes up empty.

Match 4: Bound for Glory Series: Magnus (10) v Bobby Roode (0)
Roode has some nice entrance music. They start feeling each other out, and some mat wrestling leads to a shoulderblock by Roode, but Magnus gets his back with a high knee for 2. Roode wants to bail but Magnus follows and slams him into the apron. Back inside, Roode controls and hotshots Magnus between the second and third rope, and gets a neckbreaker for 2. Chinlock follows, but Magnus escapes, triggering a brawl. Roode walks into a back suplex and gets hit with clotheslines, but cuts off a corner charge. Magnus heads to the top, but Roode catches up and they fight over a suplex. Magnus wins that and follows with an elbow that gets 2. Roode nails him with the Spinebuster, but Magnus blocks the Payoff and finishes with the Magnus Driver in 7 minutes. 3 for 5. Much better than the last two clunkers, though nothing spectacular. The announcers sell this as the biggest win in Magnus's career. I'd love to see them go longer and build a more full-fledged match.

Bully Ray and Doc threaten Chavo ("I'm speaking English, Chavo!"), Robbie E, and Jesse Godderz. Unfortunately none of them have any idea about the identity of Suicide. Bully has friendly advice for Godderz: "Lay off the carbs."

James Storm and Gunner join us to talk about chemistry as he lays out the formula for a "damn good time." He says being 12-time tag champion (damn! I did not know it was that many) has taught him that he doesn't have to like his partner as long as his partner is reliable. Robbie E cuts this off to remind Storm what a mistake he made by choosing Gunner over Robbie. Robbie unveils the future of tag team wrestling, the team of Robbie E and Jesse Godderz, called Bromance. Storm and Robbie argue over the semantics of "Bromance" as opposed to "BroMans" but Gunner mercifully punches Jesse to end the segment. 3 for 6. I like Storm a lot, but this was very much straight out of high school.

Match 5: BFG Series: Samoa Joe (2) v Mr. Anderson (7)
Samoa Joe gives him a clean break to start, but Anderson doesn't return the favor, instead controlling with some knees. Tazz's master strategy that he discussed with Anderson prior to this match, based on his history with Samoa Joe: "Just be careful, man." That'll do it. Joe stomps a hole in him but Anderson dumps him and sends him rib-first into the side of the ring. Back in, Anderson grabs an armbar, and cuts off a comeback with a neckbreaker. Joe takes over with kicks and the senton, but now A&E are out to distract Joe. Anderson gets a DDT for 2, but Sting and Angle fight off the Aces. Joe shrugs off the Mic Check and wraps him up with the Koquina Clutch for the win in 6 minutes. Post match, Kurt and Sting reveal Joe to be the newest MEM member. I can't wait to see him in a suit. Somehow, I imagine a white suit. 3 for 7. Lackluster match, and it was overshadowed by the postmatch stuff anyway.

Hulk Hogan calls out fake Suicide to reveal himself before he has to strip the X-Division title away from him. Suicide comes out, so Hogan gives him a spiel about being opportunistic and not cheating at the same time. He demands that Suicide unmasks, but Suicide just stands there shaking his head. "Is that your final answer?" What is this, Millionaire? Bully Ray is out now, to once again remind us that he's a bad person. He doesn't care who's under the mask as long as they're not stupid enough to challenge him. He takes credit for Suicide's win, reminding him that it was Bully put the fear of god in Chris Sabin. "Actually, I put the fear of ME in Chris Sabin." Classic. Hogan's had enough and he wants the mask off. Suicide speaks (through a modulator and a bizarre British-ish accent), telling us that he chose to do the right thing over the easy thing. Suicide wants to know if Ray knows who he is - Ray should know, since he's a man who's taken the title off Ray once, and he'll do it again. He's Austin Aries! 4 for 8.

And on that note, we end the show.

Wrestling Counter: 34 minutes.

This was a real hit-or-miss show. The hits were pretty good, and the misses were rather awful. Still, every match on the card had some context, which you don't get to see every week. Most of the storylines moved along in a way I have no problem with - despite the fact that a lot of people have pointed out the hole in the logic given for Sting reforming the Main Event Mafia. TNA tends to have better shows when they have an overarching storyline, so I'm not complaining. Also, big props to Bully Ray for all his backstage segments, he was pretty amazing.

EDIT: I wanted to have the Bound For Glory standings, but I cannot seem to find them on the Impact Wrestling website.




(edited by used2bcool on 27.6.13 2352)

(edited by used2bcool on 28.6.13 0755)
Promote this thread!
Lexus
Bierwurst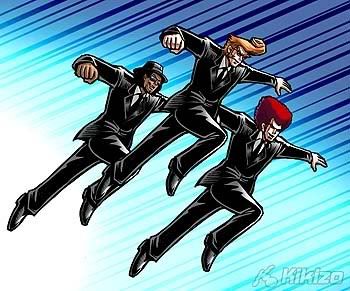 Since: 2.1.02
From: Stafford, VA

Since last post: 12 days
Last activity: 4 min.


AIM:
#2 Posted on | Instant Rating: 5.75
Having watched TNA for the first time in forever, I'll say I was entertained.


---

"Laugh and the world laughs with you. Frown and the world laughs at you."
-Me.
John Orquiola
Scrapple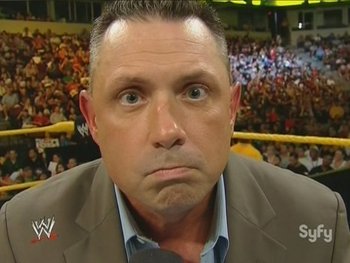 Since: 28.2.02
From: Boston

Since last post: 32 days
Last activity: 32 days

#3 Posted on | Instant Rating: 6.31
The ending of Mickie vs. Velvet with Velvet tapping out and crying afterwards was a lot like AJ vs. Kaitlyn at Payback. There seems to be some monkey see-monkey do going on.

I guess Mickie will come out dressed as Velvet next Thursday.


---

"Cody, I mustache you a question." - The Miz
Dionysus
Boerewors



Since: 10.7.11

Since last post: 23 hours
Last activity: 12 hours

#4 Posted on | Instant Rating: 5.94
I thought this was possibly the best episode since last summer.

It was surreal to see The Big O in TNA. I wonder what this means for Zack Ryder, and if this is a sign that Morrison's resurrection is imminent.

The Main Event Mafia mystery member, and the Suicide unmasking mystery kept me on the edge of my seat all show.

TJ Perkins as the "one and only Suicide": sure Hulk. I was hoping that Daniels or Kazarian would have been the ones to have laid out TJ. I expected it to be Aries due to the heel rope hold, then figured it was AJ to get around the no-title-shots rule, and finally decided it had to be Douglas Williams due to the accent. Aries was a fine reveal. Predictable, but not too obvious.

I liked Velvet's post-match tears. That's how people really would feel after losing a title match.

Magnus going over Roode was a surprise. I wonder if Magnus is MEM eligible based upon his Ring Ka King title. Speaking of MEMs without world titles, I will be highly irked if MEM doesn't touch upon Crimson at some point. Also, during the Crimson/Park match two weeks ago, I was sad that the commentators didn't play up the time that Crimson killed Park's brother.
used2bcool
Bockwurst



Since: 5.11.08
From: Lake Forest, IL

Since last post: 1 day
Last activity: 59 min.

#5 Posted on | Instant Rating: 9.38
Originally posted by Dionysus

---

I was hoping that Daniels or Kazarian would have been the ones to have laid out TJ. I expected it to be Aries due to the heel rope hold, then figured it was AJ to get around the no-title-shots rule, and finally decided it had to be Douglas Williams due to the accent. Aries was a fine reveal. Predictable, but not too obvious.

---


Now that you bring it up, I realized that there was no sign of Styles on this show. The reveal of Austin Aries was not obvious to me at all, but then maybe that is because I haven't been following TNA for some time. I originally thought Styles but dismissed it because the body shape didn't match at all, and then settled on Daniels because I hadn't seen him all day.

Also, I found the BFG Series standings (though not updated to reflect the results of the last Impact) on their website:

Magnus - 17
Joe - 12
Hardy, Anderson, Daniels, Aries - 7
Styles - 2
Roode, Hernandez, Bradley, Kazarian, Park - 0