Karlos the Jackal
Lap cheong



Since: 2.1.02
From: The City of Subdued Excitement

Since last post: 180 days
Last activity: 15 min.

#1 Posted on | Instant Rating: 8.00
It's a night of SIX MAN TAGS!

Angle and Joe are out and want Christian and his Coalition! Christian tells them to get a partner so they have no excuse when he beats them! Angle and Joe have mutual respect. That would have been an interesting conversation to listen in on. Joe: "Yeah, Kurt, I really respect the way you attacked my girlfriend and broke her ankle. I mean, at the time I was super pissed, but now I look back and I think, 'Wow, that was actually pretty cool.'"

VKM & Lance Hoyt vs. Serotonin: Serotonin are now "Martyr," "Havoc," and "Kaz." The name change does not keep them from losing! Hoyt pins Havoc (Devine) with the F5, or the "Texas Tornado Slam."

You know, I wasn't sure I could like Kip less, but this whole "He tore Christie's clothes off! He says women belong barefoot in the kitchen!" "Oh well -- what a lovable scamp!" angle pisses me off.

Kaz registers disapproval with the post match ritual beating, but he finally submits.

The Coalition is backstage and discussing current event with Jeremy Borash. This is how awesome Christian Cage is:

Cage: "Tomko! Please explain to me whose idea it was for them to get a tag team partner tonight!"

Tomko: "Um. That's gonna be your idea, boss."

Cage: "Oh, that's real great. In a time of crisis, you're just gonna stand here and point fingers. Scotty! Who's their partner? Who could it be?"

Steiner: "Do I look like Quasimodo to you? Do you think I can re the future? I really don't CARE who their partner is! I just want ANGLE, that's IT! ANGLE!"

Cage: (quietly) "Wasn't Quasimodo...the hunchback? You're thinking of Nostra -- forget it. I know who it is -- I KNOW WHO IT IS! It's Abyss!"

Steiner: "Are you on crack?"

Ah ha ha ha! And then Cage corrals JB to go look for Abyss.

In the ring, Tenay announces that HECTOR GUERRERO is now a member of the office and the Spanish announce team. Hector comes out and looks enough like Eddie that frankly this is kinda creepy. Abyss comes out to interrupt the ensuing lovefest and KILLS SoCal Val DEAD with a Black Hole Slam. Hector takes off his jacket but attempts no further action.

It's CHAOS in Cornette's office! And the only solution is MORE GIMMICK MATCHES!!!!!!!!! Cornette books Storm & Jackie vs. Williams & Kim in a DOUBLE BULLROPE MATCH; Sabin vs. Lynn in TWO OUT OF THREE FALLS; Senshi vs. Aries in a THE ONLY WAY TO WIN IS WITH A CROSSFACE CHICKENWING MATCH; and VKM vs. A MYSTERY, SURPRISE TEAM OF CHRISTIE HEMME'S CHOOSING. It's like -- you just have to lie back and let the gimmicks wash over you like a thousand gallons of warm, congealed milk while you close your eyes and think of England.

Roode Inc. & James Storm vs The Stars of the X Division Sonjay Dutt, Petey Williams, & Jay Lethal: Was part of Randy Savage's gimmick getting attacked from behind while talking on the mic? If so, Lethal is really getting it down! Anyway. Storm superkicks Dutt's head right off and that's that.

If Roode is "from Wall Street," why doesn't Miss Brooks dress like the assistant to a Wall Street guy? 'Cause unless "Wall Street" is the name of an Orlando strip club, I am not buying these outfits.

Cage and JB track down Abyss, who is clutching something and rocking back and forth. This is how awesome Cage is:

Cage: "What's that, a picture of Jim Mitchell? Yeah, I know what it's like to lose a father. ...Not really, but I heard it's not that good."

And then Cage TOTALLY feeds JB to Abyss as a "peace offering!" Ah ha ha ha!

There's an announcement that the LAX vs. 3D match is now GHETTO BRAWL! Because Italians and Hispanics live in GHETTOS!

The Christian Coalition vs. Kurt Angle, Samoa Joe, and.....Rhino!: This is apparently under lucha rules, since NO ONE is tagging in -- people just run in as soon as someone else falls out. AJ is here and gets chased across the ELEVATION X structure by Rhino. Angle hits Germans on everybody!

Everyone hits finishers! Steiner get an --> Anklelock by Angle, who gets a --> Big Boot by Tomko, who gets a --> Gore by Rhino, who gets an --> Unprettier by Cage, who gets a --> Musclebuster by Joe, who gets an --> Overhead Belly-to-belly by Steiner, who gets an --> Olympic Slam by Kurt, and back into the Anklelock! I love it when things come full circle.

Then Abyss runs out and there's the DQ. Blackout! Sting is above the entrance ramp! NO!!! Sting is above the OTHER entrance ramp! NO!!! Sting is IN THE RING!!! Tenay says, "WHAT the HELL? DAMN, I can't wait for Destination X THIS SUNDAY!!!"

--K

(edited by Karlos the Jackal on 9.3.07 0312)

---
Last 5 movies seen: Billy Budd ***1/2 - Borat: Cultural Learnings of America for Make Benefit Glorious Nation of Kazakhstan ***1/2 - Stranger Than Fiction ***1/2 - Jericho (1937) *** - Pan's Labyrinth ****
Promote this thread!
Matt Tracker
Scrapple



Since: 8.5.03
From: North Carolina

Since last post: 5 hours
Last activity: 2 hours

#2 Posted on | Instant Rating: 6.25
Serotonin is worthless, and the sells for the Kip Cutter and F5 were bad. Anyone could do Raven's current gimmick, and the team is in no way noteworthy. I don't get why Serotonin is still getting paid.

"Do I look like Quasimodo to you?" I like the look on Steiner's face after Christian corrected him. I think he wanted a do-over. Christian has never been better as he was this episode.


---

Hector comes out and looks enough like Eddie that frankly this is kinda creepy.

---


And SOUNDS just like him too. That gal sold the slam like a champ.

I liked the main event as a car crash, and this show did a nice job selling me on the PPV.


---

"To be the man, you gotta beat demands." -- The Lovely Mrs. Tracker

My blog will amuse. (heygregory.blogspot.com)
Packman V2
Bratwurst



Since: 16.3.04
From: Albuquerque, NM

Since last post: 3 days
Last activity: 6 min.


AIM:
Y!:
#3 Posted on | Instant Rating: 5.21
Christian consistently brings the Awesome to Impact every week. I just hope they dont pull the trigger on him losing the title. The face time he gets with it is well worth it.




---

Co-Winner of the 2006 Time Magazine Person of the Year Award
kentish
Andouille



Since: 19.8.05
From: My Old Kentucky Home

Since last post: 584 days
Last activity: 72 days

#4 Posted on | Instant Rating: 2.44
Christian continues to be one of the few bright spots for this show.

I remember seeing Hector on a recent Nitro from 1996 and thought the resemblance to Eddie was uncanny. Looks, voice, and even wrestling style.

Jesus, did Abyss kill that chick or what?!? She landed right on her neck!


---


Dean! Have you been shooting dope into your scrotum? You can tell me! I'm hip!

XPacArmy
Frankfurter



Since: 13.5.03
From: Woodbridge, VA

Since last post: 965 days
Last activity: 962 days

#5 Posted on | Instant Rating: 3.29
Originally posted by Karlos the Jackal

---


Hector comes out and looks enough like Eddie that frankly this is kinda creepy.

---


I forget where I read this, I have to refind it. But it said Hector dyed his hair before appearing on TV. So was his intent to look like Eddie on purpose? Or just or look a little younger?


---
Lexus
Bierwurst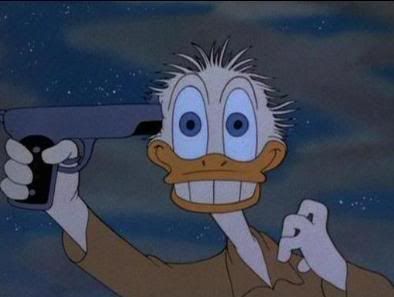 Since: 2.1.02
From: Stafford, VA

Since last post: 7 days
Last activity: 10 hours


AIM:
#6 Posted on | Instant Rating: 3.87
Caught the final 20 minutes or so. Why the scaffold match? Why?

Otherwise, I liked.


---

Hold nothing sacred and you'll never be dissapointed. Especially not this statement.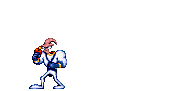 Peter The Hegemon
Lap cheong



Since: 11.2.03
From: Hackettstown, NJ

Since last post: 4 days
Last activity: 10 hours

#7 Posted on | Instant Rating: 5.98
Christian was hilarious and then some on the show. (And, Karlos, you brought the funny pretty darn well yourself on the recap; nice job). His promo segments were pure gold.

Other than that...well, the main event was solid. Everything else, not so much. I'm very impressed by SoCalVal's ability to take the Black Hole Slam well, but what the heck was the point? I could see if Hector was going to come to his defense, or if they developed something else out of it, but it just sat there.

The first match could have been cool if they had included a stipulation that the losing team has to go a month without changing any of their names. "Kip James, formerly The Outlaw, previously known as Billy Gunn in the WWE, from the Voodoo Kin Mafia, formerly the James Gang, previously known as the New Age Outlaws in the WWE, tags to Lance Hoyt, formerly Dallas, who lands a clothesline to Martyr, formerly Maverick Matt, formerly Matt Bentley, formerly Michael Shane...."

The LAX/Dudleys feud must be setting some sort of record for most consecutive non-title matches in a feud where one side has the belts and the other side is eligible to take it. (I mean, it wouldn't be fair to include a case where the cruiserweight champ was feuding with a non-cruiserweight or something.)
Oliver
Scrapple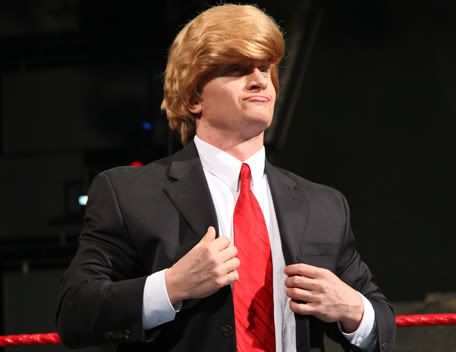 Since: 20.6.02

Since last post: 484 days
Last activity: 477 days

#8 Posted on | Instant Rating: 4.36
"Holy shit...is that Eddie Guerrero?"

That came from a friend of mine who came over to watch Impact at my place, when Hector Guerrero came out. The moustache, the entire "mi raza", everthing...he looked and sounded like a young Eddie.


---


I've seen TWO movies so far this year: Because I Said So - (3*); Borat - (5*)