Karlos the Jackal
Lap cheong



Since: 2.1.02
From: The City of Subdued Excitement

Since last post: 695 days
Last activity: 15 min.

#1 Posted on | Instant Rating: 8.00
They seem to be putting actual titles ("Christian's Revenge," tonight) for the show between the recap and the opening credits. Huh.

Christian Cage is out and cut a promo -- he says that he's an asshole, and if he gets beaten down for being an asshole, he's going to get back up and keep right on being an asshole. This is interesting, because it's all heelish (he insults the crowd, too) but delivered in such a way that you can totally get behind it.

Kurt Angle and Robert Roode come out -- they're going to have a tag match tonight, so Cage had better find a partner.

Christopher Daniels vs. Scott Steiner vs. Petey Williams vs. BG James: This is related to Feast or Fired -- the winner can either keep his case, trade his case for another, or give up the case in exchange for $50,000. Petey, by the way, is FRIGGIN' RIPPED. (He and Steiner exchange pose-downs during the match, in fact.)

Fun enough -- I like that they're mixing TNA guys with ex-WWEers for this whole thing and letting them look pretty good, even. Ending comes when Daniels hits the Angel's Wings on BG -- Petey Destroys Daniels Canadian-style -- and Steiner belly-to-belly suplexes Petey for the pin.

After the match, they do a game show-style thing where they play "tick-tock" music and Steiner looks to the crowd for advice. He ends up trading his case for Petey's.

They do some more "Deal or No Deal" type stuff (with Jeremy Borash subbing for Howie Mandel) for the big reveal for Petey's case...and Petey wins...a World Title Shot! Steiner is peeved.

Kaz is chatting with Crystal; Cage approaches and wants Kaz to be his partner. Kaz says that they should ponder it -- he's a spiritual guy, you know. He gets Cage to close his eyes to really think about this, and then Kaz takes off.

Rellik vs. Kaz: Rellik (which -- did you know? -- is "killer" spelled backwards) gets pinned and is now 0 for 5. HA ha! [/Nelson]

Black Reign comes out and he and Rellik put Misty the rat into a bag and then put the bag over Kaz's head.

The New Hot Girls (Angelina Love and Velvet Sky) talk to Borash in the back and establish that they are experienced -- in bed -- oops, in the ring! How charmingly coy!

Jackie Moore and Traci Brooks vs. Angelina Love and Velvet Sky: Jackie Moore is drunk and carrying a beer bottle in one hand, and -- in one of the best spots of the night -- flapjacks Sky with one arm without spilling her beer. Love & Sky win with a roll up on Miss Brooks.

Roode is out to berate Miss Brooks -- Sharmell T is out to set Roode straight on how to treat a lady -- Roode gets threatening -- Booker T is out now, too, and Roode bails.

Cage finds Kevin Nash taking a nap on the couch. Nash won't team with Cage, but maybe Cage can find a partner down there. Cage: "Down where?" Nash: "Down HERE!" *gestures rudely* Nash leaves as Crystal giggles. Cage: "Shut your mouth. You're laughing at an eleven-year-old with gray hair."

James Mitchell is out -- he calls out Abyss (although he keeps calling him Chris -- really leaning into it, Chris, like it's an insult). Something about a secret (another one! yes!). Abyss doesn't want to talk -- goozle on Mitchell -- lights go out -- JUDAS MESIAS is back and he chokes out Abyss with barbed wire.

Mesias and Mitchell tie Abyss' hands behind his back and BAM three chairshots in a row to Abyss' head -- I have to say I don't think that's a great idea. Mesias finishes Abyss with the Straight to Hell -- sort of a jumping Downward Spiral -- onto the chair.

Cage tries to convince Booker to team with him, and calls Sharmell "Beyonce" ("it's a GOOD thing!"). Booker gets mad and blows him off.

Chris Harris vs. Booker T: Chris Harris grabs a mic before the match, cutting a full-on heel promo whining about his position on the roster. Booker comes out and squashes him. I am depressed by this. I expected Booker to win, but Harris just got crushed.

Another case is opened -- it's BG James' -- he gets...a Tag Team Title shot! Kip is pleased until BG says that his partner is "yet to be determined."

Dustin Rhodes -- out of makeup -- is with Crystal. He says that he has no control over Black Reign, who used to come into his room at night and drink his milk and break his toys. Kaz jumps Rhodes and starts beating the crap out of him. Rellik runs in and gets pinned again. (I made that last part up!)

Johnny Devine vs. Black Machismo: This is a lumberjack match, with the rest of the X Division around the ring. I am still against this strict delineation of who's X and who's not. This is a nothing match. Lethal pins Devine after Devine gets the hell whipped out of by everyone else; so what? This would have actually been better with a 3D run-in.

Time for the last two cases -- there's an X Division match and a pink slip up for grabs. Steiner describes this as a "no-win situation" -- fuck you, X Division!

Steiner gets the X shot (hey, I predicted this in the Turning Point prediction thread!). I really hope that he actually takes the shot instead of tossing it aside. Actually, I think it would be great if he won the belt.

And Daniels gets fired. He is sad. Maybe they'll do that thing where a fired wrestler comes back under a mask. I wonder if Daniels has any masks lying around the house that he could use.

Cage talks to Samoa Joe -- Joe yells about how Cage can suck his BEEP and Angle can suck his BEEP and THE COMPANY CAN SUCK HIS BEEP OMG THEY WERE RIGHT IT WAS A WORK ALL ALONG

Christian Cage vs. Robert Roode and Kurt Angle: And Cage goes it alone. He looks terrific -- he gets a couple of nearfalls on Angle, once with the frog splash and once with the Edge-O-Matic (!). No sign of chickenshit at all -- I think they're going to try and make Cage a Stone Cold-type face.

Finally, though, the numbers are too much -- Karen distracts the ref while Angle and Roode spike piledrive Cage!

After the pin, Cage gets a Northern Lariat, an Angle Slam, and an Angle Lock for good measure. AJ Styles is out but doesn't know what to do. The Angles and Roode stand tall.

--K


---
Last 5 movies seen: Interview **1/2 - The Bourne Ultimatum **** - Czech Dream *** - No Country for Old Men ****1/2 - Who's Afraid of Virginia Woolf? ***
Promote this thread!
Tenken347
Knackwurst



Since: 27.2.03
From: Parts Unknown

Since last post: 1 day
Last activity: 12 hours

#2 Posted on | Instant Rating: 5.03
One of the best episodes of Impact I've seen in some time. I really wish that Christian had tried to convince Nash that he had been a member of the nWo. I think that would have been some good comedy.
hansen9j
Andouille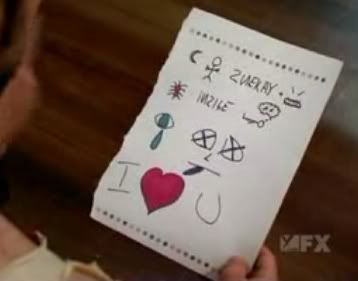 Since: 7.11.02
From: Riderville, SK

Since last post: 4 days
Last activity: 2 hours

#3 Posted on | Instant Rating: 5.19
Originally posted by Karlos the Jackal

---

I wonder if Daniels has any masks lying around the house that he could use.

--K

---


All I want for Christmas is Curry Man.


---

A Knight of Prosperity... cajun style.



Shem the Penman
Toulouse



Since: 16.1.02
From: The Off-Center of the Universe (aka Philadelphia)

Since last post: 1391 days
Last activity: 1189 days

#4 Posted on | Instant Rating: 5.58
Originally posted by Karlos the Jackal

---

Rellik vs. Kaz: Rellik (which -- did you know? -- is "killer" spelled backwards) gets pinned and is now 0 for 5. HA ha! [/Nelson]

---


I'm finding this streak perversely fascinating. It's Bizarro Goldberg!


---

"The object of persecution is persecution. The object of torture is torture. The object of power is power. Now do you begin to understand me?"
brooaar
Chaurice



Since: 2.11.07

Since last post: 3632 days
Last activity: 3569 days

#5 Posted on
Originally posted by Shem the Penman

---

Originally posted by Karlos the Jackal

---

Rellik vs. Kaz: Rellik (which -- did you know? -- is "killer" spelled backwards) gets pinned and is now 0 for 5. HA ha! [/Nelson]

---



I'm finding this streak perversely fascinating. It's Bizarro Goldberg!

---


When is Don West going to stop reminding us that Rellik is Killer spelled backwards? Every match I've seen with him it's the same same old line as he comes to the ring. For the 5th time don, YES I knew that.

As far as on-air intoxication goes, I have a much bigger problem with that then there being an alleged behind the scenes steroid problem in the other promotion. Yes Stone Cold pours beer all over his face and WWE says we are entertainment. Tna has wrestlers engaging in drinking contests, throwing up, portraying drunkenness? and then saying "we are wrestling". Call me old fashioned but I have a problem with that.
Peter The Hegemon
Lap cheong



Since: 11.2.03
From: Hackettstown, NJ

Since last post: 16 days
Last activity: 3 hours

#6 Posted on | Instant Rating: 5.02
I don't like all the alcohol stuff, either--do we really need *two* wrestlers in the nascent women's division working the Sandman's "I drink while I wrestle" gimmick? I'm going to say no.

The Goldberg-in-reverse thing was already done by David Young.

Why would I care about a match where the winner gets to trade one random case for another? *sigh* Let the winner trade *after* the reveal, and we're talking. (OK, if the wrestlers had enough sense to sell a 1-in-4 chance of getting fired for 50 grand, that might be different.) I don't know where they're going with Daniels being fired, but I'm betting they don't give it enough attention and it gets lost in the shuffle, anyway.
Guru Zim
SQL Dejection
Administrator



Since: 9.12.01
From: Bay City, OR

Since last post: 81 days
Last activity: 8 days


AIM:
ICQ:
#7 Posted on | Instant Rating: 8.81
I thought they renamed him Robbej?


---

Sign up for Folding@Home and join our team. PM me for details.

Ignorance is bliss for you, hell for me.
CTX
Chourico



Since: 11.5.02

Since last post: 339 days
Last activity: 9 days

#8 Posted on | Instant Rating: 6.72
Originally posted by Guru Zim

---

I thought they renamed him Robbej?

---

So close, yet so far.


---

WCW Archive
WCW Magazine Archive - Ongoing WCW Magazine archive. Includes cover scans, contents, release dates and more for over 100 publications.
WCW Promotional Ads Archive - Now featuring over 150 promotional ads, including everything from PPV's to the WCW Hotline.
WCW VHS Archive - Currently serving mainly as an image gallery for almost all WCW VHS releases, but will eventually host full information for each release.


Click Here (wcwarchive.50webs.com)
Wpob
Bierwurst



Since: 21.11.02
From: Williston Park, NY

Since last post: 31 days
Last activity: 17 hours

#9 Posted on | Instant Rating: 3.48
Originally posted by CTX

---

Originally posted by Guru Zim

---

I thought they renamed him Robbej?

---


So close, yet so far.

---


HAHAHAHAHAHAHAHA! That was awesome. Thanks for the laugh!


---

"Marriage is like that show 'Everybody Loves Raymond', but it's not funny. All the problems are the same, but you know instead of all the funny, pithy dialogue, everybody is really pissed off and tense. Marriage is like a tense, unfunny version of 'Everybody Loves Raymond', only it doesn't last 22 minutes. It lasts forever."


Quezzy
Scrapple



Since: 6.1.02
From: Pittsburgh, PA

Since last post: 1 day
Last activity: 23 hours

#10 Posted on | Instant Rating: 3.12
For once I thought this was a pretty good booked show as far as storylines but the wrestling was kind of weak outside of the main event. Christian is the most entertaining person in either company right now.

I'm bummed that the great promo Daniels did a few weeks ago seems to be leading nowhere in favor of this fired angle but I'm hoping it at least means he gets to actually do something. Also looking forward to BG getting a new partner and Steiner getting X title shot and Petey getting a World Title shot could be interesting, although I have a feeling they might end up having a feud and switching at some point.

In addition to Curry Man wasn't Daniels also one of the Conquistadors when Edge and Christian brought them back in the WWE?

Next week: Another pole match.


---

Lance's Response:

THAT IS AWESOME!
kentish
Andouille



Since: 19.8.05
From: My Old Kentucky Home

Since last post: 1098 days
Last activity: 351 days

#11 Posted on | Instant Rating: 2.56
I didn't realize that Rellik was Killer spelled backwards, mostly because he is so ridiculous looking that I immediately turn the channel when he comes on.

That was another solid show last night, and I am still intrigued with where they are going with the whole AJ/Cage/Angle thing. It's a unique storyline, unlike the usual retreads TNA seems to come up with.


---


"I like your Christ, I do not like your Christians. Your Christians are so unlike your Christ."

-- Mahatma Gandhi

Matt Tracker
Scrapple



Since: 8.5.03
From: North Carolina

Since last post: 3 days
Last activity: 15 hours

#12 Posted on | Instant Rating: 6.02
The briefcase sweepstakes went on for years, and apparently shook out as most everyone originally expected: Steiner had the world title shot, BG had the tag, Petey had the X Division, and Senshi was fired. They waited two weeks to open the cases and switched them twice to a scenario that should have been revealed at the PPV. Senshi, by the way, was one of the X lumberjacks.

BG had no business being in that ring. He has no character anymore and zero interesting offense. I don't care what they do with the VKM or his title shot. Steiner, surprisingly, was entertaining playing off of Petey with the pose-downs.

Christian got the weekly overexposure usually reserved for Angle, and no matter who gets that spot, I like them less by the end of the first hour. Christian is a fine wrestler, and while I'm still not sold on him as a main-eventer, he seems determined to be the most entertaining guy on the show. I respect that effort, but too much of a good thing is just that.

TNA seems to have the more attractive women, but the cheesecake girls are just as sloppy as the WWE gals. Jackie took a high crossbody to her knees.

The Rellik angle smells like it's going to turn into Stromboli breaking character and demanding to win his spot as his own man and without a gimmick. I don't know what else they could possibly be doing with this guy. Messias crushed Abyss with a reverse RKO. A nice move, but can he do anything else?

I like angry Samoa Joe, work or not. I want to see more of him. But not for two hours' worth of backstage skits, please.


---

"To be the man, you gotta beat demands." -- The Lovely Mrs. Tracker