AJ_Levy
Mettwurst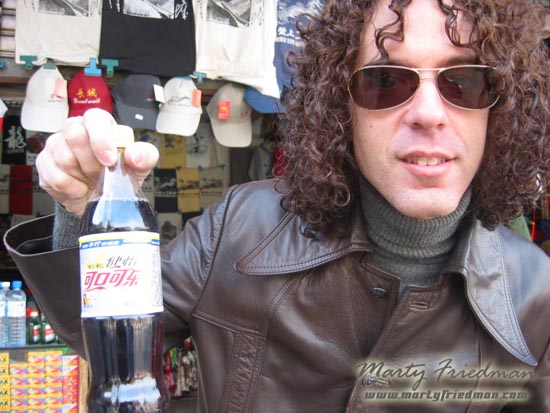 Since: 31.3.02

Since last post: 5149 days
Last activity: 5145 days

#1 Posted on
Okay, recently there's been a lot of talk about Lance Storm.More specifically, about how he is more charismatic in real life than what his character makes out.

It reminds me, in a way, of Dean Malenko. When people think back about Dean, they think of a guy who was a great technical wrestler. They also remember a guy who always had a serious, 'constipated' look on his face, and seemed quite uncharismatic. Rarely cut any promos during his WCW run, many assumed he wasn't all that terribly intelligent, and ouside an excellent feud he had with Chris Jericho (were many were laughing at him rather than with him), really didn't seem like a 'funny' guy.

What sticks out in my mind about Dean is a series of interviews he did with a radio show called 'The LAW', where his alter-ego (Dean Simon) came across as being quite friendly, quick witted, intelligent, and funny - almost the polar opposite of how his character came across on TV. Listening to him made me wonder, why would a reasonably charismatic guy choose to play such a serious character on TV? Certainly, WCW was never know for its brilliant scripts or character development. But there was another very plausable explanation.

Comedy gimmicks have a glass ceiling on them. No matter how over - say - GoldDust, Rico, HTM, etc. are, unless Vince Russo is booking, they will probably never reach the world championship level. And even under Russo, they'd probably have to do a 'wored shoot' interview saying how stupid the bookers are (and generally killing suspension of disbelief) before getting the big gold. Or making it big in Hollywood. Generally this is a good thing - the Gobbeldy Gooker returning and taking the world champion would probably be the last straw for a lot of people watching wrestling (say what you will about Triple H, he is infinately more credible than a guy dancing in an 8 ft. turkey suit!).

Given this, You can see why some guys would choose to be stuck in the midcard with their self esteem intact - playing a boring character - than end up on the front page of Wrestlecrap.

Furthermore, a serious guy could be a reasonable draw *if used correctly*. And - ironically - WCW has probably used guys like Malenko, Saturn, or Storm better than the WWE. It's not hard to imagine a cold, blunt, serious guy looking straight into the camera and saying "Nash, tonight I'll lock you in a Boston Crab so tightly that I'll break both your legs" and - when said wrestler does lock Nash in the Boston crab and the toothpicks inevitably break - getting reasonable heat from it.

The problem is that this doesn't fit the WWE style. Vince's wet dream is a guy over 7ft. who can cut a promo like The Rock. Most everyone who isn't - or isn't doing - one of these 2 things is stuck in midcard hell, doing comedy skits.And Lance Storm's serious character has never stood a serious chance (pun unintentional).

So should Lance Storm just go with the flow, and drop the whole 'boring' character in hope of a push to the upper-midcard? Or should he keep playing the serious character and hope to be dropped in(T)o gree(N)er p(A)stures where he might stand a better chance of getting over? Or am I reading the whole situation wrong, and is Lance really a boring guy, and thus in a totally different boat to where Dean Simon was?
Promote this thread!
IfYouWill
Linguica



Since: 4.6.03
From: Erie, PA

Since last post: 5346 days
Last activity: 5344 days

#2 Posted on
You're right by asking this question. For Lance's monetary wealth, he should stay in the WWE and go along with the current direction of his character.

However, for his long-term success as a wrestler, he should try to head to NWA-TNA.


---

"I am a real American, Fight for the rights of every man,
I am a real American, fight for what's right, fight for your life!"
InVerse
Boudin blanc



Since: 26.8.02

Since last post: 2 days
Last activity: 3 hours

#3 Posted on
I've never seen/heard an audio/video interview with Storm, but he definitely has a humorous side that comes off well on his website. Look through his comments and find the gag where he convinced several gullible readers that he and Victoria were identical twins. (Yes, identical.) Or read through his commentaries for anything involving Christian. (Or my personal favourite, read the backhanded remarks he had about Goldberg a few weeks ago on his comment board.)

I think the problem is that Storm has a very dry, sarcastic sense of humor that would be hard to work into a wrestling show. If he wasn't such a technically gifted performer, I'd say put him on as a third commentator on Raw. As it is, I'd almost prefer to see him bounced to Smackdown so we could see some great matches between him and Benoit or him and Guerrero. If he's not going to get a major push, at least let him help highlight a few shows.

However, he seemed to indicate that this BORING storyline was going to go somewhere. Someone asked when he was going to get a big storyline and he said it looked like he was in it now. (This being immediately after the first Raw where Austin came out.) He also admitted to doing a double take when they first told him what was going on but that he agreed to it after being told where it would lead. So who knows, maybe he'll get a legitimate rub from Austin somehow. Too bad it can't result in an actual match between Storm & Austin.

Apparently, Storm was given complete control over booking of his matches in ECW. One of his recent commentaries talked about how he had to convince Spike Dudley to go over him in a match. Spike thought Storm should win because Storm was getting a big push at the time and Dudley wasn't. But Storm pointed out to him that the first three matches on the card were all won by heels and how Spike should win their (the fourth) match so the fans had a reason to pop. It would certainly be nice to see someone like that main eventing in the WWE.
uberlou
Merguez



Since: 26.3.03
From: Glendale, Cali

Since last post: 2896 days
Last activity: 2667 days

#4 Posted on
It seems to me that Lance has always been a company guy and will go with whatever they give him. Remember Lance Storm the Janitor a couple years back after the InVasion?

What worries me is, maybe the writing team doesn't know how to book him? So they go with the serious schtick since they think that's the best route for him. Although they have had him show his comedic side every now and then, most of the time it ends up with him being the butt of the joke.

If there's one guy you can take a risk with, I believe Lance is the guy. He always seems to give his all in whatever he does and is very optimistic. I know there may be other guys in the company who work their ass off at whatever WWE throws at them as well but Lance has always stood out for me. The guy has great technical ability, much of which has yet to be exposed in WWE and has a great physique.

...or he can get 5 or 6 inch lifts and start chokeslamming people. Heh.


---
fuelinjected
Banger



Since: 12.10.02
From: Canada

Since last post: 4540 days
Last activity: 4540 days

#5 Posted on
Here's another problem with the writer's scripting out promos these days.

If Lance Storm was given a few bullet points and some interview time, perhaps his real personality would shine through? Instead he's being pigeon holed into what the writer's think his personality is.

Could The Rock's personality have come through if everything was scripted for him? What about Austin? Or Foley? I mean, some guys need it all handed to them but with somebody like Storm, they should give him a few chances and see if his personality starts to come out.

I always enjoyed Storm's promos in ECW where he played the straight man to Dawn Marie's bimbo character, often adding a few dry punchlines.

Perhaps Lance is also suffering from the stigma of being a WCW guy. They didn't want to do what worked in WCW for Steiner or Goldberg (at first) because what worked in WCW must not be as good as what the great WWE can come up with.
Notorious F.A.B.
Pepperoni



Since: 4.2.02
From: Dudleyville's Gay Ghetto

Since last post: 5304 days
Last activity: 5290 days

#6 Posted on
They're doing what works with Lance.


---

It's just you against the group mind.
sergeial
Boerewors



Since: 27.2.02
From: Minneapolis

Since last post: 4316 days
Last activity: 4232 days

#7 Posted on
I agree with FAB. For many months, Storm has been hooked up with Regal to get anti-american heat. Now Regal is sick, and the Quebecers have the anti-american niche, and they have finally gotten around to giving Storm a new direction. Basically they went back to his old gimmick, anti-charisma. The thing about "anti-charisma" is that it is subtle, dry, self-deprecating humar, just what other posters have said would be too subtle to work in a wrestling show. I disagree, it has worked for Lance in the past, and I think it will work now. He hasn't said anything quite as hilarious as his, "As everyone knows, a three-legged donkey would be illegitamate" but his "prepared statements" are among the things I actually look forward to on Raw.

As amusing as I find him on the mic, I have yet to see what so many people see in him in the ring. Still, maybe he would click with the right opponent, and change my mind. it's been known to happen.

sergei


---

"A true champion knows how to deal with adversity."-- Kurt Angle
Notorious F.A.B.
Pepperoni



Since: 4.2.02
From: Dudleyville's Gay Ghetto

Since last post: 5304 days
Last activity: 5290 days

#8 Posted on
"This is a sad, sad display, Rock. It's a sad day in this business when mocking your opponent via midget is an acceptible form of entertainment. Now no one enjoys a good laugh more than I do...but this ain't funny. You want somethin' that's funny, Rock, you want a real joke, that's you carryin' the WCW title. Which brings me to why I'm out here: to challenge you to a WCW title match right here tonight."

From Click Here (slashwrestling.com)

Loved that.

In the ring he's pretty bland. He doesn't show a lot fire. But he does do a lot of the little things that we smarks like to see, like stepping on the back of someone's knee in order to take him down.


---

It's just you against the group mind.
BigVitoMark
Lap cheong



Since: 10.8.02
From: Queen's University, Canada

Since last post: 4656 days
Last activity: 4566 days


ICQ:
#9 Posted on
Lance Storm's new gimmick will work if he goes on a winning streak. When he was in WCW his whole angle was that he was boring and Canadian, and he was the most over heel in the company at the time. Why? Because nobody could beat him. It was about as basic of booking as you can get - create a heel the fans want to see get beat - but it worked. Lance's gimmick was to be as dry as possible and the fans ate it up. I don't think it will work this time around because he's one week into this new angle and already getting jobbed out. If they keep making him lose, he'll be a boring jobber, the kind that nobody cared a lick about in the 1980s. They might as well change his name to Tom Stone. No one will care about seeing the boring guy get his ass kicked if it happens every week.
InVerse
Boudin blanc



Since: 26.8.02

Since last post: 2 days
Last activity: 3 hours

#10 Posted on
Originally posted by Notorious F.A.B.

---

In the ring he's pretty bland. He doesn't show a lot fire. But he does do a lot of the little things that we smarks like to see, like stepping on the back of someone's knee in order to take him down.

---


In Storm's defense, he hasn't had a lot of opportunity to be more than bland workwise. However, his Rolling Single Leg Boston Crab is awesome and (aside from arial moves that have a good chance of killing someone if they screw it up) I pop for that move more than any other.

That's another thing Storm mentioned in a past commentary. He took certain moves out of his arsenal (he specifically discussed a springboard backflip) because he thought they popped the crowd too much, which a heel shouldn't be doing. He said that if he ever turned face again, he had several moves he'd dust off that he only uses now during Canadian house shows. Given a worthy opponent and enough time, though, I think Storm could easily keep up with Benoit, Angle or Eddie.
GodEatGod
Bockwurst



Since: 28.2.02

Since last post: 849 days
Last activity: 287 days

#11 Posted on
I'd be curious to see Storm as a face, as I've never seen him work as one before myself. I enjoyed him in WCW, but he's never really clicked in WWE for me. He's never bad, it's just that...well, he's just kinda there, y'know?

I don't know that anyone was suggesting a comedy gimmick for Storm, just perhaps letting him show a bit of humor, a bit of his natural personality, through. I don't think Jericho is considered a "comedy" character, but he cracks me up just about every time he does an interview. You can be funny without being a joke. :)


---

"All I ever asked for in life is an unfair advantage." Microchip, Punisher Annual #2

Notorious F.A.B.
Pepperoni



Since: 4.2.02
From: Dudleyville's Gay Ghetto

Since last post: 5304 days
Last activity: 5290 days

#12 Posted on
It took Jericho a long time to get the perfect mix of smart ass and bad ass that he has right now. I don't think he really clicked as a main event character until his programs with Shawn Michaels and Goldberg.

I remember being very excited about having Lance Storm in WCW, after just seeing him main event an ECW PPV. I thought it was really fucking bad ass when he held the Cruiser weight, Hardcore and U.S. Canadian championships. Then he just kind of slipped into mediocrity.

I guess that would be where he stopped using certain moves. Team Canada would be where he started to suck. (Always a solid worker - just bland.) He never really recovered from it.

But hey, maybe the "boring" angle will turn him face. I can't remember seeing him do a spring board back flip before. Something like that's got to pop the crowd.




---

It's just you against the group mind.
Net Hack Slasher
Banger



Since: 6.1.02
From: Outer reaches of your mind

Since last post: 4868 days
Last activity: 3288 days

#13 Posted on
I see a lot of Canadians do mainstream interviews up here and I've seen Lance do it and he comes off as a pretty clever guy. I'd put him in a Trish category coming off as smart and comfortable, he's not ultra charismatic ala Jericho but he certainly isn't as bad as a Benoit or a Test.

The ultra serious can work, but you have to be really careful not to cross the line of dull or even worse loser... I think WCW played it really well, sure he was ultra serious but he was a winner and not looked like as a loser. One funny moment was an interview he did backstage with Pamela Paulshock and after the interview she said to Storm "Hey You're kind of cute". Storm looked at her and said "In Calgary,Canada we don't date, we just wrestle". I thought that was pretty funny.

I still think his ECW pairing with Dawn was the best, and still would work today. I think it's one of the best wrestler/ valet pairings in the past 6 years. They both added to each others character so much... You got this real serious wrestler who's got this polar opposite of a girl who's this total ditzy babe who thinks he's the greatest thing ever.


---

cause there's limits to our liberties.
'Least I hope and pray that there are,
cause those liberal freaks go too far.

I'll crush all opposition to me
And I'll make Ted Kennedy pay
If he fights back, I'll say that he's gay