odessasteps
Scrapple



Since: 2.1.02
From: MD, USA

Since last post: 1435 days
Last activity: 1402 days

#1 Posted on | Instant Rating: 6.40

the worst-kept secret in comics is true.

IN other sadder news, I will never like Black Adam again after what he did in this issue.


---

Mark Coale
Odessa Steps Magazine
The Affirmation, Baby Blog
Promote this thread!
Cerebus
Scrapple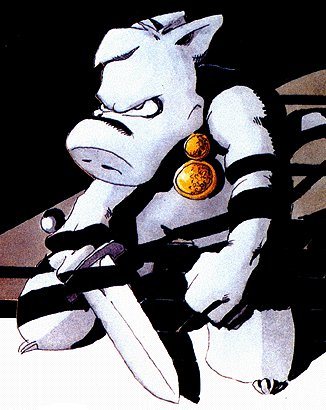 Since: 17.11.02

Since last post: 324 days
Last activity: 46 days

#2 Posted on | Instant Rating: 0.97
Holy Shit!

There's so much going on in this issue, I think my head's gonna 'splode! The destruction of Brother Eye, A (somewhat) explanation of who 'The Flash' is (Bart Allen, but grown up now), Alex Luthor 'acknowledging' the readers of the book, Joe Chill!, ZOD!, Klarion the Witch Boy!!!

Sadly, the death toll keeps rising with Psycho Pirate getting the ultimate 'Eye Poke Of Doom' from Teth Adam. As a wrestling fan, that was my mark out moment of the issue. Star Saphire bites it as well, but who really cares about her, right? (hahaha!)

There was another death, that as mentioned previously, spoiled by a certain cover that did look better in my hands then online, but I still think Perez's cover was better. Superboy took one for the team... atleast he got laid before he died, not many heroes can claim THAT now can they.

Oh boy, Issue #7 looks to be the entire DCUniverse Vs. Superboy Prime. That's gonna be a slobberknocker!

SHIT! He beat me, can we move this into the other thread please, thanks!

(edited by Cerebus on 5.4.06 1933)
It's False
Scrapple



Since: 20.6.02
From: I am the Tag Team Champions!

Since last post: 63 days
Last activity: 1 day

#3 Posted on | Instant Rating: 4.57
I don't even know where to begin...so I won't.

All I can say is, bring on #7!

EDIT: Ok, I needed time to catch my breath. Best DC issue of the year so far, narrowly beating out IC #4. The highlights?

-The Spectre (version Crispus Allen) exacts vengeance!
-Black Adam gives Psycho Pirate the world's deadliest EYE POKE OF DOOM~! (Wait, what do you mean someone already used that joke? Damn)
-SUPERBOYS COLLIDE...AGAIN! This time, the battle absolutely destroys Alexander Luthor's tower! Superboy, currently the hottest DC hero this side of Nightwing, bites the big one, which surprised me all to hell.
-The foreshadowing of something VERY BAD happening with the Green Lanterns.

This was just scratching the surface and everything looks to be tied neatly with a bow after #7. I'm looking forward to it.

(edited by It's False on 5.4.06 2351)

---

Fear the wrath of EVIL LINCOLN~!
kentish
Andouille



Since: 19.8.05
From: My Old Kentucky Home

Since last post: 1278 days
Last activity: 531 days

#4 Posted on | Instant Rating: 3.81
Another great issue! It seems like Psycho Pirate is only used in Crisis anyway, so he was expendable, and quite frankly, had it coming. I have never been a regular reader of Superboy, other than in Titans, where I admit Johns did a good job developing a weak character, but what is the big deal about Superboy? Wasn't part of the reason for the original Crisis to do away with too many similar characters, like Earth 2 Superman, Earth 2 Wonder Woman, Supergirl, Earth 2 Robin, and Superboy? And why is the Spider-Man clone saga so loathed, when it seems like most fans accept a cloned version of Superman? It is a lazy premise for a character I think, and while he died heroically, he was also expendable. I don't think a Superboy is even needed in the DCU.


---

Michael Scott: Would I rather be feared or loved? Easy, both. I want people to be afraid of how much they love me.
odessasteps
Scrapple



Since: 2.1.02
From: MD, USA

Since last post: 1435 days
Last activity: 1402 days

#5 Posted on | Instant Rating: 6.40

Psycho Pirate is NOT expendable.

Who knows what Morrison could have done with him?




---

Mark Coale
Odessa Steps Magazine
The Affirmation, Baby Blog
kentish
Andouille



Since: 19.8.05
From: My Old Kentucky Home

Since last post: 1278 days
Last activity: 531 days

#6 Posted on | Instant Rating: 3.81
I just mean that he doesn't seem to be used very much, unless it is in other series that I have not heard about. I like the character though.


---

Michael Scott: Would I rather be feared or loved? Easy, both. I want people to be afraid of how much they love me.
JimBob Skeeter
Bierwurst



Since: 2.1.02
From: MN

Since last post: 35 days
Last activity: 33 days

#7 Posted on | Instant Rating: 7.30
There were so many things I dug about this ish, like the Hall/Ollie interaction on the first page (baseball stuff). The new Beetle side-by-side with Batman on his first time out. The whol Gl thing, from John's ring sparking when near Beetle, to beetle dissapearing at the end, warning to watch out for the GL's. GA asking Batman why he was there, and Batman's response: "Just to see if you'd come.", followed by Ollie's reply: "The Brave and the Bold." I'm gettin' all misty now." That made me laugh. Firestorm blowing off Alex's finger. The whole SBP/SB fight. SB dying in Cassie's arms, sans right hand and severed left foot. The "merging" of Superman and Luthor. SBP supposedly held in the speed force for a few years, leading somewhere down the road of a return of bart all grown up, also Wally and Linda re-appearing with their twins all growed up and ready to fight crime, etc.
jsut allotta stuff. I liked it. Bring on the finale!
DrewDewce
Bratwurst



Since: 2.1.02
From: The Derby City

Since last post: 46 days
Last activity: 23 days

#8 Posted on | Instant Rating: 5.91
I was in Vegas last week and finally got to pick up my copy and read it today.

Wow. Most of the cool moments have been mentioned already, but according some some folks on Geoff Johns message boards (http://www.comicbloc.com) there are some potential neat "easter eggs" in here.

The merging of Earth-154 and Earth-462 would result in Earth-616 (Earth Marvel?) where apparently the old "Twilight of the Superheroes" pitch lives. At the very least it seems those characters are locked in some sort of "Civil War."

Funny moment where after Superboy tells Alex to find Earth Prime which is supposedly "our" Earth, he looks around, appears to be looking at us, the reader, and then reaches out for us.

It will be interesting to see where they go with Superman, Batman and Wonder Woman's "origins" over the next few years as it's hard to tell if all the shards showing some of the Pre-Crisis discarded elements (Joe Chill killing Batman's parents, Superboy in Smallville, the original Kryptonian Criminals, Wonder Woman being part of the original JLA etc.) are being merged back into "New Earth" or being thrown away for all time.

Loved seeing Batman sweat and apparently learning to trust other heroes (even Hal Jordan) again.

Great stuff. Can't wait until #7!


---

It is a good rule in life never to apologize. The right sort of people do not want apologies, and the wrong sort take a mean advantage of them.
P. G. Wodehouse (1881 - 1975), The Man Upstairs (1914)