DJ FrostyFreeze
Scrapple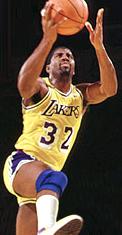 Since: 2.1.02
From: Hawthorne, CA

Since last post: 96 days
Last activity: 5 days

#1 Posted on | Instant Rating: 7.11

BACK-STORY: Mick Foley rolled through San Diego (about 2 hours south of me) last summer and I really wanted to go, but I couldn't find anyone to go with me. I debated back and forth about whether or not I should go by myself, but in the end I decided not to because I didn't wanna be "that guy". Spent the next few months kicking myself for not going anyway.

Then late last year I listened to Mick on the Nerdist podcast talk about how he went to things by himself all the time in high school (movies, wrestling, concerts, etc) because he felt like it was silly to let other people's non-participation stop him from doing things he enjoys. That's when I really knew I made a bad decision in not going to see him in San Diego.

Fast forward to a few months ago and I see on his website (www.realmickfoley.com) that he's going to be in Ventura, CA (about 2 hours north of me) same weekend as Summerslam. I asked around again and still couldn't find anyone who wanted to go with me, but I didn't let that stop me this time! I ordered my ONE ticket in May for $20.00 to see his 7pm show at the Ventura Harbor Comedy Club.

Ticket price includes pre-show meet & greet, but the club also has a "two item minimum". I don't drink, so my two items were a surprisingly tasty chicken quesadilla + a sour unsweetened iced tea (because apparently bars don't carry sugar?) + tip = $23.00. Mick sells Cactus Jack t-shirts and signed 8x10 photos of himself, but you can pose for a photo with him for free and he'll sign anything you bring for free.

Turns out he does the meet and greet for the first of his double-shot nights BEFORE the show, and does them for the second shot AFTER the show. If you go to see him, plan accordingly. I was about 6th in line to meet him. Everyone else had their girlfriend/wife with them to take their picture, so asked his assistant(?) to take mine for me.

When it was my turn, he saw I didn't bring anything to sign and he said "Just a picture, huh?" and I said "Yeah, is that cool?" and he said, "Of course, have a seat!"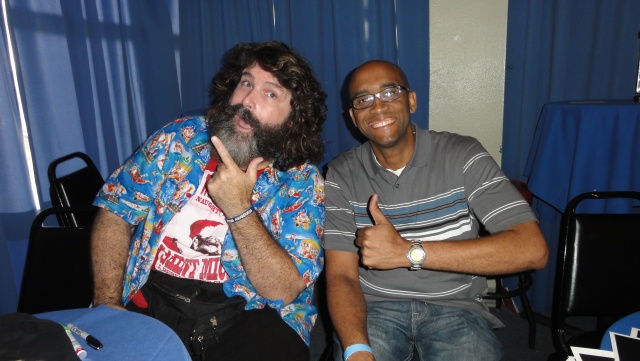 (I think everyone got the same pose)

After photo time, he shook my hand and thanked me for coming. I told him about kicking myself for missing his San Diego show last year and listening to him talk about going to events by himself on the Nerdist so I decided to come by myself this time. He was really surprised I had actually done it, then he said something like "Cool man! Yeah, I went to stuff by myself all the time when I was younger. Why should I miss out on cool stuff just because YOU don't wanna go? So now I have to wait around for YOU to like it too, THEN it's ok for me to go because NOW you wanna go? Just never made sense to me, you know?" Then he thanked me again for coming and shook my hand again.

The show itself was really fun: Vince stories (he may have the best Vince impression ever), wife & kids stories, a George Clooney/Stacy Keibler story, a couple travel stories, and lots of other fun tidbits mixed in too. He even gave me a shout-out during the show for coming by myself and that got me some nice applause, AND he singled me out as his "F-bomb Counter" to keep him from going over his self-imposed hourly limit of ONE, which he used at the very end.

Speaking of the end, he saves the Q&A portion to close out his show. He has his assistant(?) come up and ask trivia questions to the audience "to weed out the real fans". If you raise your hand and get the question right, you get to ask him a question. He stressed a couple times that disrespectful questions would not be tolerated, and he mentioned that his previous audience didn't seem to understand how that rule works. I only remember two of his trivia questions. First one was "In what country did Mick lose his ear?", I don't remember the second question, and his third question was answered correctly first by ME, which was "What type of match did he and the Rock have -(I rose my hand here)- during halftime of the Superbowl in 1999?".

MY ANSWER: "An empty arena match"
HIS REPLY: "Otherwise known as 'a TNA house show'. BOOM!"

In hindsight, my question to him was kind of boring, but I really did always want to know how his parents felt about him getting into wrestling. He answered by telling a quick funny story about his mom predicting to his younger brother that he would most likely quit wrestling the first time he got hurt, which got a big laugh from the audience.

FINAL REVIEW: He stresses in interviews that fans and non-fans alike will enjoy his shows because there's something in them for everyone, but I cant say I agree. He is naturally funny, I had a great time, and I would highly recommend it to any and all wrestling fans of the 80's, 90's, and early 2000's, but if you don't fit in that category, you probably wont get most/any of the jokes.

THE END.



---

Promote this thread!
BigDaddyLoco
Scrapple



Since: 2.1.02

Since last post: 3 days
Last activity: 2 days

#2 Posted on | Instant Rating: 4.76
I've been that guy who has been to wrestling events alone, and have also been that guy to not go to wrestling events because I don't want to go solo so good for you for going.

Foley is looking a lot like Captain Lou in that picture.
Kevintripod
Banger



Since: 11.5.03
From: Mount Pleasant, Pa.

Since last post: 3 days
Last activity: 1 hour

#3 Posted on | Instant Rating: 6.12
Thanks for sharing this. Sounds like you definitely had an awesome time.


---


"You have enemies? Good. That means you've stood up for something, sometime in your life." - Winston Churchill