SerWolfe
Landjager



Since: 11.1.02
From: st louis

Since last post: 5548 days
Last activity: 5548 days

#21 Posted on
Oh my GOD!!!... three years of hogan?.... the wwf would have no fans left... i was thinking a short run of a couple of months.... a farewell thing... but god no.... the horror...


---

I AM THE BEST there is, was and ever will be!!!! Dont you wish that you were me??? no?.... i've got two words for ya!
Ubermonkeys
Frankfurter



Since: 2.1.02
From: Michigan

Since last post: 4853 days
Last activity: 4727 days

#22 Posted on
But do you really think that Vince would let them have as much power behind the scenes as they're used to. I don't think that McMahon would let them have as much control again.

This move has shown that it's hard for anyone to try and understand what Vince is thinking. I'm certainly not saying I think that he is going to give them a huge slice of power/control/whatever, but what I am saying is that we're far beyond trying to figure him out. This isn't just people on the internet bitching. This is (according to 1Meltz) something that the majority of WWF employees themselves are really struggling to figure out, and it seems that among the crew, it's being almost universely panned.

That sounded really lame, but I might as well post it. Here I go... WHEE.


---

I'M A TOOL, PLEASE KICK ME IN THE JUNK
dskillz
Landjager



Since: 2.1.02
From: Houston Texas

Since last post: 4534 days
Last activity: 4239 days

#23 Posted on
mskj, the problem with your theory about how Vince can do the NWO right is the Invasion. They handled it totally wrong. Even without Goldberg, they could have made something BIG out of the angle, but they fumbled the ball. HHH eluded to the egos backstage had something to do with that in his interview with Alex Marvez. So do you seriously think adding 2 big egos and 1 Supersize ego to the mix is a good thing? I don't. I think it is a very bad thing. Hogan is a politician like no other, think back to his "angle" with Kidman. Remember his remarks and his way of "putting Kidman over". Is that was the WWF needs?

I just hope that Austin, Rock and HHH are going to be strong enough leaders to make sure these guys do not totally sink the company. Those 3 will be called upon to make sure the Hogan virus does not infect all of the WWF. But in the end it is Vince's world and he controls it the way he wants.


---

January 4th 1999 - The day WCW injected itself with 10 gallons of Liquid Anthrax...AKA...The day Hogan "Defeated" Nash to win the WCW title in front of 40,000.

(edited by dskillz on 14.1.02 1042)
mskj
Summer sausage



Since: 10.1.02
From: Tennessee

Since last post: 2303 days
Last activity: 2062 days

#24 Posted on
dskillz, I'm in total agreement with anyone who says Vince screwed up the Invasion totally. Maybe it had something, or even alot, to do with egos but there were other factors. I think the main problem with the Invasion was the timing...as in Vince didn't want to do it then but he had to. Rock took some ratings with him to film Scorpion King. Taker, and then Benoit and Jericho just didnt cut it as top faces. And on the night Vince was going to test (at least from what i read) HHH as a face, Hunter tears his quad. No Rock for two more months, no HHH for eight months, Beniot and Rhyno need surgery, Goldberg wants millions, Nash and Flair want to sit on their guaranteed contracts, and Sting appears to be done wrestling. So Vince hotshots the Invasion, and blows it. Now if Vince looks at this history and still thinks he can do an Invasion that way, he will blow it again. But this time he has top names, Benoit is the only big name still on the shelf, and Vince probably wants to prove he can book a sucessful Invasion. And i think he will this time. As far as Hogan's ego....hopefully it will be in check. Hogan has to know this is his last chance for a somewhat active run in a major federation. If he does have a ego, he will want to stay in that spotlight, and go out in it. And i think that will keep him somewhat in check. I just don't think (maybe hope) Vince is going to let these three ruin his federation.


---

Go Buckeyes. Michigan sucks.
Stephanie
Landjager



Since: 2.1.02
From: Madison, WI

Since last post: 1856 days
Last activity: 17 days

#25 Posted on
The big key for controlling the nWo (if this truly comes to pass)?

Creative Control - DON'T LET THEM HAVE ANY.

Steph


---

I'm going twenty-four hours a day...I can't seem to stop
- "Turn Up The Radio", Autograph
TheBucsFan
TheChiefsFan



Since: 2.1.02

Since last post: 1407 days
Last activity: 1407 days

#26 Posted on
Hogan has said befire that to come back to the WWF, he would want a match against Vince McMahon...Maybe they will do a short angle that culminates in Hogan's retirement match, a match against Vince, at Wrestlemania. Yhat would be cool...Anything longer, and I would get sick of Hogan.


---

"A lot of guys on this team have a lot of bark, but no bite. Guys have to just shut up and play."
-- WR Keyshawn Johnson, following the playoff loss to Philadelphia


tricknee
Tocino



Since: 14.1.02
From: Oceanside, CA

Since last post: 755 days
Last activity: 453 days

#27 Posted on
I know this has been said before, but I think it applies here. While the majority of us internet wrestling smart-types don't want to see Hogan return, we only make up a small part of the audience.
The average guy on the street knows Hogan's name and they might be inclined to watch RAW if his friends mention Hogan is showing up. And a lot of casual fans that dropped off when the NWO died might return to see if it is "cool" again.
I know quite a few peripheral fans that would freak if Macho Man or Hogan showed up on RAW, but couldn't care less about Lance Storm.
You have to figure that there are a couple ratings points worth of hardcore wrestling fans that Vince feels he can abuse as much as he wants and they'll always keep coming back. Those fans are not the concern. The trick is getting that fickle 2-5 additional ratings points that you can get with big names, controversy and TV Guide covers. That is the difference between being a mainstream hit and a niche market... the 3-4 rating vs. the 6-7 rating.
Vince has stockholders now, and even if he was inclined to put wrestling over entertainment (which he is obviously not) he wouldn't be able to. He's changed the WWF, and the industry, and the new expectations have to be met.
I just wish there was a small televised promotion out there to cater to the aforementioned 2 ratings points worth of people who want to see Tajiri vs. Super Crazy.


---

When a face does it, its an equalizer. When a heel does it, its cheating.
JayJayDean
Scrapple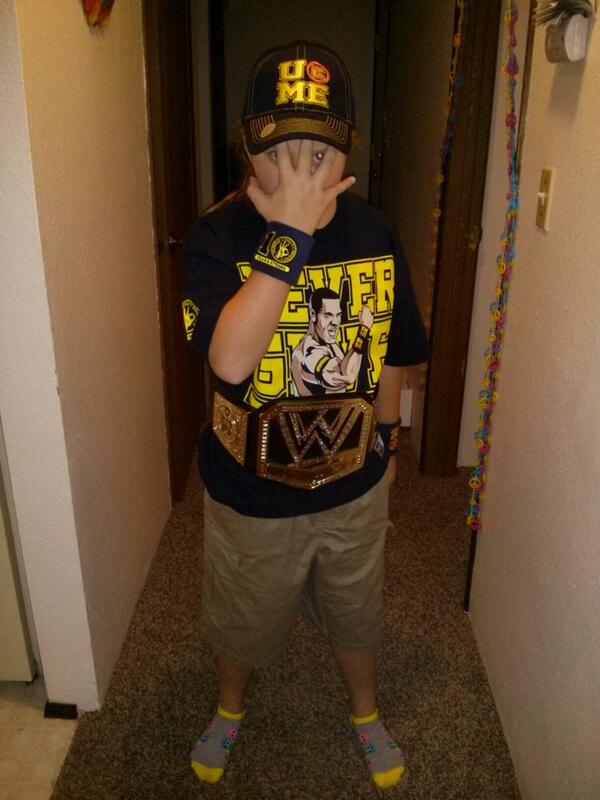 Since: 2.1.02
From: Seattle, WA

Since last post: 876 days
Last activity: 453 days

#28 Posted on
"A conversation between Satan and Vince McMahon (insert your own joke about them being the same person)...

(Satan) - "Say Vince, do you remember when you had double, maybe triple the ratings of WCW programming, and they brought back Nash, Hall, and Hogan, and it didn't help one little bit?"

(Vince) - "Sure I remember that."

(Satan) - "You should try that."

(Vince) - "Yes. I should."

Okay so that was short and highly uncreative, but so will be the WWF, and this is how little sense it makes."


THAT is the first thing that's made me smile since I heard the "news." Ugh.

Who's next? The Fucking Ultimate Warrior?!

The only thing that gives me any hope is that I *have* to believe Vince won't let those get so in control as they did in WCW (RIP).
benny566
Cotto



Since: 8.1.02
From: London

Since last post: 5998 days
Last activity: 5902 days

#29 Posted on
he's coming.......... RUN FOR YOUR LIFE ! THE ORANGE GOBLIN IS RETURNING TO THE WWF!!!!!!!!!!!! HE IS GOING TO RUIN EVERYTHING!!!!!!!!!!!!!!


---

i am the man
Yun
Salami



Since: 2.1.02
From: Just outside Dudleyville

Since last post: 4581 days
Last activity: 4528 days

#30 Posted on
Originally posted by Markme123
---
But do you really think that Vince would let them have as much power behind the scenes as they're used to. I don't think that McMahon would let them have as much control again. Hogan had it because he was the top draw in the 80's, so basically they needed to make him happy. Nash was influential because he and Michaels' were the top draw for the WWF in 95 and 96. Don't you think that if the situation got bad enough that Austin, Taker, Rock, or other important wrestlers would stand up and say something. We need to wait and see if these guys can still bring the ratings, and if they can't I don't see Vince giving them too much stroke.


---

"Kent Brockman here once again at The Springfield Nuclear Power Plant, where a complete evacuation has taken place. Details are sketchy at best, so we've taken what little information we have, added our own theories, and concluded that whatever the likely disaster, it's most likely the work of our former president Richard M Nixon, even though he is rumored dead." -Kent Brockman





(edited by Markme123 on 14.1.02 1012)
---


You know that's the first intelligent anyone has said in this ENTIRE F'N THREAD!!!

Come on people, NOTHING can be as bad as you guys are making this news out to be! It's been said before but it bears repeating since most of you don't seem to want to listen to those who say it: Hogan, Nash, and Hall had their stroke in the WCW for two reasons:

A) Eric Bischoff is an ass-kissing idiot who believed everything those three told him about what people wanted to see...

B) The WCW had proven that Sting and Flair (as good as they were) were not enough to draw viewers from the WWF, thus the WCW felt they needed the three stooges (good name for them whoever came up with it.)

I think it's clear that Vince McMahon is no idiot, and is definitely not an ass-kisser. If anything Hogan got the nod by kissing his ass during that interview (ESPN Unscripted, I think it was.)

Also reason B is obviously not a factor here. As much as Vince may want the original NWO, with HHH, Rocky, Austin, Angle, Taker, Jericho, RVD, Booker T, etc. under his employ, he does not need Hall, Nash, or Hogan. He knows this, and they know this.

And to whoever fretted that the Warrior might show up again... first that's not likely since I think he's still bitter about the copyright issues on the Ultimate Warrior character... and second I don't care what anybody says I'd mark out like a seven year old if the Warrior showed up. That's one of the few things that does bug me about this news... if they have to bring back a washed up old man who had the bare minimum of talent even in his glory days, why can't they bring back the one who at least was fun to watch.


---

Once you start down the smark path, forever will it dominate your destiny.



Yun Cheolsu (FKA Cactus Jon)
Foley Mark
Raven Mark
Kane Mark
Hardy Mark
Just Plain Mark
Author
Musician
and
High Priest of the Temple of Spork
benny566
Cotto



Since: 8.1.02
From: London

Since last post: 5998 days
Last activity: 5902 days

#31 Posted on
hogan sucks!!!!!!!!!!!!!!!!!!!!!!!! nash and hall suck as well!!!!!!!!!!!!!!!!


---

i am the man
littlest
Weisswurst



Since: 8.1.02
From: Australia

Since last post: 5795 days
Last activity: 5683 days

#32 Posted on
I'm not really a fan of any three of the guys, but it could be fun in the short term, depending on the role each is given. I'd love it if Vince brings back Hogan after getting whooped by Flair at the rumble, saying he's the only true living legend. Flair responds by saying there's no chance in hell that talentless orange llama will be in a promotion he half-owns, and packs up his bat and ball ready for the split.

Rocky needs new material, but his traditional bag the hell out of the new wCw guys and embarrass them about everything they did down south should work well. I'd kill to see him give Hogan the "who in the blue hell are you?" treatment.

And show what an old dork he is by teaming him with Angle, and have Angle telling him when he was a boy he always used to eat his vitamins just like Hogan told him to. Angle is the real American hero, etc...
dMp
Knackwurst



Since: 4.1.02
From: The Hague, Netherlands (Europe)

Since last post: 2 days
Last activity: 5 hours

#33 Posted on

Now that was very funny..
I can imagine Hogan trying to cut a promo and Rock eyeing him and totally blasting him off the face of the world verbally.
Or Austin and Hogan..

H: Well you know sumfin, brudda..
A: What?
H: Watcha gonna do..
A: What?
H: I said watcha gonna do when Hulkamania runs wild on you.
A: What? What? What?
Etc.

I sure hope that Vince suddenly wants to make Flair the icon of all wrestling he never could be because Vince build Hogan, and have Hogan job to Flair in every way.

As much as I despise the idea of them 3 right now, I am sure that there are some good angles to be thought of though.


---
Imagine this is some funny signature. Then I will imagine you compliment me on it.
Mike Phoenix
Chorizo



Since: 8.1.02
From: Pittsburgh, PA

Since last post: 5350 days
Last activity: 5350 days

#34 Posted on
Well, it makes me sick, but my best friend was marking out half of the night last night in preparation for the stooges coming back, and was disappointed when they didn't.


---

---=---:---=---
[Look up a line]
Wow, that belt looks like crap... I'll take it and carry it around for years and see if people can take it away from me... What? What was that? You mean even THIS belt doesn't matter! What? I'm insulted! Get away from me you... you... defiler!

Fully Technical Wrestling http://clubs.yahoo.com/clubs/fullytechnicalwrestling
BigDaddyLoco
Scrapple



Since: 2.1.02

Since last post: 1 day
Last activity: 19 hours

#35 Posted on
If this is true, I'm going to be sad that Foley still isn't around. I'd love to see him get a few jabs in.

Hey, if things get out of hand in the locker room it's nothing Bradshaw some duct tape, baby oil and some good ole fashion hazing can't straigten out....right?
vsp
Andouille



Since: 3.1.02
From: Philly

Since last post: 4368 days
Last activity: 623 days

#36 Posted on
BrewGuy wrote:

> Good Scenario 1: Hogan, Hall, and Nash work their butts
> off, job to who they're told to job to, and make a good
> show even better with the talent which they still possess.

This is the funniest thing I have read in quite some time.





---

HELLO KITTY gang terrorizes city, family STICKERED to death!
SerWolfe
Landjager



Since: 11.1.02
From: st louis

Since last post: 5548 days
Last activity: 5548 days

#37 Posted on
they would be coming back for the fan appeal.... vince would not let them have any sway in back... and i see their ring time being severely limited... i think it would be nice to see nash come out like 28th in the rumble and the crowd explode to the nWo or Wolfpac theme....


---

I AM THE BEST there is, was and ever will be!!!! Dont you wish that you were me??? no?.... i've got two words for ya!
Richy Reneburg
Medisterpoelse



Since: 17.1.02
From: Melbourne

Since last post: 5997 days
Last activity: 5995 days


ICQ:
#38 Posted on
I know I'm going against the grain here, but by gawd Hogan was and probably still is the greatest sportsentertainer, no the greatest sportsman in the whole world. Who else got out of the Iron sheiks camel clutch, kicked out of Mr Wonderfuls pile driver and body slammed Andre the giant. Thats right, with all due respect to Muhamad Ali and Richy Reneburg, Hogan is the greatest athlete ever.

Imagine a match between these 4 superstars of wrestling. It could be the wrestlemania tag match this year the way Vince is going. If only they could raise Andre the Giant, wheres the Paul Bearer when you need him.

By the way I'm NOT being sarcastic


---

Why is it that whenever I learn anything new it pushes something old out of my brain? Like the time I took that home winemakers course and forgot how to drive.
Thats because you were drunk!
And how.
ekedolphin
Scrapple



Since: 12.1.02
From: Indianapolis, IN; now residing in Suffolk, VA

Since last post: 8 days
Last activity: 11 hours

#39 Posted on
Hmm... I agree with you that it could be good for the WWF in the short-term, but what about the long-term consequences? Their egos will rage out of control, and Vince would have to lay the smack down on them immediately or risk effectively losing control of his business.

But I cringe... cringe... when the possibility of an Austin/Hogan main-event at WrestleMania is brought up. I'd rather see Austin/Rock III, the possibility I've been bitching about to no end, than see Austin/Hogan. Or Rock/Hogan. Angle/Hogan might be interesting, as long as the right person goes over.

Actually, I'd love to see Benoit/Hogan, if Benoit is booked to beat Hogan's ass. But the problem with that logic is that if everyone starts beating on Hogan, than beating on Hogan will stop being as fun as it would be now.

I agree with dMp and littlest. I think that having Rock, Austin or Jericho rip Hogan a new one on the microphone would be very entertaining... especially if The Rock gave him the ol' "Who is this roody-poo?" treatment... er, "Who in the blue hell are you?" treatment.

Heh heh heh... I'm gonna stay up late dreaming up ingenious promos in which to smash Hulk Hogan.

...No, I'm not. I'm gonna stay up late playing Final Fantasy X, probably.


---

"Bow-wow-wow, yippee-yo-yippee-yay, Oil of Olay all day, every day!"

--Disco Inferno, mocking Konnan's rap song

For the best in e-wrestling visit New Era Wrestling.
Pages: Prev 1 2