Mr Shh
Lap cheong



Since: 9.1.02
From: Monmouth County, NJ

Since last post: 54 days
Last activity: 54 days

#1 Posted on | Instant Rating: 8.26
Oh my God, are you serious?! You killed off Adam Monroe?? Really, Heroes? Really?

Iím going to stop watching this show...oh, wait...Robert Forster? Nevermind, Iím back.

Daphne is ever so slightly growing on me.
Promote this thread!
Alessandro
Lap cheong




Since: 2.1.02
From: Worcester MA

Since last post: 16 days
Last activity: 9 days

#2 Posted on | Instant Rating: 3.03
Originally posted by Mr Shh

---

Oh my God, are you serious?! You killed off Adam Monroe?? Really, Heroes? Really?

---


At least this shows that the so-called "immortal" characters aren't really all that immortal ... right?

Also, I'm still not quite sure of one (of many) things ... If Hiro went back in time to give Ando the blood packet to fake his death, why didn't he just turn around and stop Monroe from escaping? And why didn't Daphne notice him stop time; I thought it was established that she moved too fast to "freeze" in her tracks (unless her powers need to be "activated" at the time).


---

The most hilarious thing about Tommy Dreamer is that everyone else in WWE, from Shelton Benjamin to dudes who haven't even debuted yet, has a T-shirt available. WWE doesn't even bother printing up a T-shirt for Tommy Dreamer, A MAN WHOSE GIMMICK IS WEARING A T-SHIRT WHILE WRESTLING. And why is that? Because not a god damn person would ever pay money for a Tommy Dreamer shirt. Not even his own mother. As a result he usually ends up wearing a shirt that says "WRESTLEMANIA 24" or "JUDGEMENT DAY." I think it's time for Tommy Dreamer to just print up a T-shirt that says "UPCOMING PAY PER VIEW"
John Orquiola
Scrapple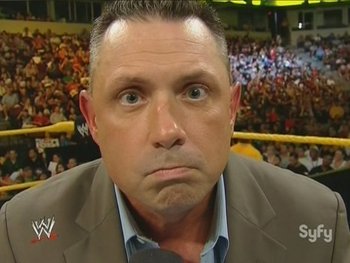 Since: 28.2.02
From: Boston

Since last post: 1394 days
Last activity: 1394 days

#3 Posted on | Instant Rating: 3.80
I like Daphne. I liked her on Friday Night Lights last season and I like her on Heroes with superspeed. That poor kid: She's predestined to either fall for Matt Parkman, die horribly, and/or both. Unfair. I wouldn't wish any of those fates on my worst enemy.

I thought the Puppetmaster forcing Claire's mom to shoot her scene played all wrong. It was obviously the way out of the dilemma, but I thought Claire's speech to her mom was ass backwards. She should have been pleading for her life, not egging her mom to pull the trigger. The mom, who knows Claire is unbreakable, would have understood and pulled the trigger then. If the Puppetmaster had any brains, he'd have been as suspicious as I was of why this hot little blonde teenager was so eager to get shot. But the Puppetmaster didn't, because he has no brains.

Speaking of no brains, if there is a stupider - and I mean STUPIDER - character on television than Peter Petrelli, spare me having to watch him. Please kill Peter, Tim Kring. If Sylar is turning babyface for good, no one would shed a tear if Peter follows Adam Monroe to a literal dirtnap. And I'm solidly in the Adam's death was LAME! camp.

Lately, I think about the show I would do if I could have Noah Bennett, Claire, Elle, Daphne, Sylar, Nathan, Hiro and Ando, kill just about everyone else, and just do Heroes properly where the characters are smart, capable and are written as such. Also, Marlo Stanfield from The Wire. The black guy who feeds off of fear. Whatever his character name is. I want him on my show too.
EddieBurkett
Boudin blanc



Since: 3.1.02
From: GA in person, NJ in heart

Since last post: 49 days
Last activity: 2 hours

#4 Posted on | Instant Rating: 2.90
Originally posted by John Orquiola

---

Speaking of no brains, if there is a stupider - and I mean STUPIDER - character on television than Peter Petrelli, spare me having to watch him. Please kill Peter, Tim Kring. If Sylar is turning babyface for good, no one would shed a tear if Peter follows Adam Monroe to a literal dirtnap. And I'm solidly in the Adam's death was LAME! camp.

---


To paraphrase Peter, "Tell me how you do that thing you do in the future that you can't do now!" And I'm pretty sure this is the second time he's yelled that at someone. I'd like to think that time-travel, to those who abuse the power, causes mental instability so that to him, the logic makes sense, but the parsimonious answer is that he's an idiot.

I liked the death of Adam Monroe. They needed a way to kill him, and draining the immortality from a hundred year old being actually makes sense.

I also liked the sub-plot with Daphne, gathering the villains and slowly causing her to wonder which side she's on.

I didn't mind the Claire-and-her-mommies trap. Puppetmaster should have worried that they might have powers, but I don't see how he could rationalize super-healing, and Claire's speech makes it sound like she's sacrificing herself out of love for her mother, which shouldn't arouse Puppetmaster's suspicions. Claire's mother was awesome this week, though, with her distraction about the birthday party, and her "one of us, one of them" line.

I've grown accustomed to Hiro's stupidity. He should have been able to figure out the pictures on the wall, and the warning they contained, but at least he got slammed on the head with a shovel for his stupidity (although, that probably only made him stupider...) I have to go back, but did Hiro actually freeze time in the room with Daphne? Cuz if he teleported out, then made his arrangements, and teleported right back to when he left, he should have been able to do it quickly enough for her not to know what happened. Or he got better at controlling time in the last few weeks... Who knows?

Is Mohinder becoming a cockroach? Wasn't the cockroach a motif from season one? Weren't there cockroaches around the sewer grate when Sylar was saved at the end of that season? I'd like to think that Mohinder's transformation will play back in to that, but I doubt the writing staff was thinking that far ahead. I enjoyed Nikki, er, Terry, breaking out of his lair.

As for Sylar, he lost all his powers, and if his father can steal powers, then perhaps that's where they went? It makes sense that two of his kids would naturally have the abilities to replicate other powers (through different means, though).

Watching this show is like watching a bad sports team. They have the potential to be better, but after a few weeks you get so used to them underperforming and sucking, that when they go out and win with a half-decent effort, it feels like they played awesomely. This show really wasn't that good, but it was decent, and that's better than its been lately.


---

You believe me, don't you?
Please believe what I just said...
Tenken347
Knackwurst



Since: 27.2.03
From: Parts Unknown

Since last post: 2 days
Last activity: 14 hours

#5 Posted on | Instant Rating: 5.03
I'm pretty upset that they killed Adam, who was the only good thing to come out of season two. The death itself was actually decent, but I wish it had at least a little build to it. Instead, we just got Nox dragging him to Petrelli, then he freaks out, and then he dies. Considering that Adam was the one who put the company together in the first place, you'd think there'd be more history with him and Petrelli.

Oh, and for my money the line of the night belonged to Peter for once: "I'm the most special now."
Twoflower
Bauerwurst



Since: 4.1.02

Since last post: 3342 days
Last activity: 3281 days

#6 Posted on | Instant Rating: 7.03
Peter's stupidity is a long-running theme of the series, rather than just a consequence of the writers. It's clear he's fumbling around in the dark when it comes to using his powers and thus is easily duped and easily screws things up. Hopefully, removing all his powers is a good way to get a fresh start for the character... build him back up slowly instead of making him into Dr. Manhattan.

Adam jobbed to the new heel. Pretty standard wrestlingism there, have the new bad guy knock off the old bad guy effortlessly to establish himself as a badass. It's a shame, though, since Adam was really entertaining.

I don't mind Hiro bungling his attempts, because Hiro's storylines are largely comedic anyway. Being shovelled twice in a row was a laugh riot and our local viewers enjoyed that sequence tremendously, especially when he woke up and quickly glossed over his mistake ("No going into the past! Won't work! Moving on...")

As for Daphne seeing / not seeing Hiro, I think this is because she wasn't superspeeding at the time. Her senses aren't supersharp unless she's running. Plus, even if she COULD see him, all she'd have to do is glance away from Hiro for a split second -- that'd be enough time for him to freeze time, teleport, grab supplies, jump back, set things up, and return.