Dexley's Midnight Jogger
Pepperoni
Moderator



Since: 10.10.02
From: New Hampshire

Since last post: 2084 days
Last activity: 1998 days

#1 Posted on | Instant Rating: 7.18
Not having been familiar with the graphic novels and only having seen parts of the first movie, I thought this was very well done. A lot of fun, with great characters and costumes (well, they were probably CGI, but still looked terrific). It did make me want to brush up on the history of Hellboy.
Promote this thread!
Tenken347
Knackwurst



Since: 27.2.03
From: Parts Unknown

Since last post: 16 hours
Last activity: 16 hours

#2 Posted on | Instant Rating: 5.03
Hmm, I'm not sure how much you'll enjoy the graphic novels if you liked this movie. I didn't think it was a bad movie, but I didn't like it as much as the first, and that's because this movie didn't feel very much like a Hellboy story at all. Really, to me it felt like you could have replaced Hellboy with just about any other protagonist and the story would have been pretty much the same. I didn't think there were even enough character beats for Hellboy to carry the movie on the strength of his personality. That said, I'm not trying to steer you away from the graphic novels - they're all really good. I just want to make sure you know they're a little different from what you saw in the movie.
Dawg
Chourico



Since: 2.6.03
From: Detroit area

Since last post: 1593 days
Last activity: 1355 days

#3 Posted on | Instant Rating: 4.14
Yeah, I don't know if this is a movie for Hellboy comic book fans or not. I don't follow the books either, but I did like this movie even better than the first. I'm a huge Guillermo del Toro mark, and I loved all the characters that were created for it. There was a scene that reminded me of Mos Eisley...

I don't think one would be disappointed with seeing this in the theatres. Also, best product placement EVER?
CxMorgado
Boudin rouge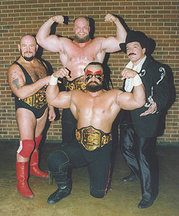 Since: 21.1.02
From: Boston MA is the rippen'ist town...

Since last post: 1362 days
Last activity: 1264 days

#4 Posted on | Instant Rating: 3.67
I didn't like it was much as the first either. It felt like they went "Ron does such a good job being Hellboy, so we don't need to worry about capturing the mood this time", which unfortunately wasn't the case. I felt like I was watching DelToro get the rest of his Pans Labyrinth creature ideas out of his system. I still liked it, but it didn't feel like a Hellboy movie the way the first movie felt like a Hellboy movie, if that makes any sense.

Everything looked amazing (I'm kind of surprised how many people think it's an entirely CGI production, when the human size characters are all pretty clearly makeup and costumes. Ebert even claimed Perlman was entirely CGI!) but the best parts were when Hellboy was just getting to be Hellboy and dealing with his relationship and Krauss. The Abe/princess romantic subplot didn't really work for me, but the prince was pretty bad ass. I actually wasn't to thrilled with the vocal work (especially the goblin, who's Irish accent blatantly came and went), and I had really been worried about Krauss being voiced by Peter Griffin, but for the most part it actually wasn't TOO distracting- it literally was the German goldfish voice, which to me was too comedy German for a character they wrote as a bureaucratic stick in the mud, but it worked for the most part. Abe's new voice actually bothered me more, since it kept starting as a David Hyde Pierce imitation, and then abandoning it a line later (I wonder if it was the same guy who voiced the goblin)*.

I know this seems like I hated it, but I really did like it well enough. It just steered a little too far from what made the first movie work. I do like that, after however many years since Kindergarten Cop, I finally have another tumor quote to toss around...

*- I actually just read an article explaining the Doug Jones/DHP thing, and I withdraw that complaint. Doug Jones voiced it that way when they filmed the first one, then the studio had DHP come in to redo it and he basically went "Why? He's already got it down!", and then refused to take credit or do any sequels out of respect for Jones. So basically they got DHP because Jones had already had the character sort of sounding like him.

(edited by CxMorgado on 12.7.08 1238)

---

Biddip-bo!
The King of Keith
Lap cheong



Since: 4.11.02
From: Winchester, VA

Since last post: 1772 days
Last activity: 1771 days

#5 Posted on | Instant Rating: 4.16
The movie won me over forever with the most bizzare lines I've ever heard. I think one day when they list the greatest movie quotes in history, this one should rank extremely high.

"I'm not a baby, I'm a tumor!"

Best. Line. Ever.


---

Hail to the Redskins!
StaggerLee
Scrapple



Since: 3.10.02
From: Right side of the tracks

Since last post: 54 days
Last activity: 54 days

#6 Posted on | Instant Rating: 1.79
Saw it last night, and was somewhat disappointed. Just didnt flow for me. LOOKED great, but the story and pacing just bothered me for some reason.
samoflange
Lap cheong



Since: 22.2.04
From: Cambridge, MA

Since last post: 2193 days
Last activity: 2185 days

#7 Posted on | Instant Rating: 6.07
Rarely have I had a better time in a movie theater than during the drunken singing. That was absolutely fantastic. I had that song stuck in my head for much of the night afterwards.

This was much better than the first. The makeup/costuming/CGI was incredibly cool to see. The intro sequence explaining the background was genius. The overall story was more interesting. Krauss was kind of annoying, but I guess he was supposed to be.

My only real complaint was that the Golden Army was stopped too soon. I was expecting them to at least get out of the chamber and onto the countryside before they were stopped. As a corollary, the final fight between Hellboy and Prince could've had more time and combat sequences. Maybe start it in the chamber, have the prince get the upper hand, have the army start to move out, and then have the real final battle outside. I was expecting Hellboy to put on the crown and command the army to destroy itself or something too. Seems like a pretty big loose end to just melt the crown; couldn't somebody just reforge it somehow? Enough with the fantasy booking.

All in all, another great addition to this amazing summer of movies.


---

Lloyd: When I met Mary, I got that old fashioned romantic feeling, where I'd do anything to bone her.
Harry: That's a special feeling.
Big Bad
Scrapple



Since: 4.1.02
From: Dorchester, Ontario

Since last post: 304 days
Last activity: 201 days

#8 Posted on | Instant Rating: 4.62
---

I had really been worried about Krauss being voiced by Peter Griffin, but for the most part it actually wasn't TOO distracting- it literally was the German goldfish voice

---


Macfarlane doesn't voice Klaus --- Dee Bradley Baker does. I didn't realize Krauss was Macfarlane until I saw the credits, though the voice did seem a bit familiar.




---

"How is it that I am a good actor? What I do is I... pretend to be the person I'm portraying. You're confused. Case in point: in Lord of the Rings, Peter Jackson comes to me and says 'I would like you to be Gandalf the Wizard,' and I said 'You are aware that I am not really a wizard?' and Peter Jackson said 'I would like you to use your acting skills to portray a wizard for the duration of the show.' So I said 'Okay' and then I said to myself 'Mmm.. How do I do that?' And this is what I did: I imagined that I was a wizard, and then I pretended, and acted, in that way on the stage. How did I know what to say? The words were written down for me in a script. How did I know where to stand? People told me where to stand." -- Sir Ian McKellen, Extras
Lexus
Andouille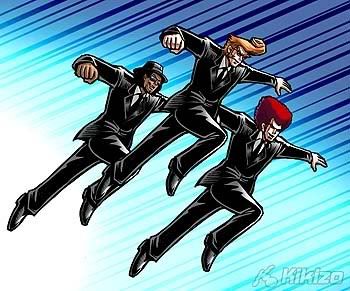 Since: 2.1.02
From: Stafford, VA

Since last post: 73 days
Last activity: 35 days

#9 Posted on | Instant Rating: 5.09
I totally got the whole Pans Labyrinth leftovers vibe with this. Death(?), the king's Chancellor, that guy in the map store in the Troll Market, everything.

Krauss beating Hellboy up with the lockers was the best part. Abe and Hellboy getting drunk was there too. The rest of the movie was just focused on being visually appealing.


---

"Laugh and the world laughs with you. Frown and the world laughs at you."
-Me.