Kawshen
Liverwurst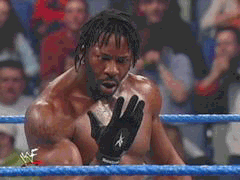 Since: 2.1.02
From: Bronx, NY

Since last post: 3267 days
Last activity: 1527 days

#1 Posted on
I am at the moment smiling from ear to ear right now.

(1) Booker SQUASHED the Big Show for the most part.
(2) Booker brought back the Harlem (now HOUSTON) Hangover. And it looked fluid. I guess Booker's legs are all better now. That brought me back to the Benoit matches in the best of 7.


Now can you dig THAT....










..... SUCKAAAAAAAAAAAAA?????!!!!!

Always remember to fear the hand. :)


---

Promote this thread!
Mr Heel II
Lap cheong



Since: 25.2.02

Since last post: 80 days
Last activity: 16 days

#2 Posted on
Booker T was pretty much the highlight of the show for me. The scissor kick across the announce tables was awesome. Top it off with the backstage piece with Terri and (the crotch-covering) Goldust and Booker T had an excellent night.

Overall, a good show work-wise. The main event was really probably the worst work of the show, and IT wasn't bad.

Bischoff just looked like shit. That's probably mostly due to the writing around his/HHH/Steph's segments. The segments would have probably come off better if Vince or Shane were in the Bischoff shoes, because THAT'S who it felt like that stuff was written for. Bottom line…Bischoff looked completely out of his element.

So if JR and Lawler end up in a tag team feud with Tazz and Cole, do Coach and D-Lo get to call the match?

I also liked RVD/Lesnar, which could have been really BAD, but was exactly what it need to be. The table match also was good, even if Spike really put HIMSELF through the table as opposed to Eddy.


(edited by Mr Heel II on 21.7.02 2221)
El Nastio
Banger



Since: 14.1.02
From: Ottawa Ontario, by way of Walkerton

Since last post: 6 days
Last activity: 1 day


ICQ:
#3 Posted on | Instant Rating: 7.33
Well, hopefully he'll keep it....then he has an OVER finisher that WORKS 24/7 =)


---

Montreal Expos, 2002, October, The Fall Classic.

"PLEASE BELIEVE IT!"
asteroidboy
Andouille



Since: 22.1.02
From: Texas

Since last post: 2738 days
Last activity: 1646 days

#4 Posted on
Good PPV. First half kinda dragged, but they picked it up. RVD/Brock may have stolen the show, the main event was good and Booker just had an official breakout match in the WWE.


Looking forward to RAW.




---
"My brother saw the Undertaker walking through an airport." - Rex

"Was he no-selling?" - Me
Shem the Penman
Toulouse



Since: 16.1.02
From: The Off-Center of the Universe (aka Philadelphia)

Since last post: 1572 days
Last activity: 1371 days

#5 Posted on
But, but, but Benoit, Guerrero, and Jericho all jobbed! To a rookie and a couple of ECW remnants! WORST PPV EVER!

I wasn't too thrilled with either of those matches, actually, but not because of who won. The tables match was just a bit slow and awkward, and the spot where Eddie barely touched the table he was supposed to have gone through took a lot out of it. Jericho/Cena was decent, but I'm just sick of "roll him up out of nowhere" finishes. Do you realize there have been about half a dozen Cena matches on WWE TV so far, and they still haven't even hinted as to what his finisher might be?

Regal/Jeff was nothing special, either, except for that spot where Jeff bounced off Regal's knees while doing a Swanton. Ouch. Are they giving Regal Christian's gimmick now?

The rest of the show was fine, though, with RVD/Lesnar and Show/Booker stealing the night. I'm just disappointed we didn't get the Van Terminator on Lesnar, but I guess he had to get his heat back to get ready to face Rock at Summerslam.

TheMASKEDComputerGeek
Chourico



Since: 7.1.02
From: Franklin, Wisconsin

Since last post: 488 days
Last activity: 261 days

#6 Posted on
An awesome PPV for the WWE here as they put on a great show leading into Summerslam.

-The tables match never really clicked and it's retarded that INTERNET DARLING CHRISTOPHER ALEXANDER BENOIT had to job cleanly, but the way I see it, Guerrero/Benoit will not be a full time tag team, and if they're building up the Dudleys kids to be, then that was the right way to do it.

-Knoble/Kidman rocked my socks off with OMFG PSYCHOLOGY!1 I enjoyed the Tiger bomb being the finish as he hooked both arms and one was weakened so he couldn't escape the hold. It's funny hearing JR talk about how Jamie Knoble has a ground attack, what with his being a JUNG DRAGON in the past. However, I'd take PSYCHOLOGY 2 THE EXTREME KNOBLE over MOONSAULTS AND PLANCHA-TASTIC KNOBLE considering his last couple of matches.

-Angle/Lesnar confrontation was goofy....really nothing more, nothing less.

-Regal/Hardy was an entertaining RAW-esque match, and a basic improvement on their last encounter. Jeff hitting the knees on the Swanton was wicked, as was him driving Regal arm first into the mat into the rollup for the finish.

-I don't even know what to say about the weird-as-hell Flair/Hardy/Hogan segment....I felt like I was caught in a wormhole Donnie Darko-style.

-Jericho/Cena was an excellent matchup in my estimation, although Jericho losing isn't so savory a result. Once again, the booking is understood but not beloved by me. The dropkick to Cena in the corner was wicked however.

-Oh yeah, the announcing 1/2 and 1/2 was great....it's how it always should have been....getting back to commentary:

-Lesnar and RVD put on a fucking awesome show!!! They made me believe that they're the new HHH-Rock in terms of feuding as the crowd was feeling that entire match. The finish was logical, as Lesnar really had no need for the I-C strap, and he regained the heat with the RVD destruction (fisherman's buster onto the tip of the chair? OUCH!) after the fact. One more thing: LIL NAITCH .vs. HEYMAN IN A CAGE FOR SUMMERSLAM.

-Booker T/Big Show stole the show for me as most of it was markout city for me:
-Axe kick through announce tables
-Axe kick which got amazing height in the ring
-HARLEM HANGOVER!
That match right there made me believe the WWE booking has some sense left within it.

-JR cutting off the shitty Dawn Marie Torrie feces was also a show highlight...:-)

-The whole HHH situation bored me to no end, but adding HBK to the mix was somewhat interesting and makes me wonder if maybe he can bring out the 2000-2001 HHH run that made him my favorite for quite a while in the WWE. Other than that, Stephanie looked like a complete tool, and I spose the announcement that revolutionized wrestling was the revelation that yes, Eric Bischoff does in fact have testicles.

-Booker T promo = gold, Rikishi promo = horseshit.

-Tag title match wasn't horrible, but Hogan was in the ring for a little too long...besides that, it was pretty solid all around as Lance Storm looked like a pro in the ring and Edge looked equally good. Jericho/Edge should be a "SLOBBERKNOCKER HOSSTASTIC MATCHUP BY GOD!"

-I think the answer for Stephanie ripping the heart out of RAW is obvious: BYE BYE BOSSMAN!

-Main event was exemplary work by all involved, it's amazing that The Rock looked so solid in the ring after being gone for so long. Angle continued to be the Ric Flair of the new century, making the match flow, bleeding like a stuck pig, and looking like a mega-bad-ass in the process. The "do each other's finishes" spot was pretty cool too. It kept me in suspense, and I guess that's all I can ask for.

-Overall, it's a definite thumbs up and DVD purchase when it's released....hopefully RAW will continue this upward trend.


The MCG

"Hey guys look...Abe Lincoln."
-Matt Stone, Cannibal: The Musical
eviljonhunt81
Pepperoni



Since: 6.1.02
From: not Japan

Since last post: 4296 days
Last activity: 4293 days

#7 Posted on
I didn't see it, but I figured that RVD vs. Lesnar had to be good. Was it good? Widro said Lesnar had no heat, but everyone on the internet has been saying that as they apparently watch RAW with the sound off.


---
ELECTRIC BLOOD - Get the "F" Out! part 2
>BUY RPGs FROM ME!! PLEASE!

Weekly Visitor
whatever
Bierwurst



Since: 12.2.02
From: Cleveland, Ohio

Since last post: 43 days
Last activity: 18 hours

#8 Posted on
Booker T and Big Show sounded really good (sCraMbleVisIoN), and judging from the recaps, looked really good too.

I am just wondering though, if the match is "No DQ", why would you even bother to try to wrestle? If I'm Booker, I come out and give Show the biggest mule kick you've ever seen. Then, while he's doubled over in pain, *DEMOLISH* him with a chair. Pin, 1-2-3.

Yeah, I know, it wouldn't have been as cool, but I would've laughed my ass off.




---

I drove the Hummer. Sorry 'bout that.
El Nastio
Banger



Since: 14.1.02
From: Ottawa Ontario, by way of Walkerton

Since last post: 6 days
Last activity: 1 day


ICQ:
#9 Posted on | Instant Rating: 7.33
From WWE.com


In the match tonight, Booker unveiled the Houston Hangover – a 360-degree spin off the top rope into a leg drop -- to WWE audiences for the first time. He used the move often in WCW (when it was called the Harlem Hangover) and he said fans had been asking him when he was going to use it again. Now that he's a fan favorite, Booker said he can – and will – give the crowd what it wants.

"I plan on pulling out all the stops now," he said.

Booker said, only half jokingly, that the move is called the Hangover because that's what the victim will feel the next morning. Big Show seemed to confirm that.

"Booker's ass landed right on my head," Show said.

Both Show and Booker said they were sore after the match, but not injured.

The Hangover was just one of the highlights of a relatively short match. Booker also delivered two amazing scissors kicks – one has to leap extra high in the air when facing the Big Show. The first kick was especially impressive as it drove Show through the Spanish announcers' table. The two superstars said they had more to offer, but for time constraints.



------


By the looks of it, this is his new finisher. ~SWANK!


---

Montreal Expos, 2002, October, The Fall Classic.

"PLEASE BELIEVE IT!"
Scott Summets
Sujuk



Since: 27.6.02

Since last post: 5214 days
Last activity: 5183 days

#10 Posted on
That article says that they couldn't wrestle longer due to the main event. If they wanted longer matches, why the hell waste time with that HHH shit?


---

I'm gonna get me an oversized guitar, gain 40 pounds, and become the next D!
chill
Landjager



Since: 18.5.02

Since last post: 3996 days
Last activity: 3996 days

#11 Posted on
Originally posted by Scott Summets

---

That article says that they couldn't wrestle longer due to the main event. If they wanted longer matches, why the hell waste time with that HHH shit?

---



Because Triple H is SOOOOOOOOOOO cool!!! Didn't you know?
Freeway
Scrapple



Since: 3.1.02
From: Calgary

Since last post: 1614 days
Last activity: 1301 days

#12 Posted on
Booker's feeling the elevation in his hair, kids! And Benoit? Sure he lost...but now he's Angry Canuck instead of Illtempered Canuck...and that leads to better matches.

Now, hopefully, we can see the Book get some gold around his waist. Now can you dig THAT.....
.
.
.
SUCKAAAAAA???!!!

[Ah, that'll never get old]


---

"That's what the Internet is for, slandering others anonymously" Banky Edwards (Jason Lee), Jay & Silent Bob Strike Back

"Smile." Maguire (Jude Law), Road to Perdition