Cerebus
Scrapple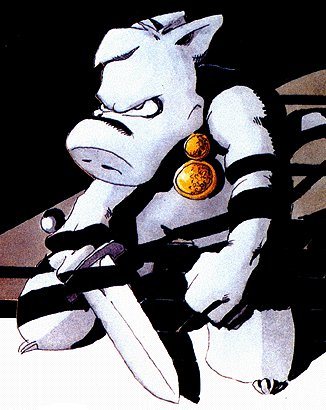 Since: 17.11.02

Since last post: 353 days
Last activity: 75 days

#1 Posted on | Instant Rating: 1.48
Bad... really bad.

Well... actually, I liked the first 20 minutes of it setting up Mike Meyers as a misunderstood freak who turned evil because of his fucked up family. That made sense, where as with the original, you really knew nothing about his family and had no idea what drove him to kill his sister. He also like to kill his pets, bullys at school who wanna have sex with his mom, and his abusive step father. If you count the nurse he takes out with a fork in the hospital, he racks up quite a body count before he reaches puberty.

After this, the film becomes a clifnotes version of John Carpenters film, with scenes taken almost exactly, shot for shot, from the original. This is a huge dissapointment from the guy that claims that he took on this film so he could do a completely new take on the film.

I have to admit that Tyler Mane does a pretty good Michael Myers. Where in the original and with all the sequels, Meyers was always kinda small it made no sense how he was able to continue killing after getting shot and stabbed repeatedly, but with a big fucking guy who out weighs you buy 100 pounds or more and arms as thick as your head, it's a little more believable. Then again, how the hell did he bulk up like that living in a padded cell for over a decade is beyond me.

Malcolm McDowell does what he can with his role as Dr Loomis, but as with the original, he's given some really cheesy dialogue and it's kinda laughable. Perhaps a complete unknown would have been a better choice for the role.

Rob Zombie also loves giving pay checks to old b-movie actors like Sybil Danning, Clint Howard, Richard Lynch, Udo Keir, Sid Haig, Ken Foree, Mickey Dolenz!... I'm sure I missed others, but I like seeing these people who I easily recognize from movies I loved and knowing there are people in the theater who have no idea who most of them are.

There was also the really high body count in here like 20 people which seemed like overkill to me... which is really crazy cause I love me the people getting killed, but by the time Meyers goes about killing his third couple having sex and Lauries parents, it just didn't have any effect on me. I guess I'd actually lost interest in the killing by then and was praying something different would happen.

Fuck it. See the original.

(edited by Cerebus on 2.9.07 2043)
Promote this thread!
StaggerLee
Scrapple



Since: 3.10.02
From: Right side of the tracks

Since last post: 6 hours
Last activity: 4 hours

#2 Posted on | Instant Rating: 2.37
AH, I just got back. Decent enough flick. My gf kept asking "who's Jamie Lee Curtis"? I had to explain it was a different story.

Either way, not BAD, but not GREAT. Middling at best, but it was entertaining.

I'd wait for the DVD version.
Zeruel
Thirty Millionth Hit
Moderator



Since: 2.1.02
From: The Silver Spring in the Land of Mary.

Since last post: 399 days
Last activity: 341 days

#3 Posted on | Instant Rating: 4.05
I liked it, especially because of the added back story. I was surprised at the amount of actual story compared to the average slasher flick.

The only problem I had with the flick was the last 15 mins for so when the sister is trying to hide and is still screaming. Most of my theater (my friends and I included) were laughing at her (especially when she fell from the ceiling) and pretty much laughed until the credits ran. I had never heard, or been involved, in so much laughter at a serious slasher flick. It was quite odd.

I never saw any movie from the Halloween series before, so I can not vouch if the scenes are shot-by-shot like the original.

I'd give it a 7/10. As far as Zombie's movies go, I'd say this is behind 1000 Corpses, but better than Devil's Rejects.




---
-- 2006 Time magazine Person of the Year --


"Let me see if I can get inside his mouth." -- Michal Wilbon on PTI August 28, 2007
Nuclear Winter
Boudin rouge



Since: 9.11.03
From: Bedford, Michigan

Since last post: 1543 days
Last activity: 94 days

#4 Posted on | Instant Rating: 5.19
I'm gonna have to go ahead and disagree with Cerebus here.

I felt the original was scary *because* of the lack of backstory. You've got to remember, Laurie Strode originally had no relation to Michael Myers. That was retconned in the sequel. Michael was just some guy stalking these people for no discernible reason.

Originally, Myers is just nuts. When he's a kid, he out of nowhere decides to kill his sister. They put him away, and he just sits there for fifteen years, until something (we don't know what) incites him to break out and kill again.

The fear of what's unknown and what can't be explained is what drives the original Halloween. Why did Michael kill his sister? Why did he decide to break out and kill again? How can he take so much punishment and keep going? We can't understand how or why these things happen, and that's scary.

The only kind of idea we get about why Michael does the things he does comes from Dr. Loomis, who claims that Michael is simply pure evil, which is equally scary.

ANYWAY, back to the movie.

I thought it was very well done for a remake (that's really a "re-imagining"). There are enough new scenes and ideas to propel the film forward and keep it from being a straight remake. But at the same time, there's enough throwbacks to the first film to keep it Halloween. Just a couple examples:

- Michael's mother in the remake dances at the Rabbit In Red Lounge. In the original, Loomis finds a pack of matches from the Rabbit In Red Lounge.

- The prominence of the song "Don't Fear The Reaper," which also appears in the original.

Plus, Danielle Harris gets naked. I don't see what's not to like.


---

Stupid of the Year (thingsstuff.741.com)
oldschoolhero
Knackwurst



Since: 2.1.02
From: nWo Country

Since last post: 3323 days
Last activity: 3257 days

#5 Posted on | Instant Rating: 9.00
Michael Myers Classic was scary because he was pure evil, spring up in the middle of suburbia with no explanation for it. He couldn't be reasoned with. You couldn't show him photos of his baby sister to slow him down, or reason with him about being his only friend. He was the boogeyman, plain and simple, and he wasn't going to stop until he'd killed the world. Turnign him into a monstrous retard with mommy issues spectacularly misses the point of the franchise. Zombie seems to be thinking of Jason Vorhees, not Myers.

This is just dumb. Trying to make Myers a sympathetic character? Cramming Zombie's trademark hillbilly dialogue in where it doesn't belong? Turning Loomis into the worst psychiatrist in the world? Condensing the original down into the final forty minutes of the film? Blech. It doesn't help that it was terribly made, with little to no tension and poor acting across the board.


---
To those who say people wouldn't look; they wouldn't be interested; they're too complacent, indifferent and insulated, I can only reply: There is, in one reporter's opinion, considerable evidence against that contention. But even if they are right, what have they got to lose? Because if they are right, and this instrument is good for nothing but to entertain, amuse and insulate, then the tube is flickering now and we will soon see that the whole struggle is lost. This instrument can teach, it can illuminate; yes, and it can even inspire. But it can do so only to the extent that humans are determined to use it to those ends. Otherwise it is merely wires, and lights, in a box.-Edward R. Murrow
kentish
Andouille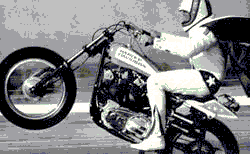 Since: 19.8.05
From: My Old Kentucky Home

Since last post: 1307 days
Last activity: 560 days

#6 Posted on | Instant Rating: 2.51
The wife and I are both big fans of the original, and both enjoyed this one. I have always thought Rob has a great eye for horror directing, but could benefit from a professional screenwriter to help him with his scripts.

I can see both sides of the argument on the back story. In a way, it was cool not knowing why Michael was so evil, and just accept the fact that he is. On the other hand, if you are going to do another Halloween, you may as well explore new territory. The first half was much more interesting, because it was not something we have seen so many times before. The second half we knew what was coming, but it was still suspenseful and well made.

So a mixed review somewhat from me, but it is a worthy follow up, and better than most modern horror remakes.


---


"I like your Christ, I do not like your Christians. Your Christians are so unlike your Christ."

-- Mahatma Gandhi

It's False
Scrapple



Since: 20.6.02
From: I am the Tag Team Champions!

Since last post: 92 days
Last activity: 29 days

#7 Posted on | Instant Rating: 4.64
Originally posted by kentish

---

So a mixed review somewhat from me, but it is a worthy follow up, and better than most modern horror remakes.

---


I'll agree on this point. It may not be the best film (I'll definitely take the original over this one, having seen them both), but it's WORLDS better than the travesty that was the Texas Chainsaw Massacre remake.


---

Buy Kanye West's "Graduation" (The W at Amazon) and YOU can help send 50 Cent into retirement (and put some money into The W while you're at it)!