joepet
Tocino



Since: 17.4.02

Since last post: 3977 days
Last activity: 3592 days

#1 Posted on
Most of us oldtimers look back with disdain when we think back to the likes of Duke "The Dumpster" Drocy and Aldo Montoya. But every once in a while, the WWF came up with a great over-the-top cartoony gimmick that made the wrestler far more over than they ever could have been by being something more "real". Here's my list of the top five all time WWF "unbelievable characters" gimmicks (as opposed to guys that just played arrogant SOBs like Bad News Brown or Macho Man) that have done the most for the wrestlers behind them.

5. Yokozuna. If being big and fat alone was enough to be a star, Loch Ness would have been headlining until his death. Kokinus Maximus never drew more than yawns from most people, but as an ass kicking sumo warrior, he succeeded in getting enough people to hate him to become the longest reigning heel WWF World's Champion of all time. But the heat faded after Wrestlemania X, and when he turned face and began talking him himself, it was the biggest disaster since Charlie Chaplin started doing talkies.

4. Rikishi + 2 Cool. None of these three individually warrants a place in the top five. But the symbiotic relation they formed was like nothing seen before, or likely to be seen again. The dancing crazies gave the fat journeyman a hook that he never had a Headshrinker, Sultan, or Swat Team Member, while the giant sumo warrior gave the little guys credibility. 2 Cool flamed out fairly quickly, but still had far more success than they had any right to, while Rikishi briefly tasted the main event scene and remains a solid anchor to the Smackdown roster, always good for a guaranteed pop from a portion of the crown.

3. Undertaker. Not number one because I think that Mark Calloway had the potential to be a superstar even with his bad-ass WCW persona, but undisputably the greatest gimmick wrestler in WWF history. Though a wrestling mortician seemed every bit as stupid as a wrestling plumber or dentist, in the Taker's glory days, the pop when the lights went out and the "Bong!" was heard around the arena was greater than any other.

2. The Million Dollar Man. I don't think the WWF ever went as all-out for any other gimmick as they did for the Million Dollar Man. They made sure he acted the gimmick in public by keeping him well stocked with hundred dollar bills. As a result, I don't think there was a fan out there that didn't want to punch this guy out...and at the same time held those feelings in check while desperately trying to get his attention so that they could degrade themselves to get some of his money. The perfect foil for guys like Hulk Hogan and Randy Savage.

1. Kane. No matter how the WWF tried to package Glen Jacobs, nobody ever took him seriously, nor considered doing anything but take a bathroom break when he wrestled. But stick a mask on him and call him the Undertaker's brother, and he's an instant main event player. How could anyone top that?

Honorable mentions: The Narcissist, Doink The Clown, Mr. Perfect (left out only because he wasn't really an "unbelivable character" outside of his original vignettes on hi sperfection), The Ringmaster (jk ;-)
Promote this thread!
Evil Antler God
Potato korv



Since: 10.1.02

Since last post: 4248 days
Last activity: 2374 days

#2 Posted on
Ultimate Warrior....a muscle bound guy in face paint and colorful tassles who talked to his gods. But good lord, he was PSYCHO over back in the day, enough so to steal Hulk Hogan's thunder right away from him at Wrestlemania 6


---
Anybody can kick people's asses. But it takes a true monster to kick people's asses AND breastfeed at the same time
- Excalibur05
The King of Keith
Lap cheong



Since: 4.11.02
From: Winchester, VA

Since last post: 1259 days
Last activity: 1258 days

#3 Posted on
I've got to go with the Honky Tonk Man, but as a spectacular failure that turned into gold. HTM was originally a face but for some reason the fans didn't want to cheer for an Elvis impersonator. As Honky turned heel and won the IC belt in a shocking upset from Ricky Steamboat, the makings of the legend were already in place. Honky used every cowardly tactic he could to hold onto that belt.

Sigh. Those were the days.


---

Yes, I like HHH! What's so wrong with that?
OMEGA
Lap cheong



Since: 18.6.02
From: North Cacalacky

Since last post: 3250 days
Last activity: 855 days

#4 Posted on
Doink the Clown.

No, not the stupid babyface, funloving, Doink the Clown, who had a very odd and eerily tight relationship with midget Dink the Clown.

I'm talking about the evil, heel Doink the Clown. The one who'd pop little kids baloons with cigars, throw buckets of water on the fans, and hit Rob Bartlett with a pie (which gains Doink extra bonus points with me). The original Doink the Clown, played to perfection by Matt Borne. It was just so great. Every time I heard that music hit, it'd cause me to smile (so much so, that I've downloaded it off of Kazaa, and burned it on a CD). I just loved the guy. Definitley, one of the most ingenious creations Vince McMahon has ever come up with.


---

Remember when WWF treated RVD like the main-event star he is?
Neither do I.
Peter The Hegemon
Lap cheong



Since: 11.2.03
From: Hackettstown, NJ

Since last post: 80 days
Last activity: 15 hours

#5 Posted on
Honky is a great example.

Would you consider the Iron Sheik such a character? He got very very over as a heel, and I don't see him doing that without the gimmick. I also have to mention George "The Animal" Steele and Sgt. Slaughter, both of whom were more over than Rikishi and Too Cool ever were.
IfYouWill
Linguica



Since: 4.6.03
From: Erie, PA

Since last post: 5376 days
Last activity: 5374 days

#6 Posted on
Here are some top WWF creations, in my opinion:

*The Undertaker. Thanks to joepet for bringing him up, he is right. The Undertaker has got to be one of the top creations of Vince McMahon. I feel Undertaker as a mortician from '90-'97 was a fantastic character. In my opinion, his character's stock has dropped since forming the Ministry of Darkness back in late '98 but the fans still love him as Big Evil.

*joepet was also right on with "The Million Dollar Man" Ted Dibiasie. The fans absolutely hated the character's greed. Dibiasie was a great heel and was pretty good in the ring too. His character also got help from pseudo-butler Virgil and the fact that a great deal of his character played out during the economic downtimes of the late '80s-early '90s. I wish Dibiase was given a legitimate World Title reign.

*Kudos to Evil Antler God for bringing up the Ultimate Warrior. Warrior's gimmick was fairly original. Too bad Warrior didn't stick around for long. However his ramblings online have been interesting too.

*Rick Rude- The man drew a lot of heat as an active wrestler in the WWF. It also helped that Bobby Heenan was his manager too. Good on the mic' and good in the ring too. RIP. He died too young.

*Demolition- Although they're considered to be an LOD-ripoff , Demolition achieved a lot of success in the tag ranks of the WWF in the late '80s and early '90s. When they were heels, they drew immense heat. When they were faces, they drew a lot of face pops. A tag team that was always over, their popularity dipped, IMHO, when Crush joined the team. Regardless, a good team that made the tag ranks exciting. Their theme music was tops too.


---

"We've got no food, we' got no jobs; our pets' heads are falling off!"
Big Bad
Scrapple



Since: 4.1.02
From: Dorchester, Ontario

Since last post: 6 days
Last activity: 1 hour

#7 Posted on | Instant Rating: 5.54
I nominate Razor Ramon. Scott Hall, a guy from Minnesota, cast as a Latino thug? He made it work.


---

Over 1350 posts and still never a Wiener of the Day!

In the issues of December 16th, 2000 to November 10th, 2001, we may have given the impression that George W. Bush had been legally and duly elected president of the United States. We now understand that this may have been incorrect, and that the election result is still too close to call. The Economist apologizes for any inconvenience.
--- The Economist, 11/17/01
dwaters
Bierwurst



Since: 16.10.02
From: Connecticut

Since last post: 24 days
Last activity: 8 hours

#8 Posted on
I've heard people say that Honky Tonk Man was brought in as a face and turned heel, but I don't remember it that way. I remember vignettes with him at Graceland with Jimmy Hart. Anybody associated with Jimmy the heel manager at that time was considered a heel. I don't know...it was what, 16 years ago now?
Still a great gimmick.
Gotta give honorable mention to IRS-the wrestling tax accountant. He got some real boos back in the day. I was always waiting for the heel/heel feud between him and Dibiase.
Ffej
Boudin rouge



Since: 15.1.02
From: Flatwoods, KY

Since last post: 3631 days
Last activity: 1940 days

#9 Posted on
The Genius played by Lanny Poffo ALWAYS got massive heat when he read his poetry. And he did cartwheels- thats always a plus. Its a shame he was forced to wrestle with the BEVERLY BROTHERS.


---

WIENER OF THE DAY! July 6, 2002!

Fear can sometimes be a useful emotion. For instance, let's say you're an astronaut on the moon and you fear that your partner has been turned into Dracula. The next time he goes out for the moon pieces, wham!, you just slam the door behind him and blast off. He might call you on the radio and say he's not Dracula, but you just say, "Think again, bat man."
HallMark
Haggis



Since: 29.5.03
From: Miami

Since last post: 5026 days
Last activity: 5026 days

#10 Posted on
Before Honky Tonk's turn and bringing on Jimmy Hart as a manager, Honky Tonk Man was brought in as Hulk Hogan's best buddy. He wasn't getting over with the fans at all so Honky Tonk had a nationwide poll. The poll was to vote yeah in support of him or nay in disapproval. I guess you can figure out how the voting went.
JayJayDean
Scrapple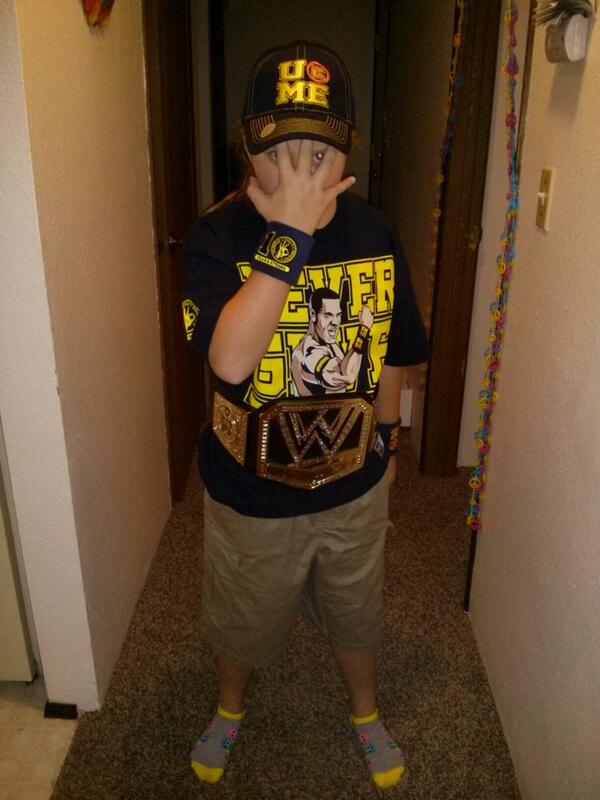 Since: 2.1.02
From: Seattle, WA

Since last post: 849 days
Last activity: 427 days

#11 Posted on
Originally posted by IfYouWill

---

Here are some top WWF creations, in my opinion:

*Rick Rude- The man drew a lot of heat as an active wrestler in the WWF. It also helped that Bobby Heenan was his manager too. Good on the mic' and good in the ring too. RIP. He died too young.

---


Rude played basically the exact same character in World Class, so I don't think it's fair to put him on a list of greatest "WWF" characters.

I' think they deserve *some* credit for Hulk Hogan. They took what he did in the AWA, finished it off by giving him the title, and started the whole "Hulkamania" thing to put it over the top. They definitely took Hogan to that top level he wasn't getting to in the AWA.

I also think Demolition turned out to be awesome, even though they were just supposed to be the WWF's version of the Road Warriors they were good enough to transcend the whole direct-NWA ripoff stigma.

Mr. Perfect was an awesome character, too. They made Brutus "the Barber" Beefcake work, *and* Adrian Adonis in a dress as well.


---

Washington Huskies, 2003 Pac-10 football champs. Coming soon.
CANADIAN BULLDOG
Andouille



Since: 5.3.03
From: TORONTO

Since last post: 1854 days
Last activity: 1853 days


ICQ:
#12 Posted on
Aren't we all forgetting a little somebody known as "Repo Man"?


---

***SAVE THE BULLDOG CAMPAIGN***
Check out the latest Inside The Ropes at http://wienerboard.com/thread.php/id=12556 and if you want to keep reading it, let the board know! Cheap pop (Thumbs up)
Ringmistress
Lap cheong



Since: 15.1.02
From: Philly

Since last post: 3984 days
Last activity: 3983 days

#13 Posted on
How the hell can we POSSIBLY forget one of the best WWE characters of all time? MANKIND!!! I saw MIck on ECW for a few weeks before he became Mankind. I honestly thought with a name like Mankind there's no way they'd pull it off. But, after the excellent promos leading up to his debut, his feud with the Undertaker, then the match with Shawn Michaels, I knew that Mankind was simply a beautiful thing. Come on people, how can we not sing the praises of Mankind?!?!?!


---

1000 bitches and counting....
asteroidboy
Andouille



Since: 22.1.02
From: Texas

Since last post: 2738 days
Last activity: 1646 days

#14 Posted on | Instant Rating: 4.95
I've only caught his lastest WWE run, but I nominate Goldust.

On the surface, this is the most nonsensical, bizarre gimmick ever. But Dustin Runnels has made a living for himself, and gotten fairly over, playing a sexually ambiguous, gold-plated, wig-wearing theater arts major. And in the wrestling world, that's no small feat.


---

-- Asteroid Boy


Wiener of the day: 23.7.02

"My brother saw the Undertaker walking through an airport." - Rex
"Was he no-selling?" - Me


Matt Tracker
Scrapple



Since: 8.5.03
From: North Carolina

Since last post: 1 day
Last activity: 11 hours

#15 Posted on
My faves for gimmicks that outshone the wrestlers behind them:

Papa Shango. Voodoo evil? I'm there.

Gangrel. I love the idea of a vampire wrestler (bring back El Vampiro!), but it was the packaging that made it work. The entrance video, theme and ring of fire elevator. Throw in two blond brother minions, and the precursor to Triple H's water spew BUT WITH BLOOD. Damn. Otherwise that guy only had a DDT and fangs.

The Goon. Wild Bill Irwin as a hockey thug who throws his gloves and gets to clubberin. Crazy.

Bastion Booger. The guy who SHOULD HAVE invented the Stinkface. He's so foul no one wants to wrestle him.













---

"To be the man, you gotta beat demands." -- The Lovely Mrs. Tracker
Captain Ferret
Polska kielbasa



Since: 14.9.02
From: Manchester

Since last post: 695 days
Last activity: 185 days

#16 Posted on
---

If being big and fat alone was enough to be a star, Loch Ness would have been headlining until his death.

---


Not exactly true. Martin Ruane (the man who played Loch Ness and, more (in)famously over here in blighty, Giant Haystacks), was very, very thin for a period of time before his death. I saw him on local tv not long before he died and couldn't believe it was him. And he was a very, very good big (huge even) man in his heyday, he was pushing 50 when he had his feud with the Giant in WCW.

(edited by Captain Ferret on 9.6.03 2004)
Kevintripod
Banger



Since: 11.5.03
From: Mount Pleasant, Pa.

Since last post: 2 days
Last activity: 6 hours

#17 Posted on
I would have to say that my favorite wrestling character is the MACHO MAN Randy Savage. He could always take any crappy script and make it interesting. He is one of the very few wrestlers not named Hulk Hogan that can really light up an arena and get peoples immediate attention by just walking down the ramp to the ring or stepping in front of a camera. It's a shame that he wants too much money to come back and wrestle. He could comeback and get huge crowd pops just like Hogan does.


---

"This just got a hell of a lot better." - Stifler, American Pie
joepet
Tocino



Since: 17.4.02

Since last post: 3977 days
Last activity: 3592 days

#18 Posted on
I don't think Ultimate Warrior counts as a Vince creation, since he was doing roughly the same schtick as the Dingo Warrior in World Class Championship Wrestling. Same with George "The Animal" Steele and Randy "Macho Man" Savage, both doing their acts long before becoming exclusive WWF property.

I forgot about Goldust though, he deserved at least an honorable mention, with Mankind as well.
ced64
Mettwurst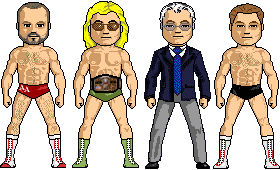 Since: 26.11.02
From: MS

Since last post: 5059 days
Last activity: 1592 days

#19 Posted on
my vote goes to brutis the barber beefcake, heh heh and of course Jake the snake, he he i still remeber evil jake having that snake bite the hell out of macho man


---

MEAN! WHOOOOOOOOOOOOOOOOOOOOO! BY GAWD...GENE
IfYouWill
Linguica



Since: 4.6.03
From: Erie, PA

Since last post: 5376 days
Last activity: 5374 days

#20 Posted on
Back to what Ringmistress said, I didn't include Mankind and here's why: the actual Mankind character didn't ultimately get over until more of Mick Foley shined through in Mankind. To me, Mankind the character and Mick Foley the person are nearly interchangable. If you read his first book, a lot of Foley's disenchantment that he experienced in his younger years did shine through to his Mankind character.

The first few months of Mankind's role in the WWF were met with a lot of indifference from the casual fans. IMHO, Mankind's character became more appealing after the Boiler Room Match with 'Taker at Summer Slam '96 and his character was definitely became more well-received after his "shoot" interview with Jim Ross that was aired on RAW.


---

"We've got no food, we' got no jobs; our pets' heads are falling off!"
Pages: 1 2 Next