MonteCarl
Potato korv



Since: 21.1.02
From: Saginaw, MI

Since last post: 1090 days
Last activity: 119 days

#1 Posted on | Instant Rating: 8.18
I just ordered myself a GameBoy Micro to take on the road with me. What are some good games for the Game Boy Advance? And what are the best/cheapest places to buy these games online, besides eBay?

So far I've gotten myself Excitebike(yes!), WWE Survivor Series, and Fire Pro Wrestling. I'd really like more classic Nintendo games for the GBA, but they seem pretty hard to find. Any other suggestions?


---

--Monte N
http://www.thebananaconvention.com

Promote this thread!
Guru Zim
SQL Dejection
Administrator



Since: 9.12.01
From: Bay City, OR

Since last post: 16 days
Last activity: 12 hours


ICQ:
#2 Posted on | Instant Rating: 8.81
You may want to try GameFly.com to rent them first. This is the only place I know of where you can rent a GBA game.

I've regretted a few $20 purchases in my time.

Final Fantasy Tactics has kept my wife very busy. She also liked the Kingdom Hearts game. I like Advanced Wars 2 better than 1 but they are both great. Mario Golf is good if you have a little bit of time to play (10 minutes or so per course with a lot of thinking between shots).

Snood and Super Puzzle Fighter are both pretty good time killers, and the Mario Kart game is pretty good.


---

Ignorance is bliss for you, hell for me.
MonteCarl
Potato korv



Since: 21.1.02
From: Saginaw, MI

Since last post: 1090 days
Last activity: 119 days

#3 Posted on | Instant Rating: 8.18
Awesome. Thanks for the suggestions. I was really interested in getting the Classic Nintendo games for the GBA, but have found that there's only about 10 of them that were released. Oh well, I got Excitebike and the Namco Museum game is another on my list. Golf and the Puzzle Fighter game seem up my alley, too. Thanks again.


---

--Monte N
http://www.thebananaconvention.com

Teapot
Kishke



Since: 1.8.02
From: Louisville KY

Since last post: 51 days
Last activity: 50 days

#4 Posted on | Instant Rating: 5.26
In addition to the "Classic" series, SMB 2 and 3, SM World, and the DK Country games are all available as GBA carts.

I will echo Mario Golf. If you have the Gamecube version, you can transfer your created golfer from the GBA to the Cube and unlock extra Star holes on the GBA. It's nice to be able to play one or two holes while you're waiting somewhere.


---
LanceJr
Head cheese
Banned



Since: 21.1.03
From: Boston, Ma

Since last post: 4323 days
Last activity: 4203 days

#5 Posted on | Instant Rating: 0.00
Metroid Fusion and Metroid Zero Mission are my top picks.

Fusion is like Super Metroid, and Zero Mission is a remake of the 1st Metroid from the original NES but with lots of new areas. I'm sure you remember the old Metroid right?

They have a double pack for like $25 of Castlevania: Aria of Sorrow & Castlevania: Harmony of Dissonance together. Both those are great exploring 2d games like Symphony on the PS1.

Any of the old school NES rehash types SMB3, SMWorld, Wario World 4, Mega Man Zero 4, Zelda Link to the Past

(edited by LanceJr on 22.3.06 1730)

---

I'm am LanceJr hear me...I mean see me post


RIP
Eddie Guerrero 1967-2005
ekedolphin
Scrapple



Since: 12.1.02
From: Indianapolis, IN; now residing in Suffolk, VA

Since last post: 19 days
Last activity: 3 hours

#6 Posted on | Instant Rating: 2.29
Ditto on Mario 3 and Zelda: A Link to the Past-- plus you
know
you want Tetris. The original Game Boy version if possible.
Plus, no one's game collection would be complete without a few Mega Man games.
For the record, GameSpot's #1-rated GBA game of all-time is Castlevania: Circle of the Moon, which I haven't played, so that's a suggestion more than a recommendation.
---
"Don't do anything I wouldn't do."
--Stone Cold Steve Austin
Five-Time W of the Day (5/27/02; 7/3/02; 7/30/04; 8/28/04; 12/16/05)
The Only Five-Time (and Last) N.E.W. World Heavyweight Champion
Certified RFMC Member-- Ask To See My Credentials!
Kei Posiskunk
Kolbasz



Since: 7.1.02
From: Central PA, USA

Since last post: 1108 days
Last activity: 225 days

#7 Posted on | Instant Rating: 4.94
Hmm, good GBA games. Here are a few I like.

Fire Emblem - a bit on the hard side, but makes you think. A little like FF Tactics Advance, but faster paced.

Drill Dozer - an action game with intuitive, yet deceptively simple controls. Also has a bit of puzzle element to it like all good platformers.

Wario Ware Inc. - a bunch of minigames, some even based on Nintendo classics. The games themselves are simple, but the atmosphere and the slowly increasing difficulty is what makes it great.

Astro Boy Omega Factor - Made by the Gameplay Geniuses at Treasure, it has a lot of replay value and is one of the best action games on the system.


---
Live Action Kei coming in 2006...
Torchslasher
Knackwurst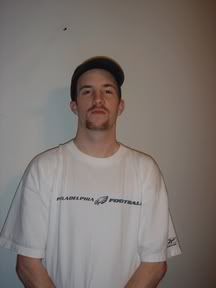 Since: 17.1.02
From: New F'n Jersey

Since last post: 44 days
Last activity: 43 days

#8 Posted on | Instant Rating: 5.75
If you want a Zelda game, go with The Minish Cap. Great Link to the Past type of playing, but a new story and just a fun experience. I also echo both Metroid games and Mario Golf.


---

Click Here (czwfans.com)

For all your CZW and Nickels Trivia information.


"Look guys, it's 'Lake Man!' Hope you can fit into our NARROW office, Mr. Big Lake" --MST3K The Collection V. 7

Click Here (myspace.com)
KJames199
Scrapple
Moderator



Since: 10.12.01
From: #yqr

Since last post: 7 hours
Last activity: 7 hours

#9 Posted on | Instant Rating: 7.72
I'll second the recommendation for Wario Ware, my all-time favourite GBA game. The sequel, Wario Ware Twisted, is okay, but kinda gimmicky and I lost interest pretty quickly.

If you're getting the Namco collection, I find I like the original version better than the 50th Anniversary set. 50th did some weird things with the screen layout that I didn't care for.

Other good retro collections include Konami's (six games on one cartridge: Frogger, Rush'n Attack, Scramble, Gyruss, Yie-Ar Kung Fu, and Time Pilot) and Activision's (30+ Atari 2600 games), and I like the GBA version of SFII.

Also, Nintendo just announced a Player's Choice series for GBA, which will see price drops for the GBA versions of Super Mario Bros 2, Super Mario World, and Mario & Luigi Superstar Saga, with more discounted games to come. I can't find the link right now (they block videogame sites at work), but the Gameboy portal of IGN.com should have the details.


---
JK
Oliver
Scrapple



Since: 20.6.02

Since last post: 1150 days
Last activity: 1144 days

#10 Posted on | Instant Rating: 4.55
I liked Mortal Kombat: Deadly Alliance.


---

"At the end of every hard-earned day, people find some reason to believe." -- Bruce Springsteen

Lexus
Andouille



Since: 2.1.02
From: Stafford, VA

Since last post: 16 days
Last activity: 16 days

#11 Posted on | Instant Rating: 5.19
I'm playing through Sword of Mana right now. It's a sequal to Secret of Mana. It's awesome.

I'll second the Metroid games, the Mario remakes, and Mario Kart.

I also HIGHLY suggest Wade Hixton's Counter Punch. It's the only thing out there that comes close to Punch Out!!. You should be able to pick up a copy at a GameSpot for 15 to 20 bucks.


---

Hold nothing sacred and you'll never be dissapointed. Especially not this statement.
Cerebus
Scrapple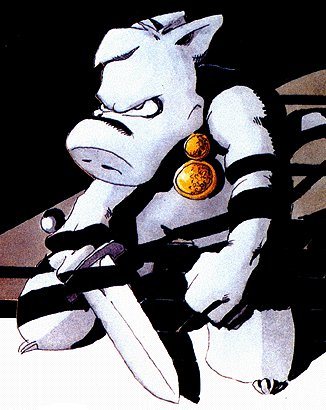 Since: 17.11.02

Since last post: 296 days
Last activity: 18 days

#12 Posted on | Instant Rating: 0.97
If you like the RPG stuff, go get TALES OF PHANTASIA. It's really good.

I've just started TACTICS OGRE and it's not bad so far.

FINAL FANTASY TACTICS ADVANCE was extremely good and fun to play as well. The opening snow ball fight freaked me out bacause I had no idea where they were going with that shit and I was praying that the whole game wasn't gonna be 'your character fighting school bullies in snow fights.' or 'water balloon fights.' Before the switch over to the Final Fantasy world, I was really thinking the makes of the game had finally taken too many drugs.

That Kanami cart is AWESOME with RUSH 'N ATTACK! I've played that game so many times, I could probably beat the game designers at it.

Out of curiosity, what made you get the GBMicro? That screen will give you a headache and probably help you go blind. You should have gotten the GBSP. It's twice as big and the screen is backlit.
Alex
Lap cheong



Since: 24.2.02

Since last post: 302 days
Last activity: 11 days

#13 Posted on | Instant Rating: 5.84
Do you like RPG's? the GBA has a shit ton of quality RPG's. Is that the proper pluralization, or am I asking if you like things that belong to RPG?
Anyway, Tales of Phantasia is finally localized, they have released and are releasing quality remakes of Final Fantasy 1, 2, 4, 5, and 6 (I think 3 is for the DS), there's a Phantasy Star collection floating out there, you can get the Breath of Fire games I think, I've heard good things about Fire Emblem and Sword of Mana, I've had a fun time with Superstar Saga, and you pretty much can not go wrong with most first-party licenses such as Zelda: The Minish Cap (I neeeeed to get this game still), the remake of the old Zelda games, the remakes of the Mario games can be a little tricky with the switched dimensions, the first Warioware is an addictive little piece of fun, and I've kind of veered off of a list of games in the RPG genre but there are plenty of comprehensive lists out there that have some decent lesser-known titles, and if I can be bothered I will hunt one down for you.
Well, here's something: http://gba.1up.com/do/feature?cId=3141966
Also, I loved the Fire Pro game, but I'm willing to bet the WWE game sucks ass.


---

signature
KaneRobot
Morcilla



Since: 24.2.02
From: Bowels

Since last post: 3705 days
Last activity: 2997 days

#14 Posted on | Instant Rating: 6.34
I'll second Metroid Zero Mission. Great game. And after you finish it you open up the original NES version, so that's a bonus incentive if you care.

The recently-released Castlevania Double Pack has two really good games on the same cart (Harmony of Dissonance & Aria of Sorrow). I picked it up but haven't opened it yet, saving it for when I'm finished with other stuff I recently bought.


---

http://muhammadhassan.ytmnd.com
NEW March '06 - http://hogancreatedbygod.ytmnd.com
socetew
Chourico



Since: 23.5.02
From: NYC, baby!

Since last post: 4148 days
Last activity: 4145 days

#15 Posted on | Instant Rating: 0.00
kingdom of hearts -- chain of memories

once you figure out how the fighting system works and build up your card collection, you can cast some pretty nasty spells-- the plot's kind of all over the place, which keeps things interesting

(edited by socetew on 31.3.06 1211)

---
soce on myspace