Flash
Cotto



Since: 28.2.02
From: State College, PA

Since last post: 5920 days
Last activity: 5777 days

#1 Posted on
Title pretty much says it all... I have decent seats for RAW and should manage to get a sign or two on camera. Problem is, I'm not thinking smart-ass enough about it- more accurately I can't figure out how to fit a Wendy's-Booker T joke onto one sign. Any ideas?
Promote this thread!
Super Shane Spear
Bierwurst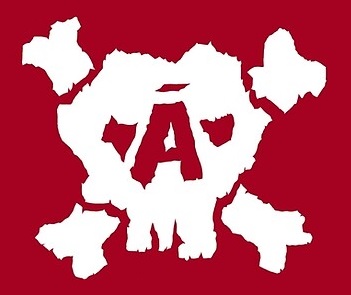 Since: 2.1.02
From: Sector 7 Slums

Since last post: 2930 days
Last activity: 2930 days

#2 Posted on
DRAFT FUNAKI!

I don't think anything else needs to be said.
rockdotcom_2.0
Frankfurter



Since: 9.1.02
From: Virginia Beach Va

Since last post: 1920 days
Last activity: 120 days

#3 Posted on
If nothing else, you can always give a shout out to Slash. The "CRZ is WALKING" signs always make me smile. I made one for the Richmond RAW a few weeks ago but I didnt get on TV. Since this hopefully will be the last time we see Steph, a sign blasting her would be fitting. On the other hand, Im getting a sneaky feeling that Steph may win that match. I cant believe I just typed that sentence...lol. But they wouldnt do that...Would They?


---

"But the truth is, YOURE the weak, and I am the tyranny of evil men. But Im trying Ringo, Im trying hard to be the shepherd....."

Jules Winfield
Mr Heel II
Lap cheong



Since: 25.2.02

Since last post: 109 days
Last activity: 8 days

#4 Posted on
I scored ridiculously expensive tickets to BACKLASH in KC, and we're already planning signs. My fabulously endowed friend attending with me already has hers...We're going to use the "REAL" logo from the American Dairy Association with an arrow pointing down.

I don't think we're in a prime camera shot area though, so I probably won't bother.
EastCoastAvenger
Bockwurst



Since: 4.1.02
From: Clearwater, FL

Since last post: 3331 days
Last activity: 677 days

#5 Posted on
PLEASE, I'm BEGGING you here... THe sign must read 'Big Daddy Bitch"


---

There are no facts-only observational postulates in an endlessly regenerative hodgepodge of predictions. Consensus reality requires a fixed frame of reference. In a multilevel, infinite universe, there can be no fixity; thus, no absolute consensus reality. In a relativistic universe, it appears impossible to test the reliability of any expert by requiring him to agree with another expert. Both can be correct, each in his own inertial system.

-Bene Gesserit Azhar Book
Kawshen
Liverwurst



Since: 2.1.02
From: Bronx, NY

Since last post: 3297 days
Last activity: 1557 days

#6 Posted on
I can't figure out how to fit a Wendy's-Booker T joke onto one sign. Any ideas?

You could say:

"Booker Fears Wendy's" (or vice versa)
"Biggie Size it, Sucka"


Also add this too:

"DMX fears Kurt Angle" :D


---

odessasteps
Scrapple



Since: 2.1.02
From: MD, USA

Since last post: 1466 days
Last activity: 1433 days

#7 Posted on

Here are the ones I took to SD! a few weeks ago and didn't make TV:

1. [/] - the slash tribute
2. Be Fair to Flair
3. NW-NO
4. Don't Panic (lance storm/douglas adams reference)

I would suggest some kind of draft sign, inserting your favorite tier 2 or 3 star.




---

"The best reason for committing loathsome & detestable acts -and let's face it, I am considerably something of an expert in the field - is purely for their own sake. Monetary gain is all very well, but it dilutes the tastes of wickedness to a lower level that is obtainable by anyone will an overdeveloped sense of avarice. True and baseless evil is as rare as the purest good - and we all know how rare THAT is." - Acheron Hades, THE EYRE AFFAIR by Jaspar Fforde
Spiraling_Shape
Bierwurst



Since: 2.1.02
From: PA

Since last post: 6 days
Last activity: 11 hours

#8 Posted on
I know what signs I`m bringing to SD! on Tuesday. If Hurricane ends up on the SD! team, I`m making a Hurri-sign. And I have a few other ideas.

I always like random old references on signs. I`m always threatening to make a sign that says APA + MIDEON = FRIENDS.
FLRockAndLaw
Kishke



Since: 2.1.02
From: Central Florida, somewhere between Orlando and Tampa, U.S.A.

Since last post: 874 days
Last activity: 188 days

#9 Posted on
I seem to be in a bit of a rut lately, but maybe I can find a few ideas that might be worth your time:

Kurt Angle-Booker T related:
"Ebony & Ivory, Busting Jams In Harmony"
"I'm Up In Here, Up In Here With Kurt"
"Can You Dig It, Cracka?"

Title Match-related:
"If Steph Wins, I'm Leaving For Good!!!"

Draft-related:
"Draft D'Lo"
"Draft H-Bomb/Scott Norton/Stevie Ray"
"Draft Julius Peppers/David Carr/Bryant McKinnie"
"This Sign Was Drafted By WWF Raw"
"If It's All About The Game, Where Does That Leave The Draft?"

Miscellaneous:
"Brock Lesner Beat Me Up Outside"
"Get Me A Ref, And I'll Beat Maven"
"Hey Vince - We STILL Remember Montreal!"
"The WWF Doesn't Want This Sign On TV"
"WWF Fears Dirt Sheets"

Hopefully, there's a decent idea or two in there...


---

"HOLY CRAP! A wuvluv is in my house." - Dean Rasmussen

"If fantasy wrestling is, by rule, gay, does this make this fantasy interviewing lesbian?" - Excalibur05


Swordsman Yen
Frankfurter



Since: 16.2.02
From: Shaolin

Since last post: 5275 days
Last activity: 5259 days

#10 Posted on | Instant Rating: 10.00
"Either Steph goes or we go"
"White Men Can't Spinaroonie"
"'Big Bitchy' Kevin Nash" (if you expect a lot of Big Daddy Bitch signs)
"This sign was created without comment and verification from WWFE"
"Brockamania is runnin' wild, brother"
"I didn't pay for that. Tell me I did not just pay for that."
"Draft Earthquake"
"You call that a big boot/leg drop?"
"Hogan has 5 o'clock krylon"
"Is this going to take long?"






---

"Say 'what' again. SAY 'WHAT' AGAIN! I dare you, I double dare you, motherf--ker! Say 'what' one more goddamn time!" -- Samuel L. Jackson, Pulp Fiction (1994)
Stinger
Cotechino



Since: 29.1.02

Since last post: 5351 days
Last activity: 5350 days

#11 Posted on
what the hell does the American Dairy Association have to do with your friends boobs? Cow?
MarchOfThePigs
Salami



Since: 10.2.02
From: Sudbury, Ontario

Since last post: 5814 days
Last activity: 5745 days


ICQ:
#12 Posted on
Draft David Arquette!


---
Prying open my third eye.
Lotty
Chourico



Since: 23.3.02
From: Bay Area

Since last post: 4704 days
Last activity: 3977 days

#13 Posted on
Draft XFL

TE2 Reject

I beat Lance

Lance 1:08

Draft new writers

Steph Swallows

Big Daddy Bitch sign cuz everyohe has to bring one...seriously will piss off big lazy


---

"Big Daddy Cool, ha, more like BIG DADDY BITCH."

Bullitt
Shot in the dark



Since: 11.1.02
From: Houston

Since last post: 661 days
Last activity: 661 days

#14 Posted on
"My Other Sign Is Funnier"


---

Q: If you could have interviewed Marvin Gaye, where would you have proposed to meet and what would you have asked him?

A: I would have met anywhere as long as it was before his father shot him. I would have asked him, "Hey, don't you think there's some chance that your father might shoot you? To death, I mean?"

www.Gordie.ca
Flash
Cotto



Since: 28.2.02
From: State College, PA

Since last post: 5920 days
Last activity: 5777 days

#15 Posted on
Damn- some definite good stuff in here... Think I'll go with the Big Daddy Bitch and Biggie Size it, Sucka... that one cracked me up to no end. My buddy's taking a "Steph Goes or We Go" sign, so that angle's covered. And of course, I've got my "YOU SCREWED BRET" sign off the wall and prepared for Hebner. *sighs* But even we of the IWC shouldn't joke about my favorite... "Draft David Arquette"
Phantom
Frankfurter



Since: 17.3.02

Since last post: 3713 days
Last activity: 3690 days

#16 Posted on
"Hey Brock... I found your neck!"
WTF13
Boerewors



Since: 22.1.02

Since last post: 5798 days
Last activity: 5798 days

#17 Posted on
SCOTT HALL IS DRUNK.
DRAFT STEVE LOMBARDI.
BRING BACK DARRYL.
IT'S A SNOW PLOW, J.R.




---

HUSS! HUSS! HUSS!
Ffej
Boudin rouge



Since: 15.1.02
From: Flatwoods, KY

Since last post: 3661 days
Last activity: 1970 days

#18 Posted on
Vince- I am the SOURCE!
I HAVE AN AGENDA
AUSTIN IS RIGHT
WHEN IS THE NEXT WWA PPV?
HULK STILL FEARS EARTHQUAKE
THIS SIGN DOES NOT EXIST BECAUSE THE WWF DOES NOT VERIFY ITS EXSISTENCE
FINALLY A WHAT? FREE WEEK OF TV!
WHEN DOES XWF GET ON TV CAUSE THIS STUFF SUCKS

And to the guy who asked what some fine melons have to do with milk- Were you breast fed or what?

(edited by Ffej on 24.3.02 1023)
---
When you're riding in a time machine way far into the future, don't stick your elbow out the window, or it'll turn into a fossil.
Tragic1
Chourico



Since: 2.1.02
From: Rolling Meadows, Illinois

Since last post: 5708 days
Last activity: 5700 days

#19 Posted on
We don't need a 'Big Dady Bitch' sign.

We need a 'Big Daddy Bitch' chant! We need 15,000 people screaming those words at Nash every time he's on TV.


---

"Hahaha.. Yeah, trust the fuckhead." Spider Jerusalem
Flash
Cotto



Since: 28.2.02
From: State College, PA

Since last post: 5920 days
Last activity: 5777 days

#20 Posted on
Originally posted by Tragic1

---

We don't need a 'Big Dady Bitch' sign.

We need a 'Big Daddy Bitch' chant! We need 15,000 people screaming those words at Nash every time he's on TV.

---


I'll do my best- but remember, this IS the first time we've had a live wrestling show since the first RAW is WAR on TNN some time back... it'll be kinda hard to get ANYBODY to boo much of anything. We're just grateful to get a show (*COUGHscrewmontrealandtorontoforgettingtwoshowsintwomonthsCOUGH*)
Pages: 1 2 Next