Simba
Frankfurter



Since: 7.8.02
From: Boston, MA

Since last post: 3812 days
Last activity: 3420 days

#1 Posted on | Instant Rating: 6.20
So, I've been on the fence about getting the GGW PPV tonight. I have a few buddies coming by to watch SD! and they've been bugging me about getting the show afterwards.

I checked the InDemand site and find out it's only a 90 minute show for $19.95! Seems like kind of a ripoff to me.

Just an FYI for those that are debating the purchase. I'm thinking I'll pass, since I already have $40 going onto the bill for Mania.

Of course, it's all moot if my buddies decide to chip in...

EDIT: Grammar

(edited by Simba on 13.3.03 1133)

---

I wish they made chocolate Advent calendars for WrestleMania, although I'd skip the Mark Henry day.
Promote this thread!
DJ FrostyFreeze
Scrapple



Since: 2.1.02
From: Hawthorne, CA

Since last post: 128 days
Last activity: 22 hours

#2 Posted on | Instant Rating: 4.95
Dont the GGW infomercials say you can get 2 of their tapes/DVDs for that price?


---

I wish I could work the random images thingy.

MoeGates
Boudin blanc



Since: 6.1.02
From: Brooklyn, NY

Since last post: 55 days
Last activity: 2 days

#3 Posted on | Instant Rating: 6.28
Uh, I don't know about chipping in with buddies for that. Those videos tend to be the kind of things you watch yourself - unless you're 15 and at a British Boarding School of something.

And for $19.95? Hell, you can get 2 of their videos, including the Snoop Dogg Video (what a great idea!) for $9.95 (if you "act now!" of course).

Remember when Snoop Dogg was the Scariest Man in America(tm)? When did he become, like, America's Sweetheart? Is Marilyn Manson going to host a daytime talk show next?


---

It seems that I am - in no particular order - Zack Morris, John Adams, a Siren, Janeane Garofalo, Cheer Bear, Aphrodite, a Chihuahua, Data, Cletus the Slack Jawed Yokel, Amy-Wynn Pastor, Hydrogen, Bjork, Spider-Man, Boston, and a Chaotic Good Elvin Bard-Mage.
Cerebus
Scrapple



Since: 17.11.02

Since last post: 324 days
Last activity: 45 days

#4 Posted on | Instant Rating: 2.74
No Marilyn Manson, but Eminem is doing a GGW video. They were on the 'mean streets' of the East Hampton public beaches filming breasts last week. I believe Nelly is the next rapper turned amature soft-core porn star they are using to sell tapes.

Isn't it a little scarry when you need GUYS to sell porn?


---

Cerebus: Barbarian, Prime Minister, Pope, Perfect House Guest.

"Graft is as necessary as throwing up when you drink too much."
OlFuzzyBastard
Knackwurst



Since: 28.4.02
From: Pittsburgh, PA

Since last post: 372 days
Last activity: 348 days

#5 Posted on
Well, someone capable of taking screenshots better order it, you know, just in case. ;)


---
"It's like you lost your keys in the garage, but you look for them in the living room because the light is better."
-Bill Maher, on the impending war in Iraq
emma
Cherries > Peaches



Since: 1.8.02
From: Phoenix-ish

Since last post: 25 days
Last activity: 1 day

#6 Posted on
Originally posted by Cerebus

---

They were on the 'mean streets' of the East Hampton public beaches filming breasts last week.

---
:-) I don't know why, but I'm sitting here giggling my ass off at that line. :-)

I don't keep up with the consumer porn price index, but shouldn't you be able to get like 4-6 hours of real PPV porn for $20?

(edited by emma on 13.3.03 1744)
zoggy1
Chorizo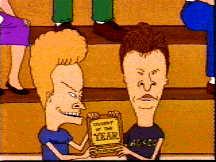 Since: 1.3.02
From: Silicon Valley, California

Since last post: 4851 days
Last activity: 4445 days

#7 Posted on
There's always the As Seen On TV stores at the malls, where they even sell Girls Going Crazy (same difference) videotapes and other random stuff (food savers, clapper, tap lights, hair rollers, and Ronco products)


---

Press [Enter] to exit.
Hit [Escape] to return.
Mr. Boffo
Scrapple



Since: 24.3.02
From: Oshkosh, WI

Since last post: 1759 days
Last activity: 1719 days

#8 Posted on | Instant Rating: 2.44
The funny thing is that Smackdown was delayed here because of high-school basketball. It won't start until like 10:00 (CST). So Smackdown will be on 10:00-Midnight, while GGW goes 9:00-10:30 and 11:00-12:30 so I can't see either show anyway. But it is on All-Day Ticket tomorrow, so I *might* get it then.

It'll be really weird watching Smackdown and having them go "GGW is next".

EDIT: The thing here shows it as 2.5 hours. And the porno channel is doing 3 hours for $10.95.

(edited by Mr. Boffo on 13.3.03 2105)

---

NOTE: The above post makes no sense. We apologize for the inconvenience.