JimBob Skeeter
Bierwurst



Since: 2.1.02
From: MN

Since last post: 61 days
Last activity: 59 days

#1 Posted on | Instant Rating: 6.24
http://www.kryptonsite.com/smallvillespoilers.htm

UPDATED 7/27/08: Popular comic book writer Geoff Johns is writing the 9th episode of Season Eight, which will introduce the Legion of Super-Heroes to the Smallville mythology. No details have been revealed except that the characters will stay true to their origins and will indeed come from the future.

-----------------------------------------------------

This actually could be pretty cool if they let Johns have his way.
Promote this thread!
John Orquiola
Scrapple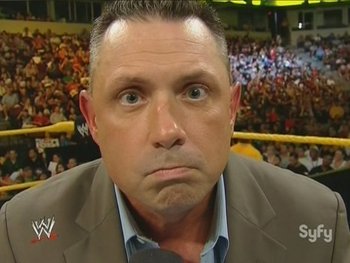 Since: 28.2.02
From: Boston

Since last post: 1450 days
Last activity: 1450 days

#2 Posted on | Instant Rating: 3.96
Smallville is my TV guilty pleasure. Apparently the Smallville panel rocked Comic Con yesterday with a crowd-pleasing Q&A.

Here's a lot more SPOILAGE about season 8 from TV Guide, including:

*Clark joining the Daily Planet and beginning his romance with Lois.

*Allison Mack maybe directing an episode.

*Kristin Kreuk returning for five episodes at some point.

*Black Canary joining the Justice League.

*Green Arrow's origin.

*Promises that their version of Doomsday will honor his comics origins as the season goes on.

*Possible return of Kara for one episode. (Hope so. I love Kara but I don't love how she was treated in season 7.)

*DC villains Plastique and Maxima(! billed as an "intergalactic sex goddess who wants to mate with Clark) making appearances.

*Still "no tights" but "no flights" is out the window!

I'm actually eager to see all this silliness this season.

Here are the three tvguide.com stories/interviews:

Smallville at Comic-Con: Lois and Clark to Get Closer!
Tom Welling in Smallville by David Gray/The CW

Smallville fans, rejoice! Following the show's Comic-Con panel, executive producers told TVGuide.com's own Erin Fox that Lois and Clark's relationship is going to take a new direction this season. "Lois and Clark will be working side by side at The Daily Planet, and Lois will start to see Clark in a different way," they said. "She's surprised to see him in a suit, all grown up and handsome. It's no longer going to be played like a brother-sister relationship." (Video of the interview is coming soon!)

That huge news aside, the panel has to have been one of the single best hours of the four-day Comic-Con extravaganza. With a jocular cast and recurring jokes with the audience, the laughter was non-stop — and so were the spoilers. Here are the highlights:

• As reported previously, Season 8 is all about Clark's destiny as Superman. He joins the "Daily Planet" and uses his new gig as a way to find people in need. He also starts to realize that he may need a double identity to truly evolve into Superman.

To that end, exec producer Brian Peterson says that the show will hold to its original "no tights" rule, but he would not comment on the "no flights" restriction.

• Behind-the-scenes changes are to come, too: Comic writer Geoff Johns will be writing a Legion of Superheroes episode of the show, and Allison Mack may have just shaken on a deal to direct an episode. When pressed about her plans, Mack started off with a diplomatic answer, but one of the panelists said, "Why don't we make it official?" Kidding or not, it would be hard to back out of the public pact.

• Justin Hartley says that the Green Arrow will be struggling with why he's doing what he's doing, while the show will be exploring the origin of the Green Arrow.

• Mack's Chloe will also be doing some struggling of her own, and there's trouble in paradise ahead for her relationship with Jimmy. Mack says that Chloe will be finding some independence this season, though, and she'll maybe even have some new powers to show off — but no details on those yet!

• And might new Smallville arrival Tess Mercer share a smooch with any of the resident studs? Cassidy Freeman titillated the audience by saying she'd like to see her character kiss Chloe.

• Finally, of course, there was a long preview of scenes from the new season. With the introduction of at least two more heroes from DC Comics, the action is ratcheted up, especially as Clark starts to come into his own. In short, expect love, loss, mega-action and more of the Superman mythology to unfold.

So what's your take on all this news? Are you more excited for Season 8 than ever? — Anna Dimond

Smallville Scoop, Part 1: Chloe's Challenges and More!

There's so much Smallville action coming up in Season 8 (premiering Sept. 18, at 8 pm/ET) that TVGuide.com broke its Q&A with three of the executive producers into two parts. First up, Darren Swimmer shares a look at new developments for Chloe, ponders Clark's heritage, and hints at more guest stars from other Superman productions. — Michael Maloney

TVGuide.com: Fans are thrilled that Allison Mack (Chloe) is back this season. With Lana no longer a regular character on the canvas, might the door open for a Clark/Chloe romance?
Darren Swimmer: Jimmy has asked Chloe to marry him. We'll find out the answer to that question early on in the season. Chloe's love for Clark will never go away, but [those two] as a couple this year is pretty unlikely. All the "Chlark" fans out there will have to keep waiting.

TVGuide.com: Chloe has always been Clark's "go to" person when things get tough.
Swimmer: And that will continue. There are some changes ahead for her and some challenges she's going to face. There are also some romantic twists she'll deal with this year. She's definitely not going to be wanting for a date — [but] it may not be Clark.

TVGuide.com: Will we continue to see Chloe's meteor-freak powers?
Swimmer: She has powers, but they've changed. They won't manifest in the same way that they did before.

TVGuide.com: Chloe has struck such a chord with viewers that there's even fan fiction out there that has Lois dying and Chloe taking her cousin's name so that she would wind up becoming the woman in Clark's life.
Swimmer: Yes. There is that theory that Chloe is Lois, but she is not Lois. Lois is Lois, as crazy as that may seem. We hear the fans and we understand where that comes from. But unfortunately, it's not the way that the show is going.

TVGuide.com: Are you influenced by fan response on the Internet?
Swimmer: We definitely hear what the fans say and we can't help but be influenced by it, but I don't think that we're guided by it in the sense that we let it dictate anything, obviously. I don't think that fans would necessarily want that either. But we read it and we're in touch with what the fans are saying. They're our core fans. I think sometimes when somebody says they don't like something they still may find it entertaining, so we have to gauge how much of that is a response to the characters or a response to the way the story is being told.

TVGuide.com: Little touches like Chloe giving Jimmy a bowtie are a nice nod to fans who are familiar with the comic.
Swimmer: Yes. It's a year of challenges that Jimmy's going to have to go through. Chloe's going to have to go through them. Clark will, too. It's the year of "double identity." That's the theme. Clark's starting to understand he's got to have a double identity or he's not going to be able to move on with what his destiny is.

TVGuide.com: Might we see Clark with trademark dark-rimmed glasses?
Swimmer: No. [Pauses] Well, we may, but it won't be in the way that [you might expect].

TVGuide.com: We saw lots of Clark's Kryptonian background last year with his cousin Kara, mother Lara and Uncle Zor-El. Will we be seeing more of that influence this year?
Swimmer: I think we're moving away from the Kryptonian story. Last year we focused a lot on that and aspects of Clark's past. Clark can't escape his Kryptonian roots and that's definitely going to come back and haunt him this season, but this year will be more about moving forward with his destiny as becoming Superman in a way that we've never done before.

TVGuide.com: Helen Slater, Dean Cain, Margot Kidder.… So many actors from other Superman film and TV adaptations have guest-starred on Smallville. Do you have a wish list for this season?
Swimmer: Well, there's very few people left at this point [we haven't used]. We'd love to bring some of them back, but it's too early to talk in terms of scheduling. We're grateful to have had a chance to have all these great actors visit our show.

TVGuide.com: You're going into Season 8. Does it feel like there's no end in sight?
Swimmer: It's too soon to say. Eventually, Clark is going to become Superman, but he still has a ways to go before that happens. As long as the show keeps going, we want to see [his journey] continue.

Smallville Preview: Will Lana Rock Clark's World?

In Part 2 of TVGuide.com's Smallville preview, exec producers Brian Peterson and Todd Slavkin give their take on Season 8 (which arrives Sept. 18) by talking about the return of Green Arrow and offering an update on important people in Clark's life (Lex, Lana and Martha included). Plus: Which DC Universe players you will — and won't — be seeing this year. — Michael Maloney

TVGuide.com: How did the WGA strike affect your storytelling last season?
Brian Peterson: We were only short two episodes; we did 20 out of the 22 [originally planned]. We actually got to complete most of our storylines that we set, especially the dynamics with Clark and Lex and also Lex and Lionel, including the final turn of Lex killing his father.

TVGuide.com: It was tough seeing John Glover leave, because he made such a great Lionel.
Todd Slavkin: John's a great actor and a great man — we miss him dearly — but it was always in the cards that Lex murdering his father would aid in his descent into evil. [Original show runners] Al [Gough] and Miles [Millar] had always had that idea. Still, it was tough to do.

TVGuide.com: I was telling Justin Hartley that I hope his return to the show as a regular means more Oliver and Lois. It's a successful pairing, even though it's outside the comic-books' mythos.
Peterson: Al and Miles really set up a show in which every character and every situation has a slight twist to it from the mythos, much like the different versions of the comic books do. We really pay attention to the mythos, but then try to put a spin on it. This year, we're introducing Davis Bloome (Battlestar Galactica's Sam Witwer) as Doomsday [the comic book villain that "killed" Superman in 1992], and we have a completely different take on it. As the season goes by, people will find he's very much in line with the mythology.

TVGuide.com: But Doomsday won't have the concrete jagged edges coming out of his body?
Slavkin: It's a reimagination and a reinvention. We didn't want to take a character straight out of the comics, just as Al and Miles took Lex and created their very own version, which, in our minds, is the best version of any Lex Luthor in the history of the Superman folklore. We're doing the same thing with Doomsday. So while we definitely make a nod to the original, this is our own. I think the fans will be pleasantly excited.

TVGuide.com: What can you say about the statuses of Kristin Kreuk (Lana) and Michael Rosenbaum (Lex)? I have to say, Michael makes every actor he's in a scene with a better one.
Peterson: Michael is fantastic. His rendition of Lex Luthor helped make the show what it is today. Obviously, we were very sad to see him go. He's pursuing his own interests and we're hoping the door is definitely open for him to return. We've not seen the last of Lex Luthor.
Slavkin: Kristin will return for at least five episodes this season. [Lana] will appear at an inopportune time for Clark. We don't want to give away when it will happen, but it's going to be an awesome moment in the history of Smallville when Kristin Kreuk comes back.

TVGuide.com: Great casting with Black Canary last year. And her "Canary cry" was well-done, special effects-wise.
Peterson:Alaina [Huffman] is great and she's a big part of the season premiere. This is a year in which Clark is really embracing being a superhero and his double identity, but at the same time some of his friends in the Justice League are thrown into crises of their own. It's going to be an interesting year as Clark grows into himself.

TVGuide.com: What about Impulse and Cyborg? Tom Welling easily taps into Clark's protective side whenever he plays big brother to Impulse.
Slavkin: Clark's such a great role model. He has a sense of integrity about himself that he always passes on to young characters. The actors who play Impulse and Cyborg are phenomenal and we'd love to have them back sometime. In the premiere it's an incarnation of the Justice League that you've yet to see: Black Canary, Green Arrow and Aquaman (Alan Ritchson). The three of them are all searching for the missing Clark.
Peterson: That takes an interesting twist, too.

TVGuide.com: Annette O'Toole's Martha is a vital element in Clark's life. Might she be back?
Peterson: We're hoping. We actually have a very interesting idea for bringing her back. We hope it comes to fruition.
Slavkin: She's on Broadway right now [in Kindness], so if we can fit her into our schedule that would be great. She's a character we miss dearly because Ma Kent, like Pa Kent, has had such an impact on Clark.

TVGuide.com: Have we seen the last of Supergirl/Kara (Laura Vandervoort)?
Slavkin: She'll be back for a show, we hope.

TVGuide.com: Has DC said no to Bruce Wayne ever appearing on Smallville? Apparently, there's this movie out now featuring Batman....
Slavkin: It's a rights issue.
Peterson: We are going to have several DC Comics characters on the show this season. We have Maxima coming. Also, Plastique is going to be in Episode 2 [played by Jessica Parker Kennedy]. She has flame/explosive powers.
Slavkin: There's nothing better than to have an intergalactic sex goddess — Maxima — come into the DC Universe and have her try to mate with Clark.

TVGuide.com: How about for an episode introducing a beautiful blond telepath, a dark-haired guy with magnetic powers and a reddish-brown haired guy with lightning powers to play the founding members of the Legion of Superheroes?
Peterson: [Exchanging a look with Slavkin] We haven't thought about that actually. Hmm....


---

Back of the Head: www.backofthehead.com