John Orquiola
Scrapple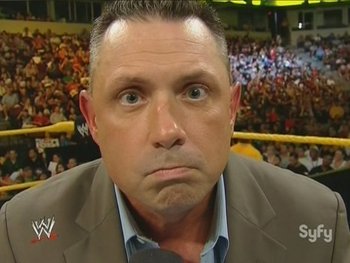 Since: 28.2.02
From: Boston

Since last post: 1569 days
Last activity: 1569 days

#1 Posted on | Instant Rating: 4.66
Results: http://www.wwe.com/shows/smackdown/results/9978324/

Basically, it was a one match show, but that match was excellent, so I'd say it was an excellent show.

Jeff Hardy vs. John Morrison was pay per view quality, better than anything on that no good, stinky Night of Champions. It was a great showcase for Morrison's offense and his future main event greatness while also showing Hardy's resilience, experience, and will to win. Letting Morrison kick out of the first Swanton was surprising. The clean finish was extra terrific. No Russo run in, clusterfuck, schmozz booking here. The champion took the challenger's best and found a way to win and retain.

But you know what I liked even better? CM Punk's promo, which might be my favorite he'll ever cut. No, not the one backstage, the one in ring, microphone in hand, with the victorious Hardy.

"You know, Jeff, for the past few weeks --" BONK! Right on the head with the microphone and a full CM PUNK is a Motherfuckin' Heel beatdown on Jeff Hardy. Complete with cutaways to the shocked little children in the crowd -- and the one girl they showed with the look on her face. Best shocked audience reaction to mishap befalling Jeff Hardy since his pyro exploded. You can always count on Hardy marks for hilarious reactions. I had to rewind and watch the beatdown twice because I was so busy LOLing the first time around. Absolutely marvelous stuff.

I thought a more apt Star Wars reference by Shad would have been that Jericho is an Ewok, not Han Solo, and Show is Chewbacca. Cryme Tyme doesn't have a chance in hell of winning those Unified tag belts, but you know what, at least they're doing something with the tag team division. I don't care for the mash up of Show and Jericho's music, however.

Was hoping to see another crazy ass Eve moonsault in the Divas match but I loved Melina countering McCool's "patented" Faithbreaker into her finish. Nice to see McCool show some ass.

The more Dolph works with Rey, the better off he'll be so I'm glad those two are continuing their program.

Smackdown continues to bring it.
Promote this thread!
miknight
Blutwurst



Since: 22.10.02
From: Oztraya

Since last post: 1449 days
Last activity: 1385 days

#2 Posted on
This Smackdown felt like the best in a long line of excellent showings.

Hardy v Morrison lived up to the hype that both competitors were touting in the lead up and it didn't even take an insane new move to do it. Just an excellent match all the way, and the Jeff Hardy contract vagueness allowed for the slim hope that Morrison could win, which made the ending even more fun due to its uncertainty.

Cryme Tyme v The Hart Dynasty was the best showing by CT i can remember, and the post match promo with Jericho and Show produced instant interest in their match at SS. Despite their new music, which is hilariously bad and makes the RKO mash-up seem a whole lot better by comparison, The Big Show and Jericho showed awesome chemistry in their promo. For all the unoriginality that choosing Show for his partner displayed, Jericho and Show could possibly eclipse Edge/Jericho on the mic, if not in the ring.

PS:I get the feeling that JTG is highly underrated in the ring and he has the unique move-set and energy to challenge for the IC title one day, if not go even higher.

And the Ziggler/Knox v Rey/Finlay match was good frenetic fun. Knox is easily my pick for best "bigman" in terms of current active wrestlers and the fact that he seems to be the only bigman who doesn't plod in the ring is overlooked way too often. His wicked cross-body block on Rey got me out of my chair. Also JR keeps alluding to Knox not being your generic "destroy everyone" personality, so if that's ever explored it has potential. Only gripe with the match was the pinfall happening way too close to the ropes and Ziggler looking kinda silly for failing to grab them.

Women's tag match was fine, then Melina hit that sweet Code Red (I think, correct me if I'm wrong), which was ultra smooth and cranked the enjoyment of the match up a notch.

Khali/Kane stuff was kept to a minimum while not being forgotten, which was cool.

The Morrison Promo seemed weird to me but was completely forgotten after his match. If Jeff's promos can improve from where he started to where his is now then a few years of practice will hopefully see Morrison get to where he needs to be.

On the other end of the promo scale is CM Punk. That dude seems so natural and believable that it's only a matter of time before he starts accruing World Titles at an Edge-like rate. As was said above by John Orquiola, that heel beat-down was vicious. Elbow to the head X50 is STRAIGHT-EDGE! Coming back for more is even better.


---

Three oinkers wearing pants, a plate of hot air, a basket of grandma's breakfast and change a bull to a gill, got it.
JustinShapiro
Scrapple
Moderator




Since: 12.12.01
From: Pittsburgh, PA

Since last post: 169 days
Last activity: 3 days

#3 Posted on | Instant Rating: 8.31
"You know, Jeff, for the past few weeks--"

Like I said on Monday, there's definitely no way that Cryme Tyme and Legacy will be the PPV opponents at SummerSlam.

Here lies SummerSlam, 1988-2009.

At least Jerishow's mashup music is phenomenal.

Jeff/JoMo was so great, IMO the second or third best TV match of the year behind Edge/Rey and Edge/Morrison. Morrison has had great to really great matches with Jericho, Edge, Punk, and Jeff on TV in just the last six weeks. And I haven't seen his match with Tyson from Superstars yet either.

I wouldn't be surprised if Punk won the belt back next week. Jeff's title runs are just that epic. Unless next week is still part of the nesting doll double swerve since people "think" Jeff's contract expires before SummerSlam.

Congrats to 3-time world champion Jeff Hardy on his first successful world title defense btw.

Don't get me wrong, though, this was an awesome show.
Super Shane Spear
Bierwurst



Since: 2.1.02
From: Sector 7 Slums

Since last post: 3044 days
Last activity: 3044 days

#4 Posted on | Instant Rating: 5.72
Originally posted by JustinShapiro

---


Jeff/JoMo was so great, IMO the second or third best TV match of the year behind Edge/Rey and Edge/Morrison.

---


Don't forget Christian/Swagger II


---

You should listen to what I listen to
John Orquiola
Scrapple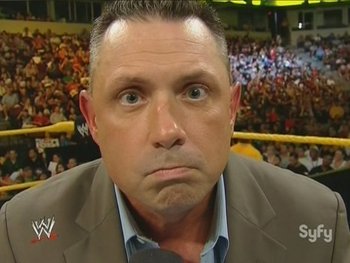 Since: 28.2.02
From: Boston

Since last post: 1569 days
Last activity: 1569 days

#5 Posted on | Instant Rating: 4.66
I'm partial to Morrison vs. Bourne on ECW the day after the Draft and before the Supplemental Draft. Looked like they were kicking each other for real, yo.
HMD
Andouille



Since: 8.6.02
From: Canada

Since last post: 550 days
Last activity: 550 days

#6 Posted on | Instant Rating: 2.82
Wow. Finally got a DVR so am enjoying seeing things I normally wouldn't, which includes Smackdown. Considering the shittiness of RAW, I was really not expecting this show to be so good the past couple weeks, but last week, CM Punk's running down to the ring to Pearl Harbour Jeff after he ran down to save Rey from Diggler got me interested in this show as a regular viewing experience. This week was even better. Excellent main with Jeff and Morrison. I still think Morrison is a bit spotty, but it was a great match all around, and Punk, with that beatdown, became the best heel in the business for my money. When Jericho gets a real program, I'm sure he'll take that mantle back, but Haku duty isn't cutting it for me. Not that I don't love them treating the tag-belts like they matter, which hasn't happened in probably years.

I know nothing of Jeff's contract situation, but if I were them I would give him whatever he wants and get him to come back, because this guy really looks like a star. The kiddies are nuts over him, he's grown into his mic work, and he's grown on me far more than I ever thought he would, especially after the meth-head run of '02. Throwing Punk/Jeff away on free TV is massive waste, and even after Morrison's brill performance tonight, I don't see him as viable opponent for Punk @ Summerslam.


---

Quiet, Or Papa Spank!
CEOIII
Bockwurst



Since: 25.7.02
From: Franklin, PA

Since last post: 609 days
Last activity: 447 days

#7 Posted on | Instant Rating: 1.75
If our options for SS are Punk/Jeff or Punk/John, I got one response: WHY CHOOSE? If we're stuck with Cena/Orton on the Raw side, I'll be more than happy with a 3-way on the SD side.


---

I'm Charlie Owens, good night, and good luck.
Alex
Lap cheong



Since: 24.2.02

Since last post: 475 days
Last activity: 9 days

#8 Posted on | Instant Rating: 3.24
Didn't they run a triple-threat match on that big 3 hour Raw Super Snack Attack! episode a few months ago?

EDIT
I really enjoyed the repartee between Big Show and Jericho. They'll work on the theme music later, I'm sure, just right now it's a BIG BIG BIG BIG BIG


and Morrison vs, Hardy was so awesome.

Oh man! RSPW should split up the best match category in "PPV" and "Television"

Because PPV matches tend to be longer and more drawn out, allowing you your epic wrestlemania moments and such, whereas in a match for TV you only have so much time to tell a story out there, with constant interruptions to commercials and from the announcers not bringing their a-game to the match and end up talking about whatever sneaky thing Legacy has been up to. So! Seeing as what would consider a great match on TV vs. PPV are too widely differing criteria, I say that the awards be separate.

(edited by Alex on 2.8.09 1112)
ekedolphin
Scrapple



Since: 12.1.02
From: Indianapolis, IN; now residing in Suffolk, VA

Since last post: 7 days
Last activity: 1 day

#9 Posted on | Instant Rating: 1.94
Originally posted by Hogan's My Dad

---

Wow. Finally got a DVR so am enjoying seeing things I normally wouldn't, which includes Smackdown.

---
I don't even have cable, actually, but SmackDown is available on Hulu. That's how I'm watching it.
---
"You're about as much fun as a divorce-- which is not a bad idea."
"I want custody of me."
--Michael Knight and KITT, Knight Rider
Fan of the Indianapolis Colts (Super Bowl XLI Champions), Indiana Pacers and Washington Nationals
Certified RFMC Member-- Ask To See My Credentials!
Co-Winner of Time's Person of the Year Award, 2006
Matt Tracker
Scrapple



Since: 8.5.03
From: North Carolina

Since last post: 48 days
Last activity: 2 days

#10 Posted on | Instant Rating: 6.19
Finally got to see the show, and it was fun. This was the best match Knox has been a part of, and he had good moments. The Knox Block was hysterical.

Cryme Tyme has never won me over, probably because it's a given that JTG will be fired as soon as Shad is ready to go solo. I enjoy The Dapper Big Show and his new arrogance.

Hardy still needs to work on the mic skills, but he the potential to have fun matches with everyone.


---

"To be the man, you gotta beat demands." -- The Lovely Mrs. Tracker