Mayhem
Scrapple



Since: 25.4.03
From: Nashville, TN

Since last post: 25 days
Last activity: 25 days

#1 Posted on | Instant Rating: 5.02

According to this piece (longislandpress.com)seems like ol' Mick might be on his way out too. Of course, this has been rumored for a few days now.

I like the idea of the J.R./Tazz team calling Smackdown on a permenant basis. And Grisham/Striker aren't a bad duo themselves.
Promote this thread!
CruelAngel777
Sujuk



Since: 7.4.02

Since last post: 378 days
Last activity: 361 days

#2 Posted on | Instant Rating: 3.00
Foley wasn't as great on the announcing tip as I thought he would be, but obviously a year from now I'd be singing a different tune.

Taoss should be awesome friday nights though.
Deputy Marshall
Liverwurst




Since: 28.6.04
From: Troy, NY

Since last post: 1038 days
Last activity: 559 days

#3 Posted on | Instant Rating: 4.39
I've been wanting Tazz/Ross as a commentary team ever since they started occassionally teaming them up for the Rumble.

People thought Foley would be good on commentary during the first One Night Stand, too. Unfortunately, being good on the stick doesn't always translate to being a good commentator (and vice-versa).


---

KevinMarshallOnline.com - Blog, podcasts, comics, and more!



* Living Under Marshall Law Podcast Latest episode uploaded 6/27/08 (Tim Russert, George Carlin, Hulkamania running wild via a raging inferno in your kitchen, and Mixed Martial Malarkey (c) Justin Shapiro)

RSS: http://kevinmarshall.libsyn.com/rss


***Now available in the iTunes Music Store!
Mike Zeidler
Pepperoni



Since: 27.6.02

Since last post: 1102 days
Last activity: 145 days

#4 Posted on | Instant Rating: 1.84
Can we call them Rozz* if it's made official?





*the extra z for copyright purposes, of course.

(edited by Zundian on 8.8.08 1512)

---

"Tattoos are the mullets of the aughts." - Mike Naimark
Big Bad
Scrapple



Since: 4.1.02
From: Dorchester, Ontario

Since last post: 52 days
Last activity: 13 hours

#5 Posted on | Instant Rating: 4.61
I thought Foley was doing a hell of a job on color commentary, especially since Ross moved over to Smackdown. With more seasoning, he could've been one of the all-time greats.

Then again, I can't blame him for not wanting to be screamed at by Vince every week. God, the announcers must love when Vince has matches/promos since it gives them a few minutes of peace.


---

"How is it that I am a good actor? What I do is I... pretend to be the person I'm portraying. You're confused. Case in point: in Lord of the Rings, Peter Jackson comes to me and says 'I would like you to be Gandalf the Wizard,' and I said 'You are aware that I am not really a wizard?' and Peter Jackson said 'I would like you to use your acting skills to portray a wizard for the duration of the show.' So I said 'Okay' and then I said to myself 'Mmm.. How do I do that?' And this is what I did: I imagined that I was a wizard, and then I pretended, and acted, in that way on the stage. How did I know what to say? The words were written down for me in a script. How did I know where to stand? People told me where to stand." -- Sir Ian McKellen, Extras
John Orquiola
Scrapple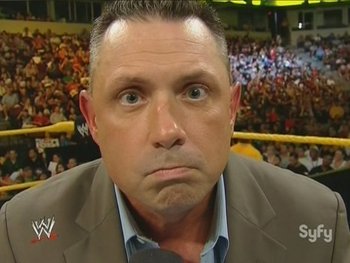 Since: 28.2.02
From: Boston

Since last post: 1147 days
Last activity: 1147 days

#6 Posted on | Instant Rating: 4.33
Does Mick Foley mean to tell me that at this point in his life he doesn't need or want Vince McMahon screaming in his ear for two hours telling him what to say?

"Say it this way, damn it!"

I really can't blame him. But I did think he was doing well on color. I enjoy his humor and he and JR were working hard to inject some wrestling history factoids into their calls. Which is probably part of what was pissing Vince off.

The other day I mentioned to Lance Jr. that maybe Vince should actually return to commentary himself. That way he can't micro manage everyone anymore. Also, I'd love to hear him scream "Whatamaneuver!" again, although I'm sure I'm a minority of one or two on that. Thing is, when Vince at the broadcast booth, Gorilla Monsoon was at Gorilla overseeing everything and he's not an option anymore. Whatever, Tazz and JR should be pretty great together if Foley is gone.


---

Back of the Head: www.backofthehead.com
emma
Cherries > Peaches



Since: 1.8.02
From: Phoenix-ish

Since last post: 40 days
Last activity: 10 hours

#7 Posted on | Instant Rating: 8.34
"Creatively, the announcing job wasn't working out too well."
Now personally, I read the subtext as "If all I'm gonna do is call matches, that's not nearly creative enough for me. Especially in trade for having to drag my sorry, beat-up ass on airplanes all over the country, away from my family. Now, if you had some more stuff in mind for me to do, like f'rinstance the killer, excellent, pivotal promo I did with Edge on the 8/1 SD, then OK, we might have something to talk about. Jus' doin' commentary? I barely ever even get a chance to get the cheapest possible crowd pop for that."

But that's just my theory. Maybe we'll get the tabloid details on Sept 2 ...
SEADAWG
Boudin rouge
Moderator



Since: 5.7.03

Since last post: 1663 days
Last activity: 744 days

#8 Posted on | Instant Rating: 6.84
DOWN WITH TAZZ

JBL
JBL
JBL
Oliver
Scrapple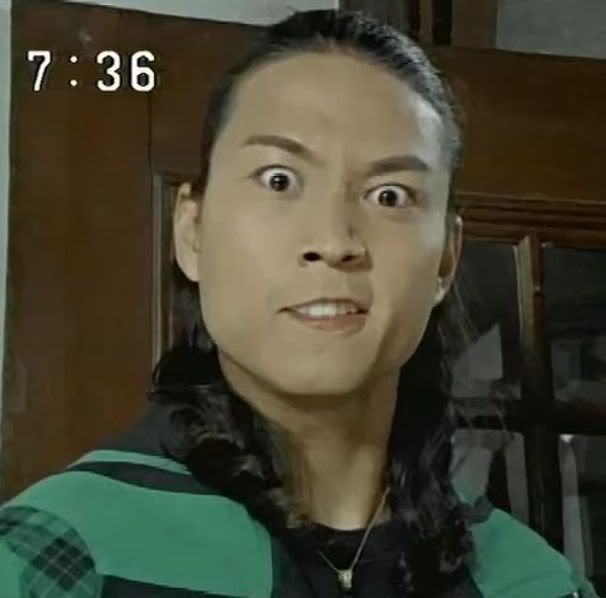 Since: 20.6.02

Since last post: 901 days
Last activity: 895 days

#9 Posted on | Instant Rating: 3.74
Foley shouldn't have Vince McMahon screaming in his ear; I think that with his experience and knowledge, he should be able to do commentary his own way.

I doubt we'd ever get the chance, but it'd be killer to hear what goes on in the earphones that Foley (and, for that matter, all announce staff) while they call matches.

Oh, and it was nice to see Tazz back on Smackdown. He and Ross seemed to have a natural chemistry together.


---

You wouldn't like Ozu Makito when he's mad!
Alessandro
Lap cheong




Since: 2.1.02
From: Worcester MA

Since last post: 47 days
Last activity: 34 days

#10 Posted on | Instant Rating: 3.04
Originally posted by Oliver

---

I doubt we'd ever get the chance, but it'd be killer to hear what goes on in the earphones that Foley

---


Shouldn't that be "earphone", singular?




---