Kevintripod
Banger



Since: 11.5.03
From: Mount Pleasant, Pa.

Since last post: 36 days
Last activity: 1 day

#2 Posted on | Instant Rating: 2.62
When I was in junior high, my parents made the mistake of taking me with them to see "Animal House". Evidentily they thought the R-rating was just for swearing. They expressed their immense embarrassment to each other during the whole ride home and wondered aloud on what the hell they were thinking in bringing me with them to see it.


---

"Oh it's on like Donkey Kong !!!" - Stifler, American Wedding
krakken2000
Kishke



Since: 31.10.02
From: seattle

Since last post: 3552 days
Last activity: 3279 days

#3 Posted on | Instant Rating: 5.59
I can remember watching Godfather II at the drive-in.


---
Slacktion Comics!
dwaters
Bierwurst



Since: 16.10.02
From: Connecticut

Since last post: 49 days
Last activity: 8 days

#4 Posted on | Instant Rating: 3.58
"Risky Business"

It was my friend's birthday and I guess his mom thought we'd think she was a cool mom for taking a bunch of 12 year olds to an R rated movie. I didn't think the movie was that great.

I LOVED "Beverly Hills Cop" and am glad my parents let me see that one. Eddie Murphy RULED and I just found it and bought it from the Wal-Mart $5.50 bin. (Widescreen/black bars edition, but so what? See Bronson Pinchot before he was sobbing like a baby on Janice Dickinson's shoulders----Are interactive menus and scene selections really "special" features? Can you name a DVD that DOESN'T have those?
JayJayDean
Scrapple



Since: 2.1.02
From: Seattle, WA

Since last post: 1092 days
Last activity: 670 days

#5 Posted on | Instant Rating: 6.56
Beverly Hills Cop. I was ten and visiting my dad in Atlanta and he had to work on of the nights I was down there and one of his friends let me tag along.


---

"You know what you need?
Some new quotes in your sig.
Yeah, I said it." -- DJFrostyFreeze


Bullitt
Shot in the dark




Since: 11.1.02
From: Houston

Since last post: 874 days
Last activity: 874 days

#6 Posted on | Instant Rating: 6.11
Originally posted by BOSsportsfan34

---

I was 13 years old when me and 2 friends of mine snuck in to see "Stripes". We bought a ticket for a PG movie and just went into the theater where Stripes was playing instead of the movie we paid to see.

---


I'm quite positive this is my EXACT answer as well!


---
I'm out to prove I've got nothing to prove
Karlos the Jackal
Lap cheong



Since: 2.1.02
From: The City of Subdued Excitement

Since last post: 1119 days
Last activity: 74 days

#7 Posted on | Instant Rating: 8.00
Either "Alien" or "The Thing," I think. On video at the neighbor's house.

In theaters, I have no idea. I didn't see movies much in theaters when I was a kid, so by the time I did, seeing an R movie probably wasn't a big deal.

--K


---
Last 5 movies seen: Wallace & Gromit in The Curse of the Were-Rabbit - Saving Face - Lifeboat - Mad Hot Ballroom - The Bigamist
HairRaiser
Kishke



Since: 13.1.03
From: S. Attleboro, MA

Since last post: 4162 days
Last activity: 3497 days

#8 Posted on | Instant Rating: 5.16
It was either Robocop or Predator in the theater, I think. That was a long time back...


---

March 22, 2004 - Finally the WotD!
Nuclear Winter
Boudin rouge



Since: 9.11.03
From: Bedford, Michigan

Since last post: 1758 days
Last activity: 309 days

#9 Posted on | Instant Rating: 2.04
My dad let me watch A Nightmare on Elm Street (which we taped off HBO) when I was five.

I owe my love of horror movies to my dad.


---

Check out the boring Xanga! (xanga.com)
edoug
Summer sausage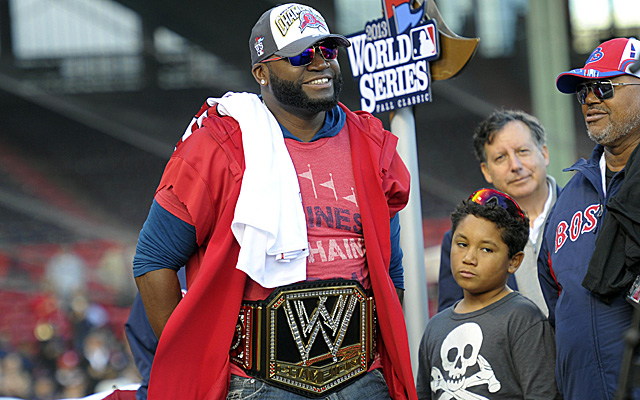 Since: 13.2.04
From: Maine

Since last post: 1314 days
Last activity: 36 days

#10 Posted on | Instant Rating: 1.65
Last House On The Left and The Amityville Horror at a Drive-in. If my arents knew about last House, I doubt we would've gone to see it.


---
ekedolphin
Scrapple



Since: 12.1.02
From: Indianapolis, IN; now residing in Suffolk, VA

Since last post: 10 days
Last activity: 4 hours

#11 Posted on | Instant Rating: 2.29
Robocop,
off of a recording my parents made from broadcast or maybe cable television.
And I didn't realize until about a year ago that the version I'd originally seen was
heavily
edited for violence. I rented it from my Blockbuster store a little while back and was all, "I didn't remember the dude having toxic waste dumped on him and having his skin start dripping off his body!" Or the part where another dude, Boddicker I think, gets Robocop's metal spike driven through his skull. Vicious.
---
"I am here to use my frabjulitulity to mictifarcate your giltooney! Lo! My junurtiquity is most biollorky! Bask in the power of my meckalecka-hi, meckahiney-ho!"
--Elan, The Order of the Stick
Four-Time Wiener of the Day (5/27/02; 7/3/02; 7/30/04; 8/28/04)
The Only Five-Time (and Last) N.E.W. World Heavyweight Champion
Certified RFMC Member-- Ask To See My Credentials!
BigSteve
Pepperoni



Since: 23.7.04
From: Baltimore, MD

Since last post: 4393 days
Last activity: 4121 days

#12 Posted on | Instant Rating: 2.99
The first one I can remember was Terminator. Or was it Terminator 2? It was something with Schwarzeneggar.
Nag
Landjager



Since: 10.1.03
From: Enter your city here

Since last post: 3729 days
Last activity: 1784 days

#13 Posted on | Instant Rating: 3.95
Some movie called House, when I was maybe 5. My parents never minded that stuff. Except for Nightmare on Elmstreet, exhausted every bit of fun one could dream of with a 4 year old baby sister on those movies.
Wolfram J. Paulovich
Frankfurter



Since: 11.11.02
From: Fat City, Baby

Since last post: 4508 days
Last activity: 3878 days

#14 Posted on | Instant Rating: 5.66
Ragtime.

It was showing as part of a double feature at a drive-in, and it was already pretty long itself. My dad took me to that same double feature probably 10 times because our house was being remodeled or fumigated or something, and we needed to be out of the house. Unfortunately, I was about 4 at the time, and a big fan of The Empire Strikes Back. And, well, in Ragtime there are some guys in white outfits and white hoods that to a four year old look a lot like the long draping white stormtrooper headpieces in the attack scenes on Hoth. Unfortunately, the guys in Ragtime are klansmen. Thus, not really knowing what was going on, I cheered for the klansmen when they showed up, thinking that they were Imperial Stormtroopers somehow in this old-timey movie. My dad got me to stop doing that by the fourth screening or so, but I know that he thanked God that we were in a closed-up car in a drive-in and not in a regular theater where scores of northern Californians would glower at my him, wondering what sort of monster raises a kid who cheers audibly when klansmen hit the screen.

I should also note that even though I was about four, I distinctly remember Elizabeth McGovern getting naked. God, she was hot.


---
The Obtuse Angle Archive.
StaggerLee
Scrapple



Since: 3.10.02
From: Right side of the tracks

Since last post: 94 days
Last activity: 6 days

#15 Posted on | Instant Rating: 2.39
The Shining, when I was about 10. My me and my sisters were going to sleep over at my cousins house and my Aunt got drunk and turned it over to HBO, only me and her were awake at this time of the night. Scared the living crap out of me!
Reverend J Shaft
Toulouse




Since: 25.6.03
From: Home of The Big House

Since last post: 120 days
Last activity: 11 days

#16 Posted on | Instant Rating: 2.21
Conan the Barbarian. When your first image of people fornicating is a muscle-bound warrior giving it to a woman who turns into a demon and flies away, it can mess you up for awhile. Years of therapy....
DrewDewce
Bratwurst



Since: 2.1.02
From: The Derby City

Since last post: 90 days
Last activity: 17 days

#17 Posted on | Instant Rating: 3.97
Caddyshack. Mom and Dad took the whole fam (I was 10, my younger brothers were 8 and 5). They were pretty liberal about R rated comedies. It took awhile, but eventually the local doubleplex (I grew up out in the sticks) let our parents pay for us to see R-rated flicks and not see them with us (such as Porky's). Good times.


---

It is a good rule in life never to apologize. The right sort of people do not want apologies, and the wrong sort take a mean advantage of them.
P. G. Wodehouse (1881 - 1975), The Man Upstairs (1914)
Matt Tracker
Scrapple



Since: 8.5.03
From: North Carolina

Since last post: 10 days
Last activity: 3 days

#18 Posted on | Instant Rating: 6.05
I'm sure this wasn't the first one I saw, but the first I remember is Brian DePalma's "Body Double."


---

"To be the man, you gotta beat demands." -- The Lovely Mrs. Tracker
AWArulz
Scrapple



Since: 28.1.02
From: Louisville, KY

Since last post: 5 days
Last activity: 4 days

#19 Posted on | Instant Rating: 7.28
I'd have to say it was one of the Bruce Lee movies (if they were R) or a double feature at the drive in with them. We used to go to the drive in a lot as teens and smoke the evil weed and enjoy tracers off Bruce's hands, So if Fists of Fury or Enter The Dragon or Chinese Connection are R, then that was it.

yeah- they all were, pretty much.


---

We'll be back right after order has been restored here in the Omni Center.
Mr Heel II
Lap cheong



Since: 25.2.02

Since last post: 10 days
Last activity: 5 days

#20 Posted on | Instant Rating: 6.67
"One Flew Over the Cuckoo's Nest" in 1975, with the family, at the Canyon Drive-In in Beaverton, Oregon.

In thinking about it today, I'm surprised at how much of that movie I understood (and enjoyed) at the age of 9.

Of course, that movie wouldn't have gotten an "R" rating today.
Pages: 1 2 3 Next