The King of Keith
Lap cheong



Since: 4.11.02
From: Winchester, VA

Since last post: 1228 days
Last activity: 1227 days

#1 Posted on
With only 2 weeks until Wrestlemania, I was wondering what everyone's favorite Wrestlemania match from the past 18 was?

Mine was Savage/Warrior from WM VII. I don't know if two men can ever work a program on sheer hatred of each other like Savage and Warrior did. The match was stellar and the ending made me proud to be a WWF fan. As a matter of fact, I wrote a little article on it. Check this out. http://wienerboard.com/thread.php/id=10197

Anyway, some honorable mentions for me would be Warrior/Hogan (VI), Bulldogs/Dream Team (2), Savage/Flair (VIII), Owen/Bret (X), and the Ironman match from XII.




---

Get well soon Kurt, Batista, Randy, Edge, Kevin, Scotty, Bubba, Regal....

Man, that's depressing...and I know there's people I've forgotten!
Promote this thread!
ekedolphin
Scrapple



Since: 12.1.02
From: Indianapolis, IN; now residing in Suffolk, VA

Since last post: 17 days
Last activity: 2 days

#2 Posted on | Instant Rating: 4.52
While I can tell you, for the most part, what's happened at the 18 previous WrestleManias (as indeed, any good wrestling fan can), I'm afraid I've only actually seen WrestleManias XIV, XV, XVII and XVIII. So out of those WrestleMania matches, I'd have to go with Rock/Hogan from last year. Not a favorite in terms of workrate (by a long shot), but DAMN~! the atmosphere! Rock/Hogan bought WrestleMania for me, and it was the first PPV I'd ever ordered-- WWF or otherwise. I went absolutely apeshit during that match, and... damn me... wept happily at the conclusion of it.
---
"I know what you're thinking, 'cause right now I'm thinking the same thing. Actually, I've been thinking it ever since I got here. 'Why, oh, why, didn't I take the blue pill?'"
--Cypher, The Matrix
Two-Time, Two-Time Randomly Selected Wiener of the Day, 5/27/02 and 7/3/02
Certified RFMC Member-- Ask To See My Credentials!
JST
Toulouse



Since: 20.1.02
From: Quebec City, CAN

Since last post: 71 days
Last activity: 9 hours

#3 Posted on
Best mark-out match: Shane vs Vince from X-7. Solidly entertaining. I just popped my ass off when Foley sprang up and kicked some righteous ass. The match that first showed that Shane could really GO.

Favorite in general: Rock/Austin III, same show. Coulda done without the heel turn (why not just do it the night after?), but the match was just awesome.




---

Knowing the circumstances, I don't think Mr. Rogers threatening a laundromat attendant with a gun is appropriate anymore. So you get this instead.
fuelinjected
Banger



Since: 12.10.02
From: Canada

Since last post: 4540 days
Last activity: 4540 days

#4 Posted on
Bret Hart vs Stone Cold from WrestleMania 13. The match was great and it's still great but there was NOTHING compared to watching it the first time. Bret had NEVER submitted in his career and Austin sure wasn't going to give up. They just don't protect a lot of guys like that anymore where you can have a match like that.
The King of Keith
Lap cheong



Since: 4.11.02
From: Winchester, VA

Since last post: 1228 days
Last activity: 1227 days

#5 Posted on
Yah, I should have definitely put the Hogan/Rock match in my list as well. That was Hogan's true homecoming match and despite being booked as the despicable heel, Hogan got the most amazing reaction from the crowd in Skydome. I can't say that I wasn't rooting for him either. I was hoping that the old man would be able to pull it off. When he hulked up, all 6 of my friends and I jumped up simultaneously and started screaming.

To all you workrate freaks/Hogan haters who hated this match for one reason or another, I've got to wonder if anything would ever please you. THIS truly was Match of the Year.


---

Get well soon Kurt, Batista, Randy, Edge, Kevin, Scotty, Bubba, Regal....

Man, that's depressing...and I know there's people I've forgotten!
Mystic Gohan 2003
Chipolata



Since: 18.10.02
From: Tulsa Oklahoma

Since last post: 1458 days
Last activity: 1418 days

#6 Posted on
WrestleMania X-Seven April 1, 2001
Kurt Angle Vs. Chris Beniot
there is no more to be said.

top 3 honorable mentions

WrestleMania X8
The Rock Vs. Hollywood Hulk Hogan

WrestleMania X
Intercontinental Championship Ladder Match
"old school hardcore match"
Razor Ramon Vs. Shawn Michaels

WrestleMania X-Seven
WWF Championship Match
The Rock Vs. "Stone Cold" Steve Austin


---

And that's...a GOOD THING!
The Vile1
Lap cheong



Since: 4.9.02
From: California

Since last post: 3290 days
Last activity: 3022 days

#7 Posted on
I think some other notable mid-card wrestlemania matches that I love pretty equally are as followed

Piper vs. Bret Hart-WM8
HBK vs. Razor Ramon-WM10
Kurt Angle vs. Chris Benoit-WM17
Owen Hart vs. HHH-WM14

If I had to choose between one of those four, I'd probably say Kurt Angle vs. Chris Benoit because I was there live, and being among a huge crowd popping for exceptional mat wrestling was a lot of fun.



---

"I am many things Kal-El, but here I am god."
-Darkseid
fuelinjected
Banger



Since: 12.10.02
From: Canada

Since last post: 4540 days
Last activity: 4540 days

#8 Posted on
Ok, I didn't hate Rock/Hogan but I wasn't a big Hulkamaniac growing up so I didn't really get into the nostalgia that much. The heat is something to be seen though.

I'm by no means a super duper elitist workrate freak but I voted for the No Mercy tag as my MOTY because I can watch that thing a zillion billion times and it's always great.
kazhayashi81
Potato korv



Since: 17.6.02
From: Buenos Aires, Argentina

Since last post: 3979 days
Last activity: 3930 days

#9 Posted on
Shawn/Razor off of WrestleMania X. Such an amazing match. Watched it a couple of days ago, still gave me chills.


---


"You know, frankly, going to war without France is like going deer hunting without an accordion. You just leave a lot of useless noisy baggage behind."- Jed Babbin
Russenmafia
Cotechino



Since: 16.12.02
From: Siberia, Russia

Since last post: 5198 days
Last activity: 4703 days

#10 Posted on
Watching Hogan vs Warrior at WM 6 as a kid was my dream mark out match. It was amazing.

But now my fav wrestlemania match would have to be

Rock vs Austin WM 17
YAKUZAKICK91
Cotto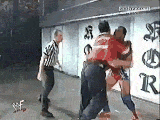 Since: 8.3.03
From: San Jose California

Since last post: 5439 days
Last activity: 5413 days

#11 Posted on
In terms of my favorite match to watch it had to be Hulk Hogan vs Andre The Giant. That match was not so great but the crowd was really into the match(or so I remember).

In terms of workrate no match was better than Rock vs Stone Cold. That was a great match w/ a good crowd to boot.

Honorable Mentions:
Ricky Steamboat vs Macho Man(WM3)
Hardyz vs Dudleys vs Edge and Christian(WM 17)
Hogan vs Rock(WM 18)


---
Ninawa says: Stop the War!
It's False
Scrapple



Since: 20.6.02
From: I am the Tag Team Champions!

Since last post: 33 days
Last activity: 8 hours

#12 Posted on
I will always have a soft spot for the Ironman Match at Wrestlemania XII since I witnessed it LIVE from the beautiful Arrowhead Pond of Anaheim! And I can tell you, that place EXPLODED when Shawn won the belt! Yes, Bret did solidify himself as a whiner, even back then.

I give honorable mention to Hogan/Savage from Wrestlemania V. I remember when I was a little mark and I went nuts when the Megapowers EXPLODED for the first time! It was also one of Hogan's best matches ever!


---

Forget Brock! TRINITY is the Next Big Thing! Congrats to both Kid Kash and TRINITY~! on signing long-term deals with TNA!
dMr
Andouille



Since: 2.11.02
From: Edinburgh, Scotland

Since last post: 686 days
Last activity: 73 days

#13 Posted on
I tend to judge matches not on wrestling ability but on the emotions I go through watching them.

Based on that: Savage/Warrior at VII and Hogan/Rock I at whatever 18 is in roman numerals.




---

"People demand freedom of speech to make up for the freedom of thought which they avoid."
- Soren Aabye Kierkegaard
geemoney
Scrapple



Since: 26.1.03
From: Naples, FL

Since last post: 12 days
Last activity: 1 hour

#14 Posted on
C'mon, no one has said one of the best mark-out moment in WrestleMania history:

The Gimmick Battle Royal. Priceless. :)

(edited by geemoney on 16.3.03 1555)
Tracheotomy Man
Longanisa



Since: 26.5.02
From: Oceanside, CA

Since last post: 5496 days
Last activity: 5468 days

#15 Posted on
How long have all of you been watching? The coolest WM match I ever saw was Steamboat/Savage at WMIII. Saw it on closed-circuit TV at the Long Beach Convention Center. There's nothing like watching wrestling on a giant screen with a few thousand other fans. The crowd was into that match from the start and with the exception of Hogan/Andre, they were pretty quiet for the rest of the show after screaming so much whenever Steamboat looked at Savage.

Anyway, the biggest WM mark out moment I ever saw was Hogan slamming Andre. When Hogan fell back and Andre went to cover, the entire place was screaming...

And Benoit/Angle at WM X7 was the best WM match since Hart/Austin...

TM

Captain_12_Pack
Polska kielbasa



Since: 10.3.03
From: Elmwood, IL

Since last post: 4338 days
Last activity: 589 days

#16 Posted on
I gotta, GOTTA say that it's Warrior/Savage for me, too, if for nothing more than the endless stream of top-rope elbows and the simple story of redemption with him and Elizabeth at the end...

Just brilliant, all around.


---

Awww, their soccer team's lyin' all over the place!
JWstorm
Kolbasz



Since: 23.10.02
From: Tarheel State

Since last post: 4329 days
Last activity: 3607 days

#17 Posted on
The Three Way at WM2k for the tag belts. E&C, dudleyz and hardyz. It is something i can watch today and still ooh and ahh at.


---

If someone gets urinated upon do they get pissed off or pissed on?







How BLACK are you?

Brought to you by the good folks at sacwriters.com.

The King of Keith
Lap cheong



Since: 4.11.02
From: Winchester, VA

Since last post: 1228 days
Last activity: 1227 days

#18 Posted on
I'm surprised that no one has mentioned Butterbean/Bart Gunn at XV yet!


---

Get well soon Kurt, Batista, Randy, Edge, Kevin, Scotty, Bubba, Regal....

Man, that's depressing...and I know there's people I've forgotten!
Texas Kelly
Lap cheong



Since: 3.1.02
From: FOREST HILLS CONTROLS THE UNIVERSE

Since last post: 202 days
Last activity: 20 days


ICQ:
#19 Posted on
The most important match in modern wrestling history: Bret Hart/Steve Austin at Wrestlemania XIII.


---
He's the King of the World... & You Just Live in It, Junior!

SAVE US, TOMMY DREAMER!!!
Freeway
Scrapple



Since: 3.1.02
From: Calgary

Since last post: 1583 days
Last activity: 1270 days

#20 Posted on | Instant Rating: 5.96
I've seen WMX, XIV, XV, XVI, XVII and XVII plus parts of I, III, IX, XII and XIII.

My favorite match ever is probably Bret Hart vs. Owen Hart from WrestleMania X. Such a great story, good workrate, and a great finish to a legendary family feud. God, I miss Owen and his antics.


---

The Chase Is On:
8th: Oilers [29-23-8-8] 74pts; 14 games left
14th: Flames [23-31-10-4] 60pts; 14 games left
Flames must win 7 more games than the Oilers do to make playoffs
Any combination of 7 Oilers wins or Flames losses eliminates them from the playoffs
Pages: 1 2 3 Next