It's False
Scrapple



Since: 20.6.02
From: I am the Tag Team Champions!

Since last post: 2 days
Last activity: 19 hours

#1 Posted on 30.4.03 1756.35
I got around to watching a tape of Monday's Raw and after reading about what happened at Backlash, I realized that it'd been a month since WWE was "graced" with the presence of Bill Goldberg. That leads me to the next Fact or Fiction.

FACT OR FICTION: Goldberg's WWE run has failed

I'll once again get the ball rolling by saying FICTION. Ok, so he's not the indestructible superman that he was in WCW, but Goldberg's run shouldn't be stamped a failure just yet. Monday's Raw gave me a little hope for the guy's WWE tenure. If WWE spends the next few weeks tossing the jobber squad at him (Stevie one week, Rico the next, the Fatass Samoan Squad the next, Christian the next), then the fans can get to see what made Goldberg a star in WCW. If WWE is really lucky, the fans will buy Goldberg as a threat to Triple H in time for June's PPV.

Of course, if Triple H uses any kind of pull to weasel Kevin Nash into the main event of the June PPV, everything I said is subject to go out the window.


---

You know it won't be long now. May God help us all!
Promote this thread!
OlFuzzyBastard
Knackwurst



Since: 28.4.02
From: Pittsburgh, PA

Since last post: 68 days
Last activity: 9 days


AIM:
#2 Posted on 30.4.03 1826.19
I'll go with C) WAY too soon to tell.


---

CHRISTIAN, n.
1. One who believes that the New Testament is a divinely inspired book admirably suited to the spiritual needs of his neighbor.
2. One who follows the teachings of Christ in so far as they are not inconsistent with a life of sin.
BOSsportsfan34
Pepperoni



Since: 2.1.03
From: MA

Since last post: 95 days
Last activity: 22 hours


AIM:
Y!:
#3 Posted on 30.4.03 1826.59
Agreed. It's fiction. Have to give it a little bit more time to judge one way or the other.


---
fuelinjected
Banger



Since: 12.10.02
From: Canada

Since last post: 2943 days
Last activity: 2943 days

#4 Posted on 30.4.03 1925.53
It's certainly been fumbled but it hasn't failed yet. Although their track record with these sorts of things in the past two years doesn't leave much room for optimism.
ges7184
Lap cheong



Since: 7.1.02
From: Birmingham, AL

Since last post: 26 days
Last activity: 10 days

#5 Posted on 30.4.03 1947.50
Fiction.

Given how this is stated, it says "Goldberg's WWE run has failed" in the past tense. He hasn't failed yet, he really hasn't had a chance yet. I would also say that "Goldberg's WWE run has succeeded" would be fiction as well.

However, Monday night was a success for Goldberg. So that was a good first step, and if they continue on that course, he could succeed. But we will have to wait and see.
geemoney
Scrapple



Since: 26.1.03
From: Naples, FL

Since last post: 19 days
Last activity: 1 hour


AIM:
#6 Posted on 30.4.03 2014.55
I agree with OlFuzzyBastard- Too early to tell.
SKLOKAZOID
Toulouse



Since: 20.3.02
From: California

Since last post: 2 days
Last activity: 16 hours


AIM:
#7 Posted on 30.4.03 2113.44
Fiction, but only because we have a few weeks to base things on.

He will fail, though. It's only a matter of time. He has a one-dimensional character (although wearing wigs will change that, right?) and doesn't fit in well with the WWE universe... then again, nothing fits in this universe these days. And they changed his music to some crappy musak.

It's going to take a radical change, both on Goldberg's part and WWE's in portraying him. Due to the stubbornness both Vince and Goldberg have shown in the past, I don't see that as likely.

Either way, Goldberg was always overrated and given success way too early in his career to really be considered a success on his own merit.


---

"If you're asking if I would ever date a wrestler, certainly I would. However it wouldn't be good business for me to get romantically involved with anyone in any aspect of our business."
-Stephanie McMahon (Off the Record, June 3rd, 1999)
Nag
Landjager



Since: 10.1.03

Since last post: 1858 days
Last activity: 597 days


Y!:
#8 Posted on 30.4.03 2216.54
Not to sounds like a Metlzerite, because even before he had a big article about it, I said on here that they dropped the ball with Goldberg when they put the wig on his head.


---

The Dante's Inferno Test has banished you to the Sixth Level of Hell - The City of Dis!
Here is how you matched up against all the levels:

Take the Dante's Inferno Hell Test
Gugs
Bierwurst



Since: 9.7.02
From: Sleep (That's where I'm a viking)

Since last post: 199 days
Last activity: 13 hours


AIM:
Y!:
#9 Posted on 30.4.03 2217.30
The following post expresses the opinions of a raving Jerichoholic. He is biased, opinionated and bitter. You have been warned.

Much too soon to tell if it HAS failed. It IS failing, and needs more life support like we got Monday night to avoid failure. Then again, the Invasion was the one sure-fire, can't-miss angle of all time, and that failed miserably. Goldberg is failing, and he's close to being a complete failure.


---

The preceding post expressed the opinions of a raving Jerichoholic. He was biased, opinionated and bitter. You were warned.

As of Monday, April 21 at 12:55 AM, the Boston Red Sox' Magic Number to clinch the AL East is 147. A combination of 147 Red Sox wins and New York Yankees losses will guarantee the AL East for the Boston Red Sox.
Freeway
Scrapple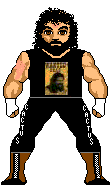 Since: 3.1.02
From: Calgary

Since last post: 22 days
Last activity: 10 days

#10 Posted on 30.4.03 2223.05 | Instant Rating: 5.96
It's been barely a month. Let's judge by SummerSlam...if he's still around.

Now: Scott Steiner's WWF run has been a FAILURE. Kevin Nash hasn't been doing enough wrestling to justify his employment. The Hulkster HAS done enough to justify his employment, and some of it has been quite good.


---

Quest for Lord Stanley's Cup
Canucks & Wild tied 1-1
Mighty Ducks lead Stars 2-1
Senators & Flyers tied 1-1
Devils lead Lightning 2-1
Mr. Boffo
Scrapple



Since: 24.3.02
From: Oshkosh, WI

Since last post: 132 days
Last activity: 93 days

#11 Posted on 1.5.03 2156.52 | Instant Rating: 2.44
Well, I'm go to against the grain here and say it's a FACT. Listen to you people. "Just have him beat random people for a few weeks..." The whole point in bringing established stars into your promtion is that they're ESTABLISHED. If you need to build them up for them to be any good, that's a failure. Could have just built up someone in the company and saved a $#itload of money.


---

NOTE: The above post makes no sense. We apologize for the inconvenience.