It's False
Scrapple



Since: 20.6.02
From: I am the Tag Team Champions!

Since last post: 8 hours
Last activity: 19 min.

#1 Posted on | Instant Rating: 6.37
Q'n'D

-(PRE-SHOW) The Miz d. Cody Rhodes with the shitty figure-4.
-Chris Jericho d. Fandango with the Codebreaker.
-Dean Ambrose d. Kofi Kingston with the Bulldog Driver to win the United States Championship.
-Sheamus d. Mark Henry in a Strap Match after a Brogue Kick.
-Alberto Del Rio d. Jack Swagger with the jujigatame after a whole lot of nonsense.
-The Shield (Seth Rollins & Roman Reigns) d. Team Hell No after a Torture Rack/Curb Stomp combo to win the WWE Tag Team Championships.
-Randy Orton d. The Big Show in an Extreme Rules match after the punt to the head.
-John Cena v. Ryback in a Last Man Standing match ended in a draw after Ryback drove Cena through the lighting at the top of the ramp. Neither man could continue.
-Brock Lesnar d. Triple H with the F5 in a Steel Cage Match.

-------------------------

I ranted on Monday's Raw thread that this company has me at the breaking point again, where there's just nothing to get excited about anymore and it's the exact same cast of characters (#1 babyface John Cena, midcard paper champion Kofi Kingston, etc.) or the exact same archetypes on the same dull and boring shows with no chance of any sort of change on the horizon. But I'm still here for Extreme Rules, because this PPV is normally the one that exceeds all expectations and winds up being the best of the year. Ironically, that means this show now HAS expectations to be really good, even if the card (on paper) doesn't look like it'll own up to them. Either way, at the end of this recap, we'll see if I can muster the energy to keep going or if I opt to walk away for another couple of months.

Let's start with the pre-show!

CODY RHODES v. THE MIZ
Big pop for The Miz, because this crowd's just happy to see ANYONE after 20 minutes of recaps! Yeah, that's right, so there's only about 10 minutes left until showtime, so don't expect this one to last long.

Miz kicks Rhodes around to start, but Rhodes hot shots him to take control. Front suplex gets 2. Cody shows a "mean streak" as he works his standard heel offense. I'd be a lot more excited about Cody if his stock hadn't dropped so drastically in the last six months. How about an armbar, just to REALLY get me in the mood? Miz and Cody exchange reversals, ending with a Cody clothesline for 2. How about a body scissors? Whoever's announcing this thing (Not Scott Stanford) talks about Miz's figure-4 and even Josh Matthews starts talking about how shitty Miz's version of the move is. THAT'S A SHOOT, BROTHER! Cody comes off the second-rope with a seated dropkick, but Miz catches him and finishes with the shitty figure-4 in about 5 minutes.

WINNER: The Miz - Not an entirely terrible match, thanks to some good chemistry between the two.

Now let's move on to the show proper!

WWE - (The same old shit) Then, Now, Forever

Here's the opening video package, hyping Cena/Ryback and Triple H/Lesnar.

Opening pyro! We are live from St. Louis, MO!

CHRIS JERICHO v. FANDANGO (w/SUMMER RAE)
I was about to say that I wouldn't have picked this one to open the show until I realized that there's nothing else on the card that would have fit in the opening match slot, anyway. We look back at their feud to this point, including that abysmal dance off last Monday that made me wonder what I'm doing with my Monday nights. Your hosts are Michael Cole, Jerry Lawler, and JBL.

Fandango prances around to start. We get the opening lock-up, as Fandango grabs an EXTREME headlock! Jericho hits a dropkick and a back elbow. Fandango bails and walks around the ring. Jericho chases him back in and hits another back elbow. Baseball slide sends Fandango out again. Top-rope crossbody to the outside hits. Fandango stomps away to take control, but here's Jericho with kicks to send Fandango out again. Jericho's corner charge eats boot for 2. Fandango chokes away on the ropes and slips out to kick Jericho in the face for 2. Time to hit the chinlock. Fandango dances some more before hitting a slingshot legdrop for 2. Another chinlock! Jericho counters with a back suplex. Jericho makes the babyface comeback. Walls of Jericho attempt fails. Jericho hits a top-rope crossbody, but Fandango rolls through for 2! Kick to the face gets 2 for Fandango. Fandango goes to the mounted punches and kicks Jericho in the head. Fandango wants to finish with the guillotine legdrop, but it misses. Lionsault hits! It gets 2! Oh, come on! Don't kill one of his finishers for FANDANGO! Jericho chops away, but Fandango tries to roll him up out of the corner. Jericho turns that into the Walls of Jericho, but Fandango reaches the ropes. Fandango hits a really ugly enziguiri. The guy looks GASSED! Fandango comes off the top rope and JERICHO CATCHES HIM WITH THE CODEBREAKER! And that'll do it at about 15 minutes.

WINNER: Chris Jericho - Not the best opener, but Jericho's Codebreaker nearly redeems the whole thing.

Josh Matthews is backstage with Sheamus. Sheamus talks about the strap match and says nothing of importance.

Let's look back at Raw, where John Cena beat all three members of The Shield by himself, which no matter how you slice it, is STILL A THING THAT HAPPENED! We then see Ryback destroy Cena's Achilles, which is going to make him look that much more ridiculous when he loses tonight.

KOFI KINGSTON v. DEAN AMBROSE: UNITED STATES CHAMPIONSHIP MATCH
Ambrose comes out with Rollins and Reigns, but the latter two decide to go to the backstage area on their own.

We start with a wrestling sequence, which Ambrose wins, pretty impressively. Kofi takes control with a monkey flip and the ten-count corner punches. Ambrose comes back with a clothesline and gives us his wacky facials. Ambrose ties Kofi up in the ropes and nails him with a running seated dropkick for 2. Ambrose hits a CROSS-FACE CHICKEN WING! WOW! Kofi drives Ambrose into the turnbuckle. Kofi makes the babyface comeback. Buzzsaw Legdrop hits! BOOM BOOM! Ambrose actually NOTICES KOFI SETTING THIS UP and knows to avoid Trouble In Paradise, but can't avoid the S.O.S., which gets 2. Kofi cilmbs up, but gets caught. Kofi shoves out of a superplex attempt, but gets crotched. BUTTERFLY SUPERPLEX hits and gets 2! Top-rope crossbody gets 2 for Kofi! Ambrose charges in, but gets lifted to the apron. Kofi wipes out Ambrose with Trouble In Paradise, which sends Ambrose to the outside. Kofi chases after him LIKE AN IDIOT and rolls him back in, allowing Ambrose to grab the ropes to break the pin. Ambrose rolls up Kofi for 2. Kofi misses Trouble In Paradise and Ambrose finishes with the Bulldog Driver for the pin and the title.

WINNER AND NEW CHAMPION: Dean Ambrose - Ambrose showed a lot of great stuff, while Kofi made himself look like a dope. Good match!

Post-match, Rollins and Reigns celebrate with Ambrose.

We look back at the feud between Sheamus and Mark Henry. If went into this PPV blind, you'd never know that Sheamus was supposed to be the babyface.

"THE WORLD'S STRONGEST MAN" MARK HENRY v. "THE CELTIC WARRIOR" SHEAMUS: STRAP MATCH
Each corner actually has red and green lights to indicate when they've been touched, in a nice modern touch.

Henry tosses the strap to Sheamus, who kicks it away. The ref ties the strap to both men's wrists. Sheamus starts slapping Henry around with the strap, so Henry steps on it. Sheamus simply pulls the strap and sends Henry crashing down, as we're approaching Looney Tunes territory here. Sheamus takes Henry down with the strap and stomps away. He can't touch the corners before Henry wipes him out with a clothesline. Henry ties up Sheamus and starts dragging him around. Sheamus gets loose and rolls to the apron. Henry clotheslines Sheamus to the outside. Henry works over Sheamus and decides to use the strap to whip his hide. Henry scoops Sheamus up and starts carrying Sheamus around. Sheamus tries to do that old sucker finish of tapping the corners without Henry looking and Henry NOTICES THE LIGHTS COME ON FOR SHEAMUS and stops! That's a GREAT modern touch to this match! Sheamus crotches Henry with the strap and starts dropping knees. Now Sheamus starts whipping Henry. Sheamus reaches three lights, but Henry hits a spinebuster. The fight spills to the outside and Sheamus pulls Henry into the steel post. Both men come back in and Sheamus starts slapping corners. Henry's on his feet and Sheamus can't dive past him. World's Strongest Slam is countered with the Brogue Kick and Sheamus slaps the fourth corner for the win.

WINNER: Sheamus - Some nice new touches to the strap match this time around made it a lot more fun and watchable. Good stuff.

Backstage, AJ's on the phone with Dolph Ziggler, but is interrupted by Kaitlyn. Kaitlyn mocks AJ backing out of their title match, so AJ brings up Kaitlyn's admirer. Kaitlyn calls AJ "Looney Tunes". Oh no, she didn't! AJ calls Kaitlyn a pig, so Kaitlyn attacks her from behind, clearly making her the babyface.

Here's a look back at Jack Swagger giving Dolph Ziggler a concussion, which should be the final nail in Swagger's coffin. "Should be" being the key words.

"A REAL AMERICAN" JACK SWAGGER (w/ZEB COLTER) v. ALBERTO DEL RIO (w/RICARDO RODRIGUEZ): I QUIT MATCH
Colter cuts a promo and actually touches on the IRS scandal. Holy crap, something TOPICAL from this writing team! Too bad I couldn't give a shit about any of it. And the promo just keeps going, as Colter raves about the Carribean players on the Cardinals and rambles on about God-knows-what-else. Lillian Garcia introduces Ricardo in Spanish, which I think is a new touch.

Del Rio takes it to Swagger early and sends him out. He follows with a suicide dive and starts looking for PLUNDAH! He finds a Kendo stick and misses poorly, leading to a belly-to-belly suplex on the floor. The ref asks Del Rio if he wants to quit. Swagger rakes Del Rio across the barricade and the ref asks again. Swagger gets thrown into the steel steps and asks again. Ok, that's getting annoying. Back in the ring, Swagger bashes Del Rio good with the Kendo stick. Now we get the steel post bow-and-arrow. Swagger beats him some more. SHUT UP, REF! Swagger ties Del Rio up in the ropes and starts whacking him with the cane. WILL SOMEBODY TAKE THAT GODDAMN MIC AWAY? Del Rio ties up Swagger on the ropes and the ref asks again. Swagger simply takes the mic and bops Del Rio! Thank you! Del Rio quickly makes the babyface comeback. Del Rio starts whacking Swagger with the cane. Ref asks again. Swagger says no, Del Rio hits the backcracker. Jujigatame is countered with a belly-to-belly suplex. Running Vaderbomb hits. Swaggerbomb hits! Second Swaggerbomb hits. Swagger moves in, but Del Rio grabs the jujigatame! Swagger counters with the Patriot Lock! Swagger grabs the heel hook (but not the Unbreakable Heel Hook, because only Kurt Angle has that kind of power). Del Rio won't quit and Ricardo teases throwing in the towel. Colter chases off Ricardo and grabs the towel, throwing it in himself. The ref sees it and awards the match to Swagger.

WINNER: Jack Swagger - What a fucking terrible finish!

Oh, but wait, a second ref runs in. And we have a Dusty Finish, because THAT'S what this match needed! Oh, wait, the ref consults INSTANT REPLAY! Dear God. The ref restarts the match.

Swagger charges in and works over the ankle. Del Rio fights Swagger off and kicks him WITH THE BAD LEG! Jujigatame is clamped on. Swagger tries to roll through, but Del Rio grabs it again. Swagger quits.

WINNER: Alberto Del Rio - Well, that's going to go down as one of the worst I Quit matches I've ever seen. And that should hopefully spell the end of Jack Swagger's push for good.

Don't try (recapping) this at home!

Josh Matthews talks to Ryback. Ryback calls John Cena a LIAR! He says that he won't let Cena get up. Ryback roolz!

TEAM HELL NO v. THE SHIELD: WWE TAG TEAM CHAMPIONSHIP TORNADO MATCH
The champs outmaneuver the Shield guys to start. We get the surfboard/seated dropkick combo. Anarchy continues to reign, as the Shield gets control. The Shield wants a double powerbomb on Bryan, but Bryan counters with the 'rana. Kane grabs a DOUBLE GOOZLE and shoves the Shield out. Bryan wipes them out with a suicide dive. And we take a commercial break! Oh wait, I'm sorry, I'm just so used to that from Raw. More double-teaming from the champs, including a nifty side slam/running elbow combo. Top-rope clothesline from Kane hits! Diving headbutt from Bryan hits! Rollins gets disposed of before Bryan's sunset flip is countered. Bryan grabs the No Lock on Reigns. Rollins breaks it! Rollins eats a chokeslam, but Reigns spears Kane! Reigns is the first one up and works over Bryan. "YOU TRY TO BREAK MY ARM! I'M GONNA BREAK YOUR FACE!" Kane and Reigns go at it and Reigns sends Kane into Bryan. Kane grabs the GOOZLE, but Rollins comes in with the top-rope curb stomp! Reigns spears Kane again, but Bryan saves! No kicks for Reigns! Reigns tries to roll him up, but Bryan grabs the No Lock! Reigns turns that into a catapult right into a Rollins enziguiri! Reigns grabs a Torture Rack on Bryan and ROLLINS CURB STOMPS HIM OFF THE TORTURE RACK! And you can bet your ass that'll do it!

WINNERS AND NEW CHAMPIONS: The Shield - And just like that, The Shield are all champions. That was a great match, if only a little short.

We look back at the pre-show, where Miz beat Cody Rhodes with his abomination of a figure-4.

Renee Young talks to Wade Barrett, Titus O'Neil, and Mick Foley about what we've seen. Thanks for showing up, guys! Mick teases that Swagger and Colter will use the end of their match to start a "conspiracy theory" angle. Oh, dear God, NO!

THE BIG SHOW v. RANDY ORTON: EXTREME RULES MATCH
Orton, of course, get the big hometown pop from the St. Louis crowd.

Show tries to overpower Orton to start, but Orton outmaneuvers him. Show asserts the power advantage until Orton brings out the Kendo stick. Show takes Orton down anyway and snaps the Kendo stick across his knee. Orton crawls around and searches for PLUNDAH! He gets...another Kendo stick! Show breaks that one, too. They don't make Kendo sticks like they used to. Here's a big chop. Show scoops up Orton for the "I'm going to throw you into the steel post, but you're going to slip out and shove me into the steel post, instead" spot. And sure enough, Orton shoves Show into the steel post. Orton brings out a ladder and Show kicks it in his face. Back in the ring, Show chucks Orton into the steel post. Show chokes away. Show muscles Orton around some more, but Orton clips Show charging in. Orton hits the dropkick. That flurry doesn't last long and now Show wants the ladder. He also grabs a pair of chairs and uses them to prop up the ladder horizontally. Show hits a side slam for 2. Show puts Orton on top of the ladder in a move that surely won't backfire for Big Show at all. Show wants the Vaderbomb. It misses. Orton covers for 2. Orton hits the Hanging DDT off the top-rope. VIPER COIL! RKO hits! IT GETS 2! Show takes a breather, as Orton searches for more PLUNDAH! He gets a chair. Orton starts whacking Show with the chair. Orton charges in with the chair and eats a spear. Show wants to pick up the chair, but Orton swoops in and hits the RKO on the chair! No pin, as Orton wants more. He's going to opt for the PUNT OF PLOT CONVENIENCE! And he nails it for the pin.

WINNER: Randy Orton - Very good match, but these guys have been so stuck on that treadmill to nowhere that I couldn't get excited about it.

Post-match, Show gets helped out by a ref, but walks out on his own, so it doesn't look like the punt's leading to a vacation or anything.

We recap the Cena/Ryback feud? Oh, come on! Triple H is closing the show? Seriously? Did we suddenly timewarp to 2003 or something?

RYBACK v. JOHN CENA: WWE CHAMPIONSHIP LAST MAN STANDING MATCH
Cena comes out with the ankle taped up, but of course, he still runs around the ring like a jackass, because selling an injury is for suckers. Justin Roberts gives us the championship intros.

Ryback overpowers Cena to start. Cena tries for a headlock, but gets muscled around again. Crowd is so impressed that they chant "Goldberg." Cena comes back with a shoulderblock and bulldog, but Ryback no-sells it and hits a clothesline. Cena tries to come off the second-rope, but gets caught with a powerslam. Ryback continues to power Cena around, as we see how this match is going to play out -- Ryback pulls off a move, we lay around until the 9 count, later, rinse, repeat. Ryback picks Cena up and powerbombs him. Cena grabs a table and sets it up in the corner. Cena wants the AA, but it's countered with a muscle buster! Cena tries for The Usual, but Ryback catches him with a fallaway slam through the table, in a cruel twist of irony. Ryback misses a corner charge and goes right back to The Usual. Give Cena this, he'll give you the Exact Same Shit, no matter how much you try and stop him. Ryback counters the AA with a spear. Cena answers the count at 8. Ryback's powerbomb is countered with a Cena powerbomb! Ryback answers at 6, as Cena jumps into Ryback's arms in a very homoerotic manner. Ryback doesn't swing that way, so he drops Cena. KNOCK THE PISS OUT OF YOU! lariat hits! Cena answers at 8. Second lariat is countered with the shitty STF. Ryback starts to pass out (probably from boredom) and the ref starts his count. Cena slides in another table and sets it up. Ryback hits...something...and calls for the Shell Shock. Cena counters with the AA through the table. Ryback answers at 9, though! Cena climbs up, but gets caught! SHELL SHOCK HITS and NOBODY in the crowd is buying this as the finish! Oh lord. Cena answers at 9. Now Ryback wants a chair. Cena kicks the chair into Ryback's face. Cena spears Ryback through the timekeeper's area! Both men are up and we've spilled into the crowd. Ryback bashes Cena against the production area. We get dueling chants for the first time tonight. Ryback grabs a piece of the production area and bops Cena with it! Cena answers at 9. Cena grabs the Sleeper Hold, as Ryback walks him towards the ramp. Ryback goes down, but answers at 8. Cena puts Ryback on a table and climbs into the stands. ELBOW FROM THE STANDS THROUGH THE TABLE! Ryback answers at 8. Cena grabs a fire extinguisher and starts spraying, as we move to the top of the ramp. Cena bashes Ryback with the fire extinguisher! Ryback answers the count again. Cena tries for the AA, but Ryback picks up Cena and DRIVES HIM THROUGH THE SET!!! Electrical sparks fly and we've lost them both! Aaaaaaaaaaand..........that's it?

WINNER: Draw - Oh man, that was really good (SO much better than a Ryback match had any right to be) and then that ending happened. What a lousy ending to a great match!

Post-match, paramedics load Cena onto a stretcher. Ryback's getting helped up. So...if Ryback's on his feet...that should mean he wins, right? No? We're not touching that one? Ok, then. Crowd is so enthralled by all of this that they chant "Bullshit!" Great job, guys! Then the crowd chants "Foley," because Mick's pulled off better bumps than this in his sleep. Announcers use their hushed voices, just to really insult everyone's intelligence.

WWE Payback promo

Your hosts are Michael Cole, Jerry Lawler, and JBL. They talk about the horrible, HORRIBLE injuries sustained to John Cena and Ryback! Uh-huh. Whatever.

So that was a great PPV, guys. I guess we can move to the Final Thought and call it a night...

Oh wait, there's still one more match, isn't there?

Triple H/Brock Lesnar video package.

BROCK LESNAR (w/PAUL HEYMAN) v. TRIPLE H: STEEL CAGE MATCH
H foregoes his entrance and wastes no time attacking Brock, tossing him around the cage. Spinebuster hits. Pedigree is countered with a backdrop into the cage. Brock starts working over H and tosses him around repeatedly. H counters another toss and hits right hands. Here's a knee to the face. Brock comes back with a German suplex. Brock drives H into the cage again. Ok, we've established the cage as a weapon. How about something else? Brock tries a running knee, but eats cage. H goes up top, but gets caught with a running powerslam. Brock's holding his knee and yells to Heyman about it. H starts targetting the knee, but the whip doesn't work. H still manages to hit a knee smash. Pedigree is countered with the Kimura! H works the knee to break the hold, but runs into a clothesline. Brock is actively screaming in pain. Brock tries to walk out of the cage, but H clips him. More screaming from Brock. H tries to leave the cage, but Heyman slams the door in his face. F5 hits! IT GETS 2! Brock asks for a chair. This isn't going to backfire, I'm sure. Brock whacks H with the chair. Brock wants the F5 again, but his knee gives out. They're totally working a Triple H-style of match and this crowd is just dead, as a result. H grabs the chair and starts whacking Brock in the knee. More focus on the knee, as Heyman's begging from the outside. H puts Brock on the turnbuckle, but Brock grabs the Kimura! H breaks it and Brock screams in pain. Here's a figure-4 from H. They're just MURDERING any mystique that Brock might have had left. I'm absolutely flabbergasted. Brock grabs the ropes, but that doesn't matter in this match. Brock reverses the hold. This crowd is comatose. I seriously can't believe this. Brock tries to climb out, because that's the best thing to do on a bad knee, of course. H grabs the chair and whacks the knee, which gets Brock screaming again. Remember a year ago when Brock was beating John Cena within an inch of his life? You know, back when he looked like a badass and wasn't screaming like a girl for half the match? H grabs a camoflauge sledgehammer (for the love of...), but Brock counters. Brock grabs the sledgehammer, but H counters with...the Sharpshooter. Oh, fuck off. Heyman runs in and eats a Pedigree, because of course he does. Brock tries to come in with a sledgehammer, but H hits the Pedigree. It gets 2! COME ON! END THIS FUCKING MATCH, ALREADY! H grabs the sledgehammer, but Heyman hits H with the Greco-Roman Nutshot. Brock grabs the sledgehammer and he looks like he's ready to finish this. Sledgehammer hits! Brock gives a primal scream. F5 is academic and that'll do it.

WINNER: Brock Lesnar - And Brock wins...after Triple H was on offense for pretty much the entirety of the match and only after Triple H had Brock screaming like a girl for 90% of it. Oh, and thanks to Heyman-ference, of course. Again, what is the point of bringing in the Ultimate UFC Badass if they're just going to wind up working a WWE-style match anyway? On top of that, if you have a monster on your hands, TREAT HIM LIKE A FUCKING MONSTER! Don't have him scream like a woman for the whole match and then only have him win on a screwjob! Hopefully, that means we're done with this feud, once and for all.

Brock spits towards the ring.

Renee Young hypes the post-game show.

Officials help Triple H to his feet, as we see more replays. And AGAIN, they're trying to shoot for the Triple H sympathy pop and, once again, it ain't coming, folks! Hit Triple H's music, because they're all out of ideas! Closing credits are up and we're out!

FINAL THOUGHT

Man, I was so ready to give this show the thumbs up, because it turned out to be a lot better than the card might have suggested. But the WWE title match's ending and the Brock/HHH garbage left such a sour taste in my mouth.

Still, I'll lean them up anyway, based on the Shield matches, the Orton/Show match, and Ryback/Cena (before the ending). I'll catch tomorrow night's Raw, just to see where they take things next.

(edited by It's False on 19.5.13 2020)
---
Promote this thread!
Tyler Durden
Landjager



Since: 22.2.04
From: Frankfurt, Germany

Since last post: 104 days
Last activity: 1 day

#2 Posted on | Instant Rating: 3.61
So, I didn't miss anything good? Cool! #wweisboring


---

#WatchROH
CruelAngel777
Landjager



Since: 7.4.02

Since last post: 18 hours
Last activity: 18 hours

#3 Posted on | Instant Rating: 4.59
Not a whole lot of Weiners watched huh? Not surprised. I was happy for The Shield as they became multi-champions and had two of the best matches of the night. Kofi is a big dummy, and it was nice to see Bryan mix it up with Rollins. I don't know if those two ever wrestled in the indies, but I look forward to many more matches between those two.

WWE needs to put a handle on the amount of Superstars using a spear maneuver. Kaitlyn (if she had a match last night), Roman Reigns, Big Show, and The Ryberg all use(d) Spears last night. I'd really like it if only Roman used it because his actually looks consistently devastating. He even yells as he does it like a Dothraki veteran.

#dothrakispear


---

I believe in The Shield....
SchippeWreck
Banger



Since: 26.3.03
From: Glendale, CA

Since last post: 15 hours
Last activity: 14 hours

#4 Posted on | Instant Rating: 7.84
Originally posted by CruelAngel777

---

...it was nice to see Bryan mix it up with Rollins. I don't know if those two ever wrestled in the indies, but I look forward to many more matches between those two.

---

Yes! (youtube.com)


---

"It's magic! We don't need to explain it!"
JustinShapiro
Scrapple
Moderator




Since: 12.12.01
From: Pittsburgh, PA

Since last post: 14 hours
Last activity: 2 hours

#5 Posted on | Instant Rating: 8.79
The concession for Lesnar getting to read Triple H his last rites is that Triple H mopped the cage with him. I mean, it's only fair; it's the only believable way the Ass Kicker could ever lose a best of 3. Oh well. At least HHH is dead and this feud is over. Also, an all-time great moment when Heyman lowblowed Hunter and Brock went, "That's my manager!
" with great pride and affection.

Best Ryback match ever by a huge margin. Between this and the Smackdown match he had with Jericho, it seems like his in-ring, at least, will work out a lot better as a monster heel. Bottom line is if it's John Cena in a PPV main event gimmick match against anyone who's not the Big Show, he's going to have a great match. John Cena ... is great at wrestling.

Orton and Big Show put on a show for St. Louis.

Shield matches were good, but hopefully they get to do the rematch clauses with twice as much time on Main Event.


Originally posted by It's False

---

Lionsault hits! It gets 2! Oh, come on! Don't kill one of his finishers for FANDANGO!

---


Who's the last guy Jericho beat with a lionsault? Val Venis? Alex Wright?
PowerPB13
Frankfurter



Since: 25.4.02
From: Belleville, IL USA

Since last post: 3 days
Last activity: 3 days


AIM:
#6 Posted on | Instant Rating: 2.00
It's more of a surprise when the Lionsault DOES end a match. See also: Kurt Angle's Olympic Slam, any finisher on John Cena.


---

-PB
Then: http://www.nwwwo.com/
Now: http://www.facebook.com/patrickab7
InVerse
Andouille



Since: 26.8.02

Since last post: 19 hours
Last activity: 8 hours

#7 Posted on | Instant Rating: 3.73
Originally posted by CruelAngel777

---

I'd really like it if only Roman used it because his actually looks consistently devastating.

---


I don't dispute your point that the spear was overused. I don't even dispute that Roman Reigns has a great looking spear. But Reigns, Ryback, Big Show, Edge and Goldberg combined will never touch this:






dMp
Banger



Since: 4.1.02
From: The Hague, Netherlands (Europe)

Since last post: 1 hour
Last activity: 1 hour

#8 Posted on | Instant Rating: 7.88
I thought it was a solid ppv.
Cena-Ryback managed to stay away from the lame finishes we've seen in recent LMS matches (like using tape to keep 'em down) and the final few minutes were a nice brawl.

HHH-Brock, I didn't notice the screaming that some others mentioned. I thought it was a match where Lesnar showed that he can take it all and then return it. The reversed of his Cena match last year. Oh and Heyman's nutshot followed by Brock's reaction were brilliant.

Obviously we all knew the Shield would win their matches and I thought they were good ones.

Orton-Show was a good match, I feared the worst for this one.
Del Rio-Swagger was alright, but definitely lost momentum because of the finish-shenanigans.
The strap/4 corners match. Meh. Didn't care for that one.
Jericho-Fandango was a better match than at WM and I liked it.


Cerebus
Scrapple



Since: 17.11.02

Since last post: 8 hours
Last activity: 8 hours

#9 Posted on | Instant Rating: 1.41
I actually thought this was Brock's best match since returning. His acting and selling were superb here. For some reason, it reminded me of Rocky IV but with Ludmilla/Heyman cheating to give Drago/Lesner the win.

The tag match was my second favorite match followed by Big Show/Orton which was much better than I expected. Mark Henry was robbed and should have killed Sheamus dead after that loss.

Overall, the show was enjoyable but the expectation for it was pretty low to begin with.


---

Forget it Josh... it's Cerebustown.
John Orquiola
Scrapple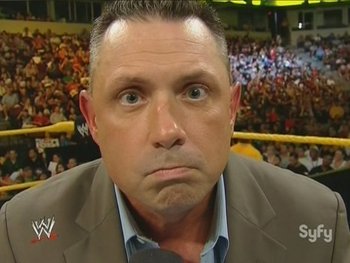 Since: 28.2.02
From: Boston

Since last post: 398 days
Last activity: 398 days

#10 Posted on | Instant Rating: 6.45
Brock was hilarious. Heyman was hilarious. I don't know if I've ever been more entertained by a Brock Lesnar match. I could listen to Heyman and Brock jabber at each other all day.

"PAUL! MY KNEE! IT'S BAD, PAUL!"
"WALK IT OFF! LET'S GET OUT OF HERE!"
"OHHH! MY KNEE! I CAN'T, PAUL! OH, IT'S BAD!"

"WHAT DO YOU WANNA DO?"
"GET ME A CHAIR!"
"GOT IT!"
"OH NO! BROCK! HE HAS THE CHAIR!"

"TURN IT OVER! YOU HAVE TO TURN IT OVER! OH MY GOD! BREAK THE HOLD! BREAK THE HOLD!"

And as Justin mentioned, the best Bugs Bunny moment of all:

"THAT'S MY MANAGER!"

Plus all the smiling and heeling it up. Brock is awesome.



---

"Cody, I mustache you a question." - The Miz