The Dames
Longanisa



Since: 9.7.03

Since last post: 5222 days
Last activity: 5213 days

#1 Posted on | Instant Rating: 5.71
The Dames' Diatribe on The Ultimate Ric Flair Collection DVD Set (Disc 1)



Ric Flair.

His name is renowned throughout the wrestling world as one of the greatest North American wrestlers of all time.

He is on practically every wrestling related Top 10 list, has been one of the most influential workers ever and yet still continues to entertain wrestling audiences around with the world weekly on Monday nights. Although he's gone through a myriad of battles with promoters and bookers in the past, his talent and charisma have always allowed him to land on his feet somehow.

Throughout his illustrious career, Ric Flair has been involved in many memorable angles, countless excellent matches and tons of enthusiastic and sometimes heartfelt interviews. This past November, World Wrestling Entertainment released a 3-Disc DVD set called The Ultimate Ric Flair Collection, compiling just some of these angles, matches and interviews. It quickly became the fastest selling wrestling DVD of all time, and with the holidays just passed, it is no question that many wrestling fans are ecstatic about this 3 DVD set.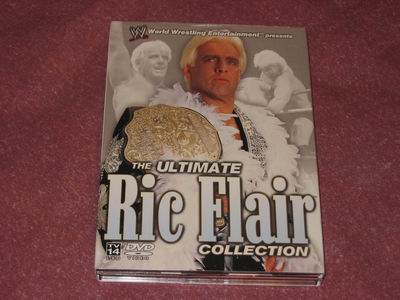 Therefore, since there isn't an in depth review of the DVD on the net so far as of yet, I've decided to take the time out to write one up. Some of the extras are a bit scattered around, so to try and maximize your enjoyment if you happen to be watching this for the first time, I'm going to review this the way I feel the DVD should be watched. Each disc has a "Play" and "Chapters" selection on the main menu, but simply selecting "Play" will only play the main feature and the matches. I don't recommend this because the extras really add a lot of insight as to why the matches are taking place and they allow you to become more emotionally invested in what is going on. I would recommend clicking on the "Chapters" section of each disc and going from there.

Each disc is divided into chapters and every chapter has a main feature, matches and extras that are specific to a certain topic. To try and spread it all out, this will be a review on the first disc, with disc 2 and disc 3 to come in the following weeks.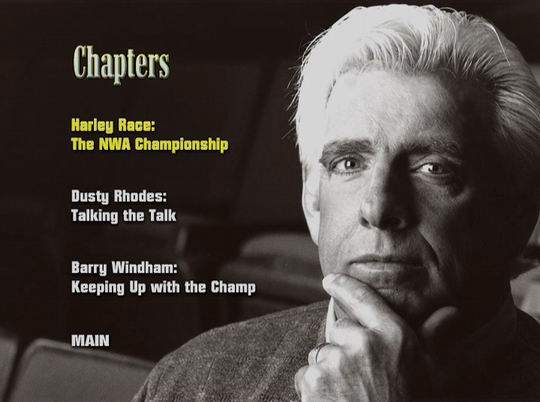 Going in chronological order, we start out with:

Disc 1 – The Early Years.

Chapter: Harley Race: The NWA Championship

In the main feature, called Harley Race: The NWA Championship, it starts out with footage from September 1981 of former Mid-Atlantic Championship Wrestling announcer Bob Caudle and Jim Crockett announcing to the world that Ric Flair is the new World Heavyweight Champion. Flair is then shown brandishing the NWA Title (the same style and look of NWA:TNA's current World Title) before going into thoughts from Ric Flair himself. Flair states that winning the NWA World Title was the greatest moment of his life at that point as it was considered to be more prestigious than the AWA Title and the WWWF Title then because of the fact that they actually did travel around the world and across the states for title defenses. Considering the fact that between 1974 and 1980, the NWA Title changed hands in Japan six times, this would appear to be true and not just hyperbole. (Credit: www.nwawrestling.com)

Footage is now shown of a match between Harley Race and Ric Flair from June 10th, 1983 in Race's home state of Missouri. The finish of the match is Flair floating over a Race vertical suplex and hitting a back suplex as the ref counts both men's shoulders down. Race gets a shoulder up at the last second and the match is over. Flair believes that he has won the match, but the referee informs him that he has not and in fact, Race is now the World Champion for an unprecedented seventh time.

As footage of Race with the NWA Title is shown, Flair states that he believes Harley Race is probably the toughest man he's ever been in the ring with.

A press conference by the NWA Board of Directors is shown, announcing a rematch between Harley Race & Ric Flair for the NWA World Title. More on this in the extras section. This match is to take place at the first ever Starrcade in 1983 in Flair's home state of North Carolina.

Footage of the entrance and the post match celebration is shown (ruining the ending, although since it's a Flair compilation, you won't see too many losses) before we head into the actual match itself, Harley Race vs. Ric Flair at Starrcade '83.

Before we get into the match, it's time to watch the extras and the build up for the match.

The $25,000 Bounty – Harley Race cuts a short promo, putting out a $25,000 bounty for whomever can "eliminate Ric Flair from wrestling". This is a great, great promo for several reasons. First off, his growing intensity is excellent, starting off relatively calm and collected, but ending the promo practically begging anyone to collect the bounty with his trademark raspy voice at a fever pitch. "TAKE THE DAMN MONEY!" He puts over several wrestlers in the promotion who he feels are up to the task, including Jack Brisco. "You were World's Champion! You took the belt from ME! You're the man, you can do it!" It's very rare that you see someone put over a competitor in that respect. And last but not least, it makes Ric Flair seem like a viable threat and puts him over big time since Race seems desperate to get rid of him for good.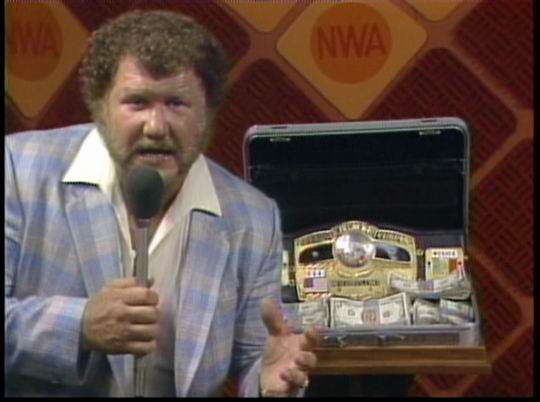 Sidenote: If this angle sounds familiar, it should. Triple H, trying to model his career after Flair's, recently put out a $100,000 bounty on Bill Goldberg on an edition of Raw, although the promo wasn't nearly as effective. Race showed desperation and despair with his promo, while Triple H's promo was full of cockiness, failing to put over Goldberg with the promo or anyone else for that matter. Although this is a minor issue, the fact that the money, held in Race's briefcase, was crumpled up and seemed used gave it more of a realistic feel.

Orton & Slater collect – August 31st, 1983.

A rematch between Ric Flair and Harley Race is shown. Race misses a 2nd rope headbutt and Flair tries to capitalize by hooking on the Figure Four. The crowd pops big time, but it's short lived as Dirty Dick Slater heads towards the ringside area, obviously looking to collect the bounty. Flair fights him off on the apron and goes back to Race, taking him to school with the Figure Four. Babyface Bob Orton comes into the ring to ward off Dick Slater, who is getting up…but Orton attacks Flair instead, turning heel. Orton and Slater comes in to work over Flair and they hit him with a Spike Piledriver. Orton then sits Flair up and twists his head viciously, which Flair sells like absolute DEATH. Race points and laughs at Flair until of all people, Roddy Piper comes running into the ring to check on Flair. The crowd goes NUTS for Roddy as the heels nonchalantly walk away, proud of what they've accomplished.

After a commercial break, medical personnel are taking Flair out of the ring with a stretcher. In the locker room area, Race gladly splits the money with Bob Orton and Dick Slater as Jim Crockett admonishes them for their actions. Race obviously doesn't care and brags about the cash as this segment comes to a close.

Once again, this is a great angle as kayfabe was alive and well in this era, causing the fans to just HATE Bob Orton and Dick Slater for their treachery. Mid Atlantic promotions capitalized on this sea of heel heat that they stumbled upon and made Orton and Slater a tag team. Race came across like he should have, the heel mastermind who just paid to have Flair taken out with a smile on his face. There isn't a man involved here who didn't get over in some way.

Ric Announces Retirement – Once again, the fans still weren't clued into the fact that wrestling wasn't exactly a legitimate athletic competition and bought this hook line and sinker. Flair is shown sitting on a desk alone, with a microphone in hand and tells everyone that because of the injury to his neck, he's retiring from the "sport of professional wrestling". He says that he's become NWA World Champion once, which is more than most people ever accomplish (again, putting over the NWA Title), so right now, he's more concerned about his health. He says that he can't thank the fans enough for their support throughout his career and signs off. Once again…this really puts over Orton and Slater's attack.

"It's Only Just Begun!" – September 21, 1983.

Orton and Slater are in a tag team match, when all of a sudden, the fans (mostly female) go into a FRENZY as Ric Flair power walks down to ringside with a neck brace on and a baseball bat in his hand. He charges at Orton, swinging wildly and the heels run away as fast as they can with Flair giving pursuit. Orton gets away, so Flair goes after Slater who uses a chair to try and shield himself as he runs away as well.

Flair gets on the interview stage (Mid Atlantic had an interview station set up near the ring) and is interviewed by Bob Caudle. Flair gets INTENSE as he begins hollering and yelling about Orton and Slater making sure the world knew they were responsible for Flair's retirement. Flair starts ripping his shirt off, along with his neck brace as he tells the World that he is not done. "Orton and Slater! You'll go to your GRAVES because of me!" Flair grabs the baseball bat and proclaims "This is my tag partner now!" He makes sure to bring the point back to Race, letting him know that he'll have his revenge by taking his title away.

This angle is about 95 different ways of awesomeness. If you look at the dates, it's 3 weeks or so since the attack from Orton and Slater, which is a hell of a lot more believable than Kurt Angle getting piledriven on the floor by Austin, only to come back the same night at the end of the show (Smackdown 2001). The fans were in an absolute frenzy and if Flair wasn't the top babyface in the company by this point, this sure put him over the top.

NWA Press Conference – October 12, 1983

This is the entire Press Conference held by the NWA to decide where the Harley Race/Ric Flair World Title match would be.

What is extremely refreshing as I watch this old footage is the fact that this is all treated as an important press conference for a legitimate sporting event. The NWA reporters (including legendary announcer Gordon Solie) act like news reporters and the President of the NWA reads a statement concerning the announcement. The announcement was not IF the match would take place, but where as many promoters from various NWA Territories were vying for the match.

Jim Crockett Promotions wins out, of course and he's given some mic time to announce that it will be held in Greensboro, North Carolina. In order to promote it as the "Match of the Decade" the event will be called Starrcade, to be held on Thanksgiving night in 1983. The match will be contested inside a Steel Cage (presumably to keep Dick Slater and Bob Orton out – once again, the stipulation has a purpose as does almost everything in the old school NWA).

After the conference is over, Harley Race gives his thoughts on the decision that was made. He's not happy about facing Flair in his home state, but he tells Flair to remember that he's the champion and he must be defeated. This will be no cakewalk.

A young Tony Schiavone interviews Ric Flair from his home and Flair tells Tony that he's very pleased wit the decision and he's going to call his quest for the World Title "A Flair For the Gold".

It's pretty cool if you think about it, knowing that Flair is partially responsible for the existence of Starrcade, which went on to become the NWA's (and WCW's) biggest show of the year. Also, the birth of the "Flair for the Gold" phrase came out of this, which once again is pretty cool from a nostalgic sense.

There are more extras on a second page in this chapter.

Starrcade '83 Pre-Match Interviews

Harley Race – Tony Schiavone is in the back with Harley Race as well as U.S. Champion Greg Valentine and NWA Tag Champs Jack and Jerry Brisco. He asks Race on his thoughts on the fact that he is in Greensboro, N.C. facing Ric Flair for the World Title on Thanksgiving Night. Race tells Tony that he'd never want to be in Greensboro, N.C. for any reason. He says that he's been surrounding himself with people who know Ric Flair's weaknesses and shortcomings, such as Greg Valentine (who tagged with Flair for many years in the 70's).

Ric Flair – Tony Schiavone interviews Ric Flair in his locker room, who's with Ricky Steamboat and his tag team partner Jay Youngblood (who are going to face the Brisco's for the tag straps that night). Flair lets Tony know that he is definitely ready for the main event tonight before wishing Steamboat and Youngblood luck in their tag match.

Race, Bob Orton, Jr. & Dick Slater – Schiavone catches up with the Champion and his cohorts later on that night. Orton speaks first, stating that not only did they collect the 25 grand for taking Flair out, but they would have sent him back in if it wasn't for Wahoo McDaniel. Slater addresses Flair and lets him know that the cage might protect him from Orton and himself, but he still has to face the champion tonight. Race plainly states that he is going after Flair's neck tonight and he will eliminate him from wrestling.

Ric Flair & Wahoo McDaniel – Flair is with Wahoo McDaniel, who was injured sometime during the night by Orton & Slater. Flair lets them know that soon, they'll have to face up to it. Flair tells Race that he wants Race's best tonight. He wants him to do whatever he must in order for him not to win the World Title, because he expects nothing less from him. He then thanks Wahoo for his sacrifice and tells him that if he ever needs anything in the future, just ask. Wahoo tells Schiavone that he knows Flair is ready, since he helped train him and if he were a betting man, he'd put all his money on Flair.

Finally, the match….

Starrcade '83

Ric Flair vs. Harley Race in a Steel Cage for the World Heavyweight Title – November 24th, 1983

Match Background: The extras tell the story well enough.

The Match:

...There's miles more to go and if you'd like to finish it, check out the full article over at my site, TheSmartMarks.com. Here's a direct link to the article...

The Flair DVD Review (Part 1)

Be sure to leave me some feedback!

Dames

(edited by The Dames on 6.1.04 0745)

---

Site-Owner: TheSmartMarks.com
Promote this thread!
CANADIAN BULLDOG
Andouille



Since: 5.3.03
From: TORONTO

Since last post: 1851 days
Last activity: 1849 days


ICQ:
#2 Posted on | Instant Rating: 6.64
Great stuff as always, Dames. Helped me to fill in a few blanks about the Race match that weren't provided on the DVD. I'll have to check the rest out on your site and eagerly await the other two recaps.

Personally, I'm about two-thirds of the way through everything and can't believe how awesome the set is. I'm also impressed how organized the NWA was back then in terms of organization, feuds and continuity.


---

Cheap plugs galore!!! Here's the brand new Inside The Ropes Website!!! Check out the latest ITR right here!!!. Plus, my personal Year-End Awards right here!!!

------------------------------------------------------------
The official Inside The Ropes archive!!!
The Dames
Longanisa



Since: 9.7.03

Since last post: 5222 days
Last activity: 5213 days

#3 Posted on | Instant Rating: 5.71
My sentiments exactly on the NWA, Bulldog. I'm so disappointed in myself for not watching nearly enough of it while I was younger. All I knew back then was the WWF.

I had no idea what I was missing.

Dames


---

Site-Owner: TheSmartMarks.com
ScreamingHeadGuy
Frankfurter



Since: 1.2.02
From: Appleton, WI

Since last post: 2054 days
Last activity: 2054 days

#4 Posted on | Instant Rating: 6.54
I thought pretty much the same thing about Race's "Bounty" when I was watching it. Well, not exactly the bit about HHH failing to put others over; but I did think that Race was effectively name-dropping there.


---
Fashion Reporter Extraordinaire
Because ten billion years' time is so fragile, so ephemeral...
It arouses such a bittersweet, almost heartbreaking fondness.
Big G
Frankfurter



Since: 21.8.03
From: the people who brought you Steel Magnolias....

Since last post: 36 days
Last activity: 1 day

#5 Posted on | Instant Rating: 2.73
(deleted by Big G on 7.1.04 1921)
Big G
Frankfurter



Since: 21.8.03
From: the people who brought you Steel Magnolias....

Since last post: 36 days
Last activity: 1 day

#6 Posted on | Instant Rating: 2.73
Top Review Dames!

Any ideas about when you'll post DVD2 and 3?

Don't mean to nag, but I thoroughly enjoyed this review.

Cheers
G

EDIT: What tha? double post? Sorry all, must have double clicked submit. Left mouse button is a bit dicky. Hmm both are listed as post 118 of 119. Maybe a rogue bug? CRZ??

(edited by Big G on 7.1.04 1921)

---

Warrior Quote: "Presuming initial consensualness, where exactly do we draw the lines of our judgment pinning down the responsibility and accountability inextricably attached to each human life? "

Umm Indeed!

WOTD 16 Dec 2003