Matt Tracker
Scrapple



Since: 8.5.03
From: North Carolina

Since last post: 2 hours
Last activity: 26 min.

#1 Posted on | Instant Rating: 6.14
Well, that was pretty darn good.

Sabu vs. RVD -- RVD outwits Sabu three separate times, allowing Sabu to splat himself. He avoids a top-rope hurracanrana, a slingshot powerbomb at ringside, and a springboard DDT. That doesn't include the spot where Sabu sets RVD on the top rope and tries for a springboard move only to be beat to the punch (literally) by RVD launching himself at him. While Sabu got his licks in, RVD was in control here.

Hardyz vs. Turkay/Burke -- A virtual squash unfortunately for the latter team. Burke got in some nice moves (a hammerlock kneelift, and a VICIOUS STO), but the Hardyz regain control quickly and hit their combos for the win. MNM attack afterward. This is an instance where the beatdown should have interrupted the match and allow Turkay and Burke to maintain some dignity in their first ECW TV match.

CM Punk vs. Test -- Test dominates with strength before Punk unleashes the forearms. They fight outside twice before a double countout. More importantly, Punk played clean until the finish, which saw him clobber Test with repeated fists outside during and after the bell. He stood toe-to-toe with the much bigger man.

Big Show vs. Bobby Lashley -- Show controls for most of the match after leveling Bobby with a beefy clothesline. I love watching Show lean into those running moves. Bobby makes the comeback rather miraculously right after Show steps on him. The Personal Security deny him a pin, and a five-man beatdown ensues. Where are the faces?

You have two matches advertised for the PPV Sunday: the Chamber and Hardyz/MNM. Nothing about Thorn, Dreamer, Sandman, Striker, Dupree, or anyone else. If you watched this show, you'd think the ECW roster was made up of a dozen guys and four of those are tag teams from RAW.

(edited by Matt Tracker on 29.11.06 0634)

---

"To be the man, you gotta beat demands." -- The Lovely Mrs. Tracker

My blog will amuse. (heygregory.blogspot.com)
Promote this thread!
oldschoolhero
Knackwurst



Since: 2.1.02
From: nWo Country

Since last post: 2390 days
Last activity: 2324 days

#2 Posted on | Instant Rating: 9.00
Fuck it, get the title off of Jeff and move the Hardyz and MNM to ECW. Raw won't miss Jeff and Johnny that much, and I'm sure SmackDown will survive without its weekly Matt/Helms match-up. At least one of the brands should have a viable tag division, and I don't see why it can't be ECW.


---
To those who say people wouldn't look; they wouldn't be interested; they're too complacent, indifferent and insulated, I can only reply: There is, in one reporter's opinion, considerable evidence against that contention. But even if they are right, what have they got to lose? Because if they are right, and this instrument is good for nothing but to entertain, amuse and insulate, then the tube is flickering now and we will soon see that the whole struggle is lost. This instrument can teach, it can illuminate; yes, and it can even inspire. But it can do so only to the extent that humans are determined to use it to those ends. Otherwise it is merely wires, and lights, in a box.-Edward R. Murrow
John Orquiola
Scrapple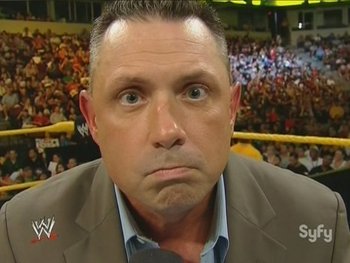 Since: 28.2.02
From: Boston

Since last post: 519 days
Last activity: 519 days

#3 Posted on | Instant Rating: 6.10
They DIDN'T EVEN TRY to announce the card for the PPV besides the two matches announced. Listen, I like Elimination Chamber matches a lot. I feel a weird bond with the match concept since I saw the first one live at MSG for Survivor Series 2002. The introduction of weapons is intriguing and I'm hoping to see Test get the crap beaten out of him. Still, it seems weird to go into a pay per view knowing only two matches announced. It would be great if they at least announced what else is booked on wwe.com this week, if indeed the undercard has been booked.

When did Sabu forget how to do an offensive move without springboarding off the second rope? I was waiting for him to springboard to apply a headlock or a collar and elbow tie up.

CM Punk couldn't have just rolled into the ring before the 10 count, get the win, AND THEN go after Test? Is it not straight edge to take a countout victory?

There is no reason on God or Vince's green Earth that MNM vs. The Hardys shouldn't be Extreme Rules. I hope that they're given the appropriate leeway anyway. A Hardys match on an ECW pay per view without at least a ladder would just be wrong.


---

Back of the Head: www.backofthehead.com
Quezzy
Knackwurst



Since: 6.1.02
From: Pittsburgh, PA

Since last post: 25 days
Last activity: 2 days

#4 Posted on | Instant Rating: 3.57
So two tag teams is a viable tag division now? TNA has a good tag division but can't do as much as they like with a one hour show. I think it'd be better to have your tag division on a two hour show and it would be easier to just move Nitro back to Smackdown and Jeff to Smackdown. Then you have MNM, Hardyz, London/Kendrick, Blue Bloods, and those guys Michelle McCool manages.


---

Lance's Response:

THAT IS AWESOME!
oldschoolhero
Knackwurst



Since: 2.1.02
From: nWo Country

Since last post: 2390 days
Last activity: 2324 days

#5 Posted on | Instant Rating: 9.00
No, two teams isn't a viable tag division. The Hardys, MNM, Daivari & Khali, The FBI, Burke & Terkay and RVD/Sabu is pretty close to one, though. Add in Doring & Roadkill and maybe the BWO and you've got yourselves a ballgame.


---
To those who say people wouldn't look; they wouldn't be interested; they're too complacent, indifferent and insulated, I can only reply: There is, in one reporter's opinion, considerable evidence against that contention. But even if they are right, what have they got to lose? Because if they are right, and this instrument is good for nothing but to entertain, amuse and insulate, then the tube is flickering now and we will soon see that the whole struggle is lost. This instrument can teach, it can illuminate; yes, and it can even inspire. But it can do so only to the extent that humans are determined to use it to those ends. Otherwise it is merely wires, and lights, in a box.-Edward R. Murrow