Kevintripod
Andouille



Since: 11.5.03
From: Mount Pleasant, Pa.

Since last post: 4 days
Last activity: 7 hours


AIM:
#1 Posted on 13.4.09 0718.13 | Instant Rating: 3.74
My brother and I when growing up always set our empty Easter baskets out on the night before Easter. Then during the night the "Easter Bunny" would fill our baskets with all sorts of Easter candy and then hide them somewhere in the house. On Easter morning it would almost be like Christmas to my brother and I as we got up at the crack of dawn and joyfully hunted throughout the house for our now filled hidden baskets. I carry on this same tradition with my children.

Now I just took it for granted that every household with kids did this tradition. But throughout the years I've had alot of people give me crazy looks when I told them my Easter basket was hidden and I had to try and find it (even my wife and her family went "Huh???"). I've even had comments said to me like "Were your parents sadistic or something ?". Many have told me that they have never, nor have ever heard of anyone hiding baskets and thought the idea was ridiculous.

So I am just wondering how many people out there had their baskets hidden or if they just set them out empty and then awake the next morning seeing the baskets in the exact same spot, but now filled with candy.


---

The best part of waking up is not Folgers in your cup, but knowing that Chuck Norris didn't kill you in your sleep.
Promote this thread!
AWArulz
Knackwurst



Since: 28.1.02
From: Louisville, KY

Since last post: 5 days
Last activity: 2 days


AIM:
Y!:
#2 Posted on 13.4.09 0745.42 | Instant Rating: 4.69
We had empty baskets, but always had eggs, both plastic and filled, and real and colored, hidden around the house to find. I continued this tradition with my children. Sadly, this is the first year both children could not be home for easter (at ages 21 and 19) and we did not have an Egg Hunt.

By the way, we always CAREFULLY charted the real eggs - you didn't want to find one of those suckers in August. We found many a plastic egg six months later.


---
We'll be back right after order has been restored here in the Omni Center.

"That the universe was formed by a fortuitous concourse of atoms, I will no more believe than that the accidental jumbling of the alphabet would fall into a most ingenious treatise of philosophy" - Swift

Mr Heel II
Bratwurst



Since: 25.2.02

Since last post: 13 days
Last activity: 23 hours

#3 Posted on 13.4.09 0749.04 | Instant Rating: 3.16
I've never heard of hiding the Easter basket. Ever.
KJames199
Scrapple
Moderator



Since: 10.12.01
From: #yqr

Since last post: 1 day
Last activity: 13 hours

#4 Posted on 13.4.09 0950.17 | Instant Rating: 7.14
My Easter basket was never hidden, but some of the treats were, most years. I guess it depended how ambitious the Easter Bunny felt that year.

I don't have kids, but my girlfriend's treats from the Easter Bunny weren't hidden. Neither were mine.


---

JK: LJ, FB, T
Guru Zim
SQL Dejection
Administrator



Since: 9.12.01
From: Bay City, OR

Since last post: 1 day
Last activity: 20 hours


AIM:
#5 Posted on 13.4.09 1144.08 | Instant Rating: 8.50
Of course you hide the easter basket! You hide plastic eggs with candy in them, too!

It was a lot of fun. Why wouldn't you do this?


---

Sign up for Folding@Home and join our team. PM me for details.

Ignorance is bliss for you, hell for me.
Leroy
Andouille



Since: 7.2.02
From: Huntington, NY

Since last post: 19 hours
Last activity: 51 min.

#6 Posted on 13.4.09 1256.03 | Instant Rating: 6.54

The Easter Basket wasn't hidden, but the eggs were. My parents started with real eggs to and moved to plastic eggs filled with candy. I think this had to do with the year I found all but one of the eggs, and it turning up about six months later.


---


We all have ways of coping. I use sex and awesomeness.
Java
Goetta



Since: 2.1.02
From: Chandler, AZ

Since last post: 43 days
Last activity: 12 hours

#7 Posted on 13.4.09 1449.52
We always had the baskets and eggs both hidden, and it is a tradition my wife and I have carried on with our children. This year, my 8 year old beat my 13 year old in the Easter Egg hunt, much to the older boy's consternation.

On a happy note, they did find all the eggs, which they did not do last year, until we found where the Easter Bunny (forgetful Dad!) had hid it in a hiking boot found before a Boy Scout hike a month later!
BoromirMark
Potato korv



Since: 8.5.02
From: Milan-Ann Arbor, MI

Since last post: 343 days
Last activity: 314 days


AIM:
#8 Posted on 13.4.09 1454.59 | Instant Rating: 3.10
Easter, like most of the holidays, would be spent with my immediate family in the morning/noon, but the day was spent with the extended family. The baskets would be hidden by my parents, and then when we went to see the family there would be eggs hidden for a hunt.

There are people who don't hide these things??


---

Michigan against the SEC: 20-5-1 (7-3 in bowl games)


Lise
Mrs. Guru



Since: 11.12.01

Since last post: 103 days
Last activity: 14 days

#9 Posted on 14.4.09 0221.58 | Instant Rating: 8.63
Parents House: Basket was hidden (well until we got older...then the rabbit got lazy) Eggs were kept in the fridge.

Grandma's House: candy eggs were hidden, and there were originally 2 dozen blown eggs (just shells) that us kids would take turns hiding from each other.

There was also some sort of relative or family friend that would give out pantyhose eggs full of candy and quarters. Those suckers were HUGE and held a lot of stuff.
cranlsn
Liverwurst



Since: 18.3.02
From: Sussex, WI

Since last post: 21 days
Last activity: 8 min.

#10 Posted on 14.4.09 1505.16 | Instant Rating: 5.52

Our baskets, and eggs, were both hidden, and continue to be so.

We've switched to the plastic eggs at my parents house (mass grandkid egg hunt), due to one infamous easter where we couldn't find ANY eggs.

Then we noticed the dog didn't look very well. Without going into too much detail, hard boiled eggs & a dogs insides do NOT get along very well.

So...plastic eggs filled with Skittles, Goldfish crackers, and coins from then on.
Lexus
Lap cheong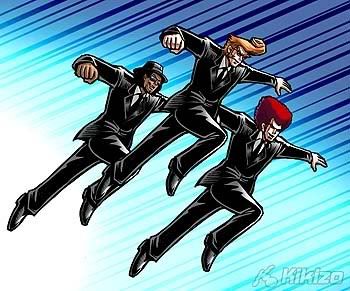 Since: 2.1.02
From: Stafford, VA

Since last post: 11 hours
Last activity: 11 hours


AIM:
#11 Posted on 15.4.09 0221.58 | Instant Rating: 2.90
Uh, I think mine were hidden. I just found a pile of baskets; one had M&Ms in it that were marked "New: Blue M&Ms!". They were all piled up in my crawlspace, which is usually locked.


---

"Laugh and the world laughs with you. Frown and the world laughs at you."
-Me.