NickBockwinkelFan
Frankfurter



Since: 10.4.02
From: New York City, NY

Since last post: 606 days
Last activity: 8 days

#1 Posted on 26.2.03 0157.39
For any Hunter S. Thompson fans out there:

I saw HST on Tim Russert's show last week promoting his "new" auto-biography Kingdom of Fear and I was frankly shocked. He was beyond unintelligible. He needed sub-titles for fuck sake.

I've read most of his work throughout the years, and I consider Hell's Angel's, Fear and Loathing in Las Vegas, Fear and Loathing on the Campaign Trail 1972 and The Great Shark Hunt to be among my favorite books. I have enjoyed reading his brief columns on sports for espn.com's page 2 recently and have looked forward to a new book. The 2 volumes of his collected correpondence have been tremendous, featuring previously unearthed thoughts from his most fertile period, 1958-1976.

So, when I heard he was putting out an auto-biography, I looked forward to it's publication and I finally have it. In some ways, it suffers from the same disease that his last two "non-fiction" books (Songs of the Doomed and Better Than Sex) suffered from: gigantic type face, double spacing, wide margins, tons of photos/illustrations and that overall feeling that the old HST magic had simply disapated. But in this book, Hunter's prose seems to spring to life again, revitalized by whatever tonics may be to his current liking. This memoir touches on many of the classic HST milestones and the author provides fresh thoughts on the proceedings. He also deals with the US and world politics in the post-9/11 era. He hits his stride more often than not, but I just stopped and re-read Fear and Loathing on the Campaign Trail 1972 last night, and each page is exciting, visceral, brutal and riveting. Each paragraph he wrote sprang to life and assaulted the reader.

Kingdom of Fear, is possibly his best work since The Great Shark Hunt and HST seems to have tapped the resources that made his work in the sixties and seventies so vital.

Just seeing him as such a inarticulate lump on with Russert kind of freaked me out. But the again, maybe he was just on an ether, amyl nitrate and Wild Turkey binge.


(edited by NickBockwinkelFan on 26.2.03 0419)
---

"Well, you can't involve friendship with business. It has to be one or the other. It's either business or friendship, or hit the bricks!"
--Life Lessons from "The Tao of Bobby the Brain Heenan" Uncensored 2000 preview


"As long as the check don't bounce, I guess he's okay with it!"
--Former All Pro Giants LB Harry Carson on Bill Parcells joining the hated rival Dallas Cowboys


Promote this thread!
Enojado Viento
Potato korv



Since: 12.3.02
From: Your Grocer's Freezer, NC

Since last post: 405 days
Last activity: 6 hours

#2 Posted on 26.2.03 0552.03
HST's always been unintelligible. He has his own commentary track on the new Criterion DVD of "Fear and Loathing in Las Vegas." Plenty of hooting, banging, hollering, and squealing, but not much commentary.

The effect is not unlike what would happen if the dinner scene in "Texas Chainsaw Massacre" had a movie on in the background.

But when the mood is upon him he can still generate some of that wild brilliance. I just think he was waiting for the right moment to reawaken the true Thompson.

And I think I'll have to score a copy of Kingdom of Fear. I really enjoyed the books of letters, especially the second volume. Kinda sad what happened between him and Acosta.



---


-LS
"Yeah, well, the movie lied."
Mild Mannered Madman
Toulouse



Since: 1.3.02
From: Westminster, CA

Since last post: 153 days
Last activity: 153 days

#3 Posted on 26.2.03 1836.40
You should've seen him plugging it on Conan a couple weeks ago. BRILLIANT


---

I have a special friend. He's the baby Jesus and I love him and...and...he don't give me no s**t and he don't f**k around and he's just the f**king coolest guy and I wanna say I love the baby Jesus.I can't say enough.I love the baby Jesus and I think...he's the best thing and he's really great when he shares his love for everbody.You know what I mean?I can't even see a manger without thinkin' about him,eh?I just love the Jesus.I've only been into him for a couple of hours though,but I'm really into him.
--Bruce McCulloch
CRZ
Big Brother
Administrator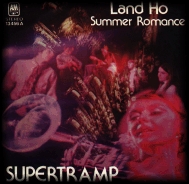 Since: 9.12.01
From: ミネアポリス

Since last post: 6 hours
Last activity: 4 hours

#4 Posted on 26.2.03 2319.01
Originally posted by Mild Mannered Madman

---

You should've seen him plugging it on Conan a couple weeks ago. BRILLIANT

---
See, I thought the exact opposite...maybe I don't "get it?"


---

©CRZ™
Wolfram J. Paulovich
Frankfurter



Since: 11.11.02
From: Fat City, Baby

Since last post: 2640 days
Last activity: 2010 days


AIM:
#5 Posted on 27.2.03 0508.01
I'm with CRZ. He was an unintelligible maniac on Conac, cursing pointlessly and jittering in regard to nothing. The man has probably written five or six relevant paragraphs since the publication of The Great Shark Hunt. Generation of Swine was a total abortion, and the only redeeming factor of Better Than Sex was his eulogy for Nixon, which stole from (and revistited) so many previous themes that it almost served as a eulogy for Thompson himself.

I haven't read his new book, but if it is only more self-indulgent railing at the status quo, surrounded by senseless digressions about race, firearms or booze... thank you, but I've already read that book. September 11, 2001 may have made Thompson suddenly slightly more relevant, but it certainly hasn't made him necessary.


---

The Obtuse Angle Archive.

Burns: Smither's this beer isn't working! I don't feel any younger, or funkier....
Smithers: I'll switch to the tablespoon, sir.