BDC
Chourico



Since: 26.1.02
From: Falls Church, VA

Since last post: 5799 days
Last activity: 5256 days

#21 Posted on
Originally posted by Lotty

---

BDC, the size of the wrestlers doesn't really matter anymore, I mean jeez look at Jericho, Benoit, Angle, RVD, etc.

It takes persona + push + talent + heart = success

---


Thank you for mentioning this because you make my point.

A main eventer has to give off the impression he could kick your ass to be taken seriously by fans. Not necessarily in a fistfight, although that helps, but that his wrestling moves could put a hurtin' on ya. Sure, there are exceptions, but physically unimpressive champions like Ric Flair and Shawn Michaels are rare--and those two had a completely different quality about them that they were just smarter than you in the ring.

Guys like Benoit and Angle are not tall, but they are physically intimidating. Their necks are larger than my head. When they suplex someone, they fold them up like accordions. They may not be tall, but they look like they could kick my ass.

The size of the wrestler does matter, just not as much as it used to, and you don't have to be a "big man" to make it to the top. However, you still have to be believable. It's part of the reason why I don't think Jericho in his current style will be a successful world champion--he just doesn't look like he can hurt me the way he wrestles. Neither does Edge, in my opinion.

One thing Edge needs to do immediately is drop the spinning heel kick, the "Viscera kick," from his moveset. It looks stupid and looks like the other wrestler glances off Edge's thigh...its a stupid move. At least when X-Pac does it, he gets the elevation and turn to make it a leg lariat.

Edge needs to cut the hair or bulk up...that's one. Two, he needs to bring back moves that look like they could actually hurt a Stone Cold Steve Austin or whoever. Third, he's got to update the ring attire. Fourth, drop the spinning heel kick.

I think Edge has the potential to get to the top, just not as is.

BDC


---

"Hitler had pieces of flair that he made the Jews wear."
LordOfTheSmarks
Chipolata



Since: 18.3.02
From: THE ohio state university

Since last post: 5813 days
Last activity: 5706 days

#22 Posted on

I think Edge needs to steal the Solo Conchairto from Christian. It would get him over as a badass freaky heel (tell me whenever Christian did it that you didn't hear "oooh"s in the stands) and give him at least SOMETHING that looks like it really, really fuckin hurts.

Speaking of which, why didn't the WWF have Christian going back to the Solo Conchairto during his losing streak? I mean, gosh, if I kept losing instead of throwing a temper tantrum week after week, I'd grab a couple chairs, start skulling people and then really f em up.


---

"somewhere down in suburbia it ain't right"
EastCoastAvenger
Bockwurst



Since: 4.1.02
From: Clearwater, FL

Since last post: 3326 days
Last activity: 672 days

#23 Posted on
Moe: Naw, I'm just the runt in a huge family.



Please don't give the suggestion that Edge bulk up. Enough guys in the WWF are on the roids as it is! In fact, we could use some more smaller guys with believable offense. It can be done, I mean, watch some wrestling from japan! I don't thing any of the guys over there are over 6 ft tall or weigh much more than 250, yet for the most part, their offense is more believable and NASTY looking than most Westerners.

Now about the haircut. The boy is looking a bit shaggy these days. A buzz cut like Dynamite Kid had in the old days may do him good! In fact, I wouldn't mind seeing him try a few of the Kid's moves. Snap suplex, a headbutt, maybe even something as simple as a general "toughening up" to his look (take away the expensive shirts and leather pants-replace them with jeans and a pair of gloves.)


---

"I hate motherfuckers claimin' that they foldin bank
But steady talkin shit in the holding tank
First you wanna step to me
Now your ass screamin for the deputy
They send you to Charlie-Baker-Denver row
Now they runnin up in ya slow
You're gone, used to be the Don Juan
Now your name is just 'Twan
Switch it, snap it, rollin your eyes and neck
You better run a check..."


--From "Check Yo' Self"
by Ice Cube
BigDaddyLoco
Scrapple



Since: 2.1.02

Since last post: 5 hours
Last activity: 5 hours

#24 Posted on
Originally posted by BootyRaper

---




Originally posted by BigDaddyLoco

---

br>
If the WWF put this much effort into RVD, Booker T or even Raven they would be over huge by now.

---



Umm... it wasn't even a year ago when RVD was main eventing AND a major component of the Heel Austin/Face Angle feud. He's the IC champ now. He's a spokeman for 7-11.

Guess what, he IS over huge

Booker T had high profile feuds with Austin & the Rock. He gets actual script to read and the "Spinerooni" gimmick never fails to get a pop.

Guess what, he IS over huge, too.

Raven... well... some guys are just born mid-carders.

The fact is, if Edge wasn't getting a push, you'd all be whining about mid-guys never getting a shot. How about one post that says, "Gee, thank God Edge is getting a chance against a major leaguer. This 'Brand extension' system really is allowing more people to shine! The WWF is actually doing the right thing for once! Come on, now... give it a try. You'll like it. It feels good.



---


I'm not saying they aren't over. I am saying if the WWF put the kind of effort they are putting into RVD or Booker T they would be at Angle/HHH levels. As for Raven, give him tis kind of push and mic time and he would be over huge. How soon some seem to forget.

EDIT: I'm glad to see the WWF pushing a midcarder don't get me wrong. I just think they could have picked a better one than Edge. The WWF machine is firmly behind Edge right now...I just think the effort could be better spent.


(edited by BigDaddyLoco on 14.4.02 0233)



(edited by BigDaddyLoco on 14.4.02 0344)
Kawshen
Liverwurst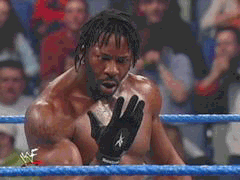 Since: 2.1.02
From: Bronx, NY

Since last post: 3292 days
Last activity: 1552 days

#25 Posted on
would never ever have guessed that he's listed at 6'4" 240.

You're forgetting the wrestling weight curve. I think it's at about 15 - 20lbs.

I'm sorry but Edge is the same height as HHH - but I HIGHLY doubt he's anymore than 220 lbs.


---

Punkinhed
Salami



Since: 23.1.02

Since last post: 5582 days
Last activity: 5557 days

#26 Posted on



I'd have to agree about Edge just lacking something needed to be a real threat. He's a good wrestler, and great on the mic, but there's just something missing. It's not size, but just attitude. Edge looks like he's just out there to insult someone and to have a good time; he's too relaxed. At the expense of sounding clever, he lacks and needs just what his name says: an edge, a feeling that he is, to some extent, a tough guy, someone that will make the crowd go "Oooo" when they get insulted.

Some don't need it and couldn't get it even if they wanted to have one; Scotty Too Hotty is a good example. Others have one without effort, like Chris Benoit. Edge I think has the potential to develop this "vibe". The question is, how and will the crowd accept it?


---

"To live like hu-man, to be like hu-man…Why is this not in the Plan?"
Notorious F.A.B.
Pepperoni



Since: 4.2.02
From: Dudleyville's Gay Ghetto

Since last post: 5359 days
Last activity: 5345 days

#27 Posted on
that's interesting. it pretty well capsulizes what the fed has done with chris jericho's character - taken a pure smart ass and turn him into a threat. chris isnt entirely there yet but will be after his second title run, i think.

edge hasn't really needed to develop The It yet. since his split with christian he's just kind of been present for the longish period of time where the mid card was directionless. maybe it was by wwfe design in order to pick out who was worth building around or maybe it was flat out bad booking but whichever the case, now that the rosters have split and the mid card is starting to differentiate its ass from its elbow, he's been getting the main event rub. he's definitely got the tools but now it's on him to actually bring them up to the plate.

it's ironic that he might be working with jericho some. their match on smackdown was alright and the two could definitely piss each other off in a twenty minute interview. if it looks like legitimate heat and they back it up with an intense ppv match, there's money to be had.

losing the slicker should be a high priority, too.

(edited by Notorious F.A.B. on 14.4.02 1342)
---
It's just you against the group mind. I like weiners.
Tragic1
Chourico



Since: 2.1.02
From: Rolling Meadows, Illinois

Since last post: 5703 days
Last activity: 5695 days

#28 Posted on
After the E&C split, Edge seemed to go back to his original angry persona he had when he came in. Then that died a quick death and he went back to being the good half of the goofy twosome. I don't know wabout the rest of you, but the angry brooding Edge was pretty cool IMO. Maybe the WWF needs to have him act pissed again.


---

"Hahaha.. Yeah, trust the fuckhead." Spider Jerusalem
WTF13
Boerewors



Since: 22.1.02

Since last post: 5793 days
Last activity: 5793 days

#29 Posted on
Wasn't that created to rip off Sting? I never thought he got over very well as the brooding loner. He's better as a comedic wrestler, but people are always going to say he's a poor man's Chris Jericho. The only real success he's had has been in the tag team division--I think he'd be better off there than in singles, especially with the dearth of tag teams. Put him in a combination with a sourpuss wrestler, a la Head Cheese and it would be great. Maybe Edge and Raven...

Size still matters up to a point. As people have said, Edge is too small to be credible as a badass character. I think he'd be better as a sneaky heel who cheats to win.

The spear only looks good when it's done against someone Edge's size or smaller, and that leaves out a lot of people. He tried it on Bubba Ray Dudley not long ago and it looked ridiculous--it was like one of those Popeye cartoons when Popeye tries to beat up Bluto before eating the spinach.


---

HUSS! HUSS! HUSS!
Trineo
Mettwurst



Since: 19.3.02
From: Boston

Since last post: 5732 days
Last activity: 5599 days

#30 Posted on
The problem with Edge is the writers for some reason think that when a guy goes from Heel to Face they have to change the way they were acting. Edge and Christian were getting a positive response with the wise-ass routine. When they split them and Edge was a face and Christian became a heel both changed the way they were acting. For Christian it made sense because he was turning his back, but there was no need for Edge to change at all. I think the writers don't understand how to write character developement for wrestlers yet and that isn't a positive, especially with having less TV time to develope the characters now.


---

Mr. Flugelman: Do you know what "nada" means?
Dusty: Isn't that a light chicken gravy?
- Three Amigos (1986)
Pages: Prev 1 2