The Guinness.
Potato korv



Since: 24.4.05
From: San Diego, CA

Since last post: 230 days
Last activity: 17 hours

#1 Posted on | Instant Rating: 6.47
The ghost story thread inspired me to write this one. Over the past two days one of my recurring dreams resurfaced.

I'll start this by saying that I am 31 year old man who has a great perspective on life. My recurring dream showed up again well after 15 years (or longer).

The dream how it started...or at least how I remember it.

I'm playing in a woodsy trailer park. The sun goes down instantly it's dark. Then I'm running from zombies. I hide under a step porch that goes to the entrance to a trailer. A zombie finds me, I see it's teeth preparing to bite..I wake up in a cold, shivering sweat.

In hind site it make sense...I grew up living in or around trailer parks in Lake Elsinore, CA. My dad also made we watch horror flicks (which I love to this day) when I was way too young. Couple that with anxiety..there you go..

Fast forward 15 years

Two nights ago, I wake up in the middle night. Heartbeat racing and thinking..Hmm, I'm not going back to sleep yet..That was scary....

The basics of the dream were the same, however the character changed from a zombie to a sasquatch looking monster that wasn't Big Foot. The neighborhood took precautions against this monster and built fencing around the entire city to keep it out.

Wouldn't you know it, I was walking alone in this fenced trailer park city when this sasquatch like monster walks up to the fencing and simply pushes open the gate (why was there a gate!)and chases me down. The ending was the same as the old dream, porch & Teeth ready to bite.

After waking up in a heart beating fright, I decided to stay awake for about 15 minutes. Yeah it really freaked me out! I went back to sleep and all was good until last night when I had the same damn dream with the same reaction!

I'm amazed that this dream has come back to haunt me (so to speak). I'm further amazed at my minds ability to create a township that works to come up with a logical way to avoid the risk of the monster but fails to cover the most logical entry point. All this within a dream.


I don't want to create a psychological reasoning behind nightmares thread (however, the conversation would still be good/great)but merely a thread asking the simple question......

....Do you have a recurring nightmare? If so what is it?

(edited by The Guinness. on 8.4.08 0238)
Promote this thread!
Zeruel
Thirty Millionth Hit
Moderator



Since: 2.1.02
From: The Silver Spring in the Land of Mary.

Since last post: 343 days
Last activity: 286 days

#2 Posted on | Instant Rating: 4.05
I wouldn't say that I have recurring nightmares, but I have recurring locals. Most of my dreams are at my childhood home (which my brother owns now), my home (about 10% of the time), the A compound (a building that when viewed from above looks like an A) and the very rare Madison Cube Garden from Fururama. It's just a big cube on it's side.

Ever since I was 13 (18 years ago), I have been better and better at lucid dreaming and when I do have a nightmare I leap into the air. 99% of the time I don't land and then I just fly around and do whatever the hell I want. Sometimes I fly with the grace of the Greatest American Hero, other times I'm Superman.

On the rare occasion, I turn into Vega (known as M.Bison to American Street Fighter fans).

Before my lucid dreams, I would get such night terrors that I would bite down on my tongue so hard that I have about 50-100 permanent "trenches" dug into it by my teeth that have never healed. Lets just say that having to hold salty pineapple juice in my mouth for all of eternity is my personal vision of hell.



---
-- 2006 Time magazine Person of the Year --


"Who would want to rent a chicken?" -- The Bowler
dMr
Andouille



Since: 2.11.02
From: Edinburgh, Scotland

Since last post: 690 days
Last activity: 77 days

#3 Posted on | Instant Rating: 5.40
The only real frequent recurring one I've had has been on work based trauma when I was a barman. Pretty dull way to follow turning into M Bison I guess.

I have been attacked by an alligator on more than one occassion over the years. In a variety of circumstances, but mostly involves being chased around some form of building and then attacked. They always seem remarkably adept at negotiating stairs, which has not once struck me as weird during the course of the dream, but always does afterwards. Always just the one alligator*.

I'm sure all of this says Something Meaningful about me, but I haven't a clue.

* I'm willing to concede it may be a crocodile.


Lise
Mrs. Guru



Since: 11.12.01

Since last post: 927 days
Last activity: 700 days

#4 Posted on | Instant Rating: 8.27
a few reoccurring locales but they are all dream versions and not at all like the real places they supposedly are.

My actual reoccurring nightmares are pretty standard stuff, being sent back to High School or College to fulfill a missed test or class, and the "oh my gosh I really need to go, and the only bathroom around for miles lacks privacy and is exceptionally filthy" dream. I can't remember if the bathroom one happened before or only after I saw Trainspotting.
cranlsn
Toulouse



Since: 18.3.02
From: Hartland, WI

Since last post: 42 days
Last activity: 3 hours

#5 Posted on | Instant Rating: 5.50

The locale differs almost every time, but a couple of times a year I'll have a dream where I get bitten by a humongous (presumably venomous) snake.

Everyone who's around alternately thinks it's funny, or doesn't seem to care as I get woozier and woozier from the "venom". I always wake up really pissed.

Not sure what that says about me, other than really, really not wanting to be bit by giant venomous snakes.
AWArulz
Scrapple



Since: 28.1.02
From: Louisville, KY

Since last post: 12 days
Last activity: 5 days

#6 Posted on | Instant Rating: 5.48
I have two -

One just involves me being naked - I am doing whatever, teaching in my corporate classroom, at church, at the grocery story, in the Home depot, like I said, whatever - and suddenly, I realize I am naked, and I look for a place to hide and cover myself until I wake up.

The other is me, as a kid, riding my bike and off in the distance, I see a huge flying Saucer, and there's a white picket fence where I am riding. Inside the picket fence, I can see hundreds and hundreds and thousands of people lined up and they are going into the flying saucer. By the time I find a gate into where the flying saucer is, the last person on the line goes inside and the door closes, the Saucer lifts up and takes off. I am left alone - the last person on earth.



---
We'll be back right after order has been restored here in the Omni Center.

"That the universe was formed by a fortuitous concourse of atoms, I will no more believe than that the accidental jumbling of the alphabet would fall into a most ingenious treatise of philosophy" - Swift

MisterHenderson
Boerewors



Since: 3.5.06
From: New York

Since last post: 3112 days
Last activity: 3030 days

#7 Posted on | Instant Rating: 2.00
I have a real one. My wife leaves me and takes the kids. The worst part is the long emotional goodbye between me and my four year old. Every time I have it...just shits on my whole day.


Although the part about my wife leaving, never seems to phase me ;)


---

"Gorbachev sings tractors. Turnips! Buttocks!"
Oliver
Scrapple



Since: 20.6.02

Since last post: 1152 days
Last activity: 1145 days

#8 Posted on | Instant Rating: 3.37
I've had a certain dream very frequently over the past number of years...and after a few years, it came back.

The generally gist of the dream:

I'm walking around a specific mall in Toronto, but things aren't what they seem: the signs aren't right. The colours are all wrong, as in the TD sign, usually green, was yellow, and the Shoppers Drug Mart sign, usually red, was blue.

Anyhow, I'm walking along in the mall, and out of nowhere comes my high school love, Sherri. Now, Sherri was a woman I had the hugest crush on when I was that age, and we dated sporadically those years. Sherri rushed up to me, crying her eyes out, saying how she missed me, she loved me, she wanted me back, so on and such forth. We sat down on a bench, and we continued talking...and decided to start dating.

Eventually, her mother (!!!) of all people comes along, yelling "Don't talk to that haggard man!" to which i respond. "That's Mr. Haggard to you", which is where the dream ends and where I wake up.

This has had me puzzled for a great number of years, so if anyone can explain what the hell this means, then excellent.

So, nightmare...? One could joke and say that thinking about this ex-girlfriend's mother is a nightmare, but the entire thing is, probably because, for a number of years, she was THE ONE I wanted, and losing her was difficult...and as well, having her but NOT having her could be construed as a nightmare unto itself.


---

Unicow, unicow...he's a unicorn cow!
Lexus
Andouille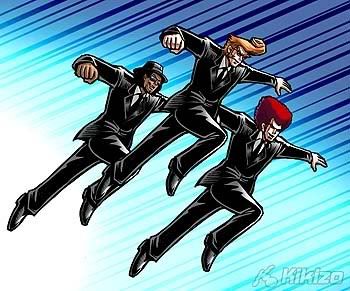 Since: 2.1.02
From: Stafford, VA

Since last post: 17 days
Last activity: 17 days

#9 Posted on | Instant Rating: 3.35
The only thing consistent in any of my dreams is the amount of distortion involved. Every place that I know in life that I dream about is changed in enough ways to be very different but stayed the same none the less.




---

"Laugh and the world laughs with you. Frown and the world laughs at you."
-Me.
2P4E
Boerewors




Since: 4.1.05
From: SE12, London, UK.

Since last post: 857 days
Last activity: 21 days

#10 Posted on | Instant Rating: 4.44
About 90% of my dreams, whether good ones or nightmares, involve a double decker bus, or at least a ride on some kind of public transport. No matter how diverse the details of the rest of the dreams are from each other. I have no idea why.
Cerebus
Scrapple



Since: 17.11.02

Since last post: 298 days
Last activity: 19 days

#11 Posted on | Instant Rating: 1.48
I have the weird dream where I'm at a Home Depot and I gotta take a crap really bad and the bathroom has a long line and I end up going in one of the display toilets.

When you gotta go, you gotta go.

Now that I think about it, I've had other dreams about taking a crap in other stores with display toilets as well. Hmm...

I should mention that I have this fear of public restrooms and I generally don't use them. Only in emergences for number #1 and NEVER for number #2. (Yeah, I'm freaky, I know.)

Does this have some strange, hidden meaning that I don't understand?


---

Forget it Josh... it's Cerebustown.
Dutchie
Kishke
Moderator



Since: 29.1.02
From: PA

Since last post: 60 days
Last activity: 1 day

#12 Posted on | Instant Rating: 8.55
A week after my grandfather died (July 1993), I had a dream where I was sitting in the parlor at my grandparents' house with my mom, aunt, grandmother, father and uncle. They were all crying, and then we heard the steps upstairs creak. My grandmother said, "He's awake!" The parlor opened up into a middle TV room, and that's where the stairs to go up to the bedrooms were. In the dream, I walked to the stairs and everyone else from the parlor disappeared. Then my grandfather was standing in front of me. He had been very ill before he died and had lost a lot of weight, but in the dream he was as healthy as he was for most of my life, and for some reason dressed like James Earl Jones in "Field of Dreams." He looked at me, smiled, said "Goodbye," and turned and walked up the stairs.

Every once in a great while I have that same dream, but what he says to me changes. It never seems to be anything profound, just a random sentence or two, before he walks back upstairs. There was a period of about 5-6 years where he wouldn't talk, would just take my hand and start walking with me up the stairs, but my parents suddenly appeared at the steps and pulled me back.


---
Bananas bruise...on the inside