NOMAD974
Cotechino



Since: 5.1.02
From: D.C. Metro, Maryland

Since last post: 2558 days
Last activity: 2520 days

#1 Posted on
OK, I was relocated to MI for work. Back in MD (Natl Champs BTW) I was pretty much the only one who got thier info on wrestling off the net. The people who were interested in wrestling wre just casual fans. Our conversations wre limited to them telling me what they thought was cool and me saying "Yeah, that was pretty cool". Short and Sweet.

Now im working w/ this guy who "Thinks" he knows everything about everything.

This guy just repeats what he reads on 1wrestling or that other site i dont read. He constantly is comming up to and saying "You know Mysterio is comming back" or "They just signed Nova" then he proceeds to give his take on how said wrestler should be pushed. Which would be fine if it wasnt always something that was done 6 yrs ago in ECW. But of course just to keep the peace i say "Yeah that would be interesting". And every show sucks in his opinion cause the Fed is holding such in such back. For Example: Raw sucked last night cause they wont let RVD fly around. In my head I was thinking this guy is a tool. But to be nice i simply said "I liked it, but you intitled to your opinion". He just disregards what i said and keeps babaling about what he would have done.

He knows (because i told him) I tape the shows and watch them at my leisure. But he insists on asking me as soon as i walk in the door "Did ya see RAW" "Did ya see Smakdown". Then after I say "no i taped it " hell start this crap "ohh wait till you see Hogan do...." or "wait till ya see SCSA say ...." Im like dude didnt i just tell you i taped it.

This crap happens every tuesday and friday. Im trying to be nice, because if i really lay into this kid it may scar him for the rest of his life. He's one of those kids that would pretend to have done something just to be down w/ a certain group (IMO he's a potential serial killer)

This is more of a rant on my part (but very theroputic) I would like to know how would anyone else handle it. Keep the peace or start a war

(edited by NOMAD974 on 9.4.02 1851)
Promote this thread!
EastCoastAvenger
Bockwurst



Since: 4.1.02
From: Clearwater, FL

Since last post: 3302 days
Last activity: 649 days

#2 Posted on
Well, you could take the stance that since he's being such an impolite prick, all bets are off and you can tell him to fuck off before you give him a size-(insert your shoe size) suppository.

I'd simply either ignore him or really freak him out by saying something like, "Nova and Misterio are such little bitches, man! I don't think even NAOKI SANO could carry them to a decent match."




---

"I hate motherfuckers claimin' that they foldin bank
But steady talkin shit in the holding tank
First you wanna step to me
Now your ass screamin for the deputy
They send you to Charlie-Baker-Denver row
Now they runnin up in ya slow
You're gone, used to be the Don Juan
Now your name is just 'Twan
Switch it, snap it, rollin your eyes and neck
You better run a check..."


--From "Check Yo' Self"
by Ice Cube
shea
Bockwurst



Since: 1.2.02
From: Brooklyn NY

Since last post: 5309 days
Last activity: 5195 days

#3 Posted on

There's nothing wrong with scarring a kid for life.

It's what this country was built on!

Jackson
Sujuk



Since: 4.1.02

Since last post: 3299 days
Last activity: 2825 days

#4 Posted on | Instant Rating: 5.37
So you don't like this kind of talk and then you visit message boards? What are you a masochist?

Just kidding. He should walk around with a big sign that says SPOILERS over his head. Or you could ask him to let you show him this cool move called the Ganzo Bomb. That should shut him up real good.


---

Bubbles? Oh come on Sharon! Iím Ozzy Osbourne the Prince of Fucking Darkness. Evil, evil, more fucking evil not a boatload of fucking bubbles man.
The Sham
Kolbasz



Since: 20.1.02
From: Hamden, CT

Since last post: 3034 days
Last activity: 2386 days

#5 Posted on
If you're lucky, he'll read your post here and realize how much you hate him. Then he'll kill you. That would be unlucky...

You're the one who said he's probably a psycho... I'm just drawing the natural conclusions.




---

"Cram it with walnuts, ugly!"- Mr. Homer Simpson

The European Title MUST go to Smackdown and Carthage MUST be destroyed.
odessasteps
Scrapple



Since: 2.1.02
From: MD, USA

Since last post: 1437 days
Last activity: 1404 days

#6 Posted on | Instant Rating: 8.18

He's the same situation taken a step farther.

At the comic store where I used to work, there's an guy who comes in who works for a local indy promotion. As a manager.

He will come in, attempt to drop names and impress us with his knowledge, from being "a worker."

Of course, I never told him that I used to work for indy promotions too, and I heard gossip backstage and didn't repeat it in public out of respect. And he read the same internet sites I did. Big deal.

It just got to the point where I would make polite, non-wrestling comments, but would beg out of the conversation at the first change if he tried to "out-smart" me.

Knowledge is a dangerous thing for those that don't know how to use it correctly.




---

"The best reason for committing loathsome & detestable acts -and let's face it, I am considerably something of an expert in the field - is purely for their own sake. Monetary gain is all very well, but it dilutes the tastes of wickedness to a lower level that is obtainable by anyone will an overdeveloped sense of avarice. True and baseless evil is as rare as the purest good - and we all know how rare THAT is." - Acheron Hades, THE EYRE AFFAIR by Jaspar Fforde
Big John DUD!
Linguica



Since: 25.3.02

Since last post: 5762 days
Last activity: 5762 days

#7 Posted on
Ann Landers would be proud of all of your responses
DMC
Liverwurst



Since: 8.1.02
From: Modesto, CA

Since last post: 4785 days
Last activity: 4779 days

#8 Posted on
I would just like to know where you work. At my current work place I can't imagine talking about wrestling with any of my co-workers. Maybe it has something to do with them all being 50 year old retired armed forces vets. Damnit I'm going back into radio.

DMC


---

It's me, it's me- It's D-M-C.
Kokolums
Linguica



Since: 21.2.02

Since last post: 5843 days
Last activity: 5832 days

#9 Posted on
The guy sounds like he is just excited about wrestling and likes to talk about it. I don't get this hatred for smarks. He doesn't sound like a know-it-all to me, just enthusiastic. But then I never understood the taboo against using wrestling terminology outside of wrestling. Then again I can't understand why mainstream media doesn't cover wrestling more. Hell, if they can cover the Clinton-Monica crap they can cover wrestling. Who do they think they are kidding to pretend to be above this stuff?
Scar
Goetta



Since: 2.1.02
From: NS, Canada

Since last post: 2802 days
Last activity: 925 days

#10 Posted on
I kind of had the same situation with a guy in my dorm. But he was a dick that's why I didn't want to talk about it. It's weird because I tell all my friends who don't go on the net all the "happenings", but I hate being told about them.


---

Apparently the only one who likes the new belt.
CactusJayC
Pinkelwurst



Since: 26.3.02
From: Holyoke, Mass.

Since last post: 5770 days
Last activity: 5639 days

#11 Posted on
Well, if he likes wrestling so much, just deal with him in a wrestling manner.

A steel chair to the head, and cut a nasty "This friendship is over!" heel promo afterward.

Of course, you risk him attacking you in the future for payback, but...

(edited by CactusJayC on 10.4.02 0508)
---
"Expecting the world to treat you fairly because you are good is like expecting the bull not to charge because you are a vegetarian." - Dennis Wholey (1937-)
NEO
Salami



Since: 15.1.02
From: Texas

Since last post: 5149 days
Last activity: 5149 days

#12 Posted on
Originally posted by shea

---


There's nothing wrong with scarring a kid for life.

It's what this country was built on!


---


It's true it's DAMN true.

I used to have that problem. There's only 2 things you can do; either avoid the topic or let him know what you think. Just don't right it in a letter.


---

"NOW YOU GET YOUR WHININ ASS OUTTA HERE!!" Sid Vicious after slapping Bret Hart
Swordsman Yen
Frankfurter



Since: 16.2.02
From: Shaolin

Since last post: 5247 days
Last activity: 5230 days

#13 Posted on | Instant Rating: 10.00
Offer to sing some songs with him to ease the tension. If you're not sure what to sing, "Delta Dawn", "The Gambler", and "Margaritaville" would be good songs to start off with. Sing a duet once you both get comfortable. After a few songs, shake his hand and give him a Rock Bottom.


---

"Say 'what' again. SAY 'WHAT' AGAIN! I dare you, I double dare you, motherf--ker! Say 'what' one more goddamn time!" -- Samuel L. Jackson, Pulp Fiction (1994)

"I tell you what, why don't you say 'what' if you like to sleep with your own sister." -- Undertaker, 4/1/02 RAW, putting an annoying fad in its place
SerWolfe
Landjager



Since: 11.1.02
From: st louis

Since last post: 5522 days
Last activity: 5522 days

#14 Posted on | Instant Rating: 0.00
I dont know.... most of the places i've worked have had nothing more than casual fans. They always ask about the latest news and who is hurt and such since they know i'm on the net a lot. Seems to me this guy could have a little courtesy when discussing Raw & Smackdown especially if you haven't seen them yet.

Other than that he seems like an overzealous wrestling fan. There really is nothing wrong with that. Sure his ideas might be ECW 6 yrs ago but a lot of us on here like to bring ideas from the past back.


---

I am the JOBBER TO THE STARS. You better remember that.

Cardinals 4w 3l (as of 4-9)
WTF13
Boerewors



Since: 22.1.02

Since last post: 5770 days
Last activity: 5769 days

#15 Posted on
Most of the people where I work are quite a bit older, so they only know of wrestling if their kids watch it. One woman does seem to have every single WWF t-shirt in existence, but people sorta make fun of her for it.


---

HUSS! HUSS! HUSS!
JayJayDean
Scrapple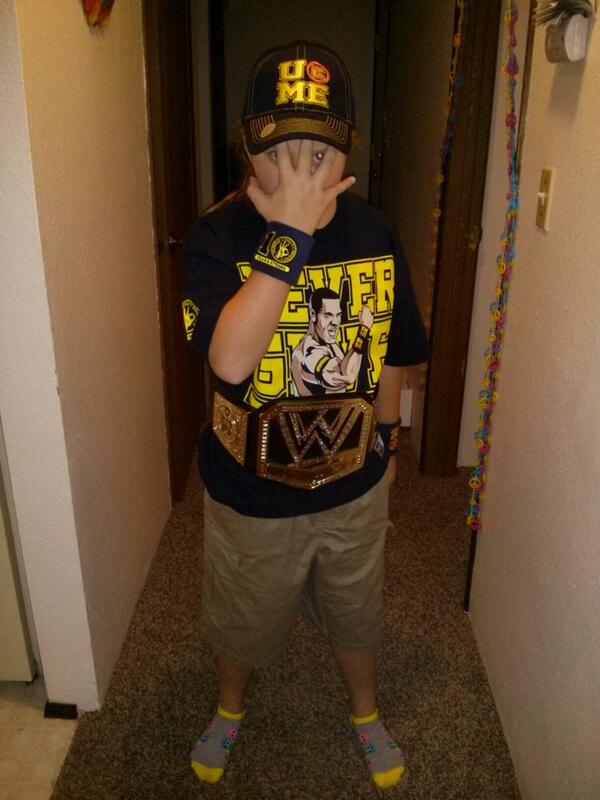 Since: 2.1.02
From: Seattle, WA

Since last post: 850 days
Last activity: 428 days

#16 Posted on
I work with a 40-year old redneck woman who is the single-most annoying fucking creature on this planet. So annoying, in fact, that the guy I work with, who is a PASTOR and likes and finds the good in EVERYONE, hates her guts. Plus, she's a total idiot and contributes nothing positive to the work environment AND has no skills because before she got *this* job she had like 5 part-time jobs (at the same time) her whole life of the "You want fries with that?" ilk.

But I digress...

Anyway, the first month or so she worked here it came up theat I watched wrestling, and *she* tells me she likes wrestling, too. Cool, I say, as we have some common ground to talk about now. She used to watch old NWA with Dusty Rhodes and this and that (I've heard that fucking story about 5 times by now, through now fault of my own.) and then the moment of truth comes..."Are Stephanie and Hunter really married?" Oh man, a 40-year old mark. "When's Goldberg coming?" "What happened to Chyna?" "Boy, that Perry Saturn is sure weird." BLAAAAAAAAAAAAAAAAAAAAAAGH!

(These are poor examples, but go back and read the first paragraph again if you need to have them put in the proper context. Seriously.)

You know the Snickers commercial with everyone hiding in the lunch room from the Panda Guy? I work with that guy's mom.

So, you wanna trade?
MonteCarl
Potato korv



Since: 21.1.02
From: Saginaw, MI

Since last post: 1120 days
Last activity: 149 days

#17 Posted on
I'd be interested in knowing where you work, as well, since I also live in MI. Back on topic, I deal with smarks at least twice a week, but I don't really need to go into detail as we all know what it's like. However, the one I deal with loves Kevin Nash and X-Pac and claims to have been cousins with Rick Rude.

--Monte N
shea
Bockwurst



Since: 1.2.02
From: Brooklyn NY

Since last post: 5309 days
Last activity: 5195 days

#18 Posted on

ENOUGH TALK!

Give me the kid's name, Nomad. I'll take care of it.

NOMAD974
Cotechino



Since: 5.1.02
From: D.C. Metro, Maryland

Since last post: 2558 days
Last activity: 2520 days

#19 Posted on
Well i certainly apprciate everyones insight. The whole problem is i HAVE to talk to him all the time because of my job (I work in a call center that does hardware & software support for retail stores). I'm tenured and he is new so I am always answering his questions and reviewing his work. Communitcation is a must.

But of course he always wants to talk wrestling or video games. Get this he's always throwing around the fact he doesnt buy games or PPV. He burns them and has a black box. Once again it would be so bad if he didnt have such a jerky attitude like "you PAY for your games?". Well excuse me for paying for my shit.


He knows how i fell but hasnt grasped the fact everything he says is opinion not fact like. "All mexican wrestlers should wear masks or all games are crap compared to wolfenstein". Oh well, I guess is one of the life lessons on how to deal w/ people

(edited by NOMAD974 on 10.4.02 1731)
Guru Zim
SQL Dejection
Administrator



Since: 9.12.01
From: Bay City, OR

Since last post: 15 days
Last activity: 1 day


ICQ:
#20 Posted on
Oh, that's easy then.

Turn him in for cable theft. As someone that works for the cable industry, I can assure you that if you call the cable company and let them know, something WILL be done about it.


---

I love it when a plan comes together
Pages: 1 2 Next