Cerebus
Scrapple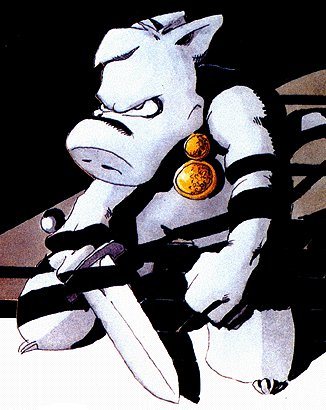 Since: 17.11.02

Since last post: 534 days
Last activity: 255 days

#1 Posted on | Instant Rating: 0.97
So far, it's ok, but I really wished they'd have waited an extra two months for INFINITE CRISIS to finish first. Granted, there's been no telling of what happens during IC, but still, they should have waited.

-----

BATMAN: Hey look, one year later looks suspiciously like ten years ago. Gordon's back as Commissoner, they're using the Bat-Symbol again, Poison Ivy's ALIVE and well and causing trouble, and Batman and Robin are working together with no problems. The bad part is that they've killed off KGBeast and Magpie. One of which was a really great villian before Chuck Dixon made him a complete pussy. I'm liking it though.

NIGHTWING: Well, Jason Todd is Nightwing... err, Jason Todd is 'a Nightwing' as Dick Greyson is ALSO Nightwing. Now one of them is screwing a married woman and it's really not clear as to which one it was, but I'm hoping it's Dick, as I'd hate to think he and Barbara really got married. This book ALSO has me waiting for more.

ROBIN: Ok, I hope this is 'part of the mystery' and not a big fuck up, but that dead 'Batgirl' was already dead... at least as 'dead' as getting your head chopped off can be considered. Other then this, it was a good start to the storyline. Perhaps Superboy sneezed reality instead of punching it and brought her back on accident when he forgot to wipe it off?

CATWOMAN: Boy oh boy! Selena's seemingly given up the life to have a daughter out of wedlock... a daughter named HELENA, which is sure to raise some eyebrows somewhere. Batman has put aside a nestegg for the kids education, which tells up that there is NO WAY he is the father, so that's one guess out the window. Holly has taken up the Catwoman mantle, which doesn't make her lasting a year look very good, seeing as 'Catwoman' killed Black Mask. Ouch!

BIRDS OF PREY: Ending the BAT-Books with a bang, this book just got better by leaps and bounds. They've ditched Black Canary and brought in Shiva and Gypsy. YES! Gypsy from the Detroit Justice League and Shiva, who wants to take on Killer Croc with one hand tied behind her back. I'm jot Jewish, but can I just say "Oi Vey!"

JSA: And now we hit a speedbump. I love, Love, LOVE the JSA, but the first OYL issue left a sour taste in my mouth. Courtney's buying books for school, which I can only guess is for college, yet isn't she only like 16 or something? That makes no sense, unless she's (Totally out of character!) some type of genius and skipped some grades. Also it just feels like nothing has changed, which would be sad to imagine because in a whole year, they'd have to have lost team members and gained new ones, but it doesn't look like that's happened either. I can't wait for Johns to get back on the title.

SUPERMAN: These titles are gonna be a slow burn. Wait for a few months when the 'Big Three Words' are uttered and see the Superman books kick into high gear.

SUPERGIRL AND THE LEGION OF SUPER-HEROES: Dan and Andy... how I miss you so much. Mark Waid has really driven this book into the grave for me. Now, with Supergirl (Kara) joining in and claiming that they are all in her head, I'm pray it to be true and I can erase this series from my mind.

GREEN ARROW: Yeah, he's the mayor of Star City... so who's that running around letting Brick (Who's a good guy now?) kill bad guys? I'm pretty sure that wasn't Ollie. I'm pretty sure it wasn't Arsenal or Connor either. It probably could have been Mia, but I doubt that too. Damn you Judd Winnick!

OUTSIDERS: Meet the new team, same as the old team? Not exactly, I can't WAIT to find out why Boomerang's on the team. THAT was a nice little surprise.

AQUAMAN: SWORD OF ATLANTIS: I've been an Aquaman 'fan' for a long time. I'm one of those guys who HATED the hook hand. I HATED that they gave up on the orange and green suit. I CERTAINLY HATED the water hand. And yet, through it all, I stuck by Arthur, thinking that 'It can't get any worse.'. Well, it's gotten stranger. From what I'm guessing, Arthur is now a squid-face and has gone completely nuts calling himself the 'Dweller of the Deep'. Kurt Busiek hit a home run with his first issue.

-----

Any thoughts from the peanut gallery?
Promote this thread!
JimBob Skeeter
Bierwurst



Since: 2.1.02
From: MN

Since last post: 7 days
Last activity: 6 hours

#2 Posted on | Instant Rating: 7.30
The reason Boomer Jr is on the team is that at the end of the last issue, the Outsiders were taking on the society, and the whole society bailed cuz their house was rigged to blow, but Jr was hurt, so they bailed on him. Grace couldn't jsut leave him, so she hauled his sorry ass outta there before it went boom, and I'm assuming that he joined the team after that cuz they "care".
I wondere how long they're going to drag out Jr and Kid Flash not finding out they're brothers.

What about Firestorm? OYL and Prof Stein is missing, Jason and Lorraine Reilly now merge. She took over her fathers seat in the senate. Somehow, in their new merger, they cannot be seperated by more than a mile or things REALLY go boom. Best thing about this ish? The puffy sleeves are back. YES!!!!!!!!!!!
GRL
Frankfurter



Since: 13.7.02
From: Austin

Since last post: 2 days
Last activity: 5 hours

#3 Posted on | Instant Rating: 5.65
At the very least - OYL has driven me to try a lot of the offerings from DC, which says a lot considering I haven't read a series regularly in about 5 years.

So far, I've loved the Batman and Superman issues out of the stuff I've tried. Robin I'll try again, as well.

I will not be going back for the next issues of Nightwing or Aquaman, however. And I've decided to skip Blue Beetle afterall.



---

"Maybe I'm getting off topic, but this thread already sucks, so I don't feel bad about it. " -LotusMegami


"The only way TV Gangrel could change is if Real Gangrel changed." -Filipino Elvis
kentish
Andouille



Since: 19.8.05
From: My Old Kentucky Home

Since last post: 1488 days
Last activity: 741 days

#4 Posted on | Instant Rating: 2.70
OYL has caused me to check out titles that I haven't read in awhile, such as Catwoman, Robin, Nightwing, and Aquaman. I have to say, I liked them all, so the gimmick worked on me! Wasn't that crazy about the Legion issue adding Supergirl, but will wait and see. The Bat books have been given a much needed boost.


---

Michael Scott: Would I rather be feared or loved? Easy, both. I want people to be afraid of how much they love me.
Mike Zeidler
Pepperoni



Since: 27.6.02

Since last post: 1589 days
Last activity: 242 days

#5 Posted on | Instant Rating: 4.80
It's funny, I've been reading comics for the past 26 years, and the ID Crisis/Countdown/Infinity Crisis had me really stoked for what was coming after it all wrapped up. Now that I've seen most of the OYL books, and realised that nothing has actually changed all that much after the latest giant event.

Most, if not all, of the titles I read are wrapping up storylines next month (or have self-contained stories) and there's nothing really holding my attention after that.

It's not that there's anything that the companies did that upset me and made me say "OK that does it, I'm done with comics!" It's just a sense that an era has wrapped up and yet nothing has changed.


---

The kid is all confused and thinks to himself "I'm not calling anyone mommy because the last time I did that, it led to this." -My Wife on adoption