EastCoastAvenger
Bockwurst



Since: 4.1.02
From: Clearwater, FL

Since last post: 3333 days
Last activity: 680 days

#1 Posted on
So, anyone out there think this can be cool? I think it could work pretty well if they set him up as a psycho evangelist, D-Von's got the voice for it, he already has some of the lingo down (TESTIFY!) and it sets up some pretty cool possible one liners like, "You know, you'd think people would have learned after the Spanish Inquisition and the Crusades: Don't F(bleep) with the Christians!" Then again, knowing the WWF, they'll turn this into either an epic fuckup that pisses off every group that sees it, or even worse, it'll last for a month and pass into total obscurity, taking D-Von with it.


---

"I hate motherfuckers claimin' that they foldin bank
But steady talkin shit in the holding tank
First you wanna step to me
Now your ass screamin for the deputy
They send you to Charlie-Baker-Denver row
Now they runnin up in ya slow
You're gone, used to be the Don Juan
Now your name is just 'Twan
Switch it, snap it, rollin your eyes and neck
You better run a check..."


--From "Check Yo' Self"
by Ice Cube
Promote this thread!
lmo911
Italian



Since: 2.1.02
From: A ways past Parts Unknown and to the left of Dudleyville

Since last post: 4875 days
Last activity: 2624 days

#2 Posted on | Instant Rating: 4.06
I don't know. D-von definately has the voice for it but gimmicks like this are usually dead on arrival (born again Jake and Dustin "HE is coming" Rhodes prime examples). I'd rather just see him sermonize without the religious implications (if that is possible o_O)

But if God was a heel...he'd be a Dudley! :)
Excalibur05
Knackwurst



Since: 19.1.02
From: Minnesota

Since last post: 812 days
Last activity: 680 days

#3 Posted on
I don't know. Color me unimpressed. D-Von's got the voice for it, yes, and he looked pretty good in a suit, but that doesn't mean that this will make for a good gimmick. Also, being a preacher makes him a defacto heel in the WWF (the RTC for example--I know they weren't actual preachers, but they did alot of preaching). This of course totally undermines the Buh Buh "For D-Von" storyline on RAW.

Oh well.

(Edit: Psychic wavelength, lmo!)

(edited by Excalibur05 on 11.4.02 1946)
---
These mini Reeses cup things are addictive...
MoeGates
Boudin blanc



Since: 6.1.02
From: Brooklyn, NY

Since last post: 12 days
Last activity: 11 days

#4 Posted on
I see absolutely nothing good coming of this gimmick. At all. Except maybe D-Von getting to say "Testify" a lot. on a side note, I wonder what his finisher is going to be.

I should point out that the preacher gimmick isn't always a heel gimmick. Reverend Slick did a face preacher gimmick. Of course, that sucked also.


---

Expressing myself EVERY day!
Kawshen
Liverwurst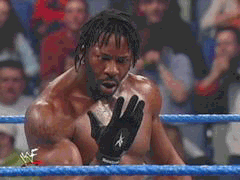 Since: 2.1.02
From: Bronx, NY

Since last post: 3299 days
Last activity: 1559 days

#5 Posted on
If I recall, D-Von's finisher is a Scorpion Death Drop Suplex or something like that.

I'm kinda digging Reverend D-Von, personally. He fits the gimmick. I'm intereted in seeing how and where this is going.


---

Spiraling_Shape
Bierwurst



Since: 2.1.02
From: PA

Since last post: 8 days
Last activity: 22 hours

#6 Posted on
Well they did establish more or less that he`s a crooked, money-grubbing preacher. So it`s not about religion really.

I`m impressed, I didn`t expect them to give D-Von a new gimmick (or did I ever expect him to get a new gimmick). We`ll see where it goes, but it`s certainly interesting.


---

"Why don't you say 'what' if you like to sleep with your own sister." - The Undertaker
Big Bad
Scrapple



Since: 4.1.02
From: Dorchester, Ontario

Since last post: 6 days
Last activity: 2 hours

#7 Posted on
So, D-Von is a heel and Buh Buh Ray's a face? Uh, okay.

This means that the WWF will actually try to establish the Dudleys are individuals, and perhaps not automatically throw them back together after a couple of months like everyone thinks. Odd choice.


---

I was born in a manger, like that other guy. You know, he wore a hat?
BDC
Chourico



Since: 26.1.02
From: Falls Church, VA

Since last post: 5806 days
Last activity: 5263 days

#8 Posted on
Hmmmm...as a Christian, the gimmick is insulting because of its implications. On the other hand, its not like there aren't individuals like the character D-Von is playing actually out there. The key is that these kind of people are in the minority, in my opinion. Of course, there's no reason the WWF needs to also have some kind of "good guy" Christian character to balance it out; it'd be nice, but I don't know that it'd draw.

The key, in my opinion, is the business. To look for morality or anything from the WWF is an exercise in futility. If D-Von as a heel helps business by creating a big-time heel, that's great. Like others have said, similar gimmicks have failed before. It's the perfect heel role because it has the ability to hit people with some truth--D-Von calls someone a sinner, people feel guilty, they lash out; because it offends people who think its hypocritical, pious, etc.; and then people like me who think its warping what I believe...so there's such a wide range of potential there.

However, if people don't want to see it, D-Von won't draw, and they'll ditch the gimmick. Let the market work. That being said, I think the WWF would be making a mistake to lay the hypocrisy on thick...what made Bret Hart such a great heel in '97 was the fact that in every diatribe, there was some truth in what he was saying. I think they should try as best they can in walking that line with D-Von.

Hopefully other Christian WWF fans will not do the classic reactionary "oh my gosh, they are blaspheming God!" ranting and stuff. Take the gimmick for what it is, you don't need a wrestling character to validate your beliefs...I hope.

BDC

(edited by BDC on 11.4.02 2248)
---
"Hitler had pieces of flair that he made the Jews wear."
BigDaddyLoco
Scrapple



Since: 2.1.02

Since last post: 7 days
Last activity: 4 days

#9 Posted on
Hopefully they don't go and stick a title on him like 'Reverand' or 'Decan'. If they just stick with him being a man who quotes scriptures than this might work. Have him be like the crazy man on the street corner or The Pulp Fiction gimmick.
GodEatGod
Bockwurst



Since: 28.2.02

Since last post: 911 days
Last activity: 350 days

#10 Posted on
Religion's such an emotional thing. It's a dangerous thing to use in a gimmick, but it can be effective as hell, if done right. The whole point is to get people emotionally involved, to piss them off or make 'em love you. With this gimmick, D-Von could easily draw massive heel heat, if done properly. The money-grubbing thing is a good start, but BDC's right about the element of truth bit. I think a great way to do it would be ripping on faces as false idols (especially Hogan), although he and D-von aren't going to exactly feud. But he could do some sort of rant about Hogan, and a mid-carder could interrupt in the Orange one's defense, insta-feud. D-von mocks the person as a worshipper of graven images, a heathen.

Personally, I've always liked D-von's wrestling. His flying shoulderblock, at least, makes me mark out.
I hope it works out for him.


---

"All I ever asked for in life is an unfair advantage." Microchip, Punisher Annual #2

J. Kyle
Banger



Since: 21.2.02
From: The Land of Aloha

Since last post: 31 days
Last activity: 1 day

#11 Posted on
The SmarKow Says:

After years of forced church attendance, even I am behind the idea of D Von as the money grubbing minister. Or maybe church is WHY I am. Hmmm...


---

VISIT SMARKTOWN!


****You just got SMARKED UPSIDE THE THREAD****
odessasteps
Scrapple



Since: 2.1.02
From: MD, USA

Since last post: 1468 days
Last activity: 1435 days

#12 Posted on | Instant Rating: 8.18

As I mentioned in another thread about this topic, the heel preacher gimmick is an old one.

Memphis was a place the gimmick has been used over the years, with its success depending on the performer.

I can personally attest to one indy manager doing it, my fiend (and Odessa Steps Magazine contributor) Platinum Nat.




---


This Space For Rent
Swordsman Yen
Frankfurter



Since: 16.2.02
From: Shaolin

Since last post: 5278 days
Last activity: 5261 days

#13 Posted on | Instant Rating: 10.00
Hmmmm religious gimmicks haven't had a good track record in the WWF. Reverend Slick, Sisters of Mercy, and Dustin Runnels are bombs that come to mind. I think D-Von could get over on "TESTIFY!" without the preacher schtick. Let's just all be thankful that Buh Buh Ray didn't get the Beaver Cleavage gimmick.


---

"Say 'what' again. SAY 'WHAT' AGAIN! I dare you, I double dare you, motherf--ker! Say 'what' one more goddamn time!" -- Samuel L. Jackson, Pulp Fiction (1994)

"I tell you what, why don't you say 'what' if you like to sleep with your own sister." -- Undertaker, 4/1/02 RAW, putting an annoying fad in its place
HBK 2002
Linguica



Since: 17.2.02

Since last post: 5669 days
Last activity: 5663 days

#14 Posted on
I *liked* Dustin Rhodes' born again gimmick. I laughed out loud when he told us about the wholesome, non-WWF programming on the Discovery Channel. What I think flopped, however, was the payoff. "He is coming!" Who? Oh, just Goldust again. Imagine that? A WWF payoff not paying off...
CRZ
Big Brother
Administrator



Since: 9.12.01
From: ミネアポリス

Since last post: 4 days
Last activity: 4 days


ICQ:
#15 Posted on
Originally posted by Swordsman Yen

---

Hmmmm religious gimmicks haven't had a good track record in the WWF. Reverend Slick, Sisters of Mercy, and Dustin Runnels are bombs that come to mind.

---
Of course, Brother Love's "success" outweighs all of those combined, but perhaps your memory doesn't go back that far. ;-)


---

©CRZ™
Visit [slash] wrestling
HBK 2002
Linguica



Since: 17.2.02

Since last post: 5669 days
Last activity: 5663 days

#16 Posted on
Ironic that a thread on religious gimmicks was your 666th post, CRZ.
Texas Kelly
Lap cheong



Since: 3.1.02
From: FOREST HILLS CONTROLS THE UNIVERSE

Since last post: 265 days
Last activity: 27 days


ICQ:
#17 Posted on
I personally think that making D-Von a "faith healer" rather than a "preacher" per-se would probably work better.

Or maybe I'm just biased towards that damned Simpsons episode. :)


---
Being The Bookerman (No Way Out)
Grading The Bookerman (No Way Out)
Worship Your God And Mine
CRZ NOTABLE QUOTABLE OF THE MONTH:
KANE: Triple H...tonight, I will burn the flesh from your body!
MICHAEL COLE: OH MY GOD. KANE THREATENING TRIPLE H, SAYING HE'S GONNA BURN THE FLESH FROM HIS BODY!
CRZ: Umm, I heard it the FIRST time!
-- WWF Smackdown, 9/9/99
Alpha Male
Chaurice



Since: 12.4.02
From: Dover, NH

Since last post: 5916 days
Last activity: 5707 days

#18 Posted on
The peacher gimmick seems like it would do well.
However, if Russo ever gets ahold of it, look for D-Von to become a full blown priest, complete with a 10 year old manager. Ewwwwwwwwwwwwww........


---

"Only an numbskull thinks he knows things about things he knows nothing about"-- Amy Archer
shea
Bockwurst



Since: 1.2.02
From: Brooklyn NY

Since last post: 5340 days
Last activity: 5226 days

#19 Posted on

Oh great, another racist stereotype.

Just what the wrestling world needs.

Gee, Vince, why not break out the watermelon while you're at it?

How can anybody with a brain not be offended by this crap?

Punkinhed
Salami



Since: 23.1.02

Since last post: 5589 days
Last activity: 5564 days

#20 Posted on


I'm not sure I follow the racist part of this. I can see how it could be insulting in a religious sense, but most iof the crooked evangelists I've heard of have been white, like Jimmy Bakker.


---

Always be careful what you say. Nathan Hale said,"I regret that I have but one life to give for my country." They killed him.
Pages: 1 2 3 4 5 6 Next