Cerebus
Scrapple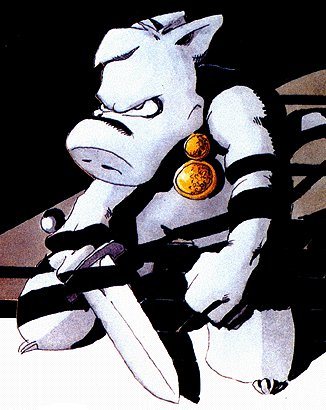 Since: 17.11.02

Since last post: 353 days
Last activity: 75 days

#1 Posted on | Instant Rating: 2.26
Tons of stuff... TONS!

But first, I gotta say this; ALL STAR BATMAN... Shit, ALL STAR SUPERMAN... Perfection! This proves that there is two types of special, the 'short bus' type of special and the 'deserves a cookie' type of special. Grant Morrisson deserves the cookie and Frank Miller needs to retire.


DC is crazytown! With INFINITE CRISIS in full swing, the big question seems to be "What's next?" and we've already been told. 52 is a weekly series coming out that will tell us what happened during the year we missed. Little things have started dripping out on the details of this series such as it will introduce us to the new Suicide Squad and explain to us where all the missing heroes have gone. But is that enough? NO, damnit, we want more... MORE I tell youze!

On that note, let's see what we know (...or THINK we know?) about what's gonna happen after INFINITE CRISIS.

...With so many things happening, you'd think there was a multiverse!

Batman has finally cracked his nut and will be sitting in Arkham Asylum.
Dick Grayson will be Batman.
Tim Drake will take over as Nightwing.
Jason Todd will be Robin again(?)
Selina Kyle no longer Catwoman, now a single mother?
Barbara Gordon will be Batwoman(No longer a girl?)(New series with Gail Simone and John Byrne!)
Wonder Woman will be rebooted(?)
Birds Of Prey will feature a new 'flock'.
Bart Allen will be the Flash but Wall West does NOT die... THAT'S shocking!
Power Girl and Kara are trapped in Kandor and are now being called Flamebird and Nightwing.
Supergirl gets sent to the future to join the LoSH.
Hawkman will be dead again and his book will be retitled 'HAWKGIRL'.
Oliver Queen (Green Arrow) is the Mayor of Star City. I guess people really DO vote for the dead!
Kyle Raynor will become Ion again.
The Shadowpact get's it's own series (Cause the world will DIE without Det. Chimp there to save it!!)
the Atom's back... something about Eclipso(?)
Shazam get's a new book that probably won't last long.
There will be a new Blue Bettle.
A new Spectre... 10 to 1 odds that it Ted Kord (Blue Beetle), and I really hope I'm WRONG.
Checkmate will be the DCU's S.H.I.E.L.D.and get it's own series.
The Secret Six stay together for the Catman lovers out there... all three of you! HA!
Vandal Savage will no longer be 'immortal'.
Omac's will still be around, but who will be controlling them???
Martian Manhunter gets a new series.
The Creeper becomes a major player in the DCU.

...still with me. DC's solicits for March should be hitting the net this week and March IS the last IC month.


DC get's more then enough love from me, what about Marvel? Are they doing anything right?

I'l keep saying this till either I die or the series gets canceled... EXILES is the best consistant series Marvel is printing. This book doesn't comprehend the idea of 'Filler issues' or 'phoning it in' issues. This series has not had a bad issue in years. It just gets better and beter with each story arc. Well, I may eat crow here. The last issue saw Mimic getting killed and the hint of Longshot taking his place. Personally, I don't like that at all. I've never really like the character Longshot, even though I saw that he was a decent off character to throw in once in a while. If they're killing of Mimic to bring him in, I my just start hating this book, all because of one stupid character.
Spider-Man: The Other... what can I say. I was wrong and I'm glad for that. My foot is firmly planted inside my mouth right now. THIS is the best Spiderman story I've read in years, damnit. Tony Stark letting Aunt May and Mary Jane borrow old suits to got to Latveria and time travel. Peter and Mary Jane getting busy in outer space. Morlun ripping out and EATING peters eye ball. Pater 'evolving' and using Morluns own powers to defeat him. Jesus Christos... I need CLOSURE here people, hurry this shit up!
Ronin was Echo? Didn't see that coming and it IS in continuity so I won't complain TOO MUCH that it wasn't D-MAN!
Actually, the X-Books have been good. Decimation seems like just what they needed to kick start these books back to life. Emma making Danni Moonstar leave because she lost her powers. Students either (a) Freaking out, (B) Screaming for joy, and (C) committing suicide (I called THAT one!) because they did or didn't lose their powers, and Polaris faking it are all good things. NEW MUTANTS in particular deserves to get new readers on that first post-House Of M issue alone.
The Hulk gets suckered into going to outer space. Nick Fury is so cool!
Bendis's last Daredevil arc hasn't missed a beat. Kingpin lying and forcing Ben Urich to out Murdock is all sorst of twisted. Can't wait for the finish.
Ultimate Silver Sable makes me feel dirty... but a GOOD dirty.
She-Hulk #2 seemingly 'retconed' Hawkeye's death with a little BACK TO THE FUTURE nod. Dan Slott rules!
Excalibur... what to say here... given a world heavily populated with mutants and Claremont's writing sucks. Given a world with very few mutants and his writing is rather impressive. Score a another win for Marvel. Oh yeah, welcome back Pete Wisdom, I missed you greatly!


(edited by Cerebus on 12.12.05 2104)
Promote this thread!
It's False
Scrapple



Since: 20.6.02
From: I am the Tag Team Champions!

Since last post: 92 days
Last activity: 30 days

#2 Posted on | Instant Rating: 4.83
I'll throw my two cents in on the DC end.


---

Batman has finally cracked his nut and will be sitting in Arkham Asylum.
Dick Grayson will be Batman.
Tim Drake will take over as Nightwing.
Jason Todd will be Robin again(?)

---


You know, fans actually VOTED for Jason Todd to die rather than take up the Robin mantle. I'd really rather not see him be Robin again, especially when he's actually become intriguing under the Red Hood persona.


---

Barbara Gordon will be Batwoman(No longer a girl?)(New series with Gail Simone and John Byrne!)

---


I'm assuming there will be a huge payoff to the current Birds of Prey arc in which Calculator is trying to find out who Oracle is.


---

Bart Allen will be the Flash but Wally West does NOT die... THAT'S shocking!

---


Ok, now THIS I'm skeptical about. You can't just STOP being The Flash. I know Wally's talked about taking care of his new family, but giving up the life of a superhero is more difficult than it looks and I'll put the over/under on Wally coming back at 15 months.

On that note, it's already been mentioned several times that Jay Garrick, the original Flash, isn't expected to survive the Crisis. If this rumor does come to pass, it'll be a sad day for comics.


---

Supergirl gets sent to the future to join the LoSH.

---


Probably better this way. With Superboy and Power Girl in the mix, it would have been Kryptonian overkill.


---

The Shadowpact get's it's own series (Cause the world will DIE without Det. Chimp there to save it!!)

---


Damn straight! I demand more Detective Chimp!


---

There will be a new Blue Bettle.
A new Spectre... 10 to 1 odds that it Ted Kord (Blue Beetle), and I really hope I'm WRONG.

---


There are really no prospects for a new Blue Beetle. The only one I can see taking the mantle would be Booster Gold and that would just be plain nuts. Speaking of plain nuts, Ted Kord becoming the new Spectre would be an awful idea, but is there really any other alternative? Who else would do it?


---

The Secret Six stay together for the Catman lovers out there... all three of you! HA!

---


The Secret Six were a very pleasant surprise and I, for one, would be excited about a potential series. And if I get another duel between Deadshot and Deathstroke, I'll be happy.


---

Martian Manhunter gets a new series.

---


This, I slightly credit to the exposure the character has gotten on Justice League Unlimited. I can't remember another time when J'onn got so much spotlight.


---

The Creeper becomes a major player in the DCU.

---


This I've gotta see.

Overall, I'm excited for the world post-Infinite Crisis. If DC was smart, they'd offer a subscription deal for 52, because these issues are likely to sell out. And if they're anything like 24, we'll all be screwed if we miss a single issue.

(edited by It's False on 12.12.05 1847)

---

Sandy Jack sez Merry Christmas!
Tenken347
Knackwurst



Since: 27.2.03
From: Parts Unknown

Since last post: 2 days
Last activity: 2 hours

#3 Posted on | Instant Rating: 3.78
I gotta say, the X-books are probably the best they've been in about ten years, maybe longer. Things are actually happening, for once they're not just treading water. And I'll totally be picking up Secret Six, because the "new" Catman is totally awesome, and so is Gail Simone. And Frank Miller has always written a shitty Batman. There, I said it.
GRL
Frankfurter



Since: 13.7.02
From: Austin

Since last post: 75 days
Last activity: 12 days

#4 Posted on | Instant Rating: 5.00
Thanks to DC, for the first time in 10 years I will have a pull list at a comic store. It's just too hard to resist, what with my interest high in the new Aquaman, Shadowpact, Blue Beetle, and Legion of Super-Heroes (never thought they'd win me back) books up on the shelves. Not to mention how exciting it is to see the return of the Secret Six.




---

"Maybe I'm getting off topic, but this thread already sucks, so I don't feel bad about it. " -LotusMegami


"The only way TV Gangrel could change is if Real Gangrel changed." -Filipino Elvis
Jaguar
Knackwurst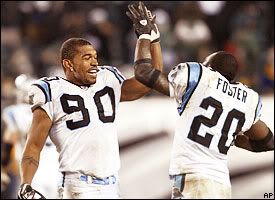 Since: 23.1.02
From: In a Blue State finally

Since last post: 504 days
Last activity: 307 days

#5 Posted on | Instant Rating: 4.61
MARVEL ZOMBIES


FUCK YEAH


---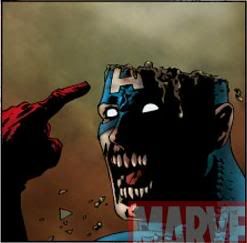 odessasteps
Scrapple



Since: 2.1.02
From: MD, USA

Since last post: 1464 days
Last activity: 1431 days

#6 Posted on | Instant Rating: 6.41

piecing together stuff I've heard through the grapevine:

Tim will be Robin (new costume), but Jason will be new Nightwing when Dick becomes Bats.

Wally may get shuttled off to that new dimension he just found.

The Supergirl in the LSH is Linda Danvers, not Kara.

I'd encourage people to seek out their favorite news sites for the March solicits which just came out. Those are the first OYL issues.


---

Mark Coale
Odessa Steps Magazine
The Affirmation, Baby Blog