Tenken347
Knackwurst



Since: 27.2.03
From: Parts Unknown

Since last post: 1 day
Last activity: 10 hours

#1 Posted on | Instant Rating: 3.57
Some real good stuff this week, and one disappointment. Let's start with the disappointment.

Uncanny X-Men #486: Brubaker wraps up his Shi'ar empire saga, although wrap-up is perhaps being a bit generous. More accurately, it just stops. Xavier has now regained his mental abilities courtesy of the M'kran crystal. That took all of a year, huh? If you consider Quicksilver's current powers to be an adequate substitute for his original ones (I don't), that just leaves Magneto to get repowered, and we're really back to square one as far as the important characters are concerned. Vulcan has been injured and forced to flee, but remains the emperor. Of course, he first kills his own father, a move which I think should have been a bigger deal really. Corsair goes down in a single panel. Havoc decides to carry on in his old man's stead, and Polaris and Marvel Girl stay with him. Everyone else gets shot back to earth, along with Hepzibah, Corsair's lover. The whole thing isn't bad, really, it's just terribly rushed and anti-climactic. I think I would rather have seen the events of this issue spread out over two issues instead.

Nova #2: This, on the other hand, is a lot more like what I was hoping for. Rich comes back to earth, has a run-in with Iron Man, and finds out what happened to the New Warriors while he was gone. It is important to note that nobody has told him about the prison in the Negative Zone yet. I'm pretty sure he's not going to be real happy about that one. Nova also fills Tony in about the Annihilation Wave, discovering that apparently Reed Richards never passed along the warning Nova sent to earth. I'm looking forward to the resolution on that one. The real winner in this issue, though, is Richie's interaction with his father. Richie's having a hard time on earth, and once he goes back into space I don't think he'll be coming back for a long while.

Cable & Deadpool #40: Finally, a Cable issue. The upshot of this issue is that Cable accepts the return of his mutant abilities in order to stop the Hecatomb, recognizing that doing so basically scuttles all of his plans to build a better future. It's a really good read, and next month promises us Deadpool vs. Sabretooth, something I've been looking forward to since they gave us the current X-Men lineup.

Thunderbolts #114: I've been on the fence with the new Thunderbolts, but this is another issue that makes me want to like it. In this issue, Steel Spider, Sepulchre, and American Eagle actually manage to take the Thunderbolts to school, dropping Swordsman and Moonstone in the opening round. Of course, with Moonstone down, Songbird takes command, and the team starts acting like a real team with a decent commander in charge. Next issue should be pretty good.

X-Factor #19: A good read, but nothing special. Mostly, it's a big fight between X-Factor and X-Cell.

Iron Fist #4 & #5: Missed #4 last month when it sold out. My most serious complaint about this series was that it was moving too slow. Pacing really picks up with these two issues. We finally find out what Orson Randall's deal is, the mystery opponent is revealed to be the Steel Serpent, and old Iron Fist enemy who was dead, but now he's not. Issue five also brings Luke Cage and the Heroes for Hire into the mix. If the first three issues had this much going on in them, I never would have had anything to complain about.

Fallen Son #3: Okay, I really got on Loeb's case with issue #2, because it was terrible, and so was the first one. This issue is actually pretty good. Not a home run by any stretch, but I feel like I could actually recommend this book to someone and not feel like a criminal for doing so. The crux of this issue is that it's the "bargaining" stage of grief, as Stark offers the title of Captain America to Clint Barton. The stages of grief gimmick doesn't really enter into it to much, though, until Clint's big speech at the end of the issue. Mostly, it's a good story about Clint and Tony's reactions to Cap's death. The story also features Patriot and the new Hawkeye. If the last two issues of the series can keep up this level of quality, I'm prepared to give it a (small) thumbs up.

Promote this thread!
hansen9j
Andouille




Since: 7.11.02
From: Riderville, SK

Since last post: 16 days
Last activity: 19 hours

#2 Posted on | Instant Rating: 5.36
I am perpetually puzzled by the Cable & Deadpool combination. How much of a crossover audience can the two possibly have, even given the constraints of the comic book reader community? (Personally, I'm definitely in the Deadpool category, although I beg and plead for Agent X to return full time with his own series...)


---

Proud member of the Dwight Army of Champions.



Cerebus
Scrapple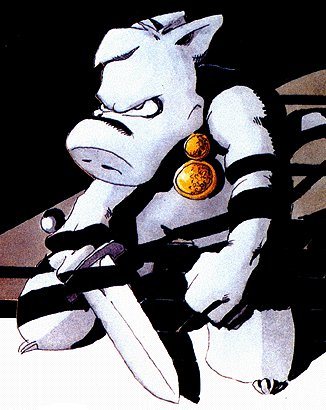 Since: 17.11.02

Since last post: 293 days
Last activity: 14 days

#3 Posted on | Instant Rating: 1.48
I was gonna say that you should give BLADE a chance, but damnit if Marvel didn't just announce it was gonna get cancelled at issue #12. It's still pretty good though.