Tenken347
Boudin blanc



Since: 27.2.03
From: Parts Unknown

Since last post: 7 hours
Last activity: 7 hours

#1 Posted on 12.4.07 1217.02 | Instant Rating: 3.57
Super late with this one. I was in Japan! No Iron Fist review this time, it was sold out:

Annihilation - Heralds of Galactus #2: With a couple of months to go until the next Annihilation event, this issue, along with the new Nova series, are going to be all I have to feed my appetite for cosmic stories. I liked this issue much better than #1. It features Firelord and the Silver Surfer, two heralds I know and like a lot better than Stardust and Terrax. Firelord kills some Centurions (Annihilus' elite troops) and spares some others who have rebelled against their brothers, including the one I always thought had the best design of the bunch. Silver Surfer, meanwhile, manages to defeat Aegis and Tenebrous, who surprised and defeated Galactus back in Annihilation. Both good stories, both by Keith Giffen. Buy it, and get ready for Annihilation: Conquest this summer.

Zemo - Born Better #3: This series really just seems to be a canvas for Zemo's total conversion to hero status. It's mostly his internal monologue thinking about power and its use and what both mean to Zemo and his family legacy. I'm okay with that, actually. I hate it when a writer makes some character development that gets undone one or two writers later. I hope that this means Zemo stays a hero for a good, long time.

Daredevil #95: Setup issue for the new arc. Daredevil is trying to take back Hell's Kitchen after his long absence, and his firm takes on the defense of an old enemy, Gladiator.

Fallen Son #1: Loeb said in some interviews, "Convince Wolverine that Captain America is dead, and you convince the audience." Bullshit. There's way too much ambiguity in this issue for me to take Wolverine, the avatar of the writer in this issue, at his word on this one. All he does is rough up Crossbones, who can't remember anything due to a mental block (most likely the work of Dr. Faustus), and then take a whiff of Cap's dead body. Then Iron Man shows up, goes "Yup, that's him," and we end the issue. Going to take a lot more than that to make me think that Steve Rogers is DEAD dead.

The Atom #10: The Atom fights off the undead Alvin and Jia totally plays him for a sap. Then Alvin comes back, kidnaps the Atom's father, and demands that the Atom kill Jia. Good dialogue punches up an otherwise dull script. Not great, but not bad either.

Sam Noir - Ronin Holiday #3: The conclusion of Ronin Holiday seems to set up a Sam Noir ongoing, which is about time if you ask me. This issue, Sam fights a zombified Eddie.


Promote this thread!
Cerebus
Knackwurst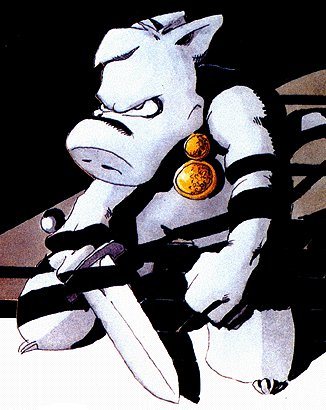 Since: 17.11.02

Since last post: 13 days
Last activity: 1 hour

#2 Posted on 12.4.07 1539.59 | Instant Rating: 1.48
You really need to be reading the new THUNDERBOLTS. Watching Norman Osborne's insanity slowly seep out around the rest of the characters is funny as hell. In the newest issue (Out this week!) with Osborne sending the team after the Scarlet Spider is, on it's own merits' pretty pathetic; but when Norman keeps saying 'man' after the word 'spider' and the team noticing it and calling him on it with him denying it RIGHT AFTER SAYING IT is pretty damn funny.

Also, give the new LONE RANGER series a once over. It's better then any of the Marvel western books could hope to be.

NOVA #1 also came out this week, which helps bring the ANNIHILATION storyline to Earth. Remember also, that Nova doesn't know anything about the whole CIVIL WAR crap yet.

OH! and also, Brother Voodoo pops up in NEW AVENGERS #29, so THAT'S a must read for everyone as well.
Tenken347
Boudin blanc



Since: 27.2.03
From: Parts Unknown

Since last post: 7 hours
Last activity: 7 hours

#3 Posted on 12.4.07 2018.43 | Instant Rating: 3.57
I've been reading the new Thunderbolts, and I've actually just started to get into the new direction. I should have a review of Nova #1 up in my next installment, I managed to come in to the shop a few days before it got there. I absolutely cannot wait until Nova gets down to Earth and finds out exactly what's been going down. I especially can't wait until Stark tries to bully him into registering, considering that Nova has gone from a bit player to one of the most powerful characters in the Marvel universe and doesn't have to take that kind of crap anymore. Should be awesome.
It's False
Scrapple



Since: 20.6.02
From: I am the Tag Team Champions!

Since last post: 1 day
Last activity: 9 hours

#4 Posted on 12.4.07 2232.50 | Instant Rating: 4.84
"You said Spider-Man."
"No I didn't. I said Steel Spider, man."
"You did it again!"

Norman Osborne OWNS this series!


---

The Wisdom of Homsar:
AaAaAa! I'm a trendy tote bag!
kentish
Andouille



Since: 19.8.05
From: My Old Kentucky Home

Since last post: 20 days
Last activity: 11 hours

#5 Posted on 14.4.07 1751.32 | Instant Rating: 2.58
I know a lot of long term fans of Thunderbolts are pissed about the change of direction, but it is a pretty good read. At least they did leave a few of the old characters in the book.

Watching Norman slowly lose it is going to be pretty cool. It's great to see his obsession with Spider-Man revisited. Many fans objected when Marvel brought him back form the dead. I always thought they never should have killed him in the first place. You don't see DC killing off Luthor or the Joker.


---


Dean! Have you been shooting dope into your scrotum? You can tell me! I'm hip!

skorpio17
Morcilla



Since: 11.7.02
From: New Jersey

Since last post: 2094 days
Last activity: 2094 days

#6 Posted on 15.4.07 1236.10 | Instant Rating: 2.35
Green Goblin is not Luthor or the Joker. He was a mostly a decent guy with fits of temporary insanity similar to the Lizard or Manbat. His Goblin side only appeared every few years to make it a special occasion. Then Harry was taken over by the Goblin curse. You didn't need to have Norman Osborn to continue the Green Goblin stories. It would suck like if they ran out of ideas for the Spiderman 5 movie and decided to bring back the Norman Osborn Green Goblin.

Anyway, I'd recommend reading last month's Batman with the Joker by Morrison. It is unique in that most comics are 80% pictures, 20% words and this one is 20% pictures and 80% words. It is almost the same as a book. Very good long read. I also like the new JLA.

The new FF:Initiative part 1 is not good. they were just starting to improve with Thing in France and Reed explaning himself too.

The new Aveners:Initiativ is good, but confusing. They have one stunning sequence that may or may not be a dream. So maybe someone here can explain what happens in a spoiler for me, or I'll just wait till the next issue.

Now that my bookstore got the Annihilation trade, I'll read it based solely on the recommendation of you guys.
odessasteps
Scrapple



Since: 2.1.02
From: MD, USA

Since last post: 18 days
Last activity: 3 days

#7 Posted on 15.4.07 1310.43 | Instant Rating: 6.71

As great as DD has been, I think Iron Fist may have surpassed it as Bru's best book.




---

Mark Coale
Odessa Steps Magazine
The Affirmation, Baby Blog
estragand
Summer sausage



Since: 18.6.02

Since last post: 2240 days
Last activity: 2240 days


AIM:
#8 Posted on 17.4.07 1118.21 | Instant Rating: 7.59
Originally posted by skorpio17

---

Anyway, I'd recommend reading last month's Batman with the Joker by Morrison. It is unique in that most comics are 80% pictures, 20% words and this one is 20% pictures and 80% words. It is almost the same as a book. Very good long read. I also like the new JLA.

---


Of course, by "unique" you mean "this same gimmick has been done before, most notably over 20 years ago in a Firestorm annual".

But I'll give DC credit that they put this in the REGULAR Batman comic, not as some special 8.99 one-shot special. As a "regular comic", it might have worked. But with all the run-on prose and bad similies, it didn't work for me. Stuff like: "they slam the door behind them, as quickly as they can, the way you would if you thought something might escape in the form of a cloud of evil gas if you didn't act fast to trap it"."

I mean, "a cloud of evil gas"?

I've read some bad stories in my time (hey, all 100 issues of "Azrael"), but I've never wanted to read about Joker's previously unseen midget circus gang. Yeah, we needed a buncha' prose pages about THAT.

Plus, the crappy Poser/Photoshop graphics and horrible typography throughout. One paragraph flows on the left and right side of a picture. In other words, there's a picture in the middle of text. That's a huge no-no in typography. You usually should break the text into columns or some other cheat. Additionally, on some pages the text doesn't contrast well with the background and it's tough to read.


---

-ES
Visit ES online- it's "Internet Entertainment"!
kentish
Andouille



Since: 19.8.05
From: My Old Kentucky Home

Since last post: 20 days
Last activity: 11 hours

#9 Posted on 17.4.07 1844.22 | Instant Rating: 2.58
If Goblin was only "a decent guy", why was he chosen as the villian for the first Spider-Man movie?

As for Morrison, well, he has always hit and miss with me, That being said, I didn't care much for the prose style in Batman. If I want to read a book, I will. But when I read a comics, I like it to be wrapped up in 10 minutes or so. I think Morrison proved why he writes comics and doesn't write novels.

But hey, I loved his Animal Man, and JLA runs.


---


Dean! Have you been shooting dope into your scrotum? You can tell me! I'm hip!