Cerebus
Scrapple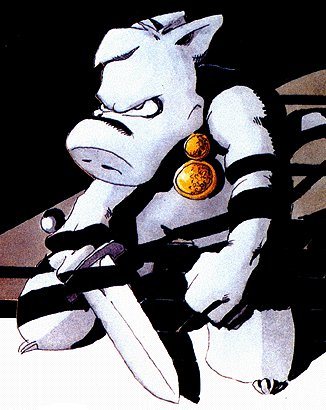 Since: 17.11.02

Since last post: 351 days
Last activity: 73 days

#1 Posted on | Instant Rating: 2.85
Just some crap to talk about...

ASTONISHING X-MEN #12 ends with the team learning that Xavier knew for YEARS that the Danger Room had come to life and decided to keep it locked away for the best. This is a HORRIBLE ending to a horrible second story arc written by Joss Whedon, who showed promise with his first story arc and showed that he doesn't give a shit about continuity with the revealation that Emma Frost is working for the Hellfire Club. This story has Chuck Austen rejected story-line written all over it. Seriously, it was a group of heroes fighting their playpen. This story has almost soured me on the next arc. This shit BETTER get (err...) better or it's dropped like a lead balloon.

EXILES #70, however, is one of the few things Marvel seems to be doing right by, lately. This is the ONLY HOUSE OF M tie-in (other then INCREDIBLE HULK) that I'm buying. Exiles is, hands down, the best mutant book on the shelves. They're making Beak, of all characters, a decent read. This book should be selling better, or atleast as well, as WOLVERINE, damnit. Go buy it!

GOTHAM KNIGHTS #69 gives us a new Clayface. It also tells us that Alfred really didn't see Tommy tied to that chair a few issues ago, as we thought, and that that was really the new Clayface and that Hush really IS Tommy. (deep breath...) We also get 'Evil Alfred' cutting Batmans' rope as he dives off a building... Yes, I said 'Evil Alfred'. DAMN! This is my favorite 'Bat' book for the past six months now.

BATMAN: WAR CRIMES was pretty good up till that bit where we find out that Leslie Thompkins let Spoiler die. Let's see now... Commishner Gordon retires, Barbara Gordon leaves Gotham, Alfred's doing stupid shit (seemingly?), Robin's gone, Catwoman's doing her thing, The quasimodo guys' out of the picture, and now Leslie's a lost cause... who's left to leave the Bat-Roost? They really are giving him a reason to be a paranoin nutcase, aren't they.

Frank Miller's ALL STAR BATMAN AND ROBIN makes me want to kill myself. The art's fantastic but the writing is horrible. Batman as a sadist/army sargent is just plain stupid. The dialogue is worse then anything you'd expect on daytime soaps. It's just plain bad. I can't believe this book is getting printed.

AMAZING SPIDER-MAN #523 (and this whole Hydra' storyline, actually) gives us the Peter Parker/Spider-Man of old. He's wise-cracking with the villans, he's tossing Wolverine out the window, he's just having a fun time being Spider-Man, it seems. The whole doppelganger heroes made me wonder what ever happened to the 'real' Doppelganger Spider-Man from a few years ago... anyone remember what happened to that character? I want Aunt May and Jarvis to have ONE scene together with Peter talking to them through a closed bedroom door.

FLASH: ROGUE WAR. WHat can I say, Johns leaves this book with his head held high, knowing he did a better run then Mark Waid. This was a good ending to a great long plotted out series. It tied up almost everything Johns has done on the book from his first issue on. Linda gave birth to TWINS! We find out who Boomerang's mother is (A Thawne relative!), we see the rogues joining the Secret Society and(seemingly) leaving town for good, we see Zoom put away for a while (I hope.) and lastly... we get the hint that Barry Allen decides to kill Thawne before he does it, in effect, making him a murderer. THIS, I'm not really all that pissed off about. Strange, seeing as I think Wonder Woman doing the 'deed' was wrong. Hmm...

ACTION COMICS #831 is a perfect reason Black Adam is one of my favorite characters. Nice of them to let Sups say that Black Adam's stronger then Shazam. Nice of them to FINALLY get to that Bizarro/Zoom race they teased us with on the cover of SUPERMAN #221. Bizarro WON, who'da thunk it? Bizarro's cool in small doses.

NEW AVENGERS just wrapped up a most excellent Sentry storyline. We found out that 'The Void' was actually a mental blok on Sentry in hopes of not allowing him to use his powers. This was a good story arc, except for that fact that (Again?) a non-Avenger is the one who 'saves the day' in that Emma Frost unlocks Sentry's mind. (Hey! Isn't she supposed to be a bad guy now?) Now we go into the next storyline, probably centering around who Ronin is. ...my guess is either Nick Fury or D-Man. I'm hoping for D-MAN!

JSA CLASSIFIED #3 hints at Power Girl being Superman's cousin from Earth3? This is a wacky turn in events. Nice to see Psycho Pirate making people remember what happened during the first CRISIS.

JSA #77 featured Hal Jordan defeating Shaggy Man single handedly and then going out into space chasing Airwave to see Donna Troy. firstly, Shaggy Man; last we saw him was handing the entire JLA their asses by himself and secondly this was SUPPOSED to be an issue of JSA, I thought; WHERE the hell is the JSA?

JLA #118 sees the team vote 50/50 for another mass mindwiping and Zatanna quits the team. We also see Aquaman put up a better fight against Despero then Martian Manhunter does, which was friggin SWEET! Superman came off as a idiot though, with the voting, cause I think he has more to lose then most of the others. Oh yeah, Hawkman's vote of "Kill them." was spot on and made me giggle, especially after having read 'Sacrifice' again.

ULTIMATES #8 gives is Nick Fury allowing the team to beat the shit out of Captain America who set up Hawkeye and his family to be killed. Holy shit!

GREEN LANTERN CORPS: RECHARGE gave us the best Guy Gardner in the last decade. He mooned Batman, showed up Kyle Rayner, AND pretty much told the Guardian where he could go. Guy owns the world and everyone else just lives there.

OUTSIDERS #28 sees a new member (hehehe...) in Captain Marvel Jr. which is interesting, but NOT as interesting as Nightwing and Starfire having sex. Shouldn't he be doing his 'undercover' thing and not getting 'under the covers' with hot alien women? Good filler issue. Better then most we've seen.

EDIT: because it looked like I was drunk when I typed it out. It looks (and reads) better now though.

(edited by Cerebus on 22.9.05 1737)
Promote this thread!
Mild Mannered Madman
Toulouse




Since: 1.3.02
From: Westminster, CA

Since last post: 1804 days
Last activity: 1522 days

#2 Posted on | Instant Rating: 3.28
Originally posted by Cerebus

---

Just some crap to talk about...

ASTONISHING X-MEN #12 ends with the team learning that Xavier knew for YEARS that the Danger

Room had come to life and decided to keep it locked away for the best. This is a HORRIBLE

ending to a horrible second story arc written by Joss Whedon, who showed promise with his

first story arc and showed that he doesn't give a shit about continuity with the revealation

that Emma Frost is working for the Hellfire Club.

---


The Hellfire Club bit is a hallucination. I'm guessing due to one of Mastermind's daughters.




---

There is a theory which states that if ever anyone discovers exactly what the Universe is for and why it is here, it will instantly disappear and be replaced by something even more bizarre and inexplicable. There is another theory which states that this has already happened.
- The Restaurant at the End of the Universe
Pizza Pasta
Linguica



Since: 29.3.03
From: Douglaston, NY

Since last post: 4162 days
Last activity: 3974 days

#3 Posted on | Instant Rating: 7.54
ASTONISHING X-MEN: Boy, this sucked, but at least it established Charles Xavier's theoretical "heel turn" (I'm betting he's also the one responsible for House of M). With the exception of Cable & Deadpool and maybe the new X-Factor I am definitely on the verge of dropping all X-titles.

ALL-STAR BATMAN & ROBIN: "[Smack] What are you, retarded?" And with that line, it sunk in how badly this is going. I was really looking forward to an "Ultimate Batman," and Miller appears to be telling this story exclusively from Robin's viewpoint (a worthy concept), but it's just head-scratchingly weird. Did Batman actually kill those cops when he ran them over? I couldn't even tell that basic plot point, much less enjoy the rest.

FLASH: I'm sorry that I got into this so close to the end (post Wally remembering that he was the Flash). Johns' run looks like it was a classic and he deserves credit for remaking the Rogues into such a colorful, interesting threat.

NEW AVENGERS: Zzz...Bendis talk talk talk, and Emma Frost (who isn't even a member) gets more face time than anyone and emerges a hero. Really, though, explaining how the Sentry has returned is such a disappointment when compared to his excellent origin series. I had been hoping for a way to split the Sentry and Void, giving the Marvel U. a new, cool villain, but now he's probably gone for good. Now we will find out (finally) who Ronin is. My guess? Fury, but who knows...it will probably be some obscure 70s character that Bendis read and loved.

JLA: Hawkman is rapidly becoming one of my favorite characters. Did anyone also notice the similarity between Despero's general character shape (including the fin) and "eye" with how the OMACs all look? He also called Bats, Aquaman, and Martian Manhunter his "chess pieces." Interesting.

ULTIMATES: No way is Cap the traitor. This whole thing will be revealed as a conspiracy started by an unknown enemy (perhaps the Red Skull, whom Millar referenced wanting to use). Issue 8 was a great look at both Fury and Cap, both of whom had been marginalized into military bullies as of late, and rekindled my love for the title.


---

"Remember, it's not a lie if *you* believe it." - George Costanza

Geek Soap Box - Music, Mets, Comics, and a Heaping Dose of Right-Wing Politics! (geeksoapbox.blogspot.com)