redsoxnation
Scrapple



Since: 24.7.02

Since last post: 1787 days
Last activity: 1787 days

#21 Posted on
Originally posted by dMp

---

WAR games? Yeah, thats the name to use right now..
With GW still yelling he wants Iraqi's blood, Bali bombings, middle east threats by both Israel and the Islam/Palestine people..

Now I am not very PC but I *can* imagine someone saying 'war games is NOT a good name in this age'

We'll just wait and see what that chamber is..

---




We all know Vince is sympathetic during wartime, oh wait, he's the one who put the world title on Iraqi sympathizer Sgt. Slaughter during the opening days of the Gulf War on a PPV sent to armed forces. Now, back to the match. I love Wargames, but was there really a classic Wargames match after the Dangerous Alliance one of '92? Now, who had control of WCW for all the Wargames after '92, Uncle Eric. So, if they consult with him about Wargames, we might get the moronic Wargames stip that was '98.


---

I want you to know, I agree with everything I've just said.
VK Wallstreet
Goetta



Since: 18.6.02
From: New York, NY, USA

Since last post: 5647 days
Last activity: 5645 days

#22 Posted on
Maybe it's Battlebowl. Bring back Hacksaw Jim Duggan!


---

¡Azúcar, flores y muchos colores! Estos fueron los ingredientes elegidos para crear a la niñita perfecta. Pero el profesor Utonio agrego accidentalmente otro ingrediente a la formula: ¡la sustancia X! Y así nacieron, ¡las Chicas Superpoderosas! ¡Con sus ultra súper poderes, Bombón, Burbuja y Bellota dedican su vida a combatir el crimen y las fuerzas del mal!
Markme123
Polska kielbasa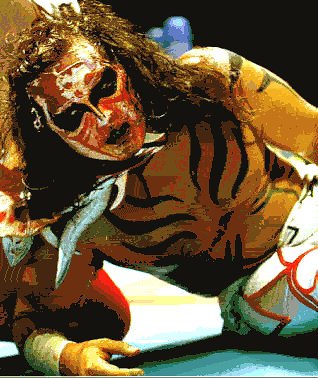 Since: 7.1.02
From: San Jose, Cali

Since last post: 5035 days
Last activity: 4743 days


ICQ:
#23 Posted on
"Chamber of Elimination"

Chamber: A cage has to be involved. Hell in a Cell, WarGames, or WarGames 2000.

Elimination: This must indicate that there will be a lot of participates. And if it's elimination, it can't be the ACTUAL WarGames, cause it doesn't involve eliminating people.

I kinda agree with Tragic1 in thinking it will be based around a Survivor Series type match. Plus, I really don't think that it can be a real bad match considering the wrestlers in todays WWE. There is no really reason for large PPV match to stink considering that there aren't any BAD uppercard wrestlers on RAW (that I can think of right now).


---
"We can't bust heads like we used to, but we have our ways. One trick is to tell them stories that don't go anywhere. Like that time I took the ferry over to Shelbyville; I needed a new heel for my shoe. So, I decided to go to Morganville, which is what they called Shelbyville in those days. So I tied an onion to my belt, which was the style at the time. Now, to take the ferry cost a nickle, and in those days, nickles had pictures of bumblebees on them. "Give me five bees for a quarter," you'd say. Now where were we? Oh yeah, the important thing was that I had an onion on my belt, which was the style at the time. They didn't have any white onions, because of the war; the only thing you can get was those big yellow ones..." -Abe Simpson
Galidor
Boerewors



Since: 15.7.02

Since last post: 1505 days
Last activity: 513 days

#24 Posted on
My Take on the Chamber.

It will be a Reverse War Games.

Ten Men enter, youre eliminated by Tapping out, or dying.

Last man standing wins the chamber match.

vsp
Andouille



Since: 3.1.02
From: Philly

Since last post: 4341 days
Last activity: 597 days

#25 Posted on
Ten men in a cage, in two teams of five.

Nine midgets are dropped in.

Whoever fails to capture a midget is eliminated.

Subtract one midget, and repeat until one team is wiped out.

Tell me you wouldn't want it on pay-per-view.




---

"No society has managed to invest more time and energy in the perpetuation of the fiction that it is _moral, sane and wholesome_ than our current crop of _Modern Americans_."
-- Frank Zappa
Jaguar
Knackwurst



Since: 23.1.02
From: In a Blue State finally

Since last post: 475 days
Last activity: 278 days

#26 Posted on
BEST. MATCH. EVER.

-Jag

Of course, there has to be music playing during the midget capturing phase. The person without a midget when the music stops is out. This way, we can have time to fight over the midgets
---
With poison running through your veins, and death marching solemnly towards you, heroic acts become more of a necessity as you see your time dwindling.

Vanquishing your enemies, making amends to those you have wronged, and leaving words of love and kindness for those around you become second nature as your own mortality looms

However, true strength lies not in these last desperate acts, but in the actions of one who has to get out of bed the next day and face the consequences of doing that which you believe is right.
odessasteps
Scrapple



Since: 2.1.02
From: MD, USA

Since last post: 1436 days
Last activity: 1402 days

#27 Posted on | Instant Rating: 6.41

Isn't Wargames actually an anti-elimination match, since they add people to the match until the end?

On the surface, it just sounds like the traditional Survivor Series format inside a cage.


---

Odessa Steps Magazine
Fall 2002 - On sale now
www.odessasteps.com
See us at the Baltimore Comicon - Oct 26-27
Mild Mannered Madman
Toulouse



Since: 1.3.02
From: Westminster, CA

Since last post: 1778 days
Last activity: 1495 days

#28 Posted on
They won't do WarGames, simply because it's not a McMahon idea. Especially since its a Dusty idea.



---
Listen to Filler Bunny...
ICEMAN
Landjager



Since: 23.5.02
From: Nashville,TN

Since last post: 3183 days
Last activity: 2872 days

#29 Posted on
Maybe its a huge thing that they used to pick ping-pong balls out of to determine the number of entry and put all the wrestlers in and whoever doesn't fall out wins.


He may be a sick afterwords but hey thats what the casual fans want.

(edited by ICEMAN on 22.10.02 1623)


---
Does this look like a man who would dry hump a mannequin?
doclogan
Longanisa



Since: 12.10.02

Since last post: 913 days
Last activity: 868 days

#30 Posted on
Two thoughts

1) If Arquette showed, wouldn't HHHHHH have to job to him if Pissoff brought him back?

2) More seriously (Really hope for fan's sake I'm wrong)
Elimination Chamber--Bunkhouse Battle Royal in a cage......
count olaf
Goetta



Since: 15.7.02

Since last post: 4797 days
Last activity: 4794 days

#31 Posted on
To consider- How big is the Raw roster? At this point, Smackdown isn't involved in the chamber, so I'm thinking there's only 20 or so total possible entrants inside. Likely some or all of HHH, RVD, Kane, Jericho, Christian, Book, Goldust will be involved in one or more title matches at the show. That lowers the crowd to a handful of ppv wrestlers and a bunch of guys who wouldn't usually be on a ppv- Dreamer, Al Snow, Nowitski and the low midcard crowd.
shinstrife
Boudin rouge



Since: 5.10.02

Since last post: 811 days
Last activity: 1 day

#32 Posted on
I'm sorry but I started watching WCW when the logo change happened and never caught any of there ppv's,care to explain war games?


---

"WHAT!?!"-What WWE/F production crew said when new of Austin's walk out took place.

Shin Strife-"I'm not here because I want to,I'm here because I felt to."
DarrylTheHitman
Potato korv



Since: 21.9.02
From: Kitimat, British Columbia, Canada

Since last post: 4588 days
Last activity: 4206 days

#33 Posted on
2 teams of usually 5, but sometimes 4, square off. There are twon rings beside each other, with traditional steel fence/cages around them complete with a roof. One man from each team enters and every 2? 5? i forget...minutes one man enters. At the next interval, the man from the other team enters. The running joke is that the heel team always wins the coin toss that decides which team gets to add a man first. This results in extended 2-on-1, 3-on-2, 4-on-3, etc., beatdowns. When all members of each team have entered, War Games begins. The only way to win (under traditional rules) is when someone submits (or passes out, I believe). Scott Keith wanted it for settling the WWF/Alliance feud at Survivor Series last year. I just want to see one. I was never a WCW follower so I never saw one. I believe it first debuted at The Great American Bash 1987, live on PPV from Baltimore in July 1987. Anyone out there who has more info, feel free to fill in the blanks.


---
DsTEviLSCA
Weisswurst



Since: 17.10.02
From: Newport News, VA

Since last post: 4569 days
Last activity: 4424 days

#34 Posted on
Strangely, the first idea I had upon hearing "Elimination Chamber" was the Thunderdome (was that the name?), the "electrified" cage from early 90's WCW. Unlike Wargames, its first (and only, I believe) appearance was under Bischoff's regime. But since that was a singles match, it's probably not that.

Actually, I won't be shocked if it's just a traditional Survivor Series match in a cage. Wargames would indeed rock, though.
Rush4Life
Kolbasz



Since: 2.1.02
From: Tacoma, WA

Since last post: 67 days
Last activity: 43 days

#35 Posted on
Darryl the Hitman is pretty close.

There are 7 periods in Wargames.
The first is 5 minutes and the others are 2.

Just to throw it out, my favorite Wargames is the first 2. the crowd in the Omni in good old Hotlanta Georgia for the first match. That was just awesome, even good old JJ Dillon took a bump that kept him out of the 2nd WG. Boy, a match designed to kill off the Horsemen, didn't work out well, did it???


---

Rush4Life

"I believed what I was told, I thought it was a good life, I thought I was happy. Then I found something that changed it all...." -Anonymous, 2112
A Fan
Liverwurst



Since: 3.1.02

Since last post: 4865 days
Last activity: 4865 days

#36 Posted on
See, I love WarGames, but if its a traditional Survivor Series match inside of a cage, then DAMN!!!!!

Instead of having one guy pass out or submit, you have to knock out the entire team. It would be long, but fairly brutal. If this is the match they are going for, I'm all for it as long as HHH jobs to someone, I don't care who, just as long as he loses.

A Fan- HHH has to win this match, because the Horsemen used to own WarGames.
The 5th Horseman
Kolbasz



Since: 23.10.02
From: Myrtle Beach, South Carolina

Since last post: 4311 days
Last activity: 4300 days

#37 Posted on
Originally posted by Rush4Life

---

my favorite Wargames is the first 2. the crowd in the Omni in good old Hotlanta Georgia for the first match. That was just awesome, even good old JJ Dillon took a bump that kept him out of the 2nd WG.

---


I was in the Omni in Atlanta that night as a birthday gift for my 12th birthday. That was easily the best live event I've ever seen, at least once we got past the boring concert featuring Michael Hayes and the Bad Street Band. Along with the Wargames, there was also a classic Rock & Roll Express vs. Midnight Express match.

Anyway, the Wargames match was awesome. I will never forget that match. The problem is, I'm affraid the WWE would screw the match up even worse than WCW did in later years. Maybe Paul Heyman could step in and make it work.

But, as others have said, the rules for War Games just don't fit the classic Survivor Series formula or the name Elimination Chamber.


However, the Wargames would have been perfect for the 10 man "Winner takes all" match that ended the Invasion angle.
miknight
Blutwurst



Since: 22.10.02
From: Oztraya

Since last post: 1305 days
Last activity: 1240 days

#38 Posted on
""Ten Men enter, youre eliminated by Tapping out, or dying.""

i don't know why Galidor but the way you put that was Hunter Hearst Hilarioius

Onward to mediocrity!!!

(edited by miknight on 24.10.02 1623)

---

You should write that down.
James F'n X
Bockwurst



Since: 2.1.02
From: Seattle, WA

Since last post: 4394 days
Last activity: 4360 days

#39 Posted on
I didn't get to see the first few War Games, but I really enjoyed the nWo vs. Horsemen one in 1997, where Curt Hennig turned on the Horsemen in one of the classic finishes of the nWo era.

And yes, the descriptions given so far for WarGames have been accurate. Both teams stand outside the double cage. One man from each team enters, and they compete for 5 minutes. A coin is then flipped (and the heels win the coin toss), and a member of the winning team is allowed into the cage. Two minutes later, the sides are evened again. Two more minute go by, and the heels get person #3 in the cage, etc.

Once everyone is in the cage, "The Match Beyond" begins. Anything goes, and the only way to win the match is to make one member of the other team submit or surrender by being unable to respond to the referee.


---
"Come to the place where tropical breezes blow! Come to the coolest place I know! The people are so great! But really there's only me! And that means I'm so great, and also there's the Cheat, oh there's the Cheat!"
Mild Mannered Madman
Toulouse



Since: 1.3.02
From: Westminster, CA

Since last post: 1778 days
Last activity: 1495 days

#40 Posted on
Since this thread has slowly turned into "My favorite WarGames is..." I'm putting in my 2 cents.


Sting/Brian Pillman/Steiner Bros. -v- Flair/Windham/Vicious/Zbyszko -- WrestleWar '91

Sid finishes off Pillman with two powerbombs for the only KO victory I know of in a Wargames.




---
Listen to Filler Bunny...
Pages: Prev 1 2 3 Next