CRZ
Big Brother
Administrator



Since: 9.12.01
From: ミネアポリス

Since last post: 22 hours
Last activity: 7 hours


ICQ:
#1 Posted on | Instant Rating: 9.39
Sorry, completely forgot to do this for 24 hours - but that just means you've had an extra 24 hours to prepare to unleash your best material!

As always, thanks to the WWE Facebook group. Full gallery is at Imgur (imgur.com).

When replying, please remove the "quote" tags if replying - let's keep the width at 600px or under (click on images to see full size versions if you desire)



1.



2.



3.



4.



5.



6.



7.



8.



9.



10.



11.



12.



13.



14.



15.



16.



17.



18.



19.

BONUS PICTURES!



1.



2.



3.




---

Promote this thread!
dMp
Knackwurst



Since: 4.1.02
From: The Hague, Netherlands (Europe)

Since last post: 2 days
Last activity: 5 hours

#2 Posted on | Instant Rating: 7.88

2.

Daniel Bryan shows the turmoil that goes inside his head wether he should look at the cleavage of the woman next to him.



6.

Codÿ screams for Tensai to stop touching Sin Cara's mask. That's HIS angle, damnit!




7.

Striker contemplates crying in a corner or punching out AJ.



9.

Forget planking, owling and what not, Daniel Bryan is trying to get people excited about the lastest craze; Mummying!



1.

Paul Heyman passes an unconscious guy on the street and immediately wonders if he still owes this guy money from the ECW days.



2.

So, so, Mr.President, how do you, how do you handle, how do you handle promises that you've made when you held your financial conference and how do you handle, how do you handle it?
I mean, what do you say to people? Do you just — you know — I know — people were wondering. You don't? Excuse me? I SAID EXCUSE ME! EXCUSE ME!!!





---
RYDER FAKIN
Six Degrees of Me



Since: 21.2.02
From: ORLANDO

Since last post: 531 days
Last activity: 3 min.

#3 Posted on | Instant Rating: 6.85

1. DB: Damn Kane, can't you leave your gimmick at work?



2. Kane: And you're talking to me about bring-a-long gimmicks?



3. Send in the Clown



4. Sheamus: Ya know fellas, nary a one of ya can unnnerstan me...but cheer me anyway. I'ma guud gey



5. AJ: You know Punk, General relativity is a theory of gravitation developed by Einstein in the years 1907–1915. The development of general relativity began with the equivalence principle, under which the states of accelerated motion and being at rest in a gravitational field (for example when standing on the surface of the Earth) are physically identical. The upshot of this is that free fall is inertial motion; an object in free fall is falling because that is how objects move when there is no force being exerted on them, instead of this being due to the force of gravity as is the case in classical mechanics. This is incompatible with classical mechanics and special relativity because in those theories inertially moving objects cannot accelerate with respect to each other, but objects in free fall do so. To resolve this difficulty Einstein first proposed that spacetime is curved. In 1915, he devised the Einstein field equations which relate the curvature of spacetime with the mass, energy, and momentum within it.



6. Cody (singing): Hey ref! I got your back turned, I got your back turned, so you can't see Tensai, got you back turned!



7. AJ: So, tell me teacher, was I right or wrong on the theory of relativity? Huh? TELLLLLL MEEEEE!!!!!!



8. Punk: HAPPY BIRTHDAY!! (looking at the sign over Sheamus's head)



9. Eveyone's so proud of Kane. Betcha Harold didn't mind being next. Like Charlie Brown attempting to kick a football



10. A match where no one is the winner. Eve: You blew those spots so damn well, girl!



11. Sheamus shows what it's like to carry around 260 pounds of jobber shit



12. Why does Ryback feel the need to jacknife someone before the bomb. That's almost a dumb as the marching



13. Alberto cries as Otunga is the one to represent him



14. Kane: easy DB. You know what they say about guys in sweaters...



15. Swagger: This 260 pound bag of jobber shit is going home until you find something for me. AJ: You are about to be the straw that broke the camels back. Don't expect nothing. NOTHING!!!!



16. Santino: What's that Cobra? I can go back to being a comedy non priority? Hey - you are not my Cobra. You are just my hand! AC looks away in disgust



17. resthold



18. Cena hangs 10 while Alberto plays Bronco Billy. Can't end well



19. And it's didn't. But check out all the onlookers in the background. It's like an ROH show!

BONUS PICTURES!



1. Paul E: I'd get out of the car to help, but you know how it is...



2. Vicki, trying her best to channnel Eddie. She'll probably wind up with Mike Awesome



3. Burt Ward and Adam West would be proud. Maybe they could do a mystery father angle with AJ

FLEA



(edited by RYDER FAKIN on 5.9.12 1525)
---

Demonstrations are a drag. Besides, we're much too high






Matt Tracker
Scrapple



Since: 8.5.03
From: North Carolina

Since last post: 5 days
Last activity: 3 hours

#4 Posted on | Instant Rating: 9.42

14.

Hey, Kane, remember: NO NO NO means NO NO NO.


---

"To be the man, you gotta beat demands." -- The Lovely Mrs. Tracker
Lexus
Andouille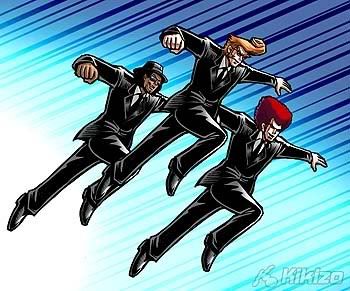 Since: 2.1.02
From: Stafford, VA

Since last post: 15 days
Last activity: 15 days

#5 Posted on | Instant Rating: 5.70

1. Kane considers whether the trash can needs Rolaids as Daniel suggests Tinactin.



2. Daniel realizes he's been ribbed by Zodiac.



3. Miz looks away as Cole peers into all of us using his Evil Eye Technique.



4. "...so the agent asks what they call the act, and they say 'the Aristocrats'..."



5. "Your hometown, your jobbing duties."



6. As Albert keeps himself on the apron by bracing himself on the second rope and Sin Cara, Cody flat out bites the referee in the face.



7. AJ: "NO!vaKane, get it?!"
Striker: "Yeah, yeah, one shot and you're out, used to be my finish."



8. "Baking Soda, seltzer, and a touch of toothpaste. How do you polish your belt?"



9. Daniel falls over backwards protecting himself after Harold starts giving purple nurples.



10. "It's okay, the pacing of the show killed the energy of the crowd, so they aren't booing our botched spots!"



11. Swagger is just nuts about how Sheamus's facial hair feels against his arm.



12. Just before hoisting Mahal, or any opponent for that matter, Ryback whistles himself a little tune.



13. "I'm sorry, but that's between me, my client, my coffee cup, and Alberto's towel."



14. Daniel and Kane look on in awe as the realize their anger management therapist is 7 feet tall.



15. AJ: "I see you put on a hoodie after taking off your singlet, but you're not wearing any pants."
Swagger: "Like what you see?"
AJ: "Not really. Why are your hands still taped?"



16. Santino's hand puppets distract us all as Antonio Cesaro tries to remember where he is and what he's doing next.



17. Both Heath and Zach acknowledge the same fan in the 4th row holding the "Hey, how's it going?" sign.



18. While the graphics are spot on, WWE 13 is still a little buggy.



19. Both Alberto and Cena are vanquished as the referee is the one lucky enough to get CM Punk's magic lucky coin.

BONUS PICTURES!



1. Heyman: "I thought this was a nice neighborhood."



2. Vicky finally confronts the dirtiest culprit in WWE history, costing titles, title shots, and countless matches over the years much to the chagrin of babyface and heel alike; the steel chair.



3. ...and in a dramatic payoff to costing titles, title shots, and countless matches over the years much to the chagrin of babyface and heel alike, AJ delivers a beatdown to the steel chair.


---

"Laugh and the world laughs with you. Frown and the world laughs at you."
-Me.
miknight
Blutwurst



Since: 22.10.02
From: Oztraya

Since last post: 1276 days
Last activity: 1211 days

#6 Posted on

1. Homeless Kane's garbage-can fire attracts the attention of the homeless lumberjack oompa loompa



2. Daniel Bryan's insane scribblings are only half as insane as the stupidly small clock in the background. As judged by Tina.



3. Michael Clark Duncan makes his final appearance in the top left corner, sporting wicked green sunnies. R.I.P big man.
Bonus: Yes, this was an attempt to not have to acknowledge Cole in any way.



4. Sheamus's shirt now reads BrogWick. I think it's an improvement.



5. AJ: Oh Punkypoo, you're my favourite sea-creature XOX
Punk: Daniel was right, you need to be put somewhere padded.



6. I like to think that the guy under Tensai was just birthed whole from him, with that disinterested look and all as he falls to earth.



7. AJ: I don't think you understand Mike! I just checked and my entire collection of bumble puppies has disappeared and been replaced by a fluffy smear of ketchup!!!
Striker: I am bamboozled. Gangflummoxed... Thursday.



8. Sheamus is so bored and sad that he visibly wilts under Punk's tirade.



9. Harold's stare is so serial killerish that D-Bry recoils in horror, while covering his soul for protection.



10. Eve doesn't know how to high-5. Kaitlyn knows she doesn't know.



11. Jack's only fan sees the writing on the wall, and goes off for a rethink of his life.



12. I've decided that that sign above Cole is a speech bubble.



13. ADR: Shuttup David, he's here to interview your Bowtie and Thermos. Those two have been seen canoodling backstage, and i want the hot goss. It is my DESTINYYYY to see if they're hooking up.
OR....
Matt Striker's return to Raw was unplanned, he's merely sleep-interviewing his way around the building. David looks on with pity.



14. Daniel Bryan wins facial expression of the year. Kane's hand is the 27th thing to get tangled in his beard this fortnight.



15. Seeing wrestling tights next to normal clothing really makes you wonder what we take for granted in wrestling attire doesn't it.....



16. Santino's puppetry makes Antonio reevaluate every decision he's ever made to this point. That's 2, count em, 2! life reevaluations tonight!! WWE saves lives!!



17. Zack's Ironman impression is not enjoyed by Heath Slater, because he thinks Ryder is counting his entire winning record for the decade.



18. Cena: Hoverboards are still 3 years away, but damnit if we can't practice for when they do get here.
ALSO: This photo + this music http://www.youtube.com/watch?v=25DhzZRXzTs



19. It may be too late, but CM Punk still tries to warn the guys about the approaching zombie hoard shambling down the hallway.

BONUS PICTURES!



1. Paul: Oh thank god. No collar means i don't have to report this.



2. Vickie was too late, whoever was in that chair was just sucked into The Grid by those Tron laser lights.
OR
Clint Eastwood's RNC improv show is the most topical ripoff that WWE's ever done.



3. OH, it was AJ who got sucked into The Grid....... makes sense i guess.
OR
One of these sounds is not like the others, one of these was made by a pirate
---
---

Three oinkers wearing pants, a plate of hot air, a basket of grandma's breakfast and change a bull to a gill, got it.
cfgb
Bierwurst



Since: 2.1.02
From: Ottawa, Ontario

Since last post: 218 days
Last activity: 6 days

#7 Posted on | Instant Rating: 7.00
3.


And Miz hits Cole with the Vintage gas, right to the nostrils!

{ Picture shrunk - you're fired - Ed. }

(edited by CRZ on 5.9.12 2248)