CRZ
Big Brother
Administrator



Since: 9.12.01
From: ミネアポリス

Since last post: 3 days
Last activity: 12 hours


ICQ:
#1 Posted on | Instant Rating: 9.39
As always, thanks to the WWE Facebook group. Full gallery is at Imgur (imgur.com)

When replying, please remove the "quote" tags if replying - let's keep the width at 600px or under (click on images to see full size versions if you desire)



1.



2.



3.



4.



5.



6.



7.



8.



9.



10.



11.



12.



13.



14.



(edited by CRZ on 25.6.12 2343)

(edited by CRZ on 26.6.12 0000)
---

Promote this thread!
ekedolphin
Scrapple



Since: 12.1.02
From: Indianapolis, IN; now residing in Suffolk, VA

Since last post: 8 days
Last activity: 20 hours

#2 Posted on | Instant Rating: 3.15
5. When Brodus asked The Big Show to help him with his stretching routine, this is not exactly what he had in mind.
6. Even with that ugly green shirt you're wearing, I still look more ridiculous than you do!
8. I am your Angel of Music... come to me, Angel of Music...
---
"Don't do anything I wouldn't do."
--Stone Cold Steve Austin
Fan of the Indianapolis Colts (Super Bowl XLI Champions), Indiana Pacers and Washington Nationals
Certified RFMC Member-- Ask To See My Credentials!
Co-Winner of Time's Person of the Year Award, 2006
Big G
Frankfurter



Since: 21.8.03
From: the people who brought you Steel Magnolias....

Since last post: 36 days
Last activity: 1 day

#3 Posted on | Instant Rating: 6.63

2. Last time I get a number one contender from Ikea.



5. So. Who ordered the drumstick?



6. Well, it's almost the end of the financial year. And my accountant told me I need to fight you again.



7. This pose should get me listed in The Huffington Post's new sideboob section.



8. Yeah, so it tastes smokey. What of it?



9. You might be twice as smart as me, but I am half the man you are!



12. I am so wasted right now.



14. And if you smirk even once, I swear I will bite your fucking ear off!



(edited by Big G on 26.6.12 0658)
RYDER FAKIN
Six Degrees of Me



Since: 21.2.02
From: ORLANDO

Since last post: 557 days
Last activity: 22 days

#4 Posted on | Instant Rating: 7.61

1. DB: "Are these facials good enough for ya, Vince?"



2. (music) "Everybody's gone surfin"...DB: "My facials Vince! Main Event!"



3. Vickie: " I get you guys every time with my 'EXCUSE ME' cheap heat! HA!"



4. Behind La Costra Nutsa the MITB ladders make a cameo



5. Clay: "Bro, dancin's mah gimmick!! Don't kill mah gimmick!"



6. Dude, you think there are rats in wrestling? Try Rock N' Roll! Why do you think I'm so skinny?



7. Jobber Jack about to lose to the dumbest move in wrestling



8. For the last time, I *am* the Undertaker's brother. Or am I? No I'm not. Well maybe I am. Anyways there was this fire and a guy named Paul. Not Paul Heyman. Paul Bearer. Get it? pallbearer...well, he was my father. I think...etc (and that's how Kane got rid of AJ)



9. Hey! It's Sid's Grandpa!



10. A glimpse into the future of how the Diva's will look at Vickie's age. Or if they ever ate a full meal without vomiting



11. Lawler's Dream - except they are all about 10 years too old



12. PUNK: : (smugly) Why, yes I have a smoking jacket, a pipe and a house made of glass"! AJ: "Who cares about that, did you hear the Undertaker moonlights as a pallbearer at the Fire Department?"



13. Jericho: "I don't remember this being so goddamn hard



14. Jericho: Show is running down, I'm outta here - got some concerts. Remember what I said about the rats


FLEA

(edited by RYDER FAKIN on 26.6.12 1842)

---

Demonstrations are a drag. Besides, we're much too high






Lexus
Andouille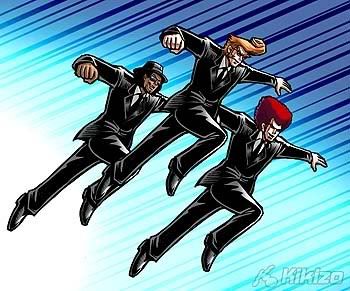 Since: 2.1.02
From: Stafford, VA

Since last post: 6 days
Last activity: 6 days

#5 Posted on | Instant Rating: 5.56

1. Daniel bids somber farewell to the magic floating WWELIVE as Kane drags him away.



2. Remembering earlier, Daniel can't bear to look at the magic floating WWELIVE



3. "I shopped with Linda!"



4. AJ looks down, and remembers the bonds she shared with Daniel and the magic floating WWELIVE



5. 7th row back, 5th aisle, Big Show notices the guy who took him for 58 dollars and a 12 pack of Yoo-Hoo in a pool game yesterday.



6. "No John, I'm not selling my jacket."



7. Fact: Santino developed the modern Cobra hand puppet for wrestling people who have hepatitis.



8. "I don't wear hair product, in fact I'm pretty sure this is a wig."



9. Sid glares at Slater, letting him know it's not over between him and the Masters of the Powerbomb, and they'll see him at Starrcade. Slater, wondering who this crazy guy who looks like Brock Samson is and why he's yammering on about old WCW, hops the to rope, taps the apron, and is done with the whole thing.



10. "I got this with Linda too!"



11. Suddenly, everybody lost a contact lens.



12. CM Punk's had just about enough of AJ's ramblings about the magic floating WWELIVE right in front of him.



13. Cena laughs at the revenge of his lunch on Jericho's crab; the ultimate counter to the move.



14. Jericho describes the men's room at a bar in Alberta after Jim Neidhart got done with it.




---

"Laugh and the world laughs with you. Frown and the world laughs at you."
-Me.
supersalvadoran
Sujuk



Since: 10.1.08
From: westbury, new york

Since last post: 611 days
Last activity: 161 days

#6 Posted on | Instant Rating: 3.81
Wow, they really gave us a ton to work with here.



1. Kane employs a unique massage to remedy Daniel Bryan's back pains.



2. Seeing how Kane's method didn't work, Bryan tries the chiropractic ways of CM Punk to relieve his aching back.



4. AJ- "Where did I leave my Batman comic book? Oh, there it is! Next to the Kane mask and the CM Punk voodoo doll."



5. Brodus- "OK, OK! I'll give you my stack of fried oreos if you don't break my leg!"



6. Jericho- "As your divorce lawyer John, I have some good news and some bad news on the settlement. I mean really bad news, like even worse than the hideous jacket I'm wearing."



7. With the position he's in, Swagger should consider himself lucky he got a cobra on the shoulder and not a trouser snake up the you-know-what.



8. Kane- "Of course, I'll still do a free dental checkup for you. Just because I broke up with you doesn't mean I've broken up the fight against cavities. Just remember to look up Issac Yankem DDS in the yellow pages."



9. Sid- "WHAT DO YOU MEAN BREAK A LEG?!?!?" Slater- "S-s-si-sir, it's only an expression of good luck!"



11. All I could think of when I saw this was Bugs Bunny going Dog Pile on the Rabbit (youtube.com).



12. CM Punk listening intently to AJ's spa and mud bath tips.



14. Jericho- "And your ex-wife didn't appreciate your lame Star Wars joke, so she forced me to give up your custodial rights to Wookie, the Pomeranian. It was either that or an extra $10,000 a month in alimony." Cena- "NOOOOO!!!!!"






---