CRZ
Big Brother
Administrator



Since: 9.12.01
From: ミネアポリス

Since last post: 2 hours
Last activity: 2 hours


ICQ:
#1 Posted on | Instant Rating: 9.39
Once again, thanks to the WWE Facebook group. Full gallery of 17 is at Imgur (imgur.com)

When replying, please remove the "quote" tags if replying - let's keep the width at 600px or under (click on images to see full size versions if you desire)

I hope you like Vince as much as whoever chose these images for the Facebook gallery this week!



1.



2.



3.



4.



5.



6.



7.



8.



9.



10.



11.



12.



13.



14.



15.



16.



17.




---

Promote this thread!
Peter The Hegemon
Lap cheong



Since: 11.2.03
From: Hackettstown, NJ

Since last post: 5 days
Last activity: 11 hours

#2 Posted on | Instant Rating: 6.58

1. Man, you could really put an eye out with that sign!




3. Funny story, actually...I pulled a muscle trying to imitate your walk!




12. On the set of the long-awaited "Stand Back 2012" video.




15. Backstage, the agents remind each other to specify that you grab your shoulder in pain when TAKING the move.




17. Y'know, if he's that ashamed of all those "entertainment" segments he had to do, he probably shouldn't be doing The Twist until after the show.
RYDER FAKIN
Six Degrees of Me



Since: 21.2.02
From: ORLANDO

Since last post: 586 days
Last activity: 52 days

#3 Posted on | Instant Rating: 7.80

1. There's an entire SCRIPT for Johnny on the back of this. How can he fuck up?



2. Vader (in song): "Neither a borrower nor a lender be"



3. Johnny: Vince, have you ever heard of a one legged man in an ass kickng contest?



4. Cena: I *know* you said you hate lawyers, but you got my back on the divorce, right?



5. Kofi: good thing this is some fake ass shit



6. Layla: Beth, honey, please don't crush my implants



7. Vince: yes, I've heard of the one legged man, but don't go there


8. Tensai: I got big pops for this in Japan! Lousy Americans



9. Hoof Hearted? Ice Melted



10. Just bump around while I scream in Japanese



11. Khali: Hey guys, spread out. I've got to get in my chops! I'm outta here in a minute!



12. Vince : An elbow to the head of one and a Khali chop to the other. Knockout for me! BROWN SUGAR! how come you taste so good....



13. Vince: slow down....we have to make sure that the real JR is back from a piss break to see our comedy



14. Vince: Who hired this midget?



15. Just a reminder Cara, we work left to right in this country (slaps the arm just make sure the point is made)



16. Punk: Why am I straight edge? A bottle of vodka and some Spice would really make it fun with this girl



17. Cena "VINCE! SELL THAT PUNCH! even if it misses by 6 inches! SELL THE PUNCH!!!


---


FLEA

(edited by RYDER FAKIN on 12.6.12 1302)

---

Demonstrations are a drag. Besides, we're much too high






dMp
Knackwurst



Since: 4.1.02
From: The Hague, Netherlands (Europe)

Since last post: 1 day
Last activity: 1 hour

#4 Posted on | Instant Rating: 7.88

1.
What the..! There's even a tv in this thing. And hey look, it's me! Gawd Look at me sit there. A real man, damnit!"




7.
Vince: Hrrmm....damn. I really don't remember if I turned off the stove or not.



14.
Bryan:So then I did a Regal-plexx moving into a crossface chickenwing, transferring into a bridging double chickenwing...wait Vince...are you following me here?
Vince:Sorry kid, all I heard was "what a maneuver"



16.
While AJ puts the move on Punk, the champ wonders if there's actually any diva left on his 'to-do' list



---
supersalvadoran
Sujuk



Since: 10.1.08
From: westbury, new york

Since last post: 640 days
Last activity: 190 days

#5 Posted on | Instant Rating: 3.80

1. Which one of these pedals do I press to run over Jim Ross?



2. IT'S VADER TIME, STING! IT'S TIME TO- wait, what do you mean he's still in TNA?



6. Is it wrong that I find this erotic?



11. Khali: "Enough already, Swagger. It's my turn to have Ziggler bump and job for me."



13. Vince: "OK, just to make sure because even I can't remember past WWE storylines. You're *not* my son, correct?"



14. Bryan: "That's a real nice tie. Can I feel the fabric?"
Vince: "Don't even think about it."




---
Big G
Frankfurter



Since: 21.8.03
From: the people who brought you Steel Magnolias....

Since last post: 65 days
Last activity: 2 days

#6 Posted on | Instant Rating: 6.63
Alrighty. Let's give this funny captioning lark a go. I wonder whether not watching since Wrestlemania will help or hinder?



1. Hey, those fat hill billys might be onto something.



2. ... and it was this big!



3. Giving the people what they want: A Portrait



4. Pull my finger.



5. Look Out Kofi! Vicki's waxing her bikini line over there.



6. I could never do this move on Natalya.



7. Yeah, Mae Young. Once.



8. And you're sure this will cure his hiccups?



9. ... so then my doctor recommended I try the sponge.



10. You let me wrestle with all this chocolate on my face!?



11. Teach You Make Call Centre Joke



12. Stupid Linda. I used to dance with way more strippers than this. *sigh



13. Wait, what? Why are you here?



14. And what's more, you can pull your own damn finger!



15. OK. Now I'm positive I'm not doing this right.



16. I should totally get a pet rabbit.



17. Let's get out of here before he takes his pants off again!

ekedolphin
Scrapple



Since: 12.1.02
From: Indianapolis, IN; now residing in Suffolk, VA

Since last post: 7 days
Last activity: 5 hours

#7 Posted on | Instant Rating: 3.14
1. I've got People Power right here... in my pants.
2. Bret Hart's gotten a lot fatter and uglier since the last time I saw him.
(edited by ekedolphin on 13.6.12 1356)
---
"Don't do anything I wouldn't do."
--Stone Cold Steve Austin
Fan of the Indianapolis Colts (Super Bowl XLI Champions), Indiana Pacers and Washington Nationals
Certified RFMC Member-- Ask To See My Credentials!
Co-Winner of Time's Person of the Year Award, 2006
Lexus
Andouille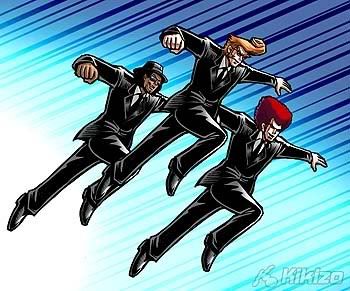 Since: 2.1.02
From: Stafford, VA

Since last post: 4 days
Last activity: 4 days

#8 Posted on | Instant Rating: 5.55

1. Vince takes a moment to figure out where the ignition is.



2. "Hey now, who wants a hug?"



3. "Oh, you wanted me to remind you about that soda you left in the freezer."



4. "Seriously, don't forget about your Diet Sprite, it's in the freezer."



5. Show: "This is for taking the last Choco Taco from the ice cream guy!"



6. Unfortunately, Layla's friends and family were in the opposite direction and Beth's boost was for naught.



7. "Yeesh, and I thought I was married to the most wooden uncharismatic person ever to step into this very ring."



8. Bob: "Seriously, think somebody could not wear red here? All they said was the guy in red was going over."



9. Vince and Johnny consider Vicky's words as Teddy wisely guards his tool.



10. "I don't care if they're chanting 'Albert', you don't have to join in. Look what it's making me do to you!"



11. Khali: "Easy guys, somebody might get a concussion!"



12. Vince tries to make his way back across the dance floor without spilling his Diet Sprite.



13. "Have we dropped the whole you being my son thing or is that still in continuity?"



14. "Don't forget your..."
"Yeah, yeah, I drank it already and this whole joke sucks."



15. Sin Cara pulls a full on Corsican Brothers with Hawkins making the hammerlock hurt his shoulder.



16. Heartbroken that he just used the last of his Brill Cream, AJ consoles CM.



17. The ring, angry with the show, shakes everyone out, puts Cena's hat on backwards, and cuts the best promo of the night.


---

"Laugh and the world laughs with you. Frown and the world laughs at you."
-Me.