Wpob
Bierwurst



Since: 21.11.02
From: Williston Park, NY

Since last post: 4 days
Last activity: 17 hours

#1 Posted on
I watched RAW last night and was looking forward ot see Booker T and HBK together. Why? I was hoping that the "creative staff" would have remembered that Michaels super icked Booker out of the nWo a while back. Now, I am not asking for a Booker beatdown on Michaels, but what would have been nice last night if when Michaels came in to see Booker, Booker stands up and looks at Michaels and says nothing. Michaels, confused, asks if there is a problem. Booker slaps Michaels and say "That's for the super kick, NOW there's no problem". Michaels could have said he deserved it and they could have moved on from there. It would have made Booker T look good to get a little bit back from the Michaels beatdown and it would have closed that door completely, especially tagging with Nash in the future.

But I guess that is asking for too much.


---



Big brother representative: Now, Mr. Simpson, may I ask why you're here?
Homer's Brain: Don't say revenge. Don't say revenge.
Homer: Ummm... revenge?
Homer's Brain: Okay, that's it. I'm outta here.
[Sound FX: step step step step step... slam]


Promote this thread!
JWstorm
Kolbasz



Since: 23.10.02
From: Tarheel State

Since last post: 4364 days
Last activity: 3641 days

#2 Posted on
well HBK was heel then good now.


---

I LOVE WRESTLING!!!!!!!!!!!!!!!!!!!!!!!!!!!!!!!!!1
asteroidboy
Andouille



Since: 22.1.02
From: Texas

Since last post: 2742 days
Last activity: 1650 days

#3 Posted on | Instant Rating: 4.95
HBK should have turned heel on Booker last night, tearing off his Jesus freak shirt to reveal a WENDY'S uniform. And then Booker does an involutary spin-a-roonie while yelling, "Gimme a biggie fry, sucka!" But then Nash makes his BIG RETURN and yells, "You're under arrest!"

Then, as Booker's being led away by the cops, HHH shakes his head and says, "His people don't deserve to be in the ring with my kind of people."




---

-- Asteroid Boy


Wiener of the day: 23.7.02

"My brother saw the Undertaker walking through an airport."
"Was he no-selling?"
CANADIAN BULLDOG
Andouille



Since: 5.3.03
From: TORONTO

Since last post: 1858 days
Last activity: 1857 days


ICQ:
#4 Posted on
THAT scenario would have required WWE to give fans credit and realize we sometimes, you know, REMEMBER STORYLINES!

Aargh! Yeah, last night, I was thinking the same thing...


---

"If I told Mooah to act her age, she'd die." -- Jerry Lawler, 1999
Excalibur05
Knackwurst



Since: 19.1.02
From: Minnesota

Since last post: 784 days
Last activity: 652 days

#5 Posted on
Originally posted by CANADIAN BULLDOG

---

THAT scenario would have required WWE to give fans credit and realize we sometimes, you know, REMEMBER STORYLINES!

Aargh! Yeah, last night, I was thinking the same thing...

---


Oh, come on, they had HURRICANE run in during the main. They remembered that he and HHH wrestled last week.

Besides, Shawn and Booker are both faces, that story is a year old, a bunch of character changes have happened, and I BET if he would have done that, only a handful (if THAT) of people would have gotten what they were talking about, because there are very few people as anal about storylines like we are.


---

Satire 03/31/03 (wienerboard.com) <- No kidding, right?
Buffy 7.17 gets a 7.87 So...Spike and Wood have Oedipus complexes...riiiiight...
socetew
Chourico



Since: 23.5.02
From: NYC, baby!

Since last post: 4181 days
Last activity: 4178 days

#6 Posted on
*I* think Booker T should have Axe Kicked HBK just for the hell of it, and then taken out Kane, RVD and Chief Morley as well, but then gotten the beatdown by Jeff Hardy, because Jeff was mad that a few months back, Booker beat him, *and* he didn't even let him get in a post-match beatdown afterwards, when Jeff was in his confused heel stage.

Word!!!

-eocs


---

A la la la la, I can't hear you.
jwrestle
Lap cheong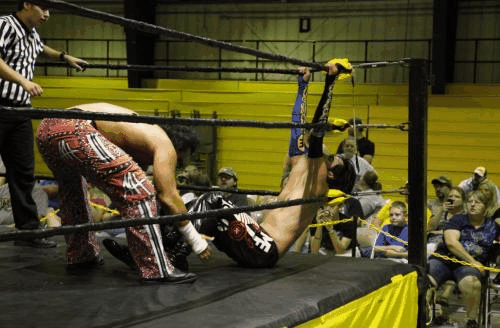 Since: 4.4.03
From: Nitro WV

Since last post: 52 days
Last activity: 17 days


ICQ:
#7 Posted on
Yes, Booker nails Shawn then Nash comes out they all start pounding on Booker. Which triggers the the 100th time the nWo reforms and they name it Evolution nWo so we have Nash, Micheals, HHH, Jericho, and Naitch. Two weeks later they start Jericho's face turn because he relizes that he's not a thug. Recycled storylines...we forget them right?!? Ugh WWE creative give me break.


---

"Life is a circle we all meet again." Beastmaster
JST
Toulouse



Since: 20.1.02
From: Quebec City, CAN

Since last post: 106 days
Last activity: 5 days

#8 Posted on
What is this "WWE creative" you speak of?

Isn't that an oxymoron?


---