DirtyMikeSeaver
Bockwurst



Since: 19.5.02
From: Toronto

Since last post: 11 days
Last activity: 11 days

#41 Posted on
The thing I find ironic about all of this is that Gunn and Palumbo are going to be on the Today show and Howard Stern, hyping the heck out of this, having some viewers being curious on how this is all going to turn out.... and all it's turned out to be is a ploy to further heat between Eric Bishoff and Stephanie (although, from what's been written, it seems entertaining).




---

By the way, Storm's gimmick includes 1.) telling the audience to shut up, and 2.) occasionally making everyone stand for the Canadian national anthem. You know they don't know what to do with a wrestler when he's making fans stand for a national anthem. It's like waving a white flag and saying, "This guy has no personality -- we give up."

ESPN's Bill Simmons
deadbeater
Morcilla



Since: 12.2.02
From: Parts unknown

Since last post: 5682 days
Last activity: 5682 days

#42 Posted on
Uh-oh, Bischoff crossed the line by having the Gay Bashers (they did work over HLA) assault Steph. Remember the GMs were to be untouchable. Bischoff WILL get his ass kicked. And all will be good.

(edited by deadbeater on 12.9.02 0251)

---

"Business has just picked up" says JR. Then right on cue, Molly enters the arena! Never was JR any better in introducing someone. --Raw 7/15

You want the title? Keep your clothes on!!!
ekedolphin
Scrapple



Since: 12.1.02
From: Indianapolis, IN; now residing in Suffolk, VA

Since last post: 5 days
Last activity: 12 min.

#43 Posted on | Instant Rating: 4.52
I don't believe it. Finally WWE gets some positive publicity for once-- Today show, Howard Stern, articles in newspapers--
And they piss it all away. Don't get me wrong, I'm still not a huge fan of the Billy/Chuck angle they had going. But it was getting WWE some mainstream coverage, and now they're actually going to say, ON THE AIR, that it was just supposed to be a publicity stunt?
This is ludicrous! Absolutely ridiculous-- hell, possible future WrestleCrap material. Instead of walking away from this thing looking like a million bucks, WWE is going to get shat upon. The hell of it is that Billy and Chuck will appear on the Today show
after
they'd already taped a show in which the angle in question was nixed! What if the Today show were to find out about the SmackDown spoilers? It would create a public relations nightmare on national television, for crying out loud! The floodgates would open, and
everybody
would be criticizing WWE for being such assholes that they'd send these two guys to the show,
knowing
that the whole damn thing was going to be one publicity stunt.
I don't believe this. I don't fucking believe this. Is WWE
trying
to throw away everything they've worked so hard to build?
---
"Now put that thing back where it came from or so help me-- Oh, hey! We're rehearsing a scene from the upcoming company play called Put That Thing Back Where It Came From Or So Help Me."--
Mike Wazowski, Monsters, Inc.
Two-Time, Two-Time Randomly Selected Weiner of the Day, 5/27/02 and 7/3/02
Mr. Heat Miser
Blutwurst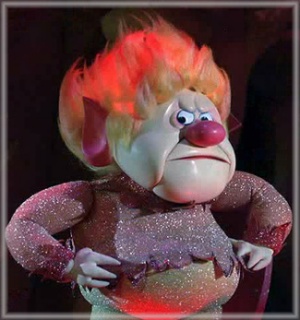 Since: 27.1.02

Since last post: 3855 days
Last activity: 1958 days

#44 Posted on
Originally posted by Fab

---


So the gay heels turn straight, and thereby become babyfaces? Yeah yeah, it was the Raw attack that made them faces. That's a GREAT cover story.


---


You know, I thought this too, at first.....

BUT, what if Billy & Chuck just keep acting in the same amiguously gay way that they have been? Maybe claiming the whole wedding was a publicity stunt is a way for them to creep back into the amiguous closet - the attack turns them face, and they get to remain crypto-gay?

OK, so it wouldn't save Thursday's SD!, and the WWE won't do it, but it seems that there could still be some face ambiguously gay characters at the end of the day, here.

Maybe.

edit: fixin' the typos

(edited by Mr. Heat Miser on 13.9.02 1048)

---

Everything I touch, starts to melt in my clutch........
I'm too much!
Texas Kelly
Lap cheong



Since: 3.1.02
From: FOREST HILLS CONTROLS THE UNIVERSE

Since last post: 235 days
Last activity: 53 days


ICQ:
#45 Posted on
Originally posted by Tragic1

---

What kind of divison would they have though?

---

You're missing the big picture here - it doesn't matter what kind of Hardcore division Smackdown has. Bischoff gave up on Hardcore, and I highly doubt that Tommy Dreamer was the only one a bit put off by that (in storyline terms). You start with Tommy Dreamer because he was the champion when Bischoff canned the division - but it doesn't end with him... Raven's a HC specialist, but he's banned from Raw, remember? He jumps. Others jump. Taking Dreamer is a means to an end - by resurrecting Hardcore on Smackdown, Stephanie has a modus operandi to steal a whole slew of wrestlers from Uncle Eric, thus advancing the GM angle even more.



Originally posted by Tragic1

---

Personally, I'm glad the Hardcore division is done with. Let the talent compete in normal matches and save the no-dq, falls count anywhere stip for the big blowoff matches.

---

I'm not. Hardcore still has an aura about it to carry a division - what made it so horrible in the WWF was the complete madness brought about by the 24/7 rule and (aside from Mr. Steve Blackman) the fact that there was never really a dominant figure in the division for an extended period of time (and sorry, RVD doesn't count). If you bring back ECW-style Hardcore, trust me, it'd be way over - and they've got the guys and the writing in the company to make it work.



Originally posted by Tragic1

---

If Steph is going to get revenge, it will most likely be an inter-promotional match at Unforgiven. Maybe with a stip that would give the winner a shot at the tag belts at No Mercy, giving Smackdown a chance to get the tag belts back. Or maybe she grabs RVD and the IC belt next week and thus threatens for Smackdown to take yet another World Title from Raw.

---

As I've said in the past, it simply doesn't make sense in storyline terms for RVD to jump to Smackdown - it just doesn't fit in with his "WTF, you know?" character. Besides, he's the biggest face on Raw - you take him and Raw would probably be damaged too much.



Originally posted by ekedolphin

---

I don't believe this. I don't fucking believe this. Is WWE trying to throw away everything they've worked so hard to build?

---

I doubt it. This reeks of the WWF being forced to can the angle by Viacom after the HLA fiasco, and if that's the case - this is probably the best they could have handled the situation. And yes, they were getting mainstream publicity - but it sure as hell wasn't POSITIVE publicity, and most of the fans didn't care about the angle. So I think this is the best the Federation could have come out of this.


---
Being The Bookerman (No Way Out)
Grading The Bookerman (No Way Out)
Worship Your God And Mine
CRZ NOTABLE QUOTABLE OF THE MONTH:
KANE: Triple H...tonight, I will burn the flesh from your body!
MICHAEL COLE: OH MY GOD. KANE THREATENING TRIPLE H, SAYING HE'S GONNA BURN THE FLESH FROM HIS BODY!
CRZ: Umm, I heard it the FIRST time!
-- WWF Smackdown, 9/9/99
Pages: Prev 1 2 3