Scooter Trash
Blutwurst



Since: 23.7.02
From: Indiana

Since last post: 328 days
Last activity: 21 min.

#1 Posted on
I wasn't sure whether this should go in "One Question" or "Wrestling". Feel free to move it if need be, powers that be.

As stated in the WrestleMania thread, I ordered the network at the last minute mostly to watch WrestleMania. The idea was that I should be able to justify spending $60 out of this.

In my opinion, I feel I have already gotten most of my money back in enjoyment.

From being able to watch WrestleMania while working, the Raw Backstage Pass last night, and just kind of scrolling through some old PPV's and Madison Square Garden matches, the network has really surpassed my expectations.

I've been watching most of it on my iPad, and the quality has been very good.

I'm just curious what is everyone else's opinion of the Network at this point, and what are you watching?
Promote this thread!
JayJayDean
Scrapple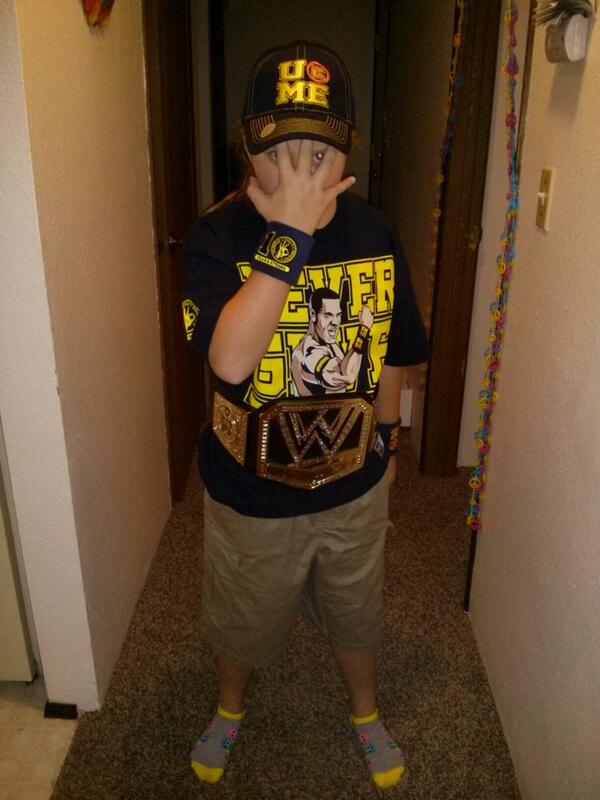 Since: 2.1.02
From: Seattle, WA

Since last post: 848 days
Last activity: 426 days

#2 Posted on | Instant Rating: 7.62
(Gimme me a) hell yeah.

Last night my cable went out, but I caught all the highlights from the last 40 minutes on the Network.

When I got home today IJ said "Dad, you HAVE to see this interview with the Shield and Renee." (The one Shapiro posted in That Other Thread.)

Later I said something about Paige and she said "I like Paige. Her and Emma had a good match at NXT Arrival."

And the fact that the next five PPVs are free? Yes. Yes. Yes.

I've only watched ECW Barely Legal and most of Money in the Bank 2011 so far, but I'm watching Main Event for Wyatts/Shield. And IJ and I like the Countdown shows a lot. (And I hate to admit, but I was super-sucked into the Triple H DVD that they showed after Mania.)

I have no time for real-time "analysis" from WWE panels on Raw or Smackdown, especially since I'm on the west coast and when Raw airs here it's over already. I'm kind of surprised that they don't air Raw live yet, but maybe that's coming?


---

Holy fuck shit motherfucker shit. Read comics. Fuck shit shit fuck shit I sold out when I did my job. Fuck fuck fuck shit fuck. Sorry had to do it....

*snip*

Revenge of the Sith = one thumb up from me. Fuck shit. I want to tittie fuck your ass. -- The Guinness. to Cerebus



"I have enough people telling me I suck online" -- lotjx

saturn93
Italian



Since: 21.4.03
From: Naperville, IL

Since last post: 17 days
Last activity: 20 hours

#3 Posted on
(deleted by saturn93 on 8.4.14 2142)
KJames199
Scrapple
Moderator



Since: 10.12.01
From: #yqr

Since last post: 16 hours
Last activity: 16 hours

#4 Posted on | Instant Rating: 8.73
I love it, and I didn't even use it to watch Mania. I watched NXT Arrival on demand, the Hall of Fame live, and that Daniel Bryan special tonight, as well as some older PPVs and random "live" stuff. Minimal problems with all of it. It's well worth the cost, even factoring in the extra $5/month I pay for the proxy service so I can actually access it. I'd recommend it to anyone with an interest in wrestling.
Tenken347
Knackwurst



Since: 27.2.03
From: Parts Unknown

Since last post: 3 days
Last activity: 5 hours

#5 Posted on | Instant Rating: 5.26
I'm another guy who ordered it for the archive footage, and I got my money's worth in the first week. There's still lots of stuff I want them to add (they've finally put up ECW Hardcore TV from late 94, but since I already own copies of 95 and 96, I'm waiting for 97 and 98 - everything after that is a curiosity at most for me), and there are some improvements to the interface I'd like to see, but overall I'm thrilled. I consider the PPVs to be gravy, and when they're as good as WM was, it is good gravy indeed. I especially liked all the hype packages for WM that they put up on the network, which actually did a better job getting me excited for the show than the last few weeks of RAW and Smackdown did. Add in NXT (which is the best wrestling show on not television), and yeah, I'm thrilled with the purchase.
El Nastio
Banger



Since: 14.1.02
From: Ottawa Ontario, by way of Walkerton

Since last post: 5 days
Last activity: 3 hours


ICQ:
#6 Posted on | Instant Rating: 3.42
Got it for Wrestlemania XXX, and considering I place it at the top of my all-time Wrestlemania's, it as worth it.

Also watched the Daniel Bryan special, and it was excellent!


---
"You can't put a price on integrity"
Packman V2
Bratwurst



Since: 16.3.04
From: Albuquerque, NM

Since last post: 2 hours
Last activity: 51 min.

#7 Posted on | Instant Rating: 7.06
I was glad within the first week once they worked the kinks out, but Wrestlemania just enforced the feeling.

I've enjoyed watching the past PPVs, but have really enjoyed the Legends of Wrestling round table shows they brought over from 24/7 on Demand.


---
Stefonics
Frankfurter



Since: 17.3.02
From: New Jerusalem

Since last post: 259 days
Last activity: 8 days

#8 Posted on | Instant Rating: 6.17
Originally posted by Packman V2

---

I was glad within the first week once they worked the kinks out, but Wrestlemania just enforced the feeling.

I've enjoyed watching the past PPVs, but have really enjoyed the Legends of Wrestling round table shows they brought over from 24/7 on Demand.

---

We're passengers on the same boat. I find myself getting sucked in to LoW more than the old PPV's. I know they're there, I like knowing that they're there; I just don't watch them as frequently as other options. I plan on getting in to NXT next. I'll get around to the PPV's when the mood strikes. That's the main thing that I love about the Network: I'm not under any obligation to watch anything at a specific time.

I ordered as soon as it was available. The kinks were frustrating but not too difficult to deal with. Then they fixed a lot of them. Quickly. I'm very impressed with how they listened to the problems (from the PS4 side), addressed them, and fixed them. It could theoretically always be better but it's pretty damn good now. I would be happy to spend $10 per month ($15 with the proxy service, like KJames199) without the benefit of live streaming PPV. Wrestlemania was the cherry.

I know I shouldn't say it, but I'd be willing to go as high as $20 per month for the service, especially once they get all of the episodes of Raw and Nitro on demand. At that point I would cut Netflix out of my life. Hulu is already gone and I don't miss it. I feel that Netflix will be the same for me sooner rather than later.
Tyler Durden
Landjager



Since: 22.2.04
From: Frankfurt, Germany

Since last post: 552 days
Last activity: 552 days

#9 Posted on | Instant Rating: 4.46
Totally worth every single penny. I will probably never ever cancel my subscription, even if they increase the price to $25 a month.


---

#WeWantBryan #YesMovement
geemoney
Scrapple



Since: 26.1.03
From: Naples, FL

Since last post: 5 days
Last activity: 29 min.

#10 Posted on | Instant Rating: 7.86
Oh, absolutely. Like others here, I've been gorging on the Legends of Wrestling Roundtables (just in case they pull some in the future) and I hope new episodes are on the docket for some time in the near future.

Even if that's all I watched, it'd be worth it. But I've also watched NXT and Main Event, and some of the pre-and-post-game shows. Add in the PPVs, and that's just gravy.


---

@gregmparks - live Tweeting of Raw and Impact, wrestling thoughts and other slices of life.
Toast Jr
Kishke



Since: 30.1.03
From: Stafford Springs, CT

Since last post: 14 days
Last activity: 19 hours

#11 Posted on | Instant Rating: 7.25
I have also been watching the Legends of Wresting round tables. Somehow the existence of the ShockMaster made it under my radar. I had never seen him, heard of him, or knew of his existence. And then I watched the LoW on bad gimmicks. They had the entire introduction of the ShockMaster to the world. It also had Dusty explaining how the idea was conceived and then how it was executed. I must have watched the ShockMaster video 20 times. I was laughing so hard I had tears streaming down my face and I was ACTUALLY rolling on the floor with laughter. A sparkly Storm Trooper helmet, a crappy voice over, and he trips and falls? Too Much! The Network was worth it just for this. I will gladly give the WWE $10 for the rest of my life just as a thank you for high quality video of the ShockMaster.
BigDaddyLoco
Scrapple



Since: 2.1.02

Since last post: 1 day
Last activity: 19 min.

#12 Posted on | Instant Rating: 4.83
Yes, it is great even with the Xbox glitches.

Weird side note. I have now been billed 9.99, 10.09 and now 9.99.

Also if the WWE Network works on every device glitch free except on Xbox and every app in Xbox works glitch free except the WWE app, what do you think the problem is. Yet they stand firm that it is everything but their fault. At this point I would just be happy if they admit it instead of suggesting bogus fixes, but for the price it is what it is.

(edited by BigDaddyLoco on 13.4.14 0950)