Dexley's Midnight Jogger
Pepperoni
Moderator



Since: 10.10.02
From: New Hampshire

Since last post: 1597 days
Last activity: 1511 days

#1 Posted on | Instant Rating: 7.47
As I mentioned in the Help Haiti thread, my wife and I donated money to a charity to help with the recovery of Haiti. Usually I am very picky about who I give my money to as I don't want to give it to a charity who will take a lot of money for administrative purposes. I try to donate to the local food bank on a regular basis and three or four times a year will drop off old clothes to the Good Will store or Salvation Army, and recently we will buy an extra box or two of food to put in the food bin when we check out at the supermarket.

My question is, how do other people give to charity? Are you skeptical, like myself? Or a little more trusting?
Promote this thread!
samoflange
Lap cheong



Since: 22.2.04
From: Cambridge, MA

Since last post: 1706 days
Last activity: 1698 days

#2 Posted on | Instant Rating: 6.32
I've been donating to Heifer International (heifer.org) for a while now. It is one of the 'feed the hungry' type of organizations that has minimal overhead and it provides a long-lasting contribution, not just a one-time food or medicine supply. "Teach a man to fish" etc.

I'm on the board of a family-run conservation fund which donates to various non-profits doing environmental work in New England. A large part is dedicated to purchasing undeveloped land for wilderness conservation.

I put all old or unwanted clothes in those drop-boxes scattered throughout the city. I don't know how well those organizations work, but it's better than throwing them away.

I always donate money to developers of open source software that I use regularly.


---

Lloyd: When I met Mary, I got that old fashioned romantic feeling, where I'd do anything to bone her.
Harry: That's a special feeling.
AWArulz
Scrapple



Since: 28.1.02
From: Louisville, KY

Since last post: 11 days
Last activity: 3 days

#3 Posted on | Instant Rating: 4.48
I give to my church - about 10% of my income, and the churches Income - 25% goes outside the community, 25% inside the community and more or less the rest goes for salaries of the staff and building.

I sponsor a couple kids - one with World Vision - been doing that for more than 15 years and am on the second child - the first "graduated" from the program - her name was Carmen and she was from Honduras (and I assume she still is)

I give to Mercy Corps - they do good work. That's to who I gave extra for Haiti

I give monthly to and organization called Christ in Youth - they do programs for Junior High kids

We have regular pick ups from the Cedar lake lodge of clothes and other stuff. I'll be honest, I don't know who they are, but my wife seems to.

and, I volunteer a lot - at a homeless feeding program, through our local community food pantry and through driving kids places they need to go that their parents can't (or won't) afford to do.

edit
I forgot, I do a payroll donation to United Way as well

I'm blessed. Shouldn't I give some of what has been given me back?

(edited by AWArulz on 15.1.10 2136)

---
We'll be back right after order has been restored here in the Omni Center.
That the universe was formed by a fortuitous concourse of atoms, I will no more believe than that the accidental jumbling of the alphabet would fall into a most ingenious treatise of philosophy - Swift
Zeruel
Thirty Millionth Hit
Moderator



Since: 2.1.02
From: The Silver Spring in the Land of Mary.

Since last post: 397 days
Last activity: 339 days

#4 Posted on | Instant Rating: 4.30
I only donate for disaster relief if I can do it with cash. It sickens me that the credit card companies make literally hundreds of millions off of the transaction fees for processing the transactions. I bet they're going to make another bundle off of Haiti.

I do donate to the American Cancer Society and the Kidney foundation by check for family reasons. Too many of my family members have died from cancer and kidney related illness.


---
-- 2006 Time magazine Person of the Year --


-- July 2009 Ordained Reverend --
StaggerLee
Scrapple



Since: 3.10.02
From: Right side of the tracks

Since last post: 8 hours
Last activity: 8 hours

#5 Posted on | Instant Rating: 2.91
I donate to causes that move me. Usually I will give at least a dollar to every salvation army kettle I see. I know it's not a lot, but it adds up.
I also participate in habitat for humanity, volunteering to do labor.
I also used to participate in the Kidney Walk that my former employer sponsored each year, to raise money/awareness for Kidney disease.

It's hard to donate more now that I am unemployed, so I have been doing more volunteer work, hoping to network a bit while doing so.
I have donated to the Global Orphan Project, who's been in Haiti BEFORE the earthquake and will certainly need more money now that they are facing a LOT more business in the wake of this tragedy.



(edited by StaggerLee on 15.1.10 1224)

---

http://theglobalorphanproject.org/​?​p=1538





http://www.redcross.org
If you can, these two organizations are hard at work in Haiti, so please give them a hand.
Guru Zim
SQL Dejection
Administrator



Since: 9.12.01
From: Bay City, OR

Since last post: 12 days
Last activity: 4 days


ICQ:
#6 Posted on | Instant Rating: 9.32
I am a member of Kiwanis and all funds raised by our club in the community are 100% returned to the community. We also add our labor and efforts to the mix, so it's an overall net gain for the community.

We gave $100 to the Red Cross for Haiti relief and we do so for just about every major incident. I can't be there to help, but I know I can help them get people and supplies there.

I try to give blood when it is convenient. I used to be better at this, but the bloodmobile doesn't hit my work like it used to hit the callcenter. Callcenters are blood farms for donation organizations!

I serve on an Urban Renewal board, and I'm a member of the board of directors for my Kiwanis club. I also donate my skills to a number of local non-profits (Lise's museum, a quilt museum, Chamber of Commerce, and the YMCA.

I also spend about 10 hours every year putting together memorial pictures for C.O.P.S. (Concerns of Police Survivors) for the officers who have been slain in the line of duty for a memorial. I help out my friends who are a part of this organziation, who are also Sheriff's department chaplains. I do a little computer assistance fo them as well.

We give money to Jerry's Kids, the ACLU, the EFF, Paralyzed Veteran's, and a few other organizations when I feel like it is time. I gave Ron Paul money last year, as well as Obama. In the past I've given money to Republicans as well.

We also give Oregon Public Broadcasting / NPR money every year at some point.

I think that's about it.


---

Sign up for Folding@Home and join our team. PM me for details.

Ignorance is bliss for you, hell for me.
Ryan72182
Tocino



Since: 15.1.10

Since last post: 2789 days
Last activity: 2774 days

#7 Posted on
I donate to United Way through the year, and I've also donated one car. I'm getting ready to call them about a second one as soon as it warms up a little. I also try to slip more than a couple of bucks into the Salvation Army buckets around Christmas time.
Oliver
Scrapple



Since: 20.6.02

Since last post: 1205 days
Last activity: 1199 days

#8 Posted on | Instant Rating: 3.22
For what its worth, every penny of the money sent to the Salvation Army for Haiti is used in Haiti. I work for Sally Ann's call centre, and that's their policy for it. I love that.

As for charities, I prefer to support local causes before I support large internation relief efforts. But I'm cynical enough to invest time to see if the charity is worthy of investing in. Example: a charity that's crying poverty, yet the main man behind it drives a super expensive car. You get the deal.

I used to support a homeless shelter here before I found out how shoddily they treat their clients.

I used to support World Vision until I found out how impersonal the entire process really is.

My main charity right now is a local food bank.


---






SAMURAI SENTAI SHINKENGER!
Oliver
Scrapple



Since: 20.6.02

Since last post: 1205 days
Last activity: 1199 days

#9 Posted on | Instant Rating: 3.22
(deleted by Oliver on 15.1.10 1747)
dunkndollaz
Banger
Back to Back Survivor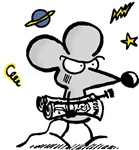 Since: 3.1.02
From: Northern NJ

Since last post: 25 days
Last activity: 3 days

#10 Posted on | Instant Rating: 2.26
I serve on the board of 2 local non-profits & my children's school. I also help run a charitable foundation. We hand out those checks at Christmas time so I always feel like Santa Claus. I write more checks than I should from my own account but sometimes it's just the right thing to do. My children are following my lead just like I followed my parent's lead. We can all help. We can all make a difference.


---

I think my kids are trying to kill me

dMr
Andouille



Since: 2.11.02
From: Edinburgh, Scotland

Since last post: 743 days
Last activity: 130 days

#11 Posted on | Instant Rating: 6.14
I've got a few charities that I know well and are close to me which I try to give to whenever I can. That's pretty much it for me - partly due to cynicism about how the cash is used, partly due to a limited amount of disposable income.

Obvious exceptions are one-off disasters like Haiti, which again, I'll give what I can to (just not through any phone/credit card company who's going to profit by keeping back a transaction fee for themselves) and any charity events friends or family are involved in.
griff
Kishke



Since: 26.2.04
From: Chester, England

Since last post: 7 days
Last activity: 9 hours

#12 Posted on | Instant Rating: 2.91
Always put the loose change (20p or smaller) into whatever charity boxes are on the shop counters. If I'm honest, I rarely read what the charity is for. Does that make me charitable or ignorant?